Warm crispy tater tots topped with fresh tomatoes, creamy avocado, and melted cheese for a delicious side. Easy to make, this vegetarian dish will be perfect for entertaining hungry guests.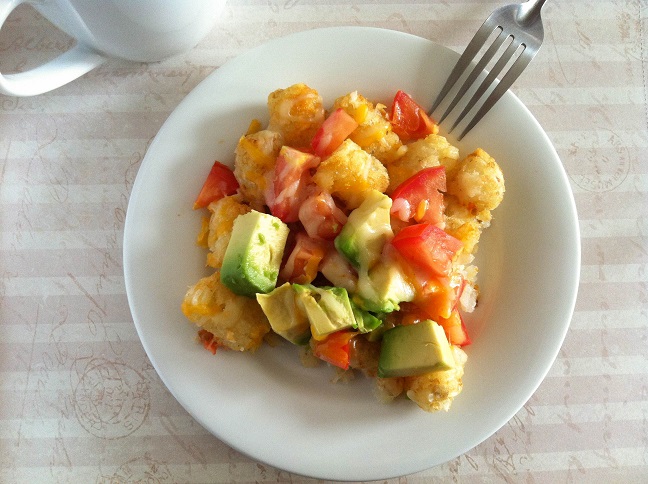 Have I mention that I love tater tots? I think they're on the same level as hash browns (which mean they're on a pedestal) for me. I can sit there and eat them all day long. That's how much I like them. =)
Tater tots are usually considered a breakfast food. But I decided to make them into an appetizer/side. It's so delicious and refreshing. And with all the colors in this dish, it's perfect for entertaining guests. Diced tomatoes, chopped avocado, and melted cheese baked with crispy tater tots. Doesn't that sound mouthwatering? It's like eating nachos, but with tater tots. So very tasty and addictive. You can ask my sister, Victoria, if you don't believe me. She was my taste tester.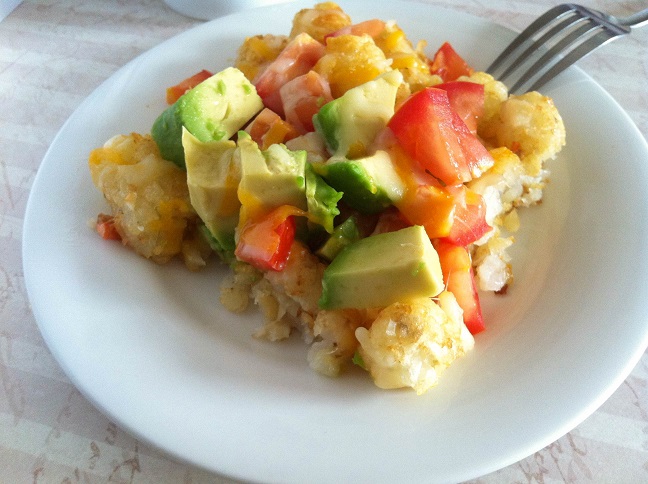 This dish is probably not the healthiest dish I've made, but bear with me. I'm completely stressed out from my quickly approaching, super early morning dental hygiene licensing exam. Just four days left! I'm hoping that everything will go smoothly because the last time I took this exam, everything that could have gone wrong did go wrong. And this time, I'm completely terrified.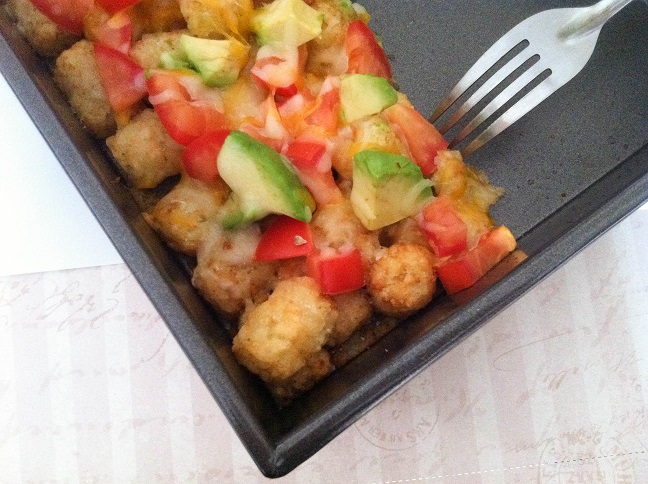 So before I start to stress you out with all my worries, I'm going to find comfort in my Loaded Tater Tot Casseroles. But I'll save some to share with my friends at Fiesta Friday.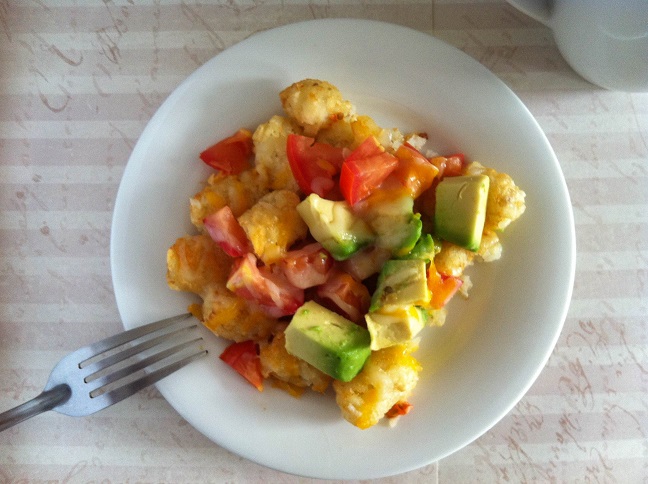 First, preheat the oven to 450oF. Grease a 9×9 inch baking pan with nonstick cooking oil. Believe me, it'll help with clean up later.
Add about 1 ½ – 2 cups of tater tots to the pan. You'll want enough tater tots to cover the bottom layer of the pan. Maybe even more if you're like me!
I used frozen tater tots because I haven't mastered making tater tots yet. Maybe that's a good thing so I don't overindulge.
Bake the tater tots according to the direction on the package. I baked them for about 20-25 minutes until they're crispy and golden brown.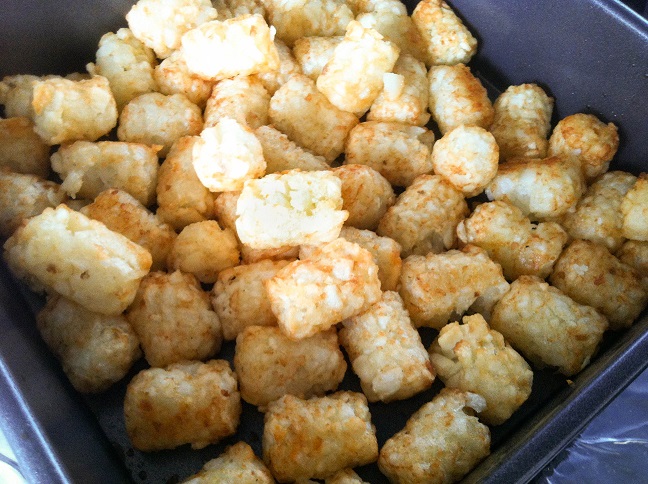 While the tater tots are baking, I diced tomatoes and avocadoes.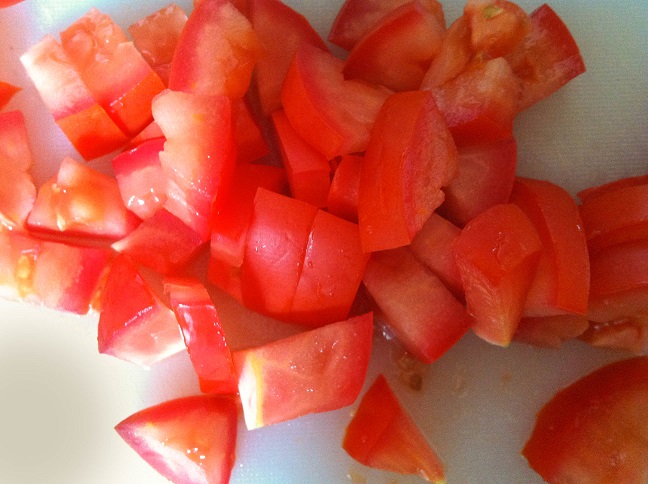 Once the tater tots are golden brown, remove them from the oven. Top with a little bit of cheese over the tater tots.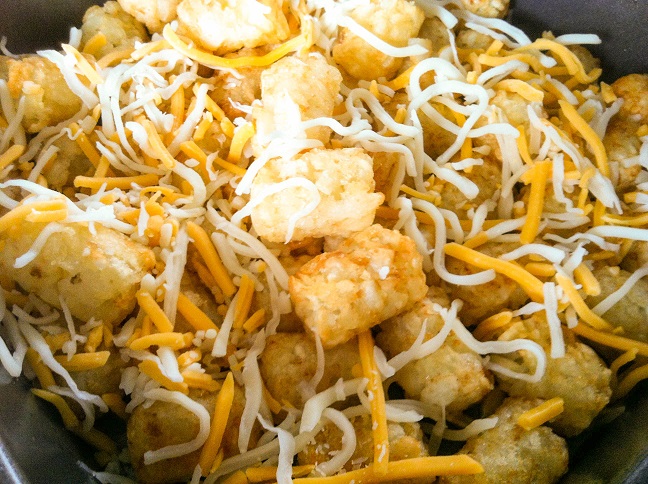 Add in tomatoes and avocados.
Top with more cheese. Sprinkle salt to taste.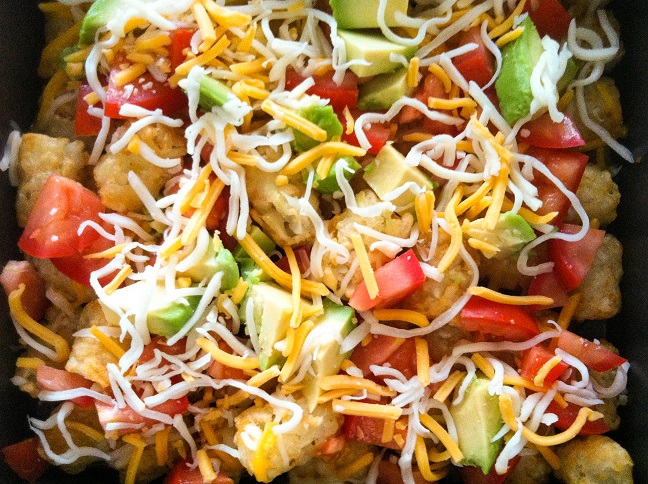 Return the baking pan into the oven for about 3-5 minutes until the cheese has completely melted.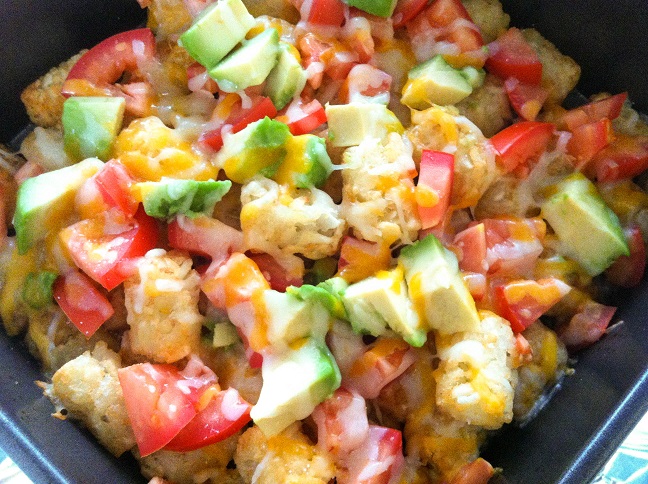 Serve the Loaded Tater Tots warm. Enjoy!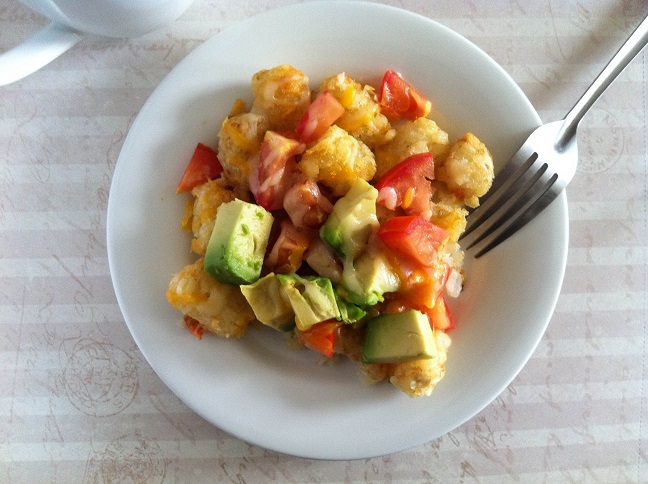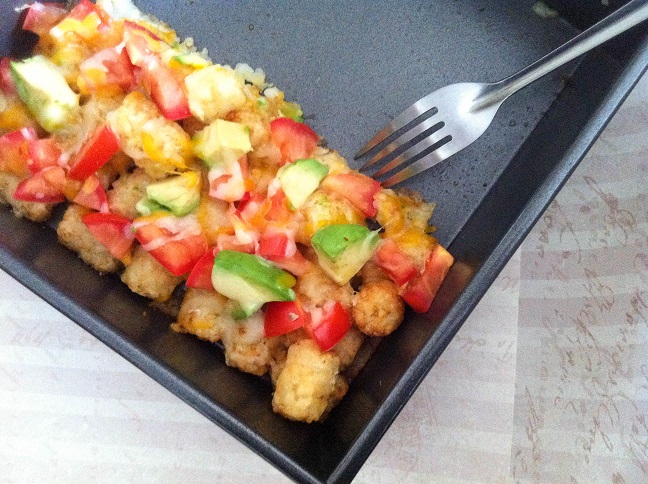 Want instant updates? Follow me on Facebook, Twitter,  Instagram, or Bloglovin.
For a printer friendly version of this recipe, click here.
Click on the image below for an enlarged version of this recipe.