Buckwheat noodles tossed with chopped tomatoes, julienned zucchini and shredded carrots then drizzled with a spicy soy lime dressing. This tasty vegan and gluten-free Asian inspired noodle salad is simple to make and great for hot summer days.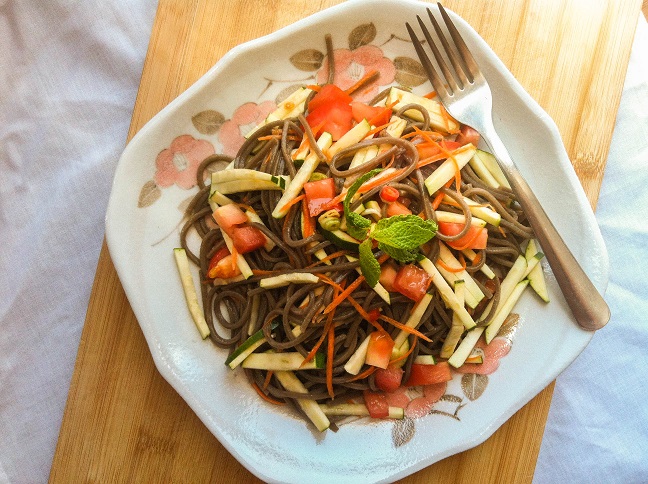 With out of state relatives visiting, my grandma's birthday celebration, and seeing friends I haven't seen in a long time, I have been eating out a lot and definitely not healthily. Don't believe me? Check out my Instagram. So once all the guests were gone, I wanted something that tasted delicious but was at the same time healthy and guilt free. That means I need to whip out my soba noodles and my summer vegetables.
I'm so very excited to share this recipe with you! Especially with my friends over at Fiesta Friday. Soba noodles tossed with chopped tomatoes, julienned zucchini, and shredded carrots, then drizzled with a spicy soy lime dressing. Oh my gosh! I can't tell you how tasty this dish. It's light, refreshing, and filling. Everything I'm looking for in a summer dish. Just several ingredients that you probably already have in your kitchen but packed with tons of nutrients.
Soba noodles, or buckwheat noodles, are healthy and gluten-free. These noodles are packed with vitamins and nutrients that are good for your heart and can help regular your blood sugar level. To top it off, tomatoes, zucchini, and carrots contain tons of vitamins that promote good health. These vegetables are all refreshing, in season, and just perfect for the summer.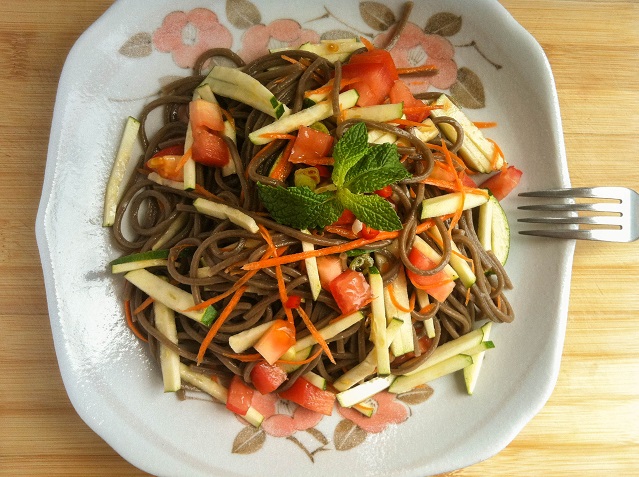 I absolutely love the spicy soy lime dressing. It complements the buckwheat noodles. A little bit spicy, okay, so maybe more than just a little since my taste buds are just too used to spicy foods to recognize it anymore. But if you can't eat spicy, go ahead and take the chili pepper out or replace it with crushed red peppers for a mild version.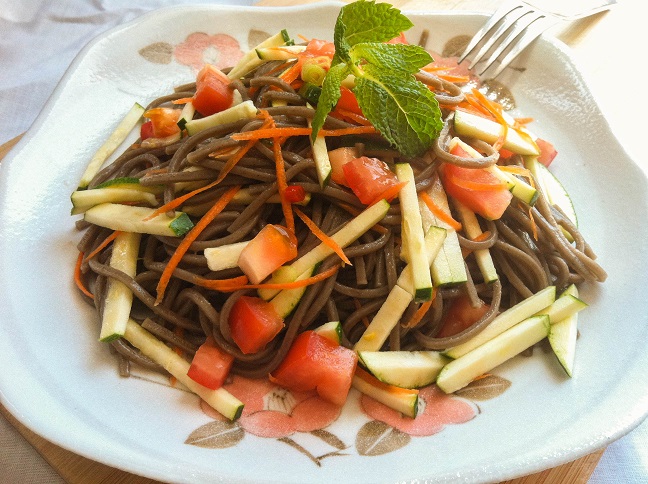 Let's talk recipe now. It's really simple. The only cooking you'll have to do is boiling water and cooking the noodles. And you'll have your meal ready in about 20 minutes.
First, boil water and cook the soba noodles according to the directions on the package. I cooked mine for about 6-7 minutes until the noodles are soft yet still chewy. Drain the noodles and run them through cold water to prevent them from sticking to each other. Once again, drain the water and set it aside for now.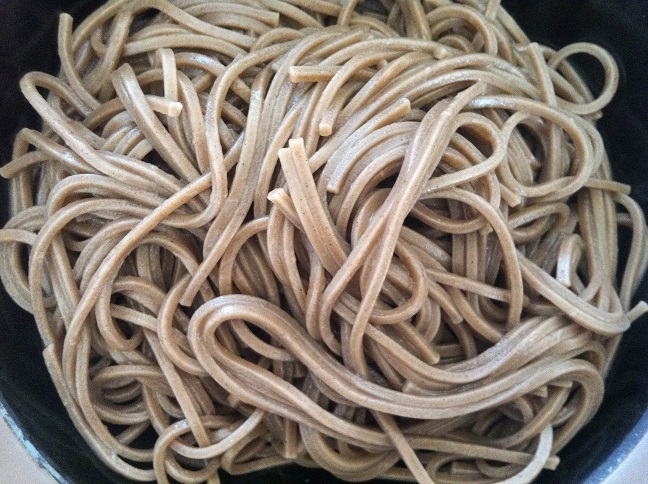 Chop up the tomatoes, and cut or julienne the zucchini and carrot.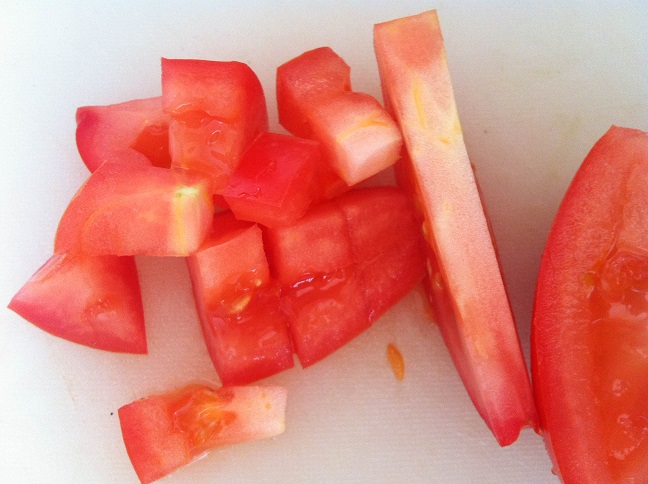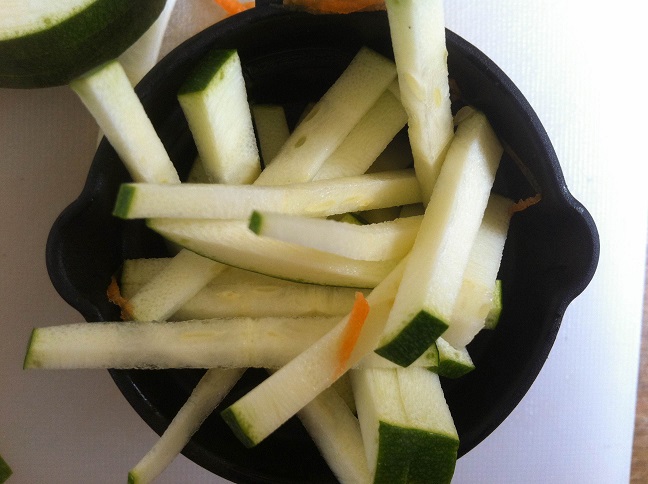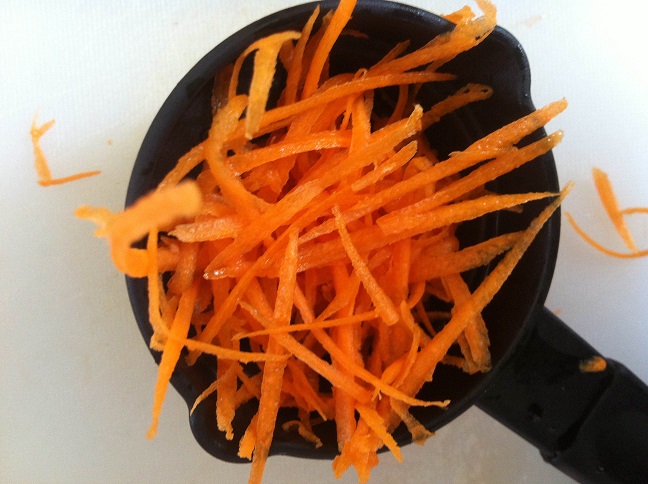 In a large bowl, toss the noodles and the vegetables together. In a small bowl, combine soy sauce, the juice of one lime, sugar, scallions, and one sliced chili pepper.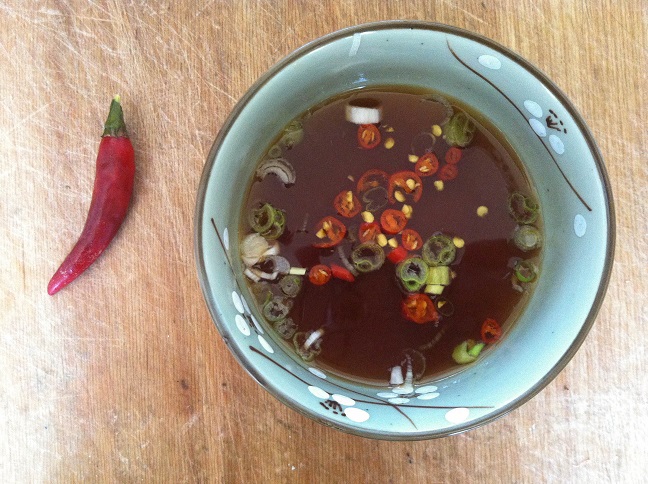 Drizzle the spicy soy lime dressing over the soba salad. Serve the soba salad cold. Enjoy!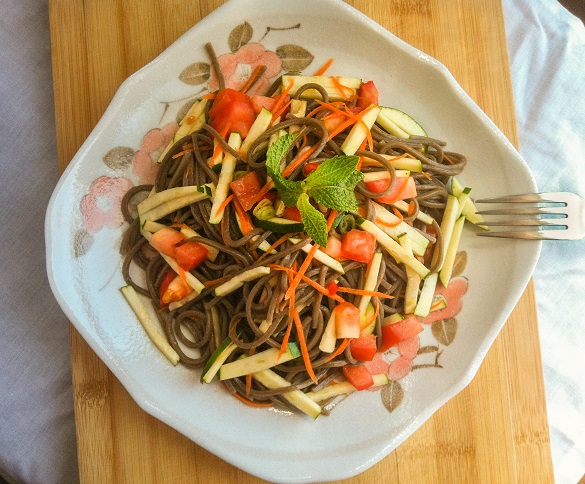 Want instant updates? Follow me on Facebook, Twitter,  Instagram, or Bloglovin.
Did you know that if you're not ready to print a recipe, you can save the recipe into an online recipe box through Ziplist? It's completely free to sign up and easy to use to organize your recipes as well as your grocery list.
You can also find nutrition info for this recipe by clicking on the magic button below.
[amd-zlrecipe-recipe:4]
*I'm affiliated with Ziplist, but I'd only recommend products that I love. I've been using Ziplist to format my recipes =)