Frozen banana blended with acai puree and coconut water to create a deliciously creamy ice cream. Dairy free, gluten free, and vegan, this healthy, guilt-free ice cream is perfect for just about everyone.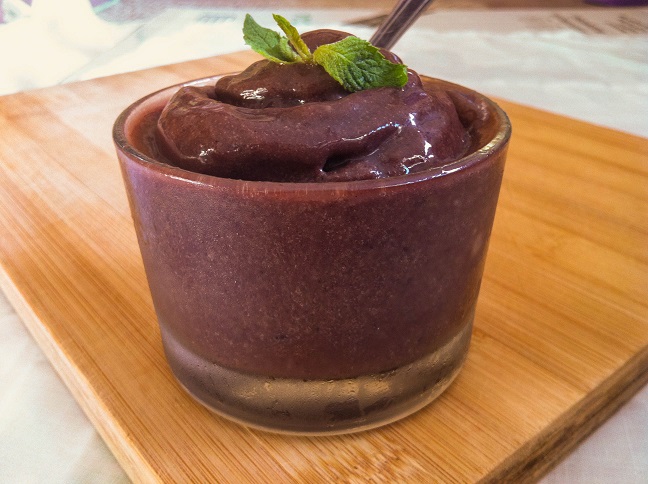 Frozen bananas are a must have in my freezer, and hopefully yours too.
They've been around forever, obviously, but it's my latest discovery, and newest obsession, which means I have to share it with you.
These frozen bananas are a must for this ice cream recipe. Creamy and thick once blended, frozen bananas give that "ice cream" consistency. The acai puree is just for flavor and color. Oh, and of course, the antioxidants and vitamins. One bite of this deliciously healthy ice cream and you'll be hooked!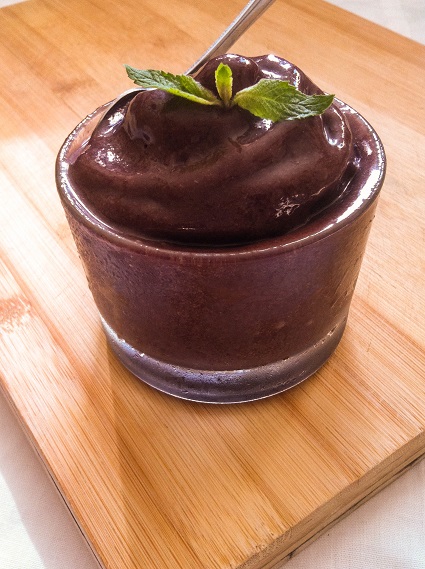 My family always have a bunch of bananas sitting on the dining table. It's just an easy fruit to grab in the morning, and it's very filling. But of course, they also become ripe fast, attracting fruit flies. Do you have that problem too? When you see those dark spots on your bananas, you know you have to eat them or they'll become mushy and overly sweet.
What do I do with ripe bananas? Bake with them. I love my banana nut muffins or strawberry banana muffins. But there's only so much I can eat!
So my other option? Peel the bananas and slice them into smaller pieces. You can place them into a freezable container or into a Ziploc bag. Then when you're ready to use them, remove as many as you need. Frozen bananas aren't good if you let them defrost though. They become extremely mushy. But they're great frozen for smoothies and absolutely perfect for ice creams.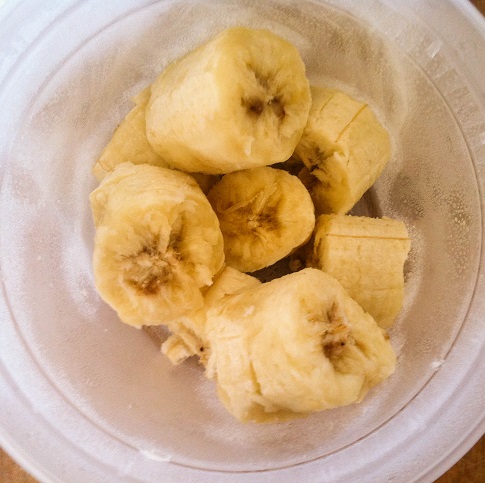 When frozen bananas are blended, they become creamy and thick. It's great with avocadoes like in my Avocado Acai Parfait or my Avocado Coconut Banana Bowl with Roasted Figs and Walnuts. Both taste amazingly delicious and are vegan, dairy free, and gluten-free. Plus, you don't need to add extra sugar because bananas are naturally sweet when they're ripe.
To create this amazing ice cream, all you need is 3 ingredients. One frozen banana, acai puree (I use Sambazon smoothie packs), and coconut water.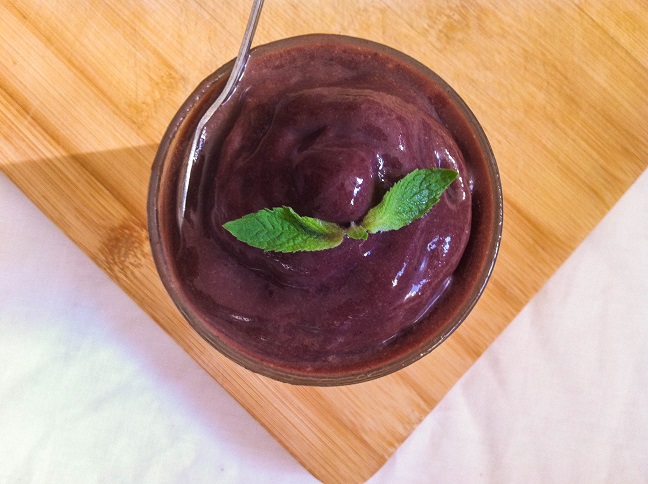 I've used Sambazon smoothie packs, which are acai puree, in a few previous recipes for smoothies, acai bowls, and parfaits. I personally love how they taste, but I do know that they are expensive. If you're lucky, you can find it at your local Costco. But if they don't carry it, you can totally substitute with any other acai puree that you like, or even other frozen berries. I recommend blueberries.
Today's post is actually sponsored. Sambazon recently sent me two vouchers for their smoothie packs so that I can continue creating recipes using their products. That said, I really do like their products otherwise I wouldn't be using them so much =)
Sambazon, if you haven't heard of them before, carries all sorts of acai smoothies, fresh juices, sorbets, smoothie packs, and energy drinks. All their products are "USDA Organic, Non-GMO Project Verified, Ecocert Fair Trade, vegan, and gluten-free."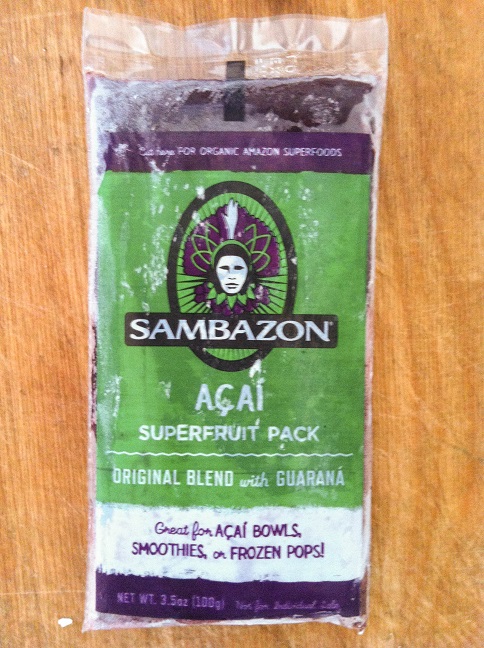 As you probably know, San Francisco is almost always foggy and cold, even during the summer. Of course, on the one day I wanted it to be cold so that I could take photos of my ice cream, it was suuuper hot!
Throughout my photos, see if you can spot the timeline of the Acai Banana Ice Cream. I couldn't take pictures fast enough! My ice cream melted as I worked.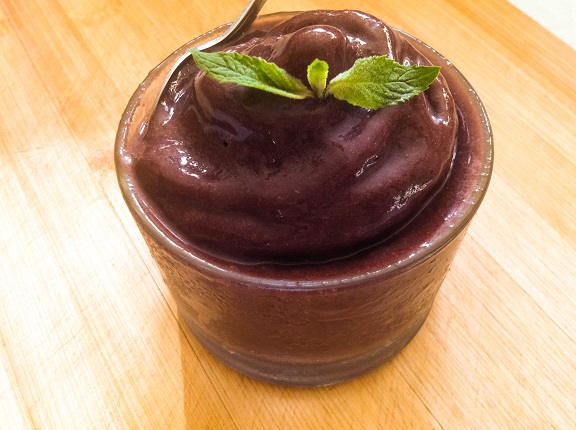 So for the recipe, if you can even call it that, blend one package of Sambazon acai puree (or a cup of frozen berries), one frozen banana with two tablespoons coconut water. If you don't have coconut water, you can just use regular water. But you need a little bit of liquid to get the blender going. If needed, you want to stop the blender and scrape down the sides. I had to do that because my blender wasn't strong enough to blend all that frozen fruit and puree.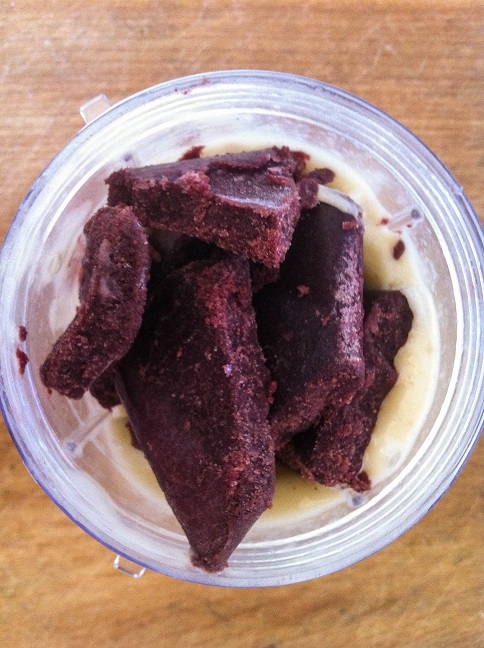 Pour the ice cream in a bowl or cup. If you want the ice cream to be firmer, you can freeze it for about a half hour. So amazingly tasty. I think I'll just have to bring it to Fiesta Friday.
Serve cold. Enjoy!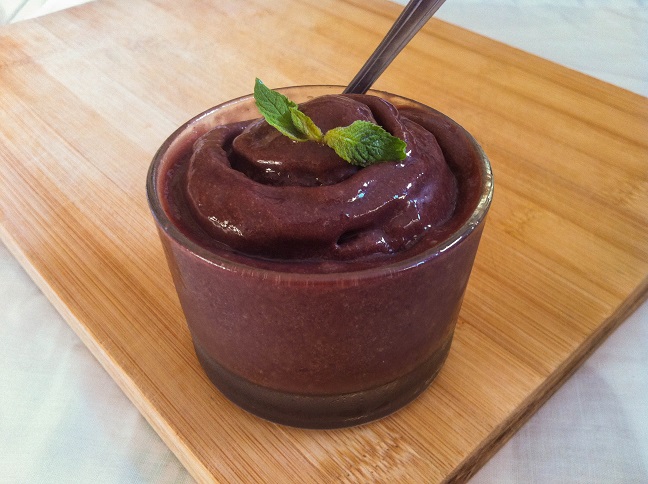 Want instant updates? Follow me on Facebook, Twitter,  Instagram, or Bloglovin.
Did you know that if you're not ready to print a recipe, you can save the recipe into an online recipe box through Ziplist? It's completely free to sign up and easy to use to organize your recipes as well as your grocery list.
[amd-zlrecipe-recipe:34]
*I'm affiliated with Ziplist, but I'd only recommend products that I love. I've been using Ziplist to format my recipes =)