A refreshing and healthy salad filled with lettuce, baby spinach, radicchio, arugula, deshelled edamame, sweet corn, grape tomatoes, toasted walnuts, and dried cranberries. Tossed and chopped into fine pieces, this salad is amazingly delicious with so many flavors and texture that no dressing is needed.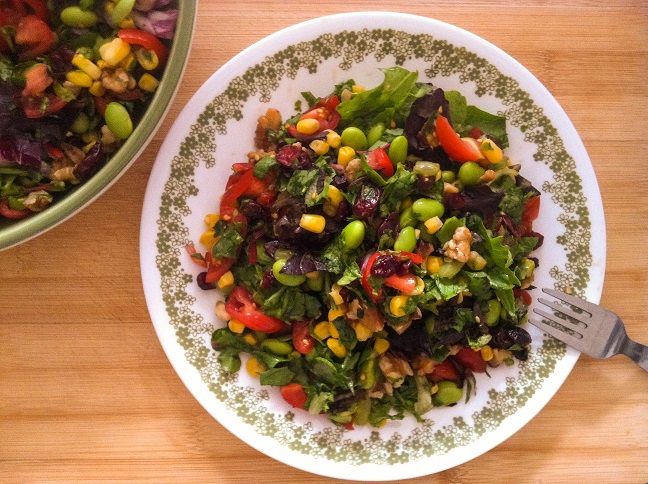 Salads are one of my favorite meals. I can eat them all day long and never be sick of them because they're so versatile.
What?! It's just a bunch of raw vegetables. What's so good about them?
Every salad I eat is different. Unless of course, it's a Caesar salad, or a Cobb salad, or Southwestern salad, or a Garden salad, or well, you know what I mean. But even then, the quantity of each ingredient is different depending on who makes them, and that also changes the taste. If you added extra bleu cheese, wouldn't your salad taste different? If you added extra corn or beans, doesn't that make a difference?
That's why I love salad bars like Fresh Choice or Sweet Tomatoes. You can add whatever ingredients you like to your plate, and it'll be different from the woman standing in front of you who wants extra salad dressing, or the guy behind you who hates tomatoes, or the elderly woman across from you who is allergic to nuts. Not everyone likes the same things. Find the combination that you like so that you can enjoy your food.
As I've mentioned in previous posts, I love my salads loaded with ingredients. I toss everything into my salads. Nuts, fruits, leafy vegetables. Whatever tastes good together can go in.
Which is why I'm bringing this to Angie's Fiesta Friday over at the Novice Gardener. Come join in the fun =)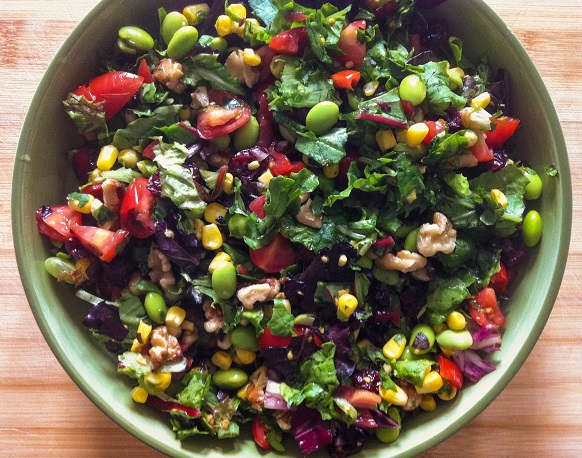 One of my favorite ingredients is spring mix salad. Why? Because there's all sorts of leafy greens ready for you to use. Each brand has a different assortment, but usually you can find baby spinach leaves, arugula, lettuce, radicchio, and maybe even several others if you're lucky. Plus, I love the colors! For me, colors mean everything in my food. It brings vibrancy and fun into what could have been a mundane meal. For instance, if you gave me a bowl of lettuce, I'd probably give you a look.
What! It's true. You can't expect me to just eat only lettuce. It's not fun or tasty…
But if you gave me lettuce, arugula, baby spinach, and radicchio, now we're talking. Different shapes, texture, and color.
Add a little edamame, a handful of corn kernels, several grape tomatoes, some toasted walnuts, and a bit of dried cranberries to the salad, then suddenly I get this humongous salad. Toss the ingredients together until they're evenly mixed. Then, taa daah!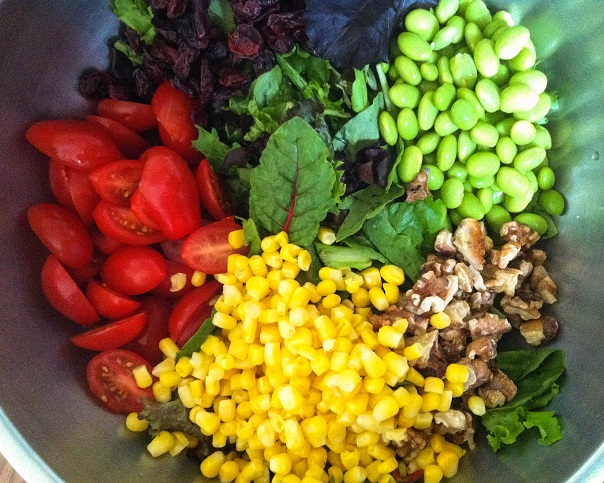 My idea of an amazing meal. Now, not only do you have your leafy greens, you also have plenty of texture, color, and flavor. Just think about it: sweetness of the corn, juiciness of the tomatoes, nuttiness of the edamame and walnuts. Can you tell me that that doesn't sound absolutely scrumptious?
And it's completely vegan, gluten-free, and dairy-free. Yay!
I love cheese, I really do, but I prefer them melted so I usually don't add them to my salads. You can though if you like. And if you're allergic to nuts, leave out the walnuts.
And some of my cousins like to have meat in their salads to keep them full longer. For me, I love adding chopped ham steak or turkey to my salads because it gives my salads that extra smoky taste. If you're vegan, or vegetarian, then ignore this part. But if you're not, you can decide whether or not you want to add that extra ingredient.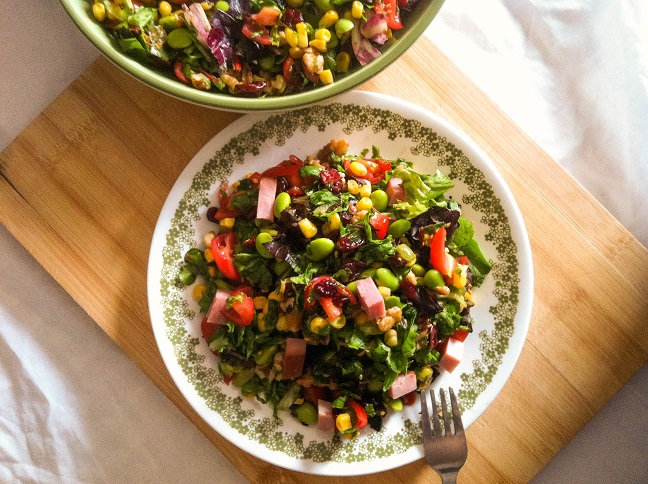 Then, use a pair of kitchen scissors to cut the salad. I actually have a pair of scissors just for food and a lot of times I like using them to cut my food rather than having to chop them. Makes my life so much easier! And I'm all about that. You can either cut or chop your salad until the ingredients become small pieces.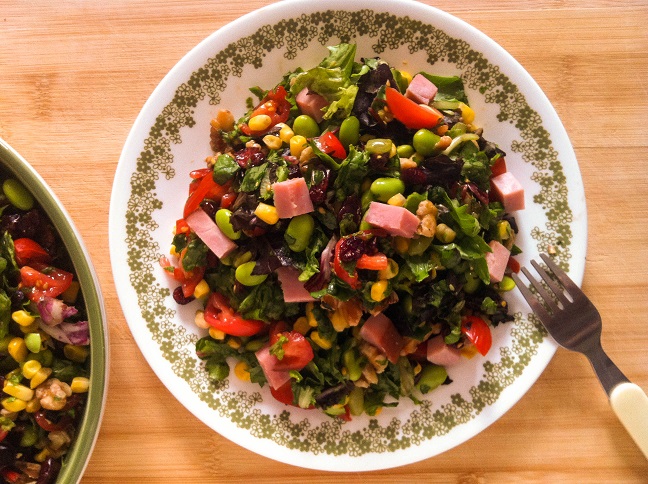 If you like, you can drizzle your favorite dressing over the salad. For me, because some of the ingredients already have so much flavor, I feel like I don't need to add any more dressing. But that's completely up to you.
Serve the salad cold. Enjoy!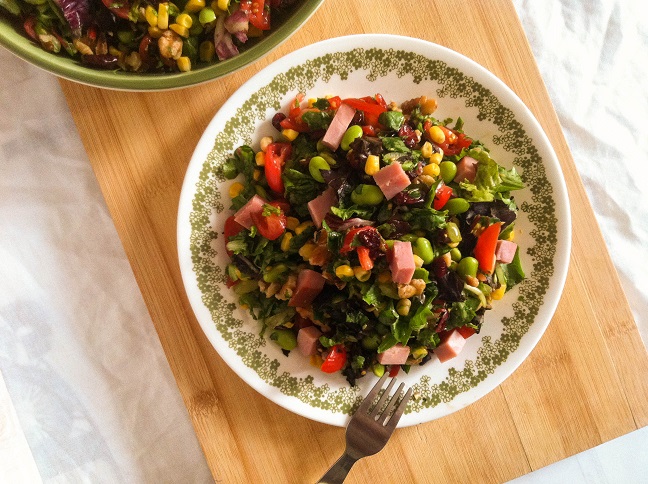 Want instant updates? Follow me on Facebook, Twitter,  Instagram, or Bloglovin.
Did you know that if you're not ready to print a recipe, you can save the recipe into an online recipe box through Ziplist? It's completely free to sign up and easy to use to organize your recipes as well as your grocery list.
[amd-zlrecipe-recipe:33]
*I'm affiliated with Ziplist, but if I didn't love the application, I wouldn't recommend it. I've been using Ziplist to format my recipes =)