An Asian inspired French bread pizza topped with spinach, grape tomatoes, and a hoisin coconut peanut sauce. Delicious and quick to make, this Asian fusion pizza is perfect as an appetizer.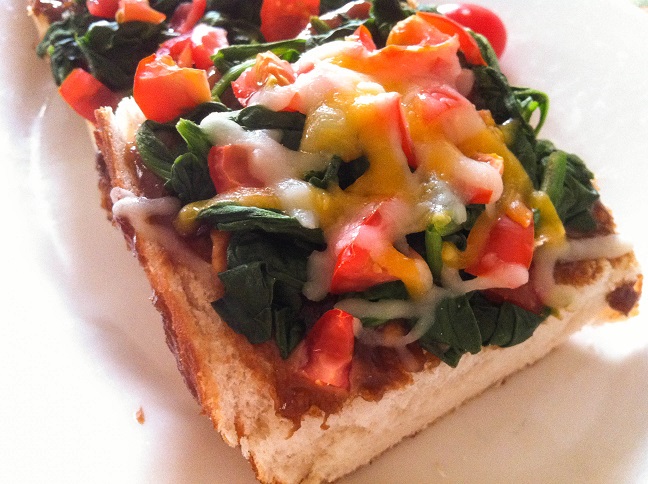 Some of my favorite sauces, ones that I'm completely addicted to, include hoisin sauce and peanut sauce. It's really hard to describe hoisin sauce if you haven't tried before. It's sweet, salty, and tangy. You'll often find them as dipping sauces at Vietnamese and Thai restaurants. Hoisin sauce and peanut sauce, and occasionally a combination of both, are served with spring rolls at Vietnamese restaurants. In Thai cuisine, peanut sauce is a dipping sauce served with BBQ chicken skewers as well as a sauce for some of their entrees. They're so delicious and creamy, and completely addictive. At least, to me.
So of course, I want to use them as much as possible.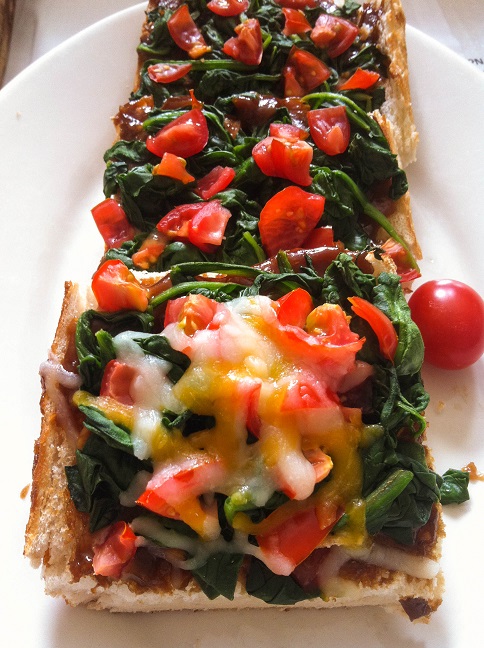 This starter was created specifically for the SACO Kitchen Challenge, which you can read about in my Fresh Tomato Spinach Garlic Pasta post.
The sauce I created is rich and creamy with the flavors of coconut and peanut butter mixed with sweet and salty hoisin sauce. It's perfect as a dipping sauce, but I wanted to use it as the base for my Asian inspired "pizza." Now, I know that typically a pizza is made using a tomato based, white garlic, or basil pesto sauce. Unless, of course, it's a dessert pizza. Then that could be a little weird….
I used French bread as my crust because it was fast and easy to do. But if you would like to use a real pizza crust instead, you can do so. It'll just take a little more time. Spread the hoisin coconut peanut sauce over the bread, top with spinach and diced tomatoes, a sprinkle of cheese if you like, and toast it in the oven until it's nice and warm and the bread is crunchy. Each crunchy bite will be filled with so many flavors: sweet, tangy, coconut-y, and peanut buttery. You'll get the juiciness of the tomatoes and freshness of the spinach. And topped with melted cheese. It's soo good.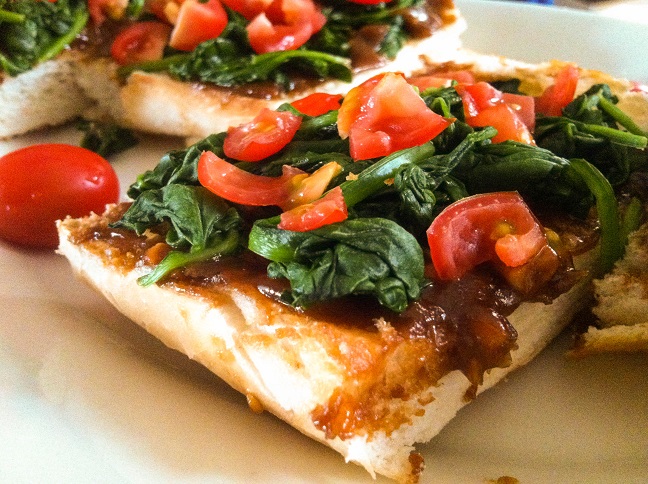 Preheat the oven or toaster oven to 350oF.
In a small saucepan, add two tablespoons of water over medium heat. You'll want to steam the spinach, but use as little water as possible to prevent the loss of nutrients. Once the water has heated up, about a minute or so, add the spinach and stir. As soon as the spinach has wilted, drain the leaves and run them through cold water to prevent them from continuing to cook. Squeeze out as much water as possible. Then allow them to continue to dry on a paper towel. If the spinach is wet, the bread will become soggy. I don't know about you, but that doesn't sound appealing to me.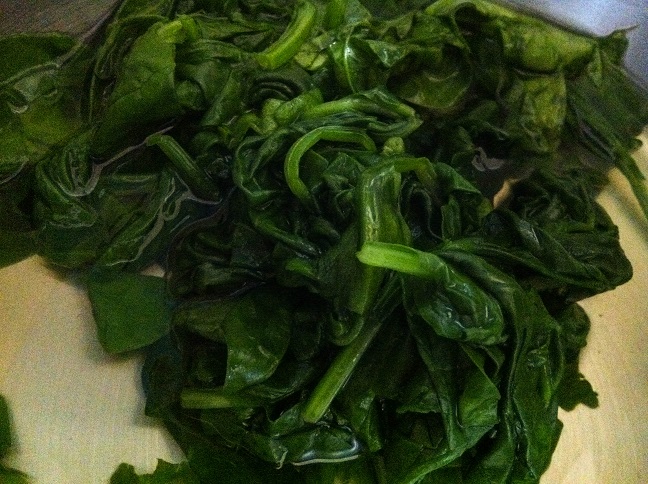 In another small saucepan, or the same one, up to you, add the hoisin sauce. There are two brands that I use often: Lee Kum Kee and Koon Chun. For this recipe, I used the first one. I added super chunky peanut butter because I like being able to taste the peanuts, but you can pick whatever peanut butter you like. And lastly, add several teaspoons of canned coconut milk.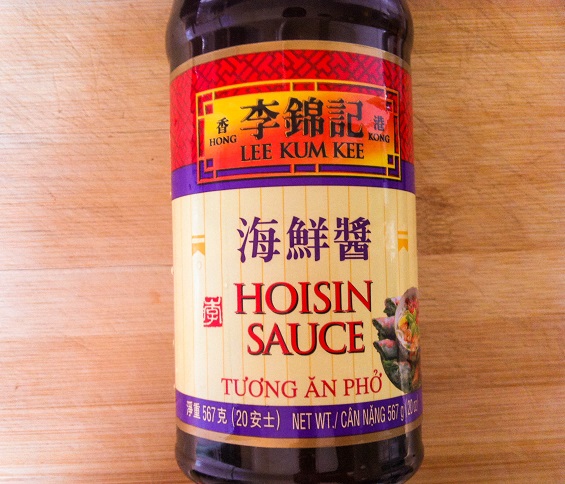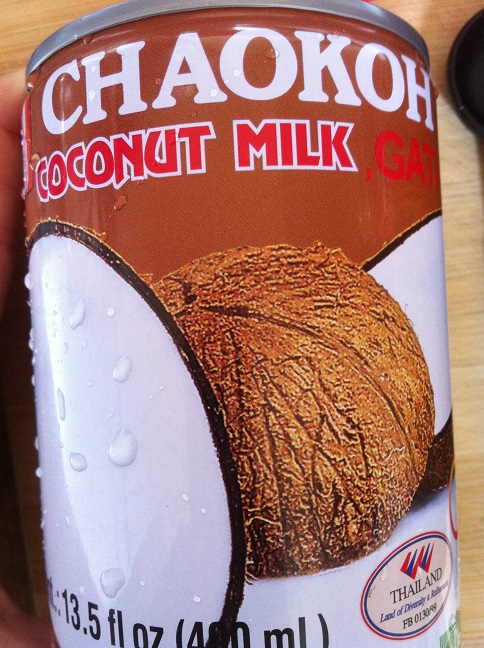 Stir the ingredients together over low heat until all the three ingredients are evenly mixed and incorporated. Set the sauce aside for now and allow it to cool.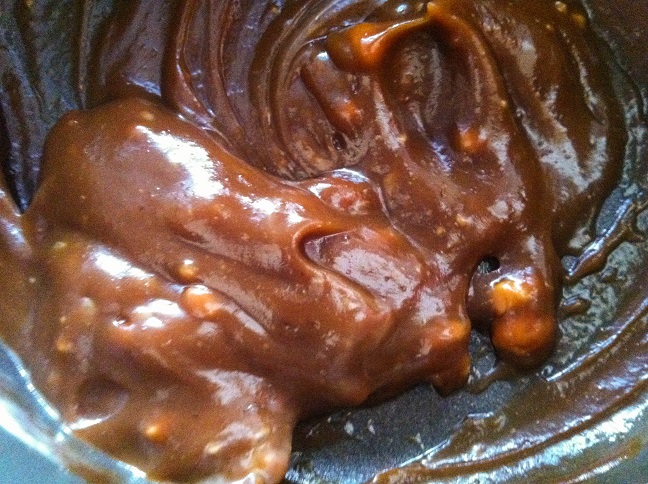 Cut your French bread into about 2×3 inch open faced slices. They can be bigger or smaller depending on your preferences. You'll want about 2 slices per person.
Cut about 4-5 grape tomatoes until they're finely diced.
Now, spread a thin layer of the sauce onto the bread. Next, place a layer of spinach and diced tomatoes. Then if you like, sprinkle a generous amount of cheese on top. I love adding cheese to it. I feel it makes these "pizzas" very Asian fusion.
But for vegans, leave out the cheese. And while my hoisin sauce does not contain any animal products, do double check to make sure.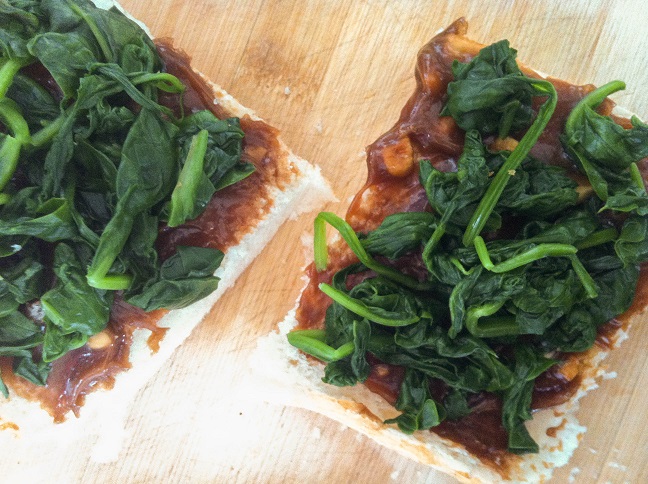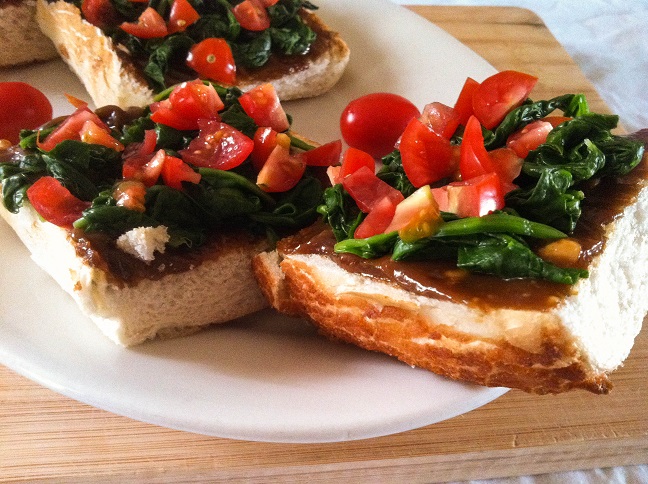 Place the French bread pizzas into the oven and toast them for about 5-7 minutes until the cheese has melted and the bread is toasted to a golden brown.
Serve these French bread pizzas warm.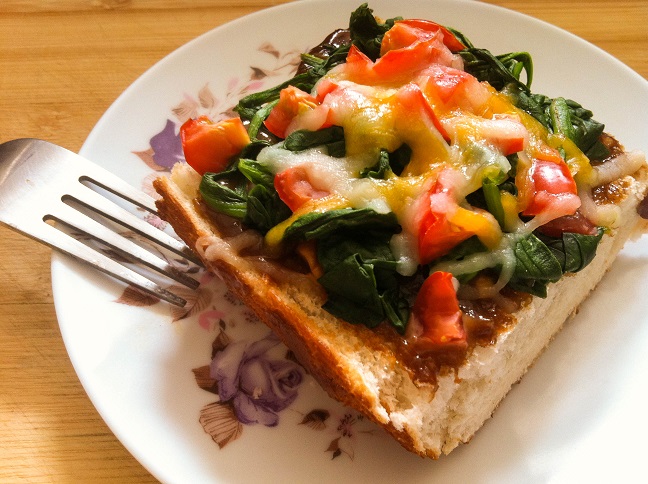 Want instant updates? Follow me on Facebook, Twitter,  Instagram, or Bloglovin.
Did you know that if you're not ready to print a recipe, you can save the recipe into an online recipe box through Ziplist? It's completely free to sign up and easy to use to organize your recipes as well as your grocery list.
[amd-zlrecipe-recipe:37]
*Disclaimer: This post contains affiliated links.