Warm braised eggs topped with chopped ham and melted cheese for a delicious breakfast. Quick and easy, these amazing eggs with runny yolks will satisfy all your breakfast cravings.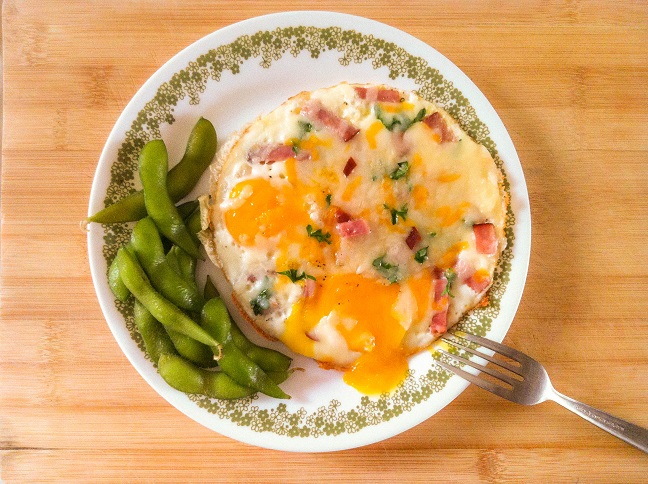 It's time for breakfast again, you guys!
I really hope you don't mind.
If you can't tell already, I love eggs, especially for breakfast. But for the longest time, I was embarrassingly terrible at cracking them.
When I was an undergrad student living with friends in Davis (around 2005-2006), I could not crack an egg to save my life. Seriously, I couldn't do it. No matter how hard I hit that egg against the edge of a bowl, or against a counter, or against the edge of a frying pan, the shell just wouldn't crack for me. And when it did, tiny pieces of the shell would land in the bowl with my eggs and I had to fish those out. It was soo difficult.
So during those first several months of living on my own, if I wanted eggs, or if I wanted to use eggs for baking, my friends had to crack them for me. And if my friends weren't around to do it for me, then I just had to cook without eggs. Sad, isn't it?
And absolutely frustrating. I could deep fry, bake, cook. But when it came to eggs, I was utterly hopeless. The simple thing that everyone else could do, I couldn't.
Finally, one of my friends had enough of my egg catastrophes. He made me stand in the kitchen and crack all the eggs we had in our fridge. Usually, after one or two, I'd give up and make him do the rest for me. Not this time. I had to keep cracking them until I was all done. We had soo many eggs to eat that night, but after that, I was finally able to crack an egg. Not perfectly but so much better than before.
Was there ever a task that came so easily to everyone else but you're just terrible at?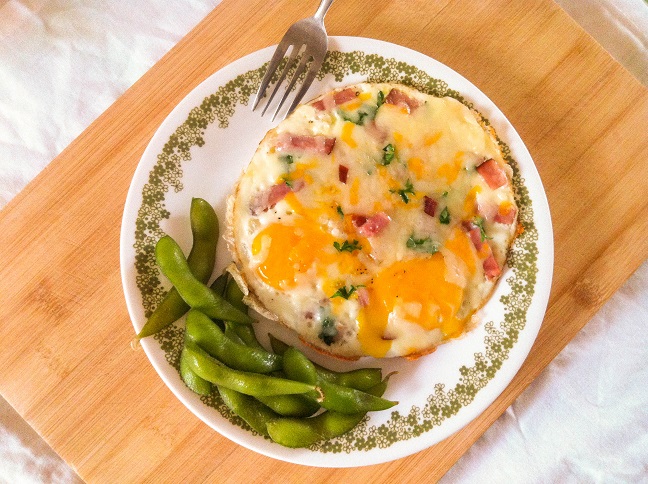 Well, now that I've gotten over my inability to crack eggs (for years now, yay!), I'd like to share this delicious breakfast recipe with you.
Topped with chopped ham steak and melted cheese, these warm braised eggs have yolks that ooze out when you cut into them. Oh my gosh! So amazingly delicious. My mouth is watering just thinking about them. They're great alone or you can dip toasted bread in them. So good!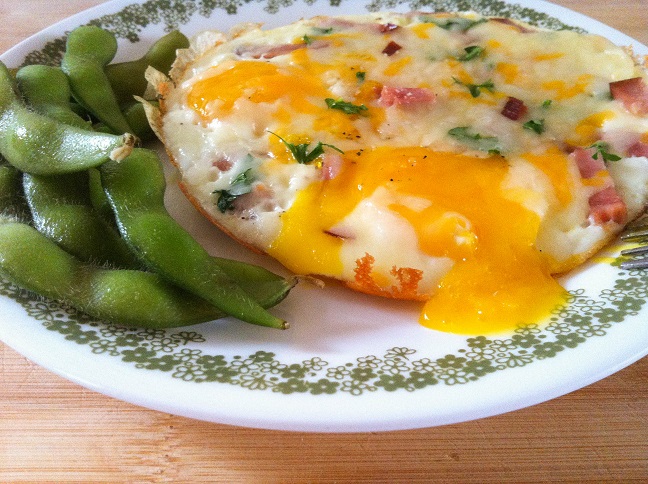 Crack the eggs into a medium size bowl, and set it aside for now. Chop up the ham steak into small pieces and leave it to the side. Usually in braised eggs, all the ingredients are cooked first and the eggs are then poured on top. However, in my version, because I prefer my extra ingredients on top rather than in the egg, I decided to drop it over the eggs. I think it looks nicer that way too. But you can do it either way.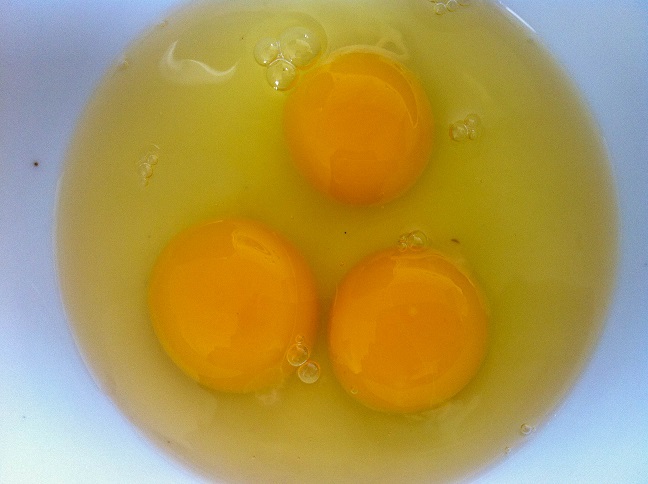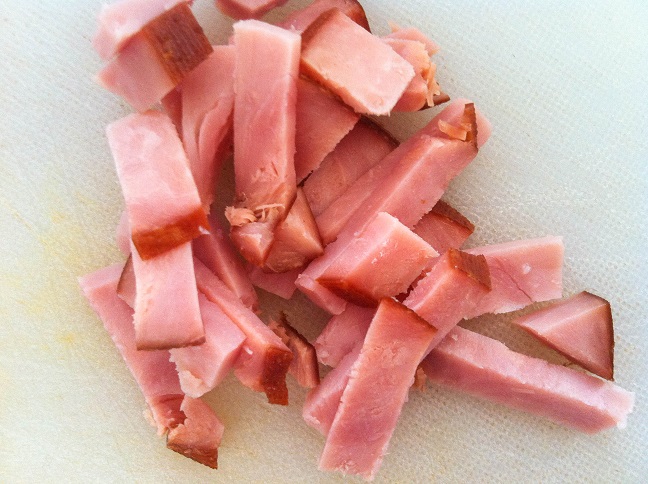 In a small skillet, lightly grease the bottom and the sides with olive oil or nonstick cooking spray. Make sure to cover all the surfaces. Otherwise, the eggs will stick.
Turn on the heat to about medium low.
Wait for the oil to heat up for about a minute and then pour the eggs into the skillet. As tempting it is to stir or move the eggs to make sure it doesn't become burnt, leave them alone to set.
I accidentally broke one of the yolks. Whoops.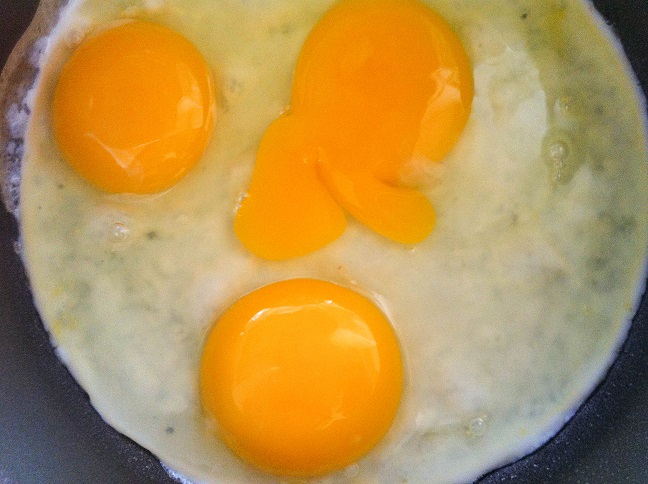 Take the chopped ham steak and drop it on top of the eggs. I dropped mine on the egg white. Allow the eggs to cook until the egg white has turned a solid white instead of clear. Then turn off the heat.
Sprinkle cheese and chopped parsley or chives over the eggs, and cover it for about a minute.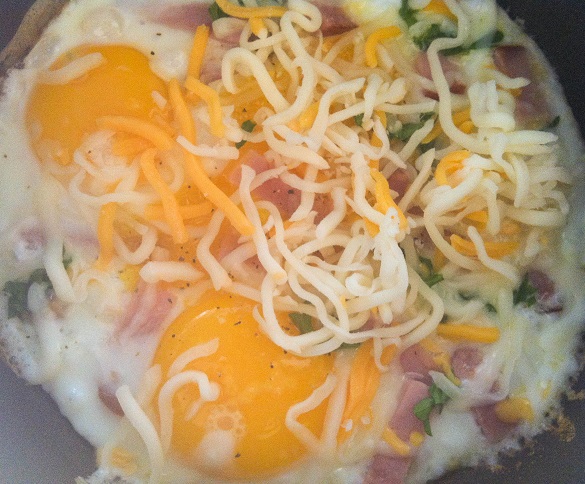 Once the cheese has melted, use a spatula to gently remove the braised eggs from the skillet or pan onto a plate.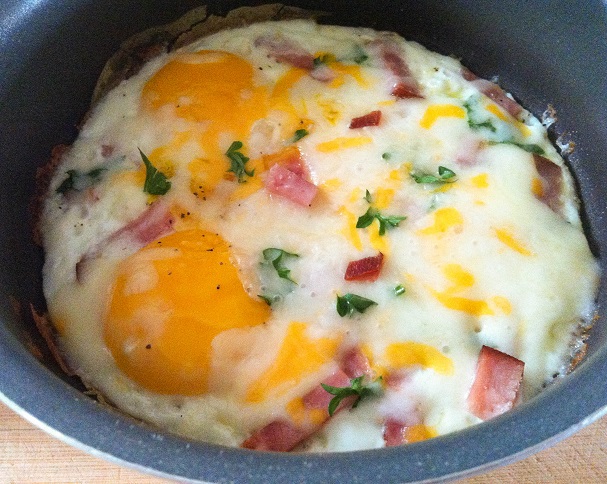 Serve with your favorite sides. I had eggs with a side of edamame, but you can do bacon, or hash browns, or tater tots. Or dip bread into the yolks! Just one of many options.
Enjoy!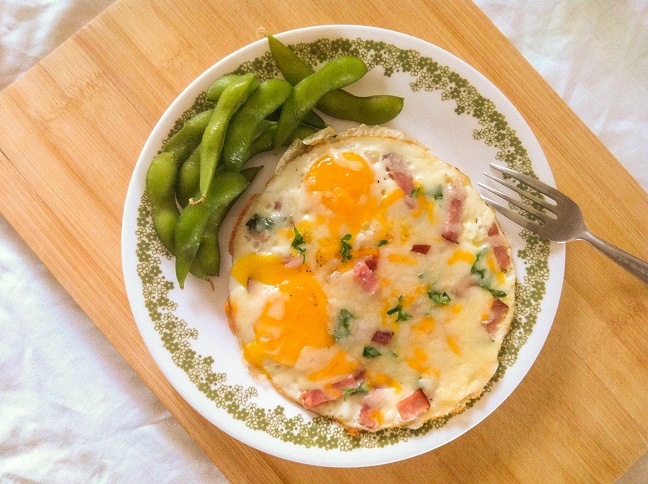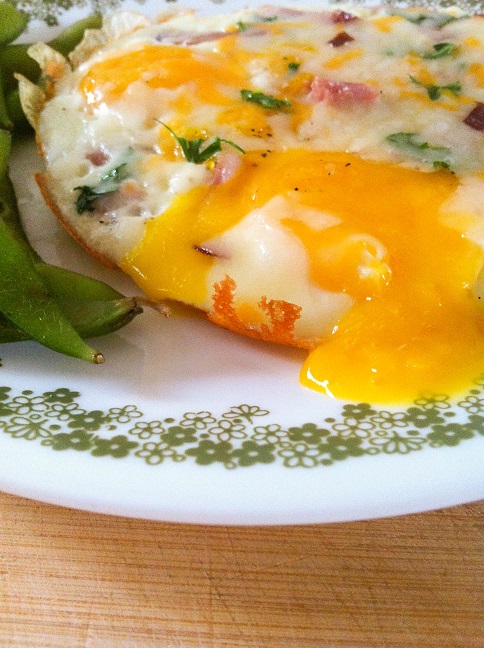 Want instant updates? Follow me on Facebook, Twitter,  Instagram, or Bloglovin.
Did you know that if you're not ready to print a recipe, you can save the recipe into an online recipe box through Ziplist? It's completely free to sign up and easy to use to organize your recipes as well as your grocery list.
You can also get nutrition info for this recipe by clicking the magic button below.
[amd-zlrecipe-recipe:32]
*I'm affiliated with Ziplist, but if I didn't love the application, I wouldn't recommend it. I've been using Ziplist to format my recipes =)