Baked skinny fries flavored with Cajun seasoning for a spicy kick. Delicious, simple to make, and healthier than the restaurant version, these crispy fries are so very addictive.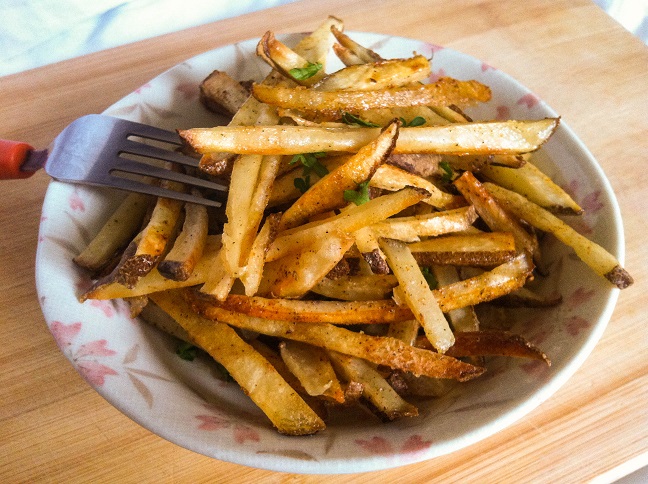 How do you like your fries?
There are so many variations out, and I love almost all of them. Just not the soggy ones. Because let's be honest, soggy fries are not fries. At least, not in my eyes.
A family friend came over the other night and gave us a box full of potatoes because her family had so many they couldn't finish them all. I knew I had to do something with these potatoes before they start growing roots. And since I've been craving fries…
In today's recipe, I want to share with you my Cajun fries. These fries are amazingly crispy and well seasoned with just a little bit of a spicy kick. I could sit there all day and munch on these. And since my fries are baked and not fried, there's not too much oil. Perfect for me! I feel less guilty about devouring these and hogging them all for myself.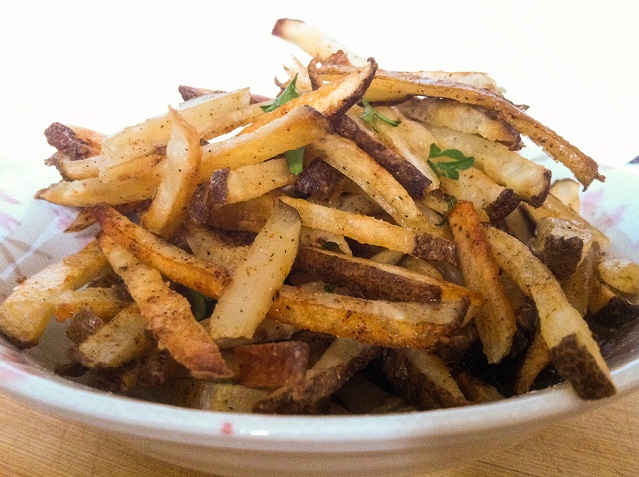 I tried two separate batches to figure out how much seasoning to add. My first batch was super salty because I over seasoned them. Whoops. But that second batch, oh that second batch was just perfectly seasoned. Of course, you can beg to differ. That's okay. If you need more seasoning, go ahead and add more, I won't argue.
I love the simplicity of these fries. You'll need about 25 minutes and just five ingredients. What more can you ask for, right?
Oh! They're gluten-free and vegan.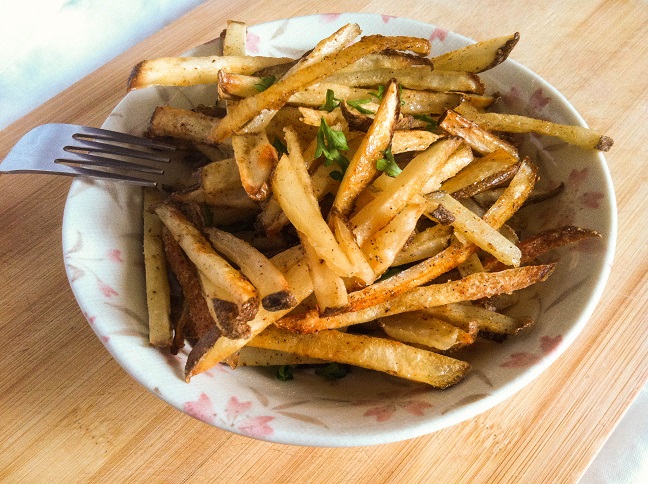 Preheat the oven to 425oF. Line a baking sheet with foil and grease with olive oil or nonstick cooking spray. Please don't forget this part! Otherwise, the fries will stick to the foil and you'll have a hard time getting them off.
Cut a medium to large potato into fries, about ¼ inch. If the fries are thick, it'll take longer to become baked and crispy. The thinner fries take less time to become crispy. Each potato should serve one person.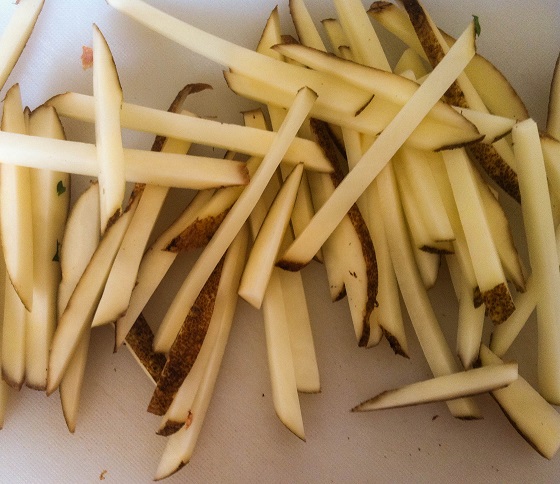 In a clean plastic bag or a Ziploc bag, add one tablespoon of cornstarch and one teaspoon of Cajun/Creole seasoning. The cornstarch will help make the fries crispier. Shake the bag until the seasonings are evenly mixed. Add the potatoes to the bag, and shake the bag until the potatoes are evenly covered with the cornstarch and Cajun/Creole seasoning.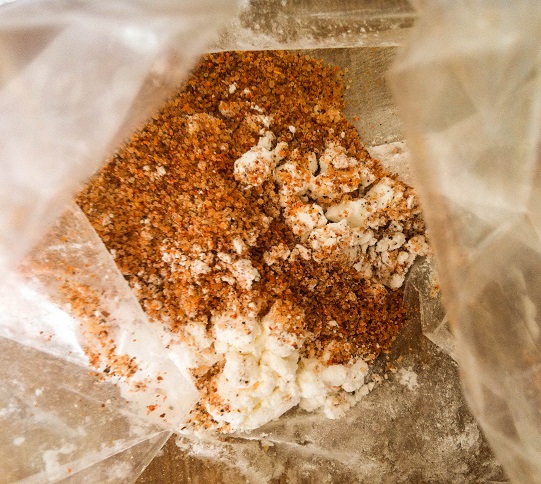 Place the potatoes onto the baking sheet in one layer. You want them in one layer so that they would cook evenly.
Drizzle one teaspoon of olive oil over the fries making sure the surfaces of the fries are lightly covered in oil. Use more if needed. If they're not covered in oil, the cornstarch will not help the fries become a golden brown. Instead, it'll look like cornstarch, a white powder over your fries. Not what we're looking for. So make sure that the surfaces of your fries are lightly coated with olive oil.
Place the baking sheet into the oven and bake for 10 minutes. Remove the baking sheet from the oven and turn the fries over. Bake for an additional 5 minutes. Depending on the size of your fries, some may bake faster than others. You might have to remove some that are done earlier so that they don't become burnt.
Remove the fries from the oven and allow them to cool for a bit. Move the fries over to a bowl or plate and sprinkle chopped parsley on top for garnish.
Serve the fries warm. Enjoy!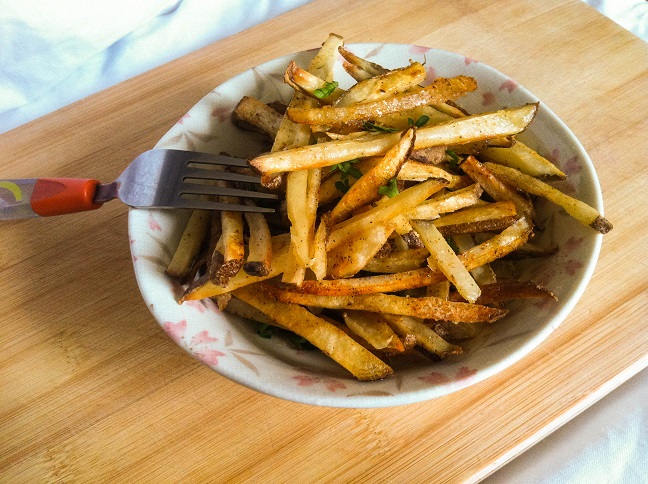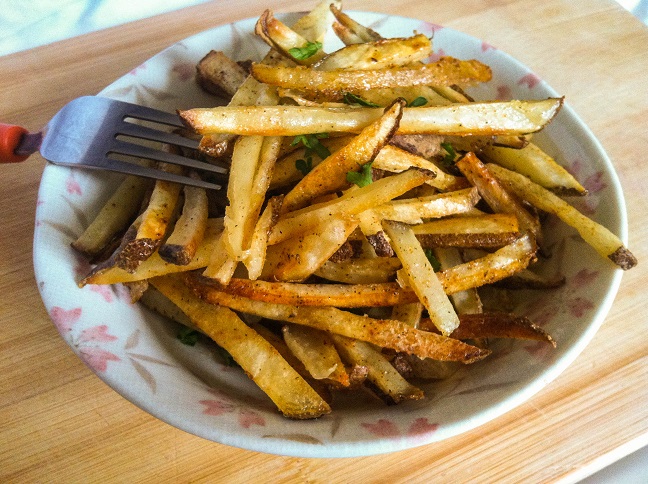 Want instant updates? Follow me on Facebook, Twitter,  Instagram, or Bloglovin.
Did you know that if you're not ready to print a recipe, you can save the recipe into an online recipe box through Ziplist? It's completely free to sign up and easy to use to organize your recipes as well as your grocery list.
You can also find nutrition info for this recipe by clicking on the magic button below.
[amd-zlrecipe-recipe:31]
*I'm affiliated with Ziplist, but if I didn't love the application, I wouldn't recommend it. I've been using Ziplist to format my recipes =)