A warm delicious tomato based soup filled with cabbage, sweet corn, celery, carrots, onions, and mushrooms. This garden vegetable soup is simple to make with easy to find ingredients, perfect for the cooler autumn weather.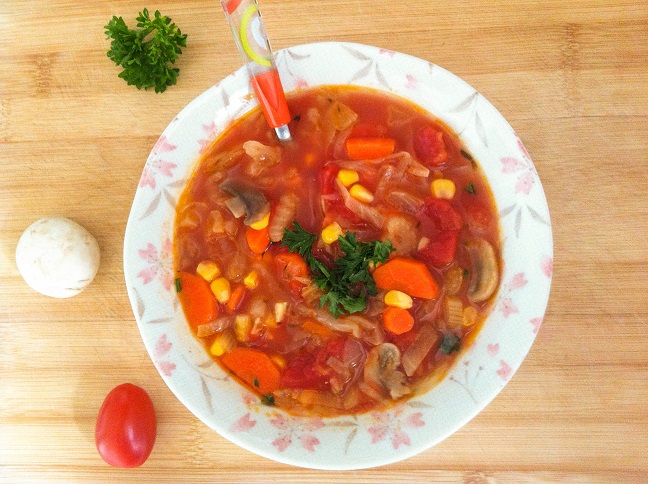 It's already September. I've been in denial for almost two weeks now, but I think it's time to admit that summer has come and gone. And now I'm just about ready to welcome in the fall. =)
This week is a little special. If you've been following my blog, then you know that once a week, I head over to Angie's blog, the Novice Gardener, to hang out with other bloggers at Fiesta Friday. Haven't heard of it? That's perfectly fine. Fiesta Friday is a link up party, where bloggers can link their best recipes of the week. It's a friendly place where we can share our recipes and meet new people. I've been doing it for several months now, and I love it. It's how I've met some of my closest blogging friends.
I'm so excited that earlier this week Angie asked me to co-host Fiesta Friday #33 with Sylvia from Superfoodista. Have you met Sylvia? If you haven't, you should really head over to her blog now. She has some of the most amazing superfood recipes and gorgeous photos.  And you should definitely visit Angie at the Novice Gardener too. She's one of my favorite food bloggers and the organizer of Fiesta Friday. And this week she made the most beautiful pizza ever, Rainbow Pizza! You should go see it!
If you want to hang out with food bloggers, head over to Fiesta Friday , and click on the Fiesta Friday icon. Submit your link, and you're ready to go. Everyone is super friendly and you'll find a compilation of so many drool worthy recipes! Just make sure that you mention in your post that you're "bringing" the recipe to Fiesta Friday and visit and comment on a few other recipes. We want everyone to mingle and get to know each other =)
Click on the icon below and it'll take you to the party. Then find the same icon to submit your link!
Today on the blog I'm sharing with you my Garden Vegetable Soup recipe. While September is probably the warmest month of the year in San Francisco, I know that it'll cool down again real soon. So I thought I'd introduce to you a recipe that's the perfect transition from summer to autumn. This dish has the most amazing ingredients ever. Why? Because they're all common ingredients that you can find in your garden or in your house. Add a little bit of this vegetable into the pot, add some of that, maybe a handful of these, and a pinch of those, then voila! You have yourself a pot of warm delicious soup ready to be served.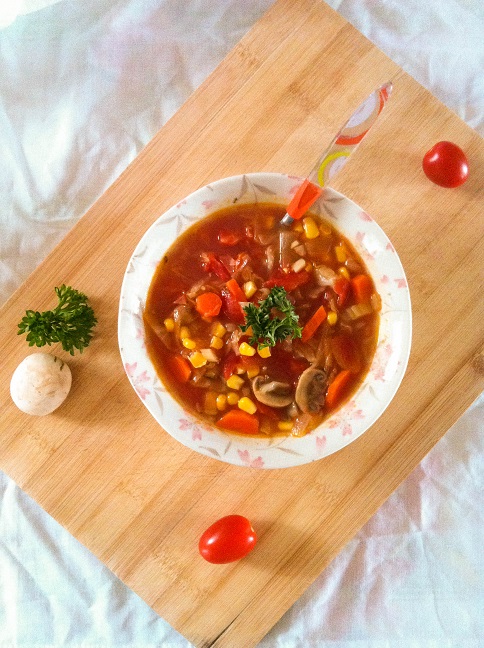 Sounds easy, doesn't it? It is. And if you don't have some of the vegetables that I used for my soup, you can substitute with another that you have and like. Simple, delicious, and healthy. Plus it's vegan, gluten free, and dairy free.
I just love how refreshing and healthy this soup is! There are so many flavors and textures in one bowl.
You really have to try it!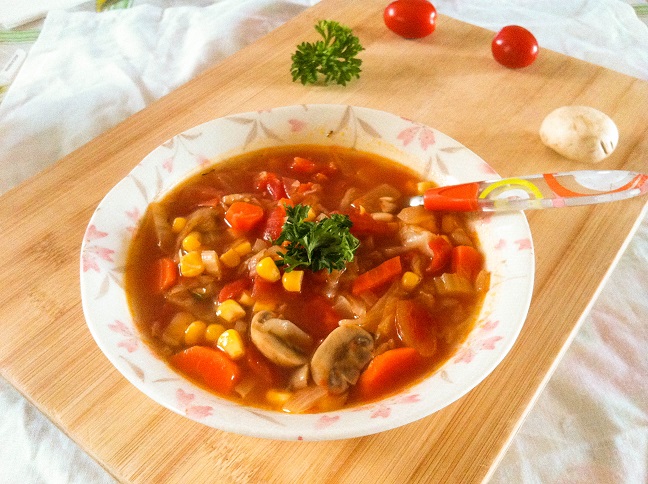 First, prepare all your vegetables. Cut the cabbage, chop your celery and carrots, and slice your onions and mushrooms. However you like them.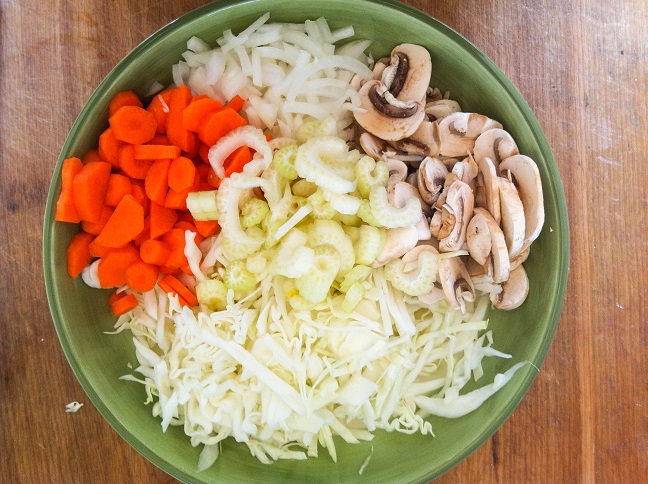 In a large pot, add about two tablespoons of vegetable or olive oil over medium heat. Allow the oil to heat for about a minute before adding your ingredients. I like adding ingredients that will take longer to soften. Add the carrots first and cook for about two minutes. Next, add the chopped celeries and cook for about a minute. The vegetables will start to dry up so add about 2/3 cup broth. Be careful when you're adding the broth! The broth may react with the oil and cause sizzling and splashing.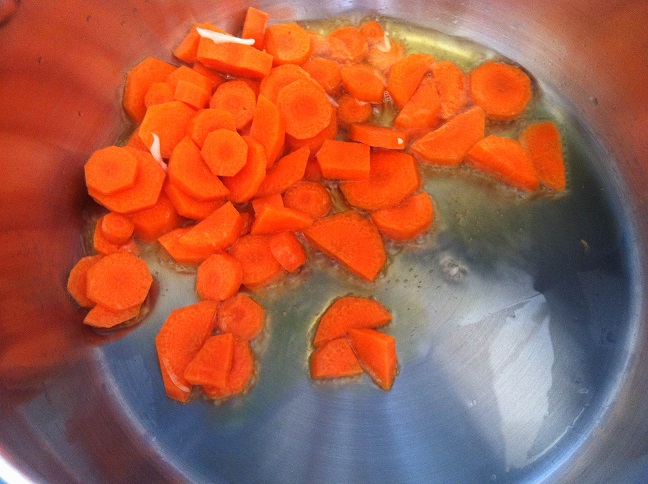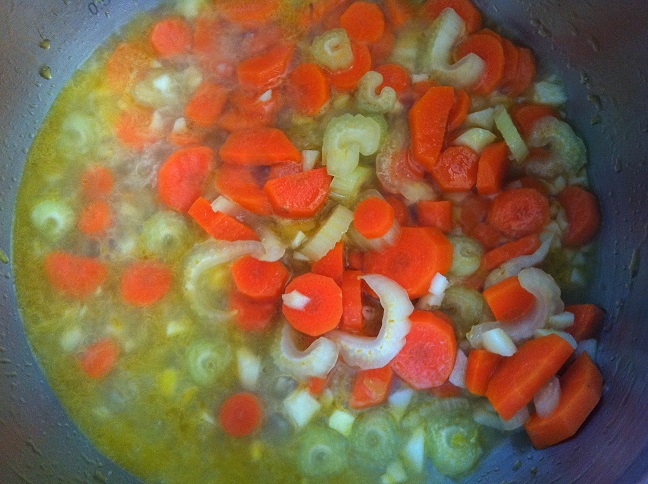 Add the tomatoes, garlic, onions, mushrooms, and cabbage. Stir with a spatula to make sure that the vegetables are evenly cooked. Carefully pour in the rest of the broth.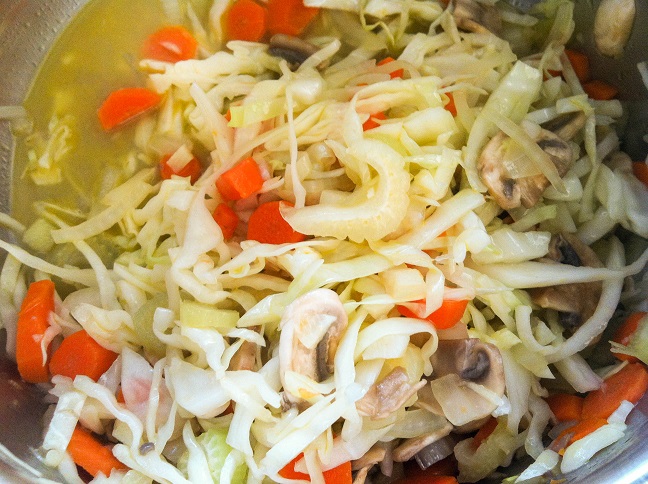 Turn the heat up to high and allow the vegetables to soften and the flavors to mix and enhance. Add in the thyme and the oregano. Then add in the salt.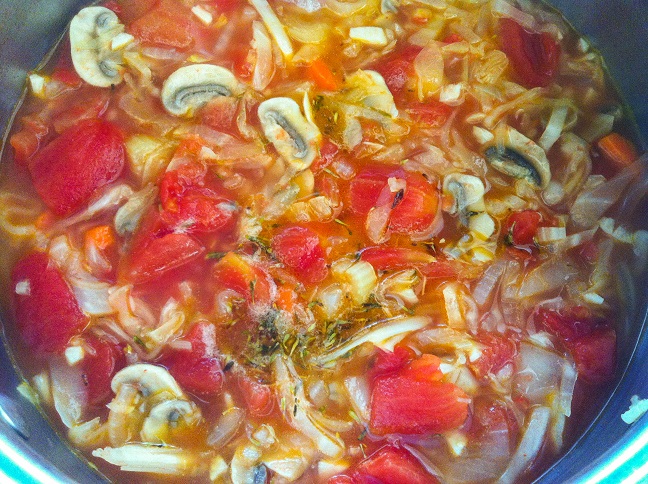 If you're using fresh tomatoes, there's no need to add sugar because tomatoes tend to be naturally sweet. However, if you're using canned diced tomatoes, you may want to add a little bit of sugar to balance out the flavor. You can try the soup and decide whether or not sugar is needed.
Lastly, add the corn and cook for an additional 3-4 minutes.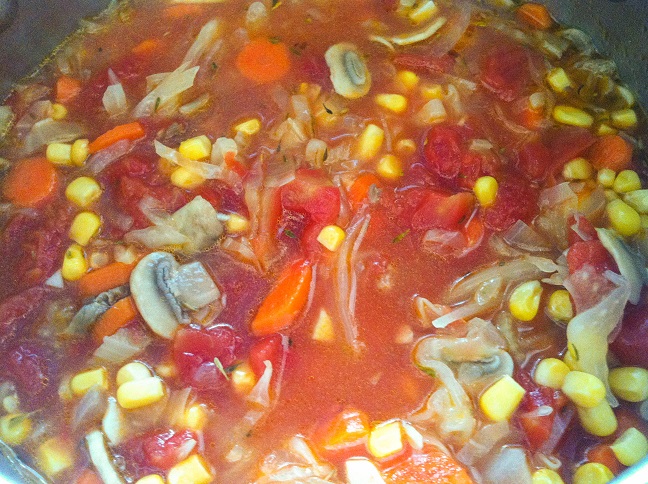 You can either serve immediately or you can allow the soup to simmer for awhile before serving. I love letting the soup sit there for awhile so that the flavors can become stronger. Sometimes I like leaving the soup until the next day to eat =)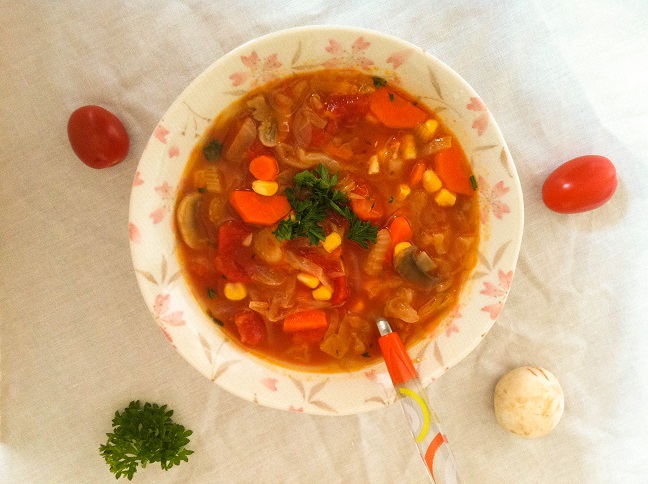 Serve the soup warm by itself or with bread or crackers.
Enjoy!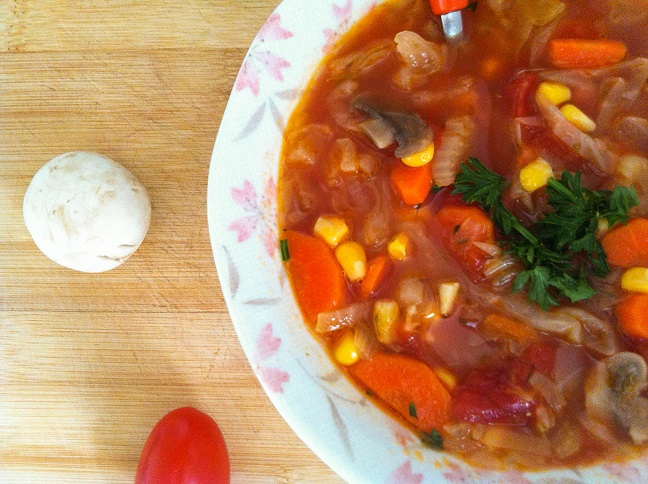 Want instant updates? Follow me on Facebook, Twitter,  Instagram, or Bloglovin.
Did you know that if you're not ready to print a recipe, you can save the recipe into an online recipe box through Ziplist? It's completely free to sign up and easy to use to organize your recipes as well as your grocery list.
You can also find nutrition info for this recipe by clicking on the magic button below.
[amd-zlrecipe-recipe:30]
*I'm affiliated with Ziplist, but I'd only recommend products that I love. I've been using Ziplist to format my recipes =)