Crispy tortilla filled with sweet strawberries and banana over melted peanut butter. Warm, gooey, and delicious, this four ingredient quesadilla tastes amazing as a quick breakfast or an afternoon snack.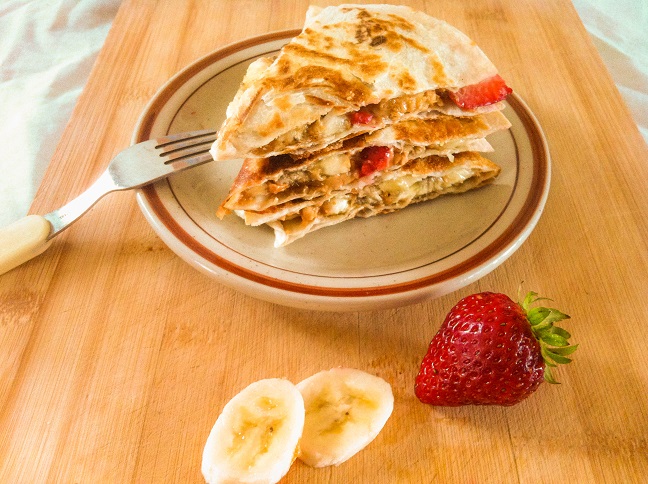 I hope you had a wonderful Labor Weekend! What did you guys do to celebrate? My family didn't really do anything for Labor Day weekend, mostly because it always coincides with my youngest sister's birthday. And this year, she's finally turning 21! So we took her out to dinner to celebrate a little early, not that we wouldn't have if she wasn't turning 21, but it still felt a little more special. Her birthday isn't until September 3rd, but it's easier to celebrate over the weekend when we're all mostly free. =)
Today, I'm sharing with you my recipe for Strawberry Banana Peanut Butter Quesadillas.
Oh my gosh! These quesadillas bring back soo many good memories! How many of you have had peanut butter and banana sandwiches as a kid? I know I did. A lot. It's one of my favorite combinations ever. And it still is!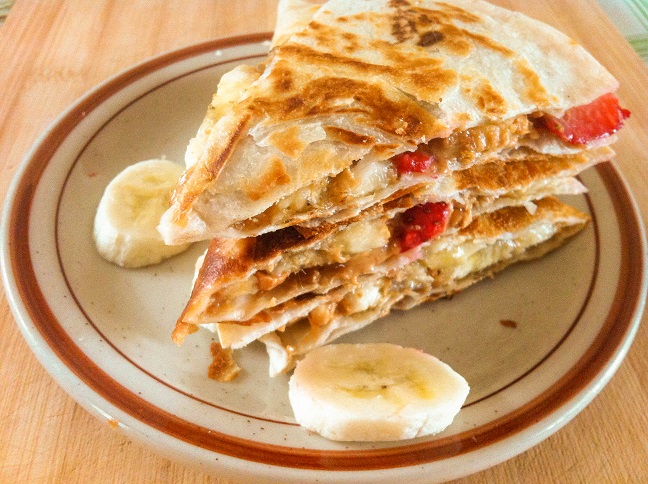 As a kid, I preferred this sweet combination over ham and cheese any day. There's just something about peanut butter and bananas that seem to work so well together. Now, let's kick it up a notch by adding sweet sliced strawberries. Instead of plain bread, let's place these ingredients inside a warm crispy tortilla. How can I possibly resist? More importantly, how can you? =)
Each bite is filled with warm crispy tortilla, melted peanut butter, and sweet bananas and strawberries. Your taste buds will thank you, I promise.
And to make these quesadillas, you just need about 10 minutes.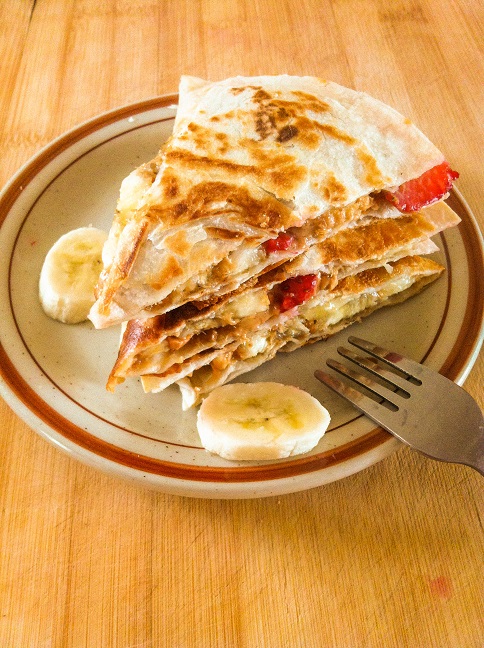 First, spread peanut butter onto one whole side of the tortilla. If you're on a vegan or gluten free diet, make sure to check the packaging of the tortilla.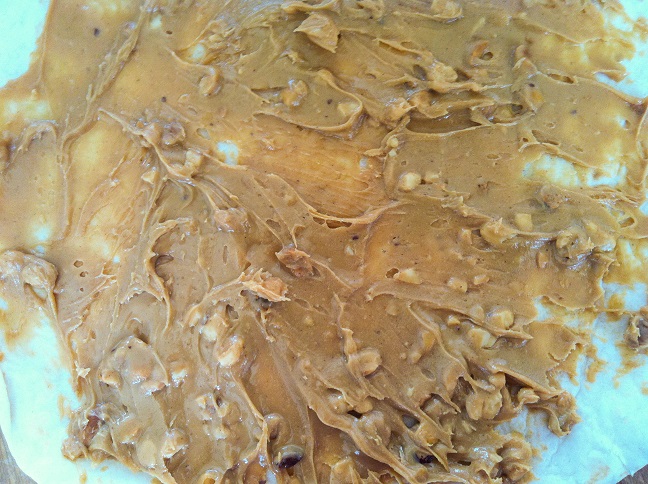 Then cut the strawberries and bananas into thin slices. They're easier to work with when they're relatively flat. Place the sliced strawberries and bananas onto one side of the tortilla. Fold the tortilla in half to cover the fruits.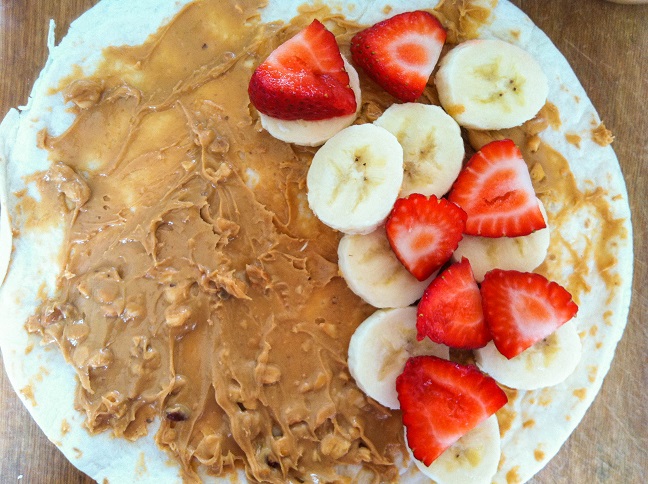 In a small skillet, lightly grease the surface with nonstick cooking spray or with olive oil. Place the quesadilla into the skillet over low heat. This will help prevent the tortilla from becoming burnt. Heat the tortilla until it becomes crispy and a golden brown. Use a spatula to flip the quesadilla to the other side. Heat that side of the tortilla until it turns golden brown and crispy.
I love making these. Not only does the melted gooey peanut butter make me want to bite into the hot quesadilla right away (very unadvisable!), the amazing smell of peanut butter wafts through my kitchen. =)
Plate the quesadilla, and slice them into 3 pieces.
Serve them warm.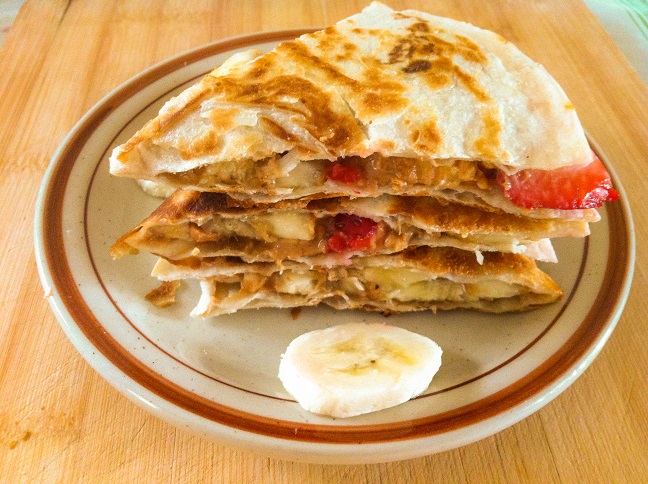 Want instant updates? Follow me on Facebook, Twitter,  Instagram, or Bloglovin.
[amd-zlrecipe-recipe:25]