A simple yet delicious summer salad consisting of bite sized lettuce, thinly sliced sweet yellow nectarine, crunchy walnuts, and sweet dried cranberries then drizzled with sweet nectarine balsamic vinaigrette. With just a few simple ingredients, this salad is refreshing and easy to make for a light meal on a hot summer day.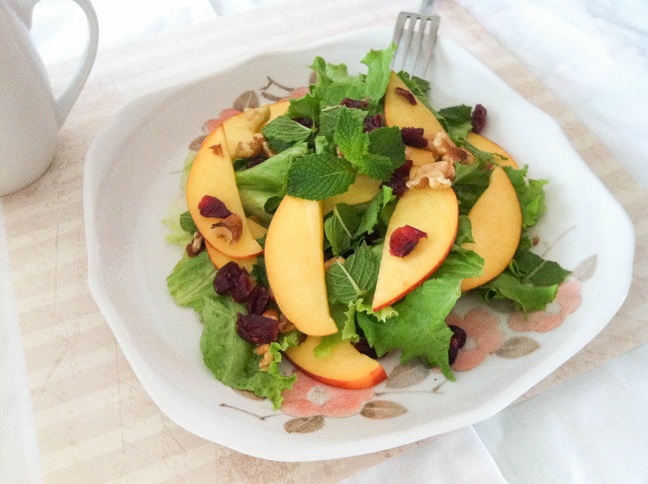 I hope you enjoyed your 4th of July weekend because I sure did. =)
Normally, I'd save these little updates for my Life with a Wallflower posts, but I'm too excited about my latest discovery to wait. My cousin from Los Angeles and his wife came to visit us for the long weekend. We spent Independence Day with family down in San Jose. And we discovered a brand new dessert place, perfect for the hot weather. Have you ever had shaved ice? Yes? What about shaved snow? I have never had shaved snow before, and I was amazed by the soft flaky layers of "snow," which has creamy texture just like ice cream. If you're in the South Bay, make Sno-Zen a stop.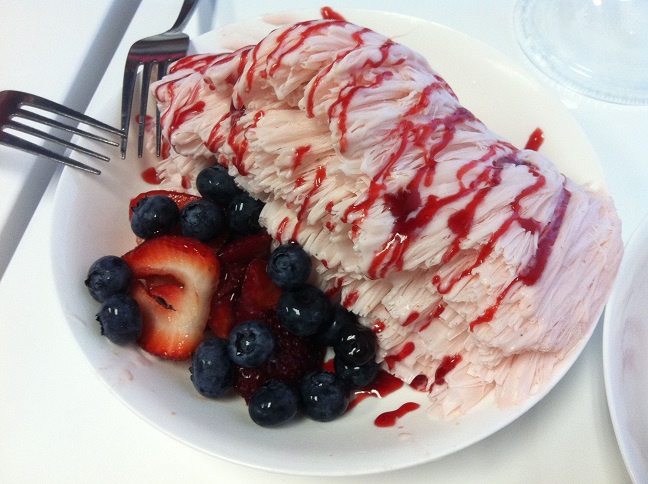 So I actually spent the last week in San Jose prepping for my upcoming dental hygiene licensing exam. Compared to San Francisco, the heat is scorching. With summer in full blast, I'm desperate for any meal that doesn't require me standing in the kitchen, dying from the heat radiating from my stove or oven. Do you feel the same way?
Yes? Great! Because I have yet another summer salad to share with you today.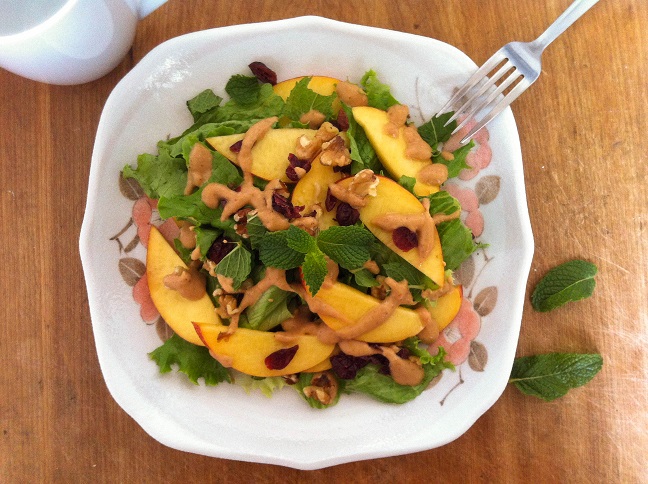 I love my salads to be filled with tons of ingredients such as fresh fruits, nuts, and dried fruits. I feel that these little ingredients add so much more flavor. Plus they're all healthy for you. You get the added flavor with no extra cost to your health.
This summer salad is perfect for almost everyone. Filled with fresh ingredients, my Nectarine, Walnuts, and Dried Cranberry Salad is simple and takes so very little time to make. With the exception of possibly toasting the walnuts, there is no cooking involved. Not convinced yet? You can also find tons of nutrients such as Vitamin C from the nectarine and cranberries and protein and fiber from the walnuts. Walnuts have been found to contribute to better heart health, a decrease in blood cholesterol, benefits for those with diabetes, and have anti cancer benefits. All you need is a little bit every day.
Each bite includes the crunchy nutty taste of walnuts, the sweetness of dried cranberries, and the refreshingly sweet and occasionally slightly tart taste of nectarines. Drizzled with nectarine balsamic vinaigrette, I think I can have this salad all day, every day, and I'll still be satisfied.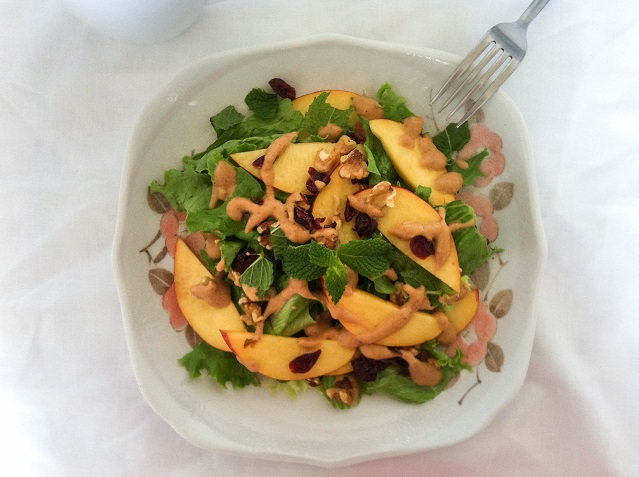 While those who are allergic to nuts shouldn't eat this salad, it is, however, perfect for vegans and those who are on a gluten-free diet. Those who are allergic to nuts can try my other summer salad, Chopped Chicken and Strawberry Salad. =)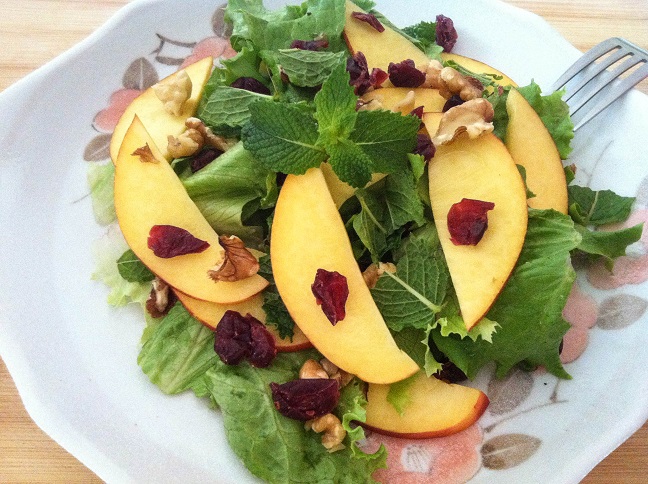 First, tear up the lettuce into bite size pieces. I usually prefer tearing because it gives the salad a rustic look.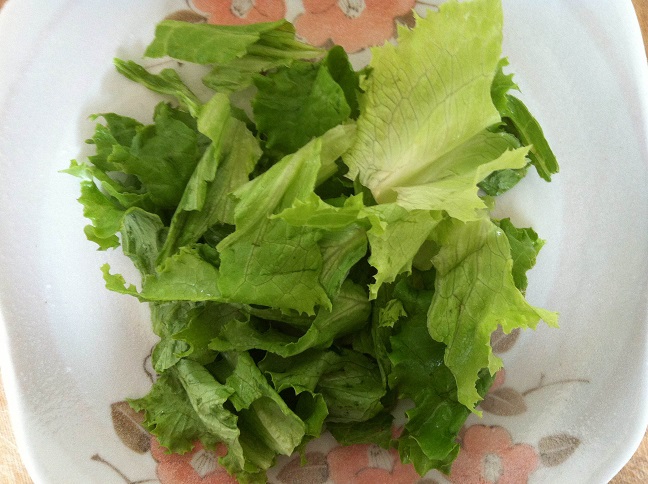 Slice the nectarine into thin slices. I chose to cut mine into semi circle shapes.
Chop the walnuts into small pieces. Or you can simply buy it pre-chopped. I didn't toast mine but if you want them crunchy with a nuttier taste, place the walnuts into the oven at 350oF for about 8-10 minutes until they're warm and toasted.
In a large bowl, add the lettuce, nectarine, walnuts, and dried cranberries. Toss them until they are evenly incorporated.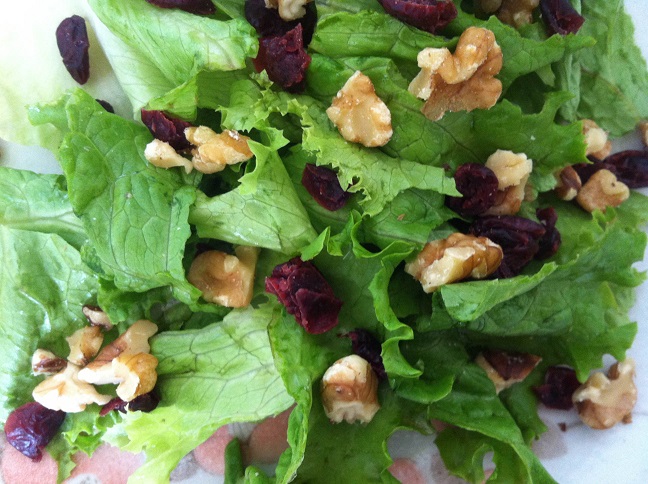 Plate the salad. Drizzle nectarine balsamic vinaigrette over the salad, and serve cold.
Now you can enjoy your guilt free summer salad!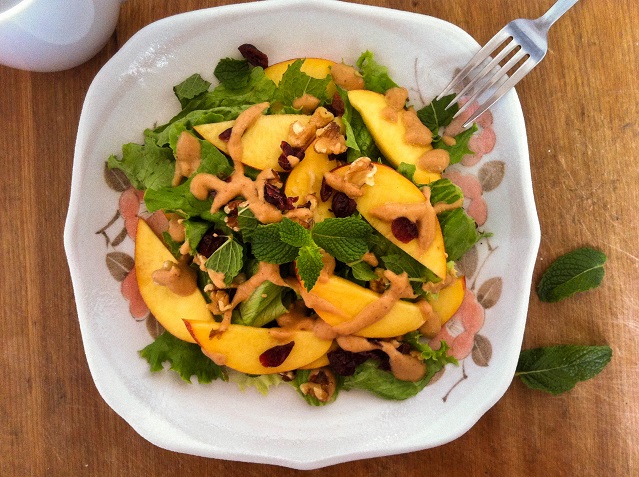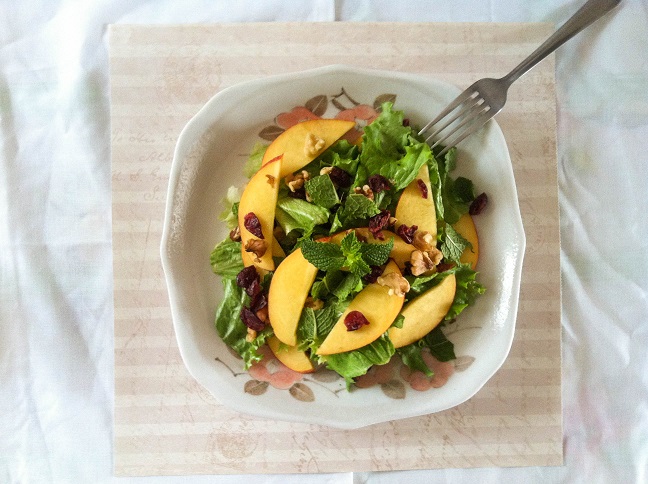 Want instant updates? Follow me on Facebook, Twitter,  Instagram, or Bloglovin.
For a printer friendly version of this recipe, click here.
Click on the image below for an enlarged version of this recipe.