Slightly sweetened oatmeal squares filled with pumpkin puree, dried cranberries, and almond slivers for a delicious snack. These healthy oatmeal squares are great for an early breakfast on the go.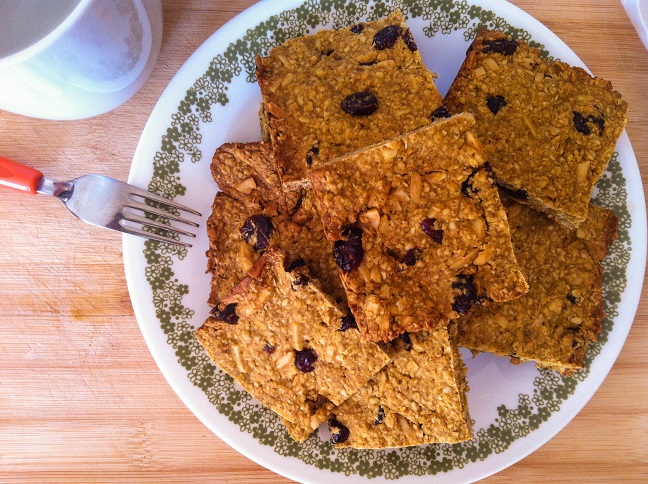 It's October, which means that it's time for the pumpkin craze to start if it hasn't already for you. =)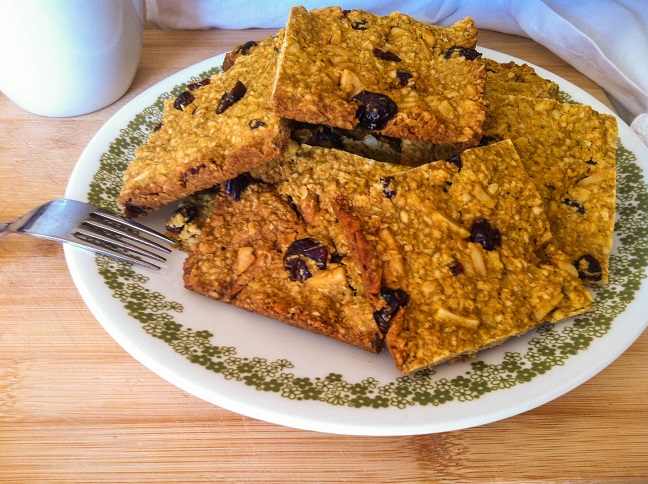 Did you know that October is also National Dental Hygiene month? While I mostly keep my dental hygiene career separate from my blog, because I know some people do have a dental phobia, I thought that in honor of National Dental Hygiene month, I'll slip in a tip per post. Since this is my first tip, I'll keep it real simple.
Tip #1: Brush your teeth at least twice a day: in the morning and at night. Although that sounds obvious, not everyone does because they think that brushing at night is enough. Some people feel that their teeth won't get dirty while they're sleeping, but that's not true. We all have bacteria in our saliva, on our tongues, and on the sides of our mouths. These bacteria start to attach to our teeth pretty much immediately after we're done brushing, and even right after our six month cleaning with the dentist/dental hygienist. They grow on our teeth, and left alone for a long while, can cause problems in the long term. By brushing, we prevent the bacteria from becoming stronger.
That wasn't too bad, was it? I hope you don't mind that I'm deviating a little bit from my usual posts. Let me know what you think and if you have questions.
Back to pumpkins. =)
I've been stocking up on canned pumpkins (since I saw them stacked high on the shelves a few weeks ago) to prepare for the fall. Luckily for me, there's a supermarket nearby that sells canned pumpkin for just 99 cents! That means I can make tons of pumpkin related recipes. Because when I think of fall recipes, I think of apples and cinnamon and pumpkins and pumpkin spice.
So today, I wanted to share with you my Baked Pumpkin Cranberry Almond Oatmeal Squares.
That's certainly a mouthful to say but accurately describes this amazing treat.
Pumpkin, oats, almonds. All the good for you ingredients filled with tons of nutrients. They'll keep you energized as you go through your day.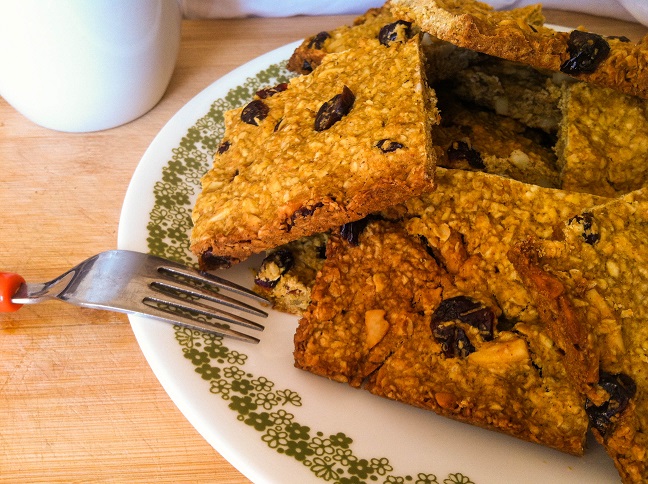 I love how super easy it is to create these tasty and healthy oatmeal squares. All you have to do is mix the ingredients in a large bowl, and then spread it out evenly in a 9×9 inch square baking pan. Place the baking pan in the oven for about 20 minutes and you'll have a deliciously chewy breakfast or snack.
Sounds easy enough, right? And you get pumpkin for breakfast too!
Each bite of these oatmeal squares is chewy with the flavor of pumpkin, the taste of almonds, and the sweetness of dried cranberries. Again, just like with my Autumn Apple Crisp, you get the essence of fall in every bite.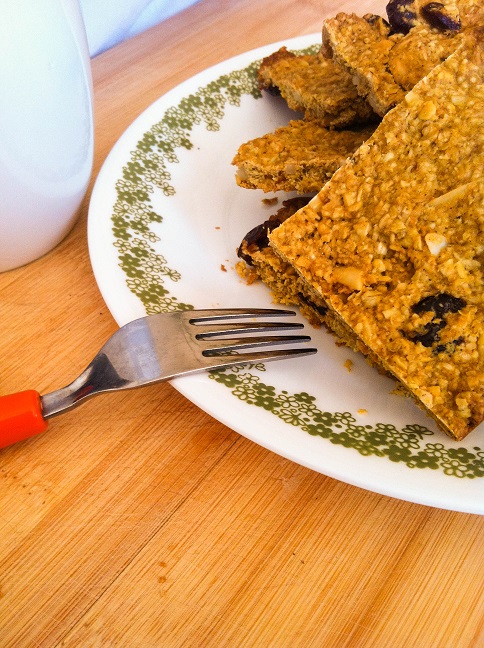 Preheat the oven to 350F. Lightly grease a 9×9 inch square baking pan with either non stick cooking spray or vegetable oil. This helps prevent the bars from sticking tightly to the pan after it's been baked.
Add old fashioned oats, brown sugar, agave nectar, almonds, dried cranberries, pumpkin puree, pumpkin spice, and ground cinnamon to a large bowl. Make sure that the old-fashioned oats are of the gluten-free variety if you're intolerant of gluten. I used agave nectar in this recipe to make it vegan, but you can definitely use honey instead. And since this recipe does not contain any raw eggs, you can taste it to make sure that it's sweet enough or pumpkin-y enough. I know, I'm making up adjectives now.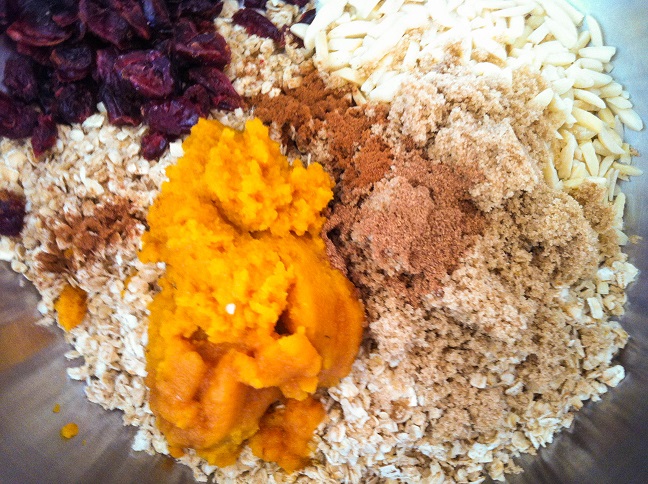 Mix all the ingredients until the mixture becomes moist and begins to stick together.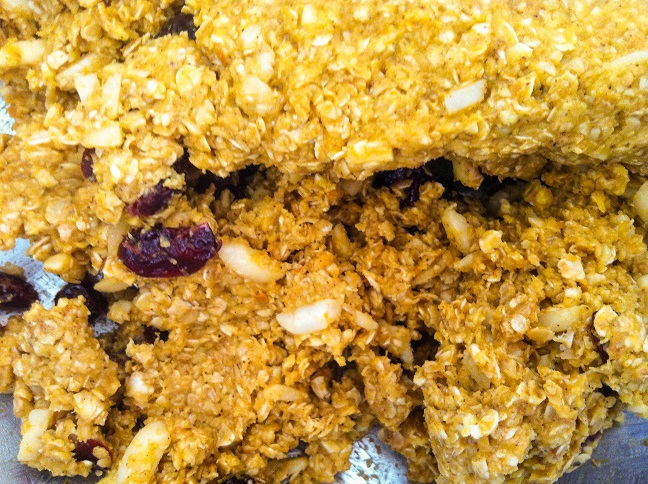 Transfer the oats mixture into the baking pan and use your hands to flatten it until it becomes an even surface.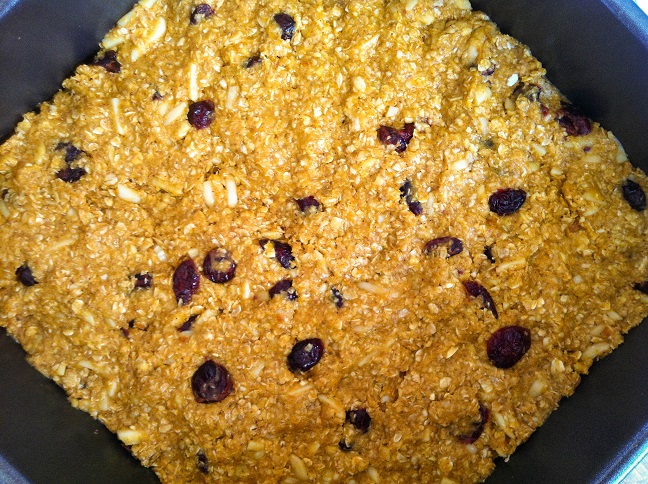 Place the baking pan into the oven and bake for about 20 minutes. The oats will have hardened, the edges slightly golden brown.
Allow the pumpkin cranberry almond oatmeal to cool down for about 10 minutes before cutting into it. I cut mine into 9 squares.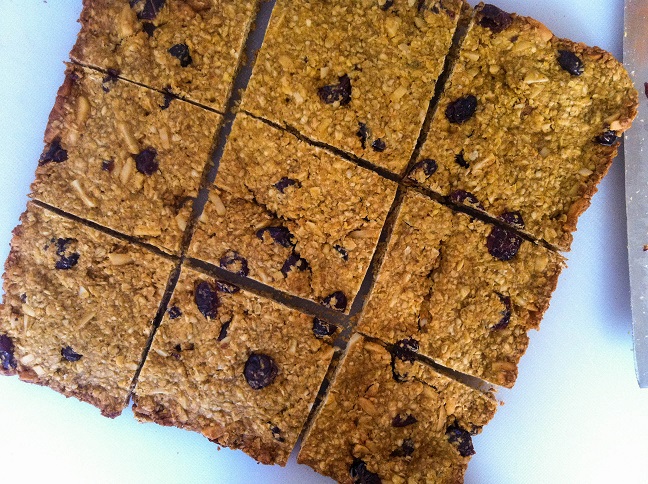 You can store the oatmeal squares in an airtight container once they're completely cool. If they aren't completely cool, condensation will occur and your squares will become soggy. Keep the oatmeal bars in an airtight container and it will last for a few days at room temperature.
Serve the Pumpkin Cranberry Almond Oatmeal Squares for breakfast or as an afternoon snack.
Enjoy!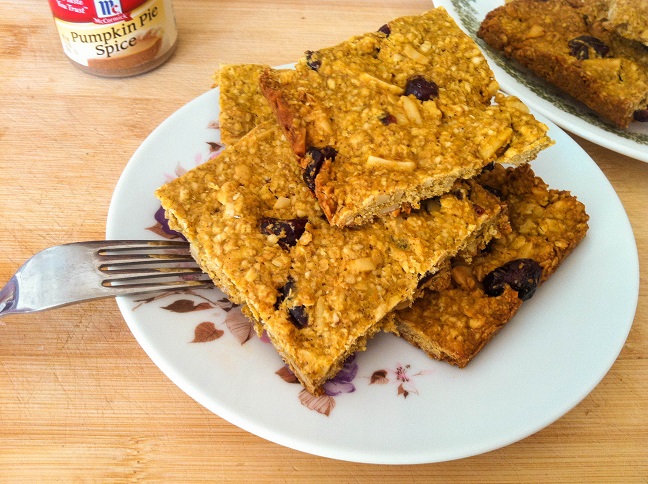 Want instant updates? Follow me on Facebook, Twitter,  Instagram, or Bloglovin.
Did you know that if you're not ready to print a recipe, you can save the recipe into an online recipe box through Ziplist? It's completely free to sign up and easy to use to organize your recipes as well as your grocery list.
[amd-zlrecipe-recipe:43]
Disclaimer: This post contains affiliated links.