Warm sliced apples topped with a crunchy cinnamony almond granola. Sweet and delicious, this easy to make dessert tastes like the very essence of fall.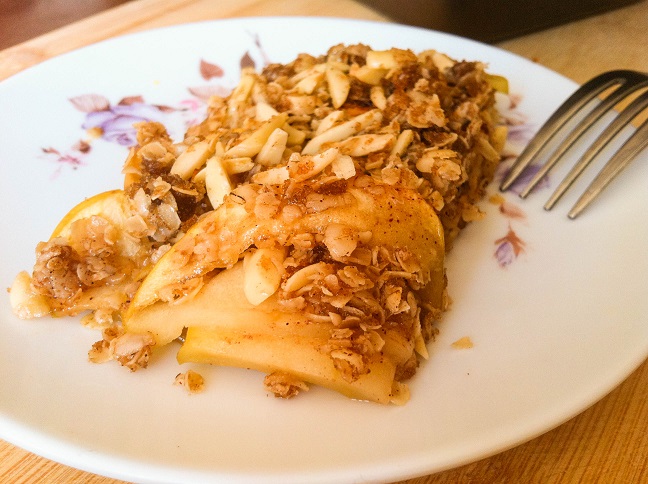 Happy October!
Can you believe that it's already October? The year seems to fly by so fast, doesn't it? A little bit longer, and it'll be Thanksgiving and Christmas. Okay, maybe it's longer than that, but from the way the department stores display their products, you would think it's just around the corner…
Before I get way ahead of myself and start planning for Thanksgiving and Christmas, let's welcome in October with apples and cinnamon.
Apples and cinnamons, one of my favorite combinations ever! There's something about the two that just work so well together! Apples and cinnamon remind me of leaves changing into vibrant colors, falling to the ground, and crunching under my feet (all of which requires me to travel away from San Francisco to see and experience) and cool breezes. They're simply just so comforting.
Since I love apples and cinnamon, especially for fall, I wanted to share with you my Autumn Apple Crisp. It's so amazingly delicious with the classic flavors of fall. Sliced apples topped with oats, cinnamon, almonds, and brown sugar. It's just the right amount of sweet with a crunchy granola topping that's just so satisfying! With only several minutes of preparation, and about 20-30 minutes of bake time, it's an easy treat to make for fall.
This Autumn Apple Crisp is actually a variation of my No Bake Baked Apple from almost a year ago when I first started blogging. While the photos aren't that great, I promise you, it's just as good as these Autumn Apple Crisp. It's the perfect solution if you don't have access to an oven =)
I'm sharing this at Fiesta Friday.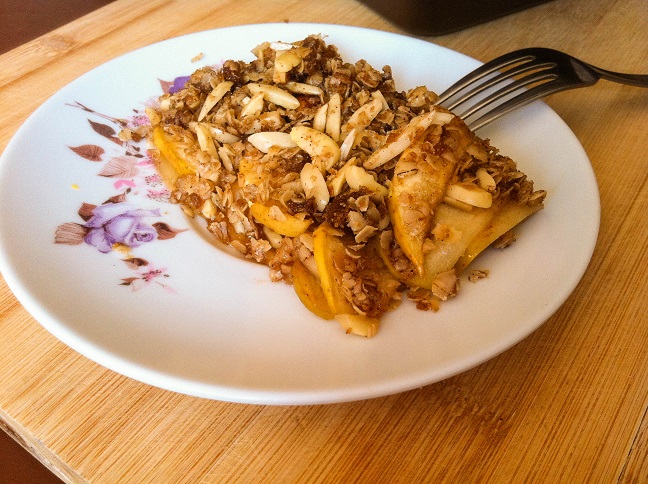 Preheat the oven to 350F. Lightly grease a 9x5inch pan with nonstick cooking spray or vegetable oil.
Cut a large apple into slices and layer it on the bottom of the baking pan. Don't cut them too thin. Otherwise, the apples start to fall apart.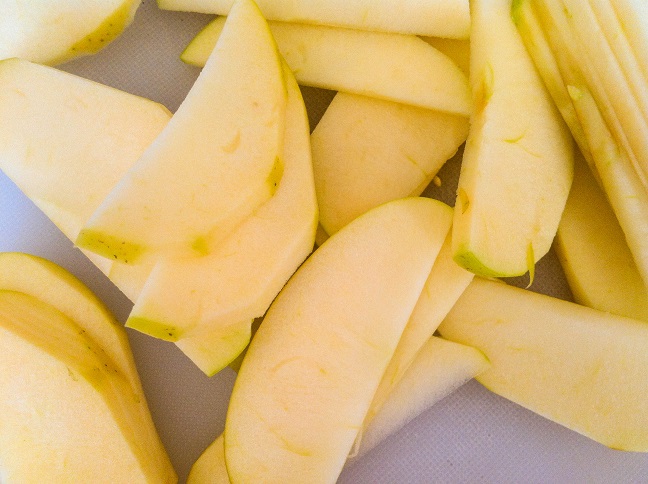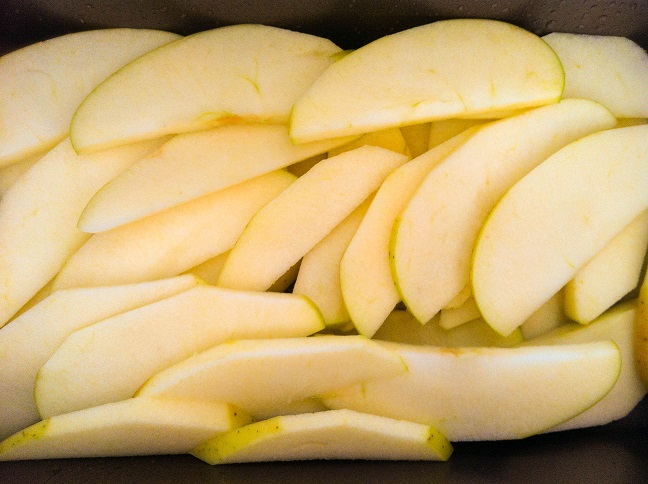 Add old fashion oats, brown sugar, olive oil, and almond slivers in a medium sized bowl. Mix them thoroughly and then evenly spread them over the apple slices.
If you're on a gluten-free diet, there are some brands that you can buy that have gluten-free oats such as Bob's Red Mill and GF Harvest.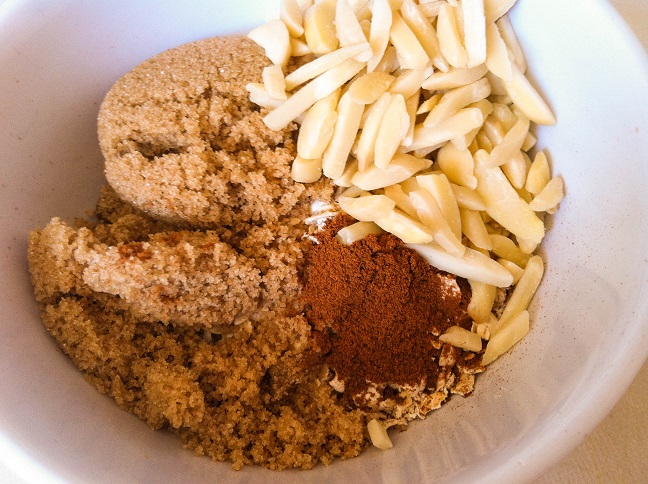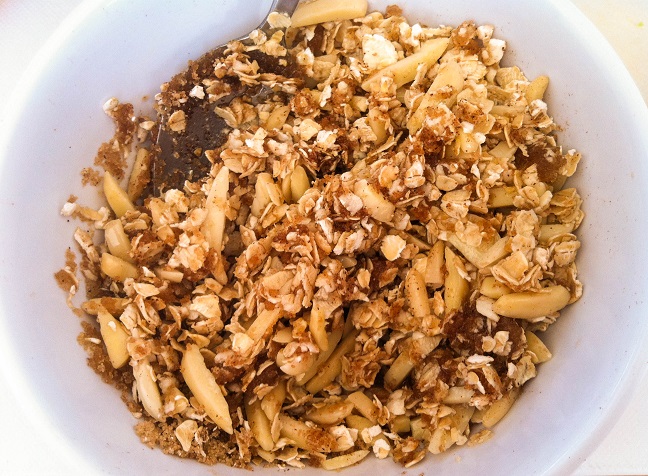 Place the baking pan into the oven, and bake the apple crisps for about 20-30 minutes until the apples have become warm and bubbly, and the scent of apples and cinnamon drift out from the oven. The granola topping will be crunchy and a golden brown. So mouth watering =)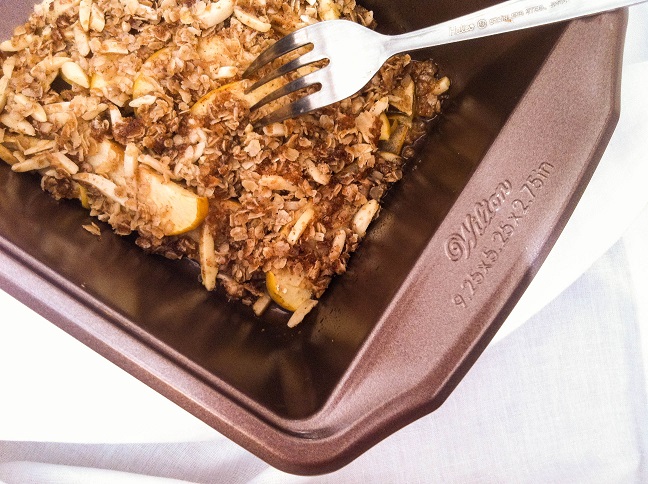 Once the apple crisps are done, remove them from the oven and allow them to cool for several minutes.
Slice the apple crisp in half or into thirds. Serve them warm.
Enjoy!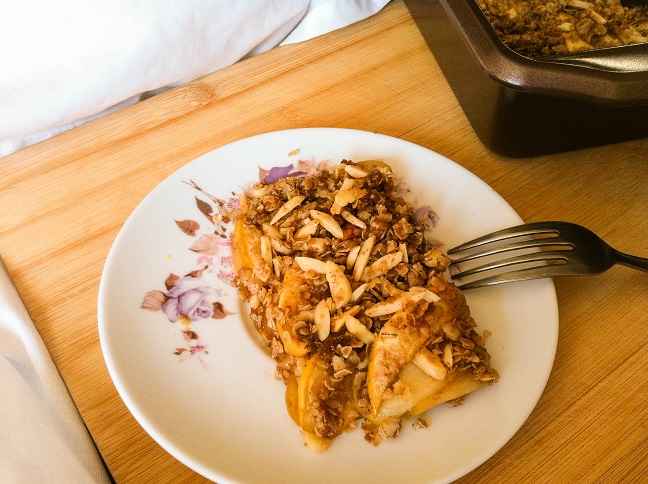 Want instant updates? Follow me on Facebook, Twitter,  Instagram, or Bloglovin.
Did you know that if you're not ready to print a recipe, you can save the recipe into an online recipe box through Ziplist? It's completely free to sign up and easy to use to organize your recipes as well as your grocery list.
[amd-zlrecipe-recipe:42]
Disclaimer: This post contains affiliate links.