Spicy and garlicky pasta cooked with spinach, sweet corn, sliced mushrooms, and grape tomatoes for a simple yet delicious meal for two. With just a few ingredients, this dish is healthy and refreshing, perfect for dinner after a long day at work or school.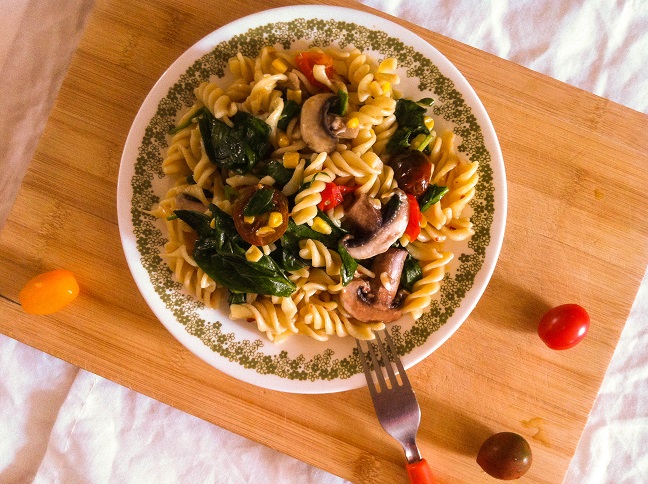 Just like salads, pasta is such a versatile dish. Changing a few ingredients or the sauce will make it a completely different dish. Maybe that's why I love pasta so much. It's never the same, so I can never be tired of it, and pastas can be so refreshing and healthy depending on what you add to it.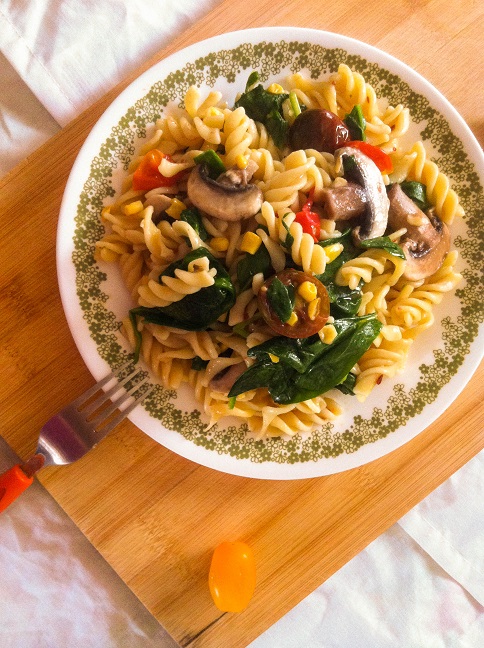 Today's post is slightly different. A little over a week ago, a representative from SACO, a serviced apartment agency located in the UK, emailed me, asking if I'd be interested in participating in the SACO Kitchen Challenge. I would be given a budget of 20 pounds ($31.79) to create a meal for two plus either a starter or a dessert. I would only have a few hours to make this meal so I can't make anything that would take a long time, like marinating meat, and I can only use basic kitchen supplies. Winners of this challenge would be given a one night stay at any of their apartments.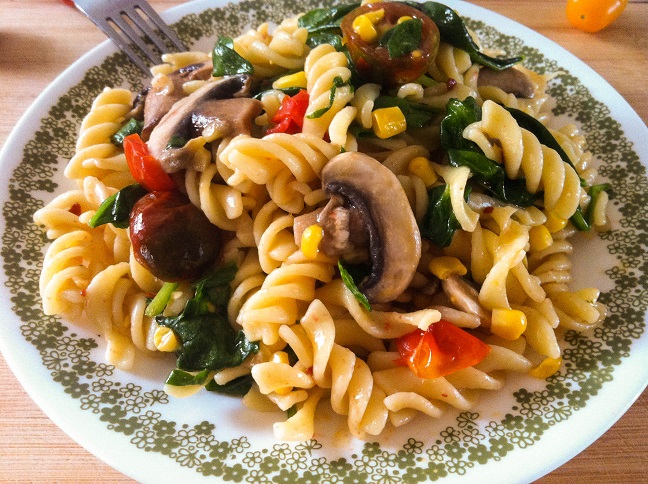 Since I live in San Francisco, I wouldn't be able to stay in an apartment in the UK. But I love a good challenge so I decided to go ahead and accept it anyway. Most of the time, my recipes are quick and easy and low cost since I'm a budget too. This challenge seemed perfect for me.
So this is my submission to the challenge. If you'd like to see the breakdown of the cost of this entire meal for two, scroll down to the bottom of the page.
I chose to do an Asian-inspired Spinach Tomato French Bread Pizza as my starter. You can find the recipe for that here. It's super easy to make and filled with so many flavors. Just imagine a French bread crust topped with a hoisin coconut peanut sauce, spinach, tomato, and melted cheese. That's what you'll start your meal with.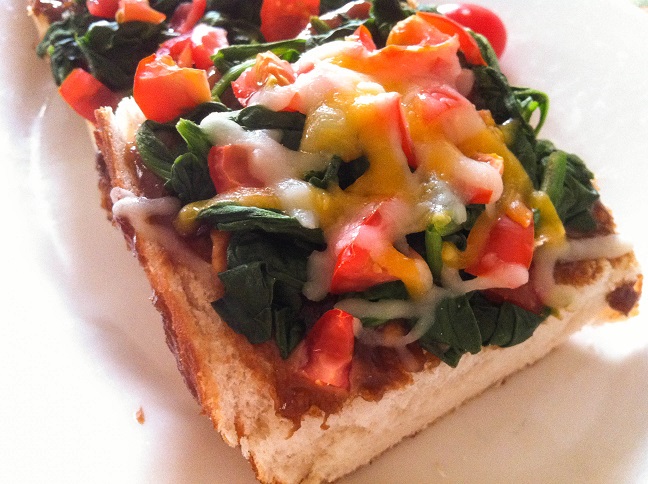 Prepare the Asian inspired Spinach Tomato French Bread Pizza, but don't bake it in the oven until you're almost done with the pasta.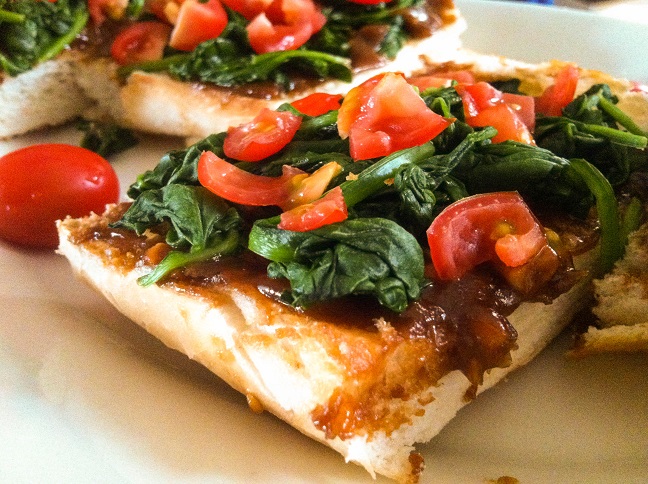 To make this pasta, first prepare all the ingredients. Slice the tomatoes, mince the garlic, and cut the mushrooms.
Boil the pasta in a large pot according to the directions of the package. I used rotini, but you can use whatever pasta you like. The rotini took about 7-8 minutes to become al dente (slightly undercooked). Make sure the pasta is still undercooked because you'll transfer it over later to cook a little bit more with the vegetables.
Once the pasta is al dente, measure out about a ½ cup of the pasta water and reserve it for later to make the sauce. Drain the rest of the pasta water and run the pasta through cold water to stop the rotini from continuing to cook and to prevent them from sticking to each other. Set the pasta aside for now.
In a large pan/skillet, add about ¼ cup olive oil over low heat. Allow the olive oil to heat for about a minute before adding the minced garlic. Use a spatula to stir the garlic to cook them evenly and to prevent them from becoming burnt.
After cooking the garlic for about 30 seconds, when it's just starting to turn golden brown on the edges, add the frozen corn kernels and sliced tomatoes. Make sure to be careful when you do this part. The hot oil can react to the water in the corn and tomatoes and cause splashing and sizzling. Once the corn and tomatoes have softened, about 5 minutes, add the sliced mushrooms.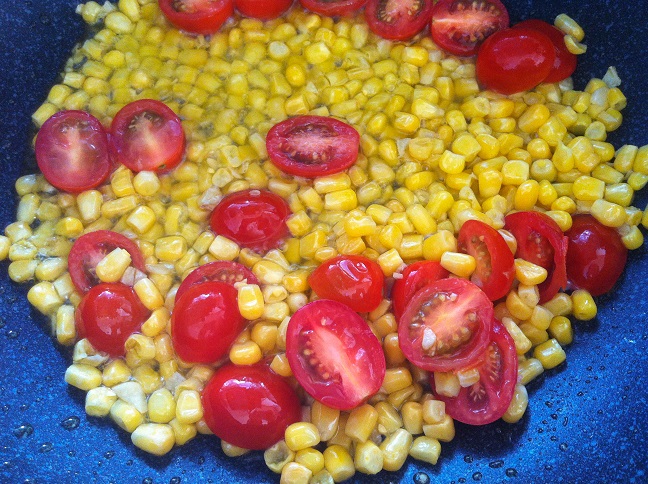 Cook the mushrooms for about 5 minutes, then add in the pasta and the pasta water. Lastly add the spinach, and mix all the ingredients until they are evenly incorporated and the spinach leaves have wilted. Add crushed red pepper and salt to taste.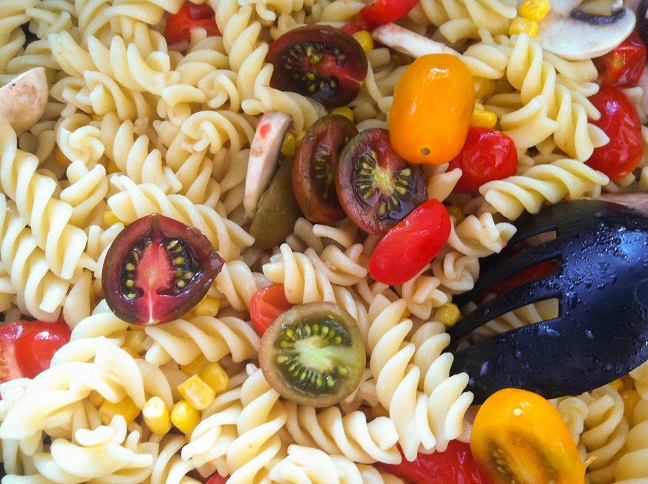 Serve the pasta warm or cold.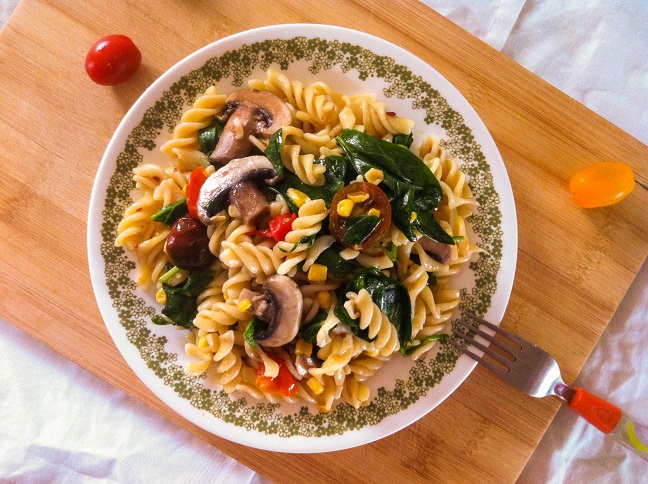 Want instant updates? Follow me on Facebook, Twitter,  Instagram, or Bloglovin.
Did you know that if you're not ready to print a recipe, you can save the recipe into an online recipe box through Ziplist? It's completely free to sign up and easy to use to organize your recipes as well as your grocery list.
[amd-zlrecipe-recipe:36]
In case you're curious, here's the cost of all the ingredients I used. I didn't use all of it, obviously, and you most likely already have some of these ingredients in your kitchen, but as you can see, it falls within budget. =)
For the Fresh Tomato Spinach Pasta:
Box of Pasta: $1
10 oz box of Spinach: $2
2 pound bag of frozen corn kernels: $2
1 pound grape tomatoes: $1.50
½ pound of mushrooms: $1.40
16 oz bottle of olive oil: $5
1 bulb of garlic: 50 cents
Bottle of crushed red pepper seasoning: $1
Salt: $1
For the Asian Inspired Spinach and Tomato French Bread Pizza:
Spinach and grape tomatoes are from the same purchase as in the pasta
French bread: $2
Hoisin sauce: $3
Peanut Butter: $2
Canned Coconut Milk: $1.80
Total: about $25