Pink dragon fruit blended with almond butter then topped with sliced fresh bananas and honey granola. Easy to make and delicious, this fruity bowl is perfect for breakfast or as an afternoon snack.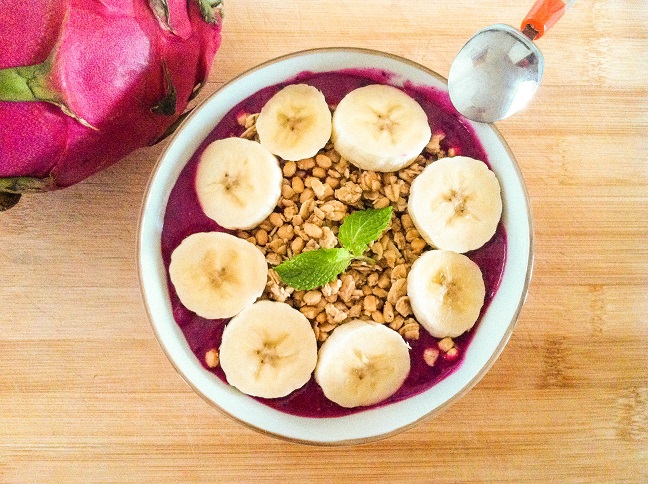 Can you tell that I'm on a breakfast bowl kick? They're so tasty, and they're such a great pick me up that I just can't resist!
If you had no idea what pitaya is or have never heard of it before, don't worry, you're not alone. I didn't know what it was either when I first saw it on the menu at Nekter Juice Bar. I had to ask the guy at the register. And I'm so glad that I decided to try it! It's one of the most amazing blended fruit bowls I've ever had. And I'm so happy that I can share my simplified version of the pitaya bowl with you and my friends at Fiesta  Friday.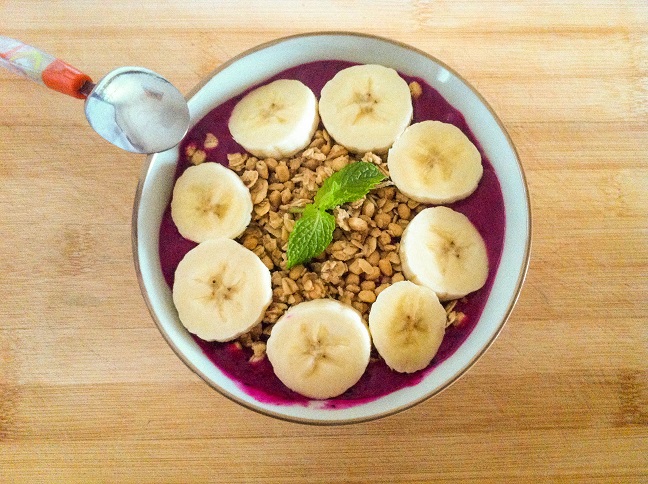 Pitaya is the same as dragon fruit. If you live in areas populated with Asian supermarkets, you've probably seen this fruit as you walk by. I live in the San Francisco Bay Area where many fruits and vegetables are readily available to me. Exotic fruits are on that list. And dragon fruit is definitely an exotic fruit. It's pricy, there's no denying that at about $4 a pound, but they're so good, and they're worth a try if you haven't had them before. However, if you don't have access to them, it's perfectly fine. Use a different fruit like blueberries or strawberries to create your bowl. Just follow the rest of the directions. =)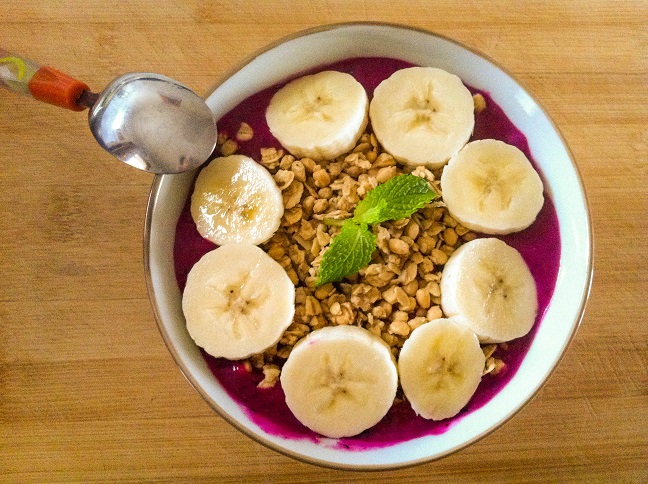 Dragon fruits are filled with antioxidants, fibers, and vitamins. It helps keep your heart healthy, lower the risk of high blood pressure, and can lower the risk of certain types of cancer. Since it has tons of fiber, it can keep you full for a longer period of time. That makes the pitaya bowl the perfect breakfast to start your day or even as a healthy snack to stave off the late afternoon hunger pangs. I'm always ready to snack around 3:00ish. And I'd feel less guilty about snacking if I had one of these bowls compared to chips or cookies.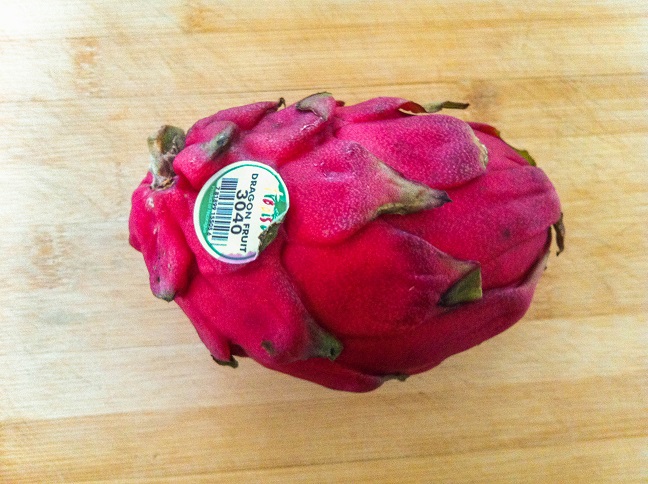 Dragon fruits have a refreshing taste that's just slightly sweet. It's similar to the taste and texture of a melon. Blended with almond butter, it has a slight nutty taste. Topped with fresh banana and crunchy granola, you have a simple yet amazing bowl that's both delicious and healthy.
First, slice the dragon fruit in half lengthwise. The flesh part of the dragon fruit can come in a few colors: white, pink, or red. I find that the white ones are more common. But I love the color of the red one. It's so vibrant. Be careful though if you find the red one. It stains as badly as pomegranate. I found myself with super pink lips after eating them.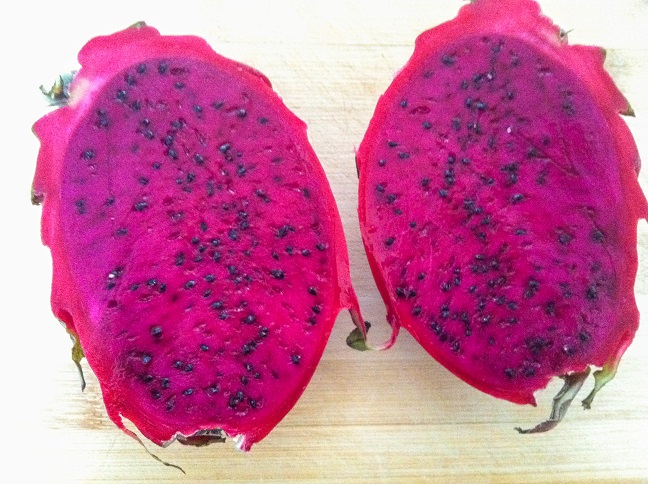 Use a spoon to carve out the flesh, just like how you would with avocado. Freeze the dragon fruit flesh for about an hour or two until it's almost completely frozen. You can also leave it in the freezer overnight or blend with ice if you don't have time to wait. You want to make sure the fruit is frozen so that when the fruit is blended, it will be more solid than liquid. You want the blend to be thick like yogurt.
Blend the dragon fruit with the almond butter. The almond butter gives a nutty taste plus provides nutrients that also aid in reducing the risk of heart disease and diabetes.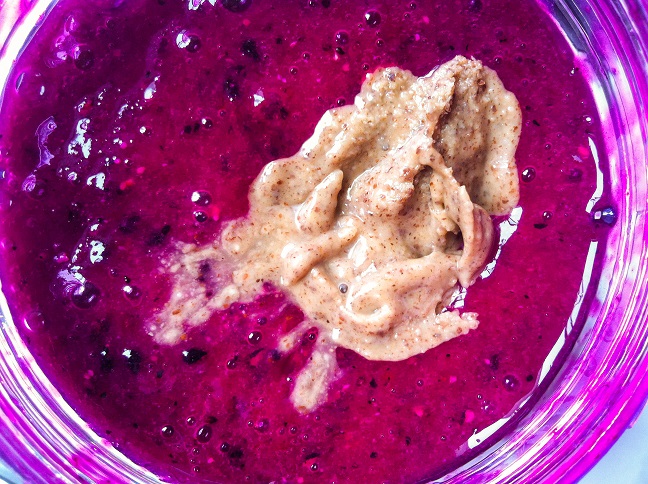 Pour the dragon fruit and almond butter blend into a bowl. Top with sliced bananas and granola.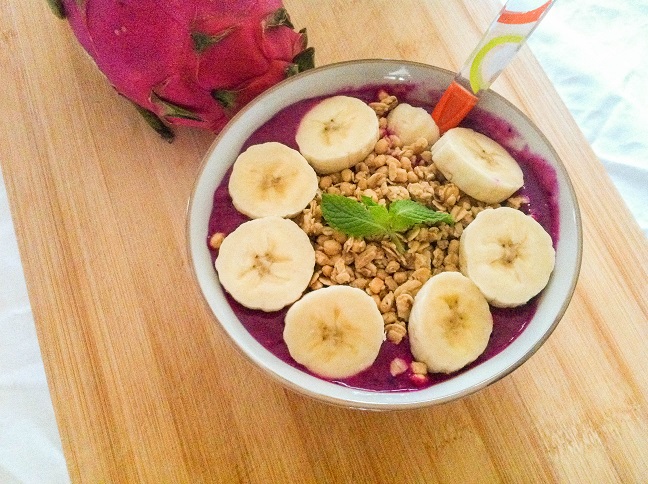 Serve the pitaya bowl cold and enjoy!
Want instant updates? Follow me on Facebook, Twitter,  Instagram, or Bloglovin.
Did you know that if you're not ready to print a recipe, you can save the recipe into an online recipe box through Ziplist? It's completely free to sign up and easy to use to organize your recipes as well as your grocery list.
You can also find nutrition info for this recipe by clicking on the magic button below.
[amd-zlrecipe-recipe:19]
*I'm affiliated with Ziplist, but I'd only recommend products that I love. I've been using Ziplist to format my recipes =)