Crispy tortillas filled with melted cheese, delicate squash blossoms, fresh basil, and a variety of cherry and grape tomatoes. This quesadilla is delicious and full of fresh ingredients straight from the Farmer's Market.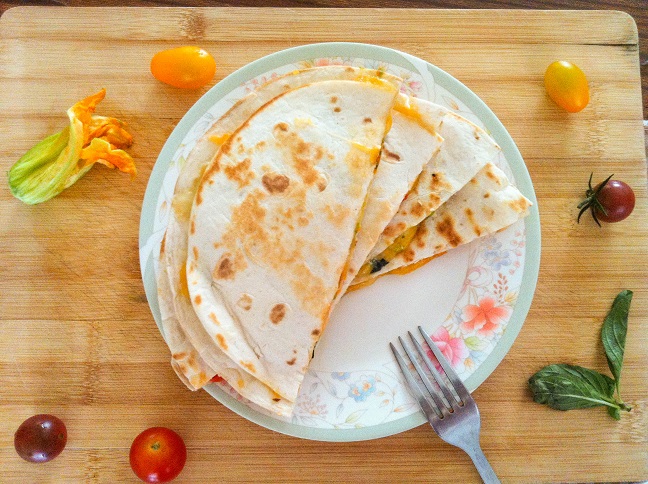 One of my favorite weekend activities is the Farmer's Market. I'm willing to wake up early on Saturday or Sunday morning just to browse fresh produce and discover new vendors. This last weekend, my cousin and I went to downtown Sunnyvale for the Saturday morning Farmer's Market. We have never been to this one before, so it was a pleasant surprise to find so many vendors I haven't encountered before. One block was lined with fruits and vegetables, the other block sold different prepared foods. It's definitely a food blogger's paradise!
Many varieties of tomatoes. Aren't these heirloom tomatoes gorgeous?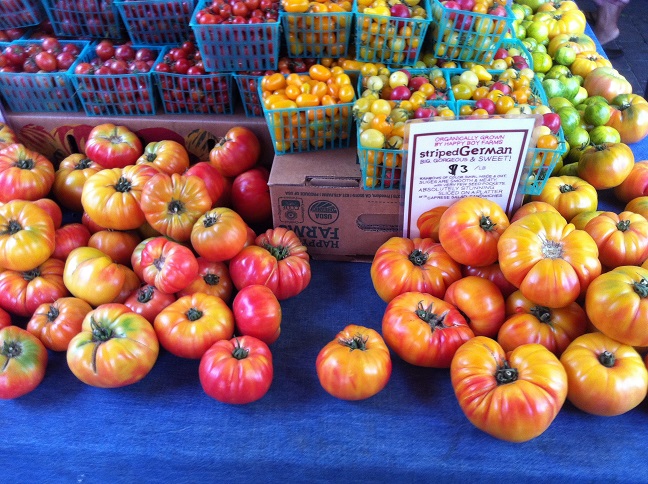 Fresh berries. Plus tons of fruit samplings.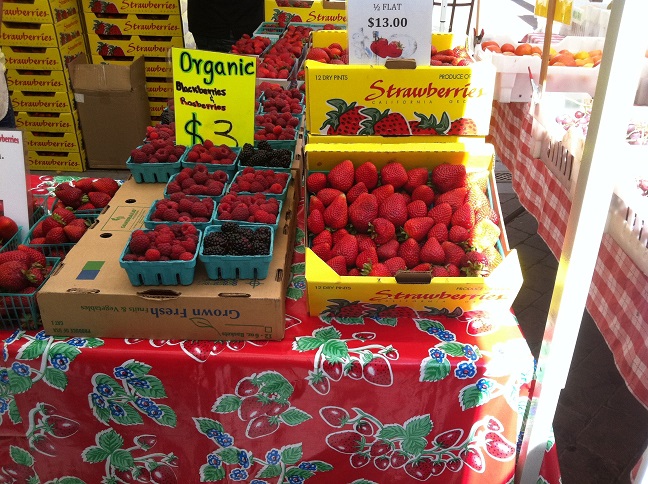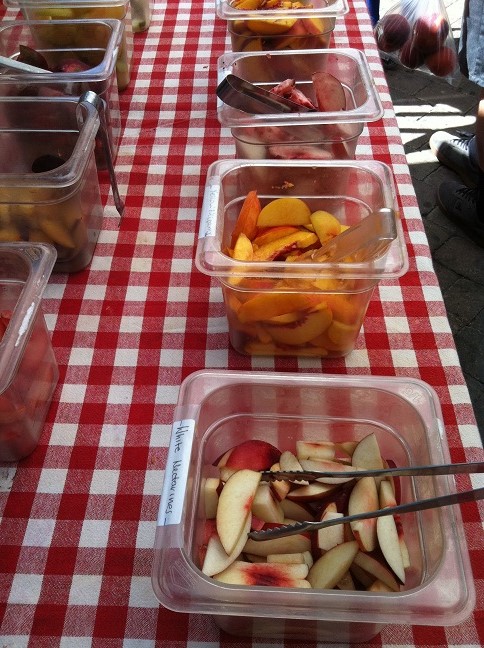 My cousin wanted to try the fresh oysters sold by a vendor from a farm in Santa Cruz.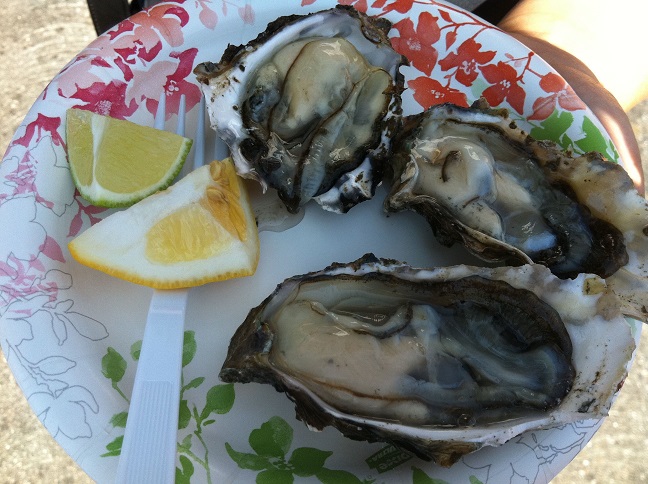 As for me? I was excited to try Sugar Mama Desserts' ice cream. I was disappointed that they didn't have their famous Fresh Strawberry Ice Cream. Each pint of ice cream contained half a pound of fresh strawberries. Instead I ordered the coconut macadamia nut ice cream and the dark chocolate with raspberry swirls. So good! There were so many macadamia nuts in the ice cream. My favorite. If you're ever in the area, I recommend stopping by the Sugar Mama Desserts booth.
While I was at the Farmer's Market, I bought tons of grape and cherry tomatoes. But I discovered something there that I've only read in food blogs before. Squash blossoms. I saw them at a vendor, and I just had to get them. This is the first time I've ever used them, or seen them for that matter.
Squash blossoms are very delicate. They're best if eaten the same day, but if you need to keep them, place them in the refrigerator wrapped in a paper towel. My blossoms started to wilt later that day. They're very tender and slightly sweet.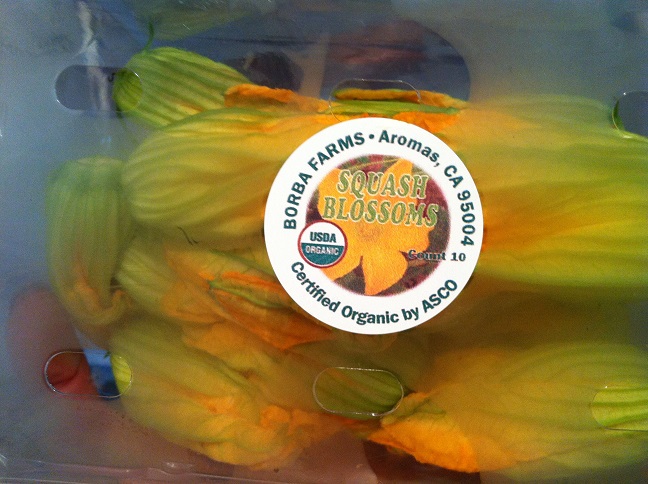 In general, zucchinis and summer squashes have tons of health benefits. They have antioxidants, dietary fiber, antimicrobial and anti cancer benefits, and regulate blood sugar levels. So try to add zucchinis and squashes to your meals.
In today's post, I wanted to add my new found seasonal ingredient: squash blossoms.
I thought I could incorporate them into quesadillas. Just a few fresh ingredients, a little bit of heating, and you have a warm dish full of flavor.
These quesadillas are crispy on the outside with melted cheese, refreshing basil, slightly sweet blossoms, and juicy cherries in every bite. So much natural flavor there's no need to season them. I could eat a few of these and not feel guilty.
I'll definitely bring these to Fiesta Friday . =)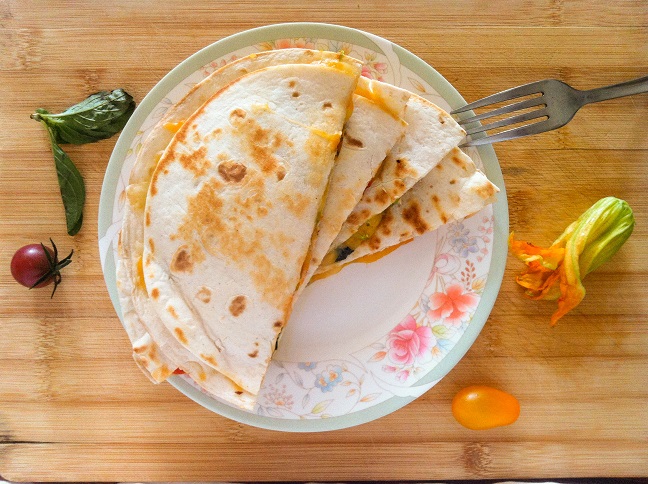 First, prepare all the ingredients. Tear up the squash blossoms into strips, slice the tomatoes into thirds, and tear up the fresh basils.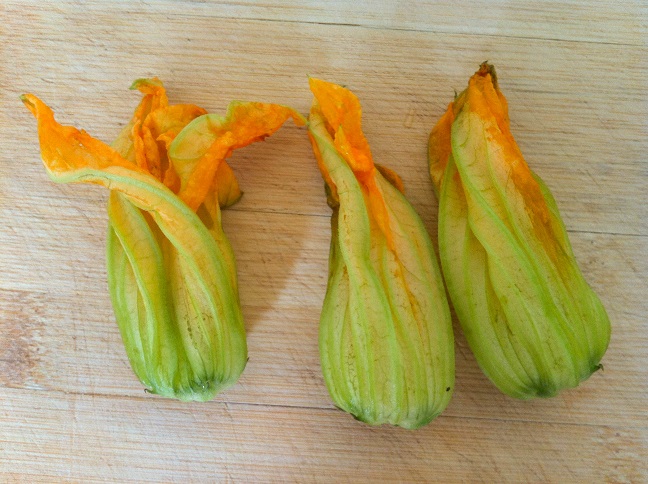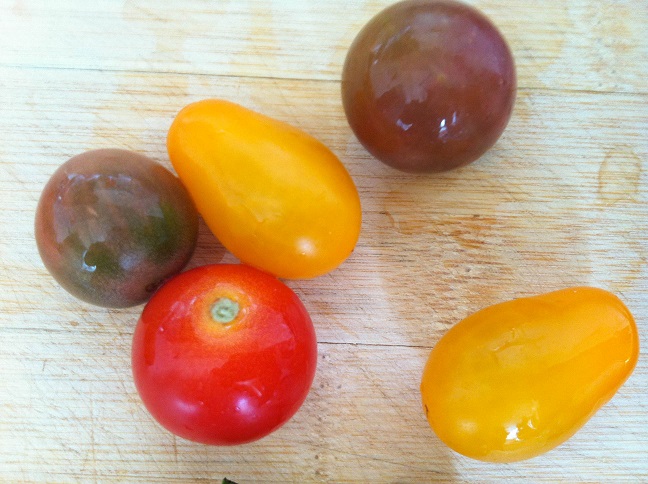 In a small skillet, use nonstick cooking spray to coat the bottom. Place a tortilla on the bottom of the skillet and warm over low heat. If you're on a gluten free diet, you can use gluten free tortillas.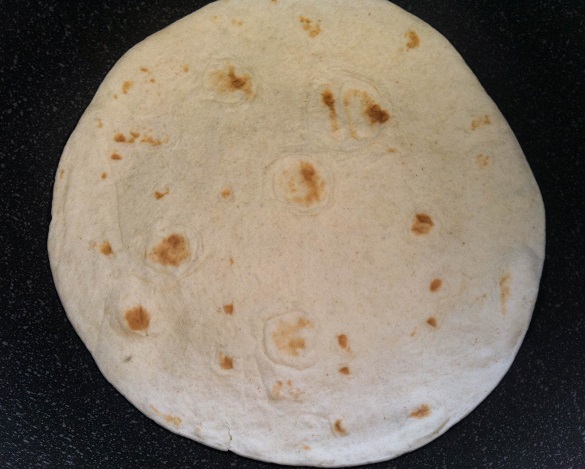 Sprinkle cheese onto the tortilla with a generous amount on the outer edges. This helps seal the edges of the tortilla when the cheese melts.
Add the sliced tomatoes, strips of squash blossoms, and torn basil.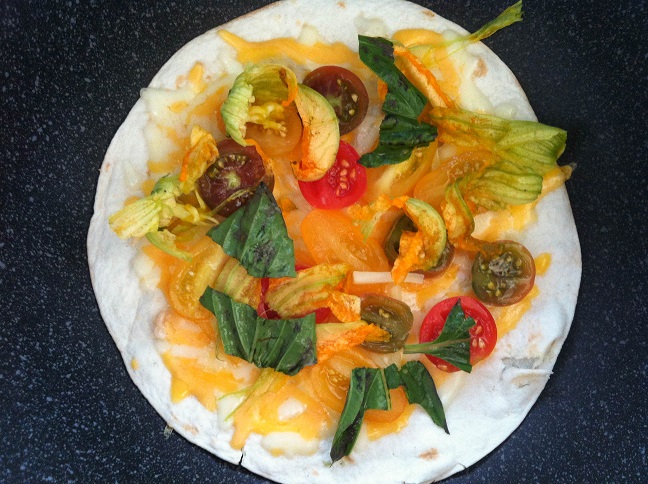 Add more cheese on top. Then cover with a second tortilla.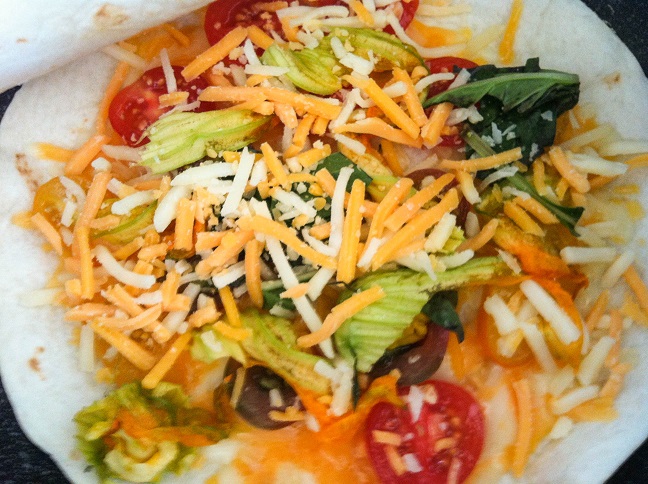 Once the bottom tortilla has turned a golden brown, slip a spatula underneath and flip the quesadilla over. Allow the tortilla to heat until it becomes warm and turns a golden brown.
Plate the quesadilla and cut them in half. I find cutting with a pair of scissors is much easier than with a knife.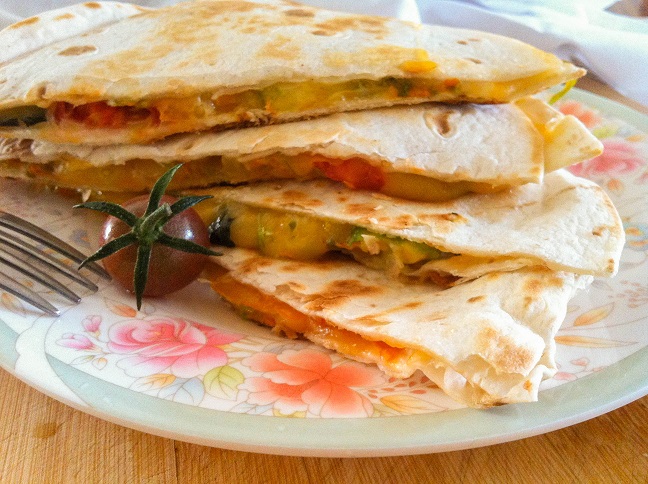 Make as many servings as you need.
Serve the quesadilla warm. Enjoy!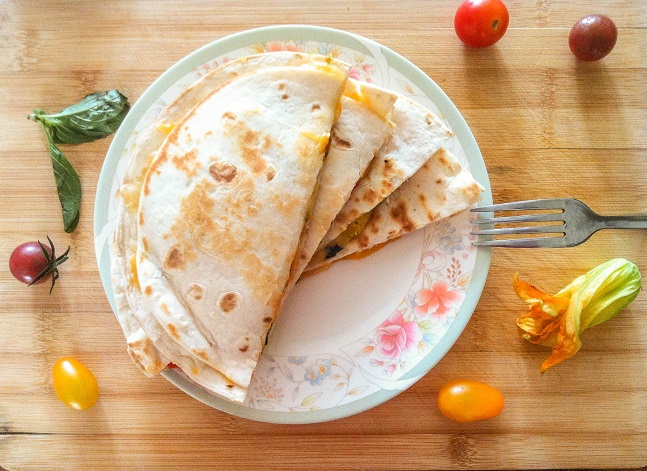 Want instant updates? Follow me on Facebook, Twitter,  Instagram, or Bloglovin.
For a PDF version of this recipe, click here.
[amd-zlrecipe-recipe:7]