Iced tea lemonade with a hint of mint and crushed blackberries, a refreshing drink for a hot summer day.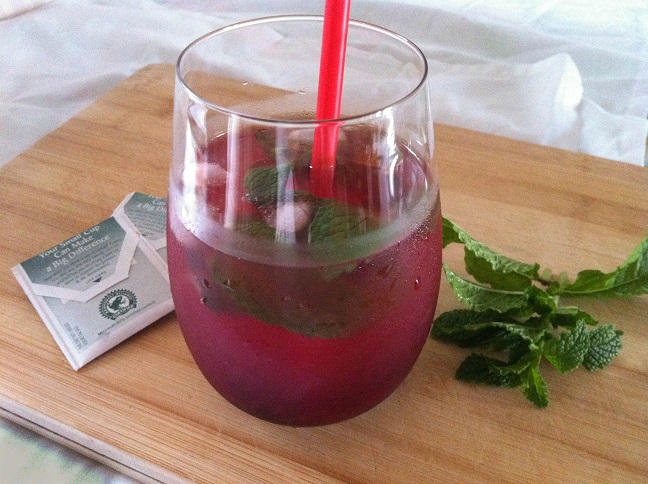 During the summer, two of my favorite drinks are iced tea and lemonade. There's something just so refreshing about those two beverages.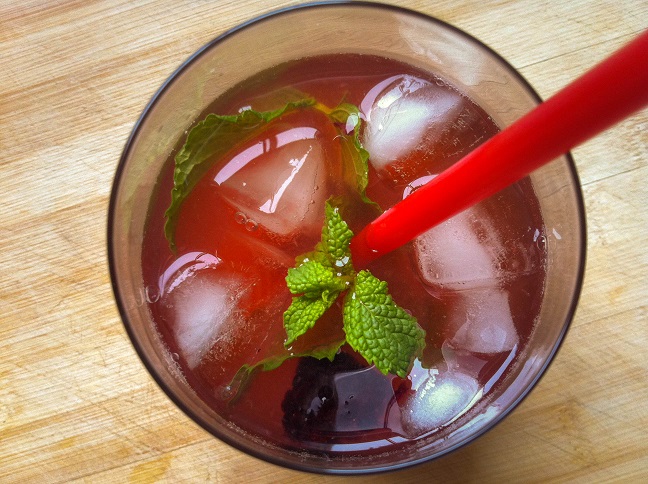 A few days ago, I stumbled across an ad for Starbucks and discovered their new line of summer drinks, which includes their new Iced Blackberry Mojito Tea Lemonade. Doesn't it sound absolutely delicious? But the thing about Starbucks is that it's pretty expensive. I love their drinks, but I feel it gets pricier and pricier. So why not make my own?
Tea not your thing? That's okay. If you like strawberries, you can try my Strawberry Mint Lemonade. Or you can add blackberries instead.
I love this drink because it contains tons of antioxidants from the green tea, Vitamin C from the blackberries, and a hint of tartness from the lemon juice. The combination of ingredients plus the refreshing taste of mint makes this drink my new go to beverage for the summer. So very easy and quick to make. The hardest step for me was squeezing the lemons and mashing the blackberries. See? Easy peasy, right?
can't wait to share at Fiesta Friday =)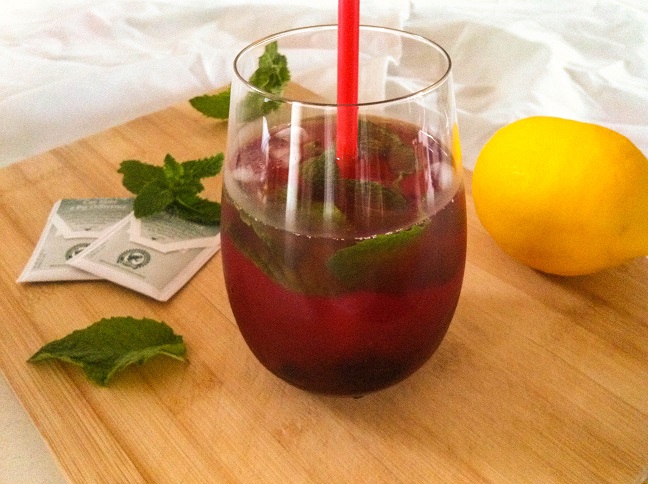 Before I continue with the recipe, I wanted you, my readers, to know that in the next few days I'm in the process of moving my blog to self hosting. There might be some disruption to the site, since I've never done this before, and I feel I'm inept at anything technical, but I'm crossing my fingers that everything will run smoothly. Other than that, nothing should change. You'll still see my posts in your readers. I just wanted more flexibility to customize my site. I wanted to thank you for all the support you've provided me over these last several months. None of this would have been possible without you. =)
Now for the recipe =)
First, heat about two cups of water with two tea bags. Allow the tea bags to steep about 5 minutes. You can prepare the tea however you like. I happen to love my tea strong. After about 5 minutes, remove the tea bags and allow the tea to cool for a few minutes while you work on the other part of the drink.
Um, yeah… Can you see what I'm using to take my photos? It's reflected in the tea. Lol.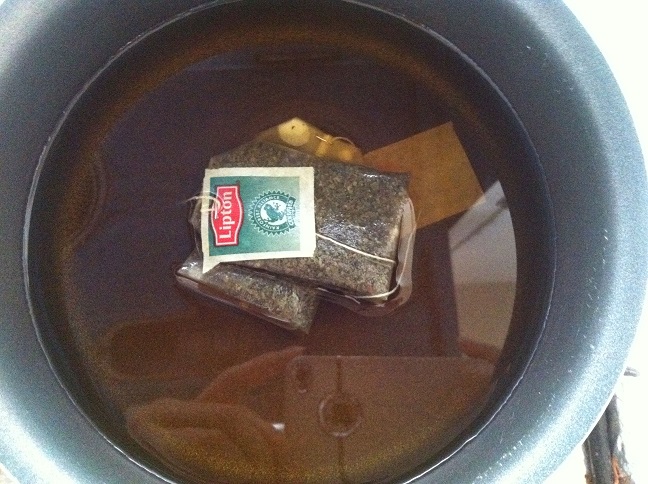 In a large container or pitcher, squeeze two lemons to make about ½ cup of lemon juice. Add sugar, or your choice of sweetener (honey, Stevia, etc), and stir until it dissolves. Taste a little bit of it to see if it's to your liking. Your taste buds might just be different from mine.
Once the tea has cooled, pour it into the same container as the lemonade. Stir to mix both drinks together.  Then add several large leaves of mint.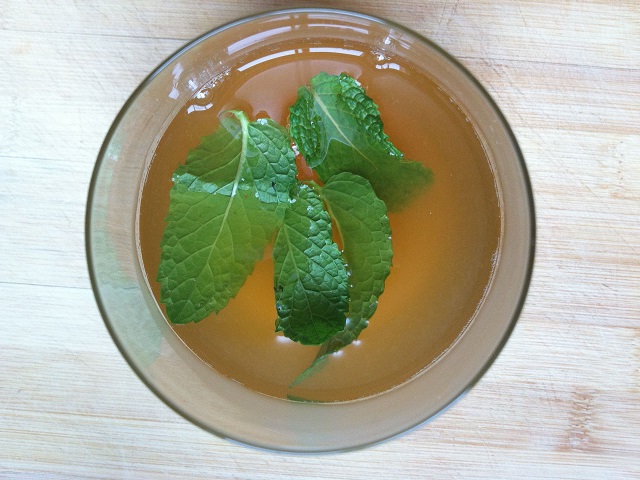 In a small bowl, mash up the blackberries and add it to the drink. I just used a metal spoon to crush the berries.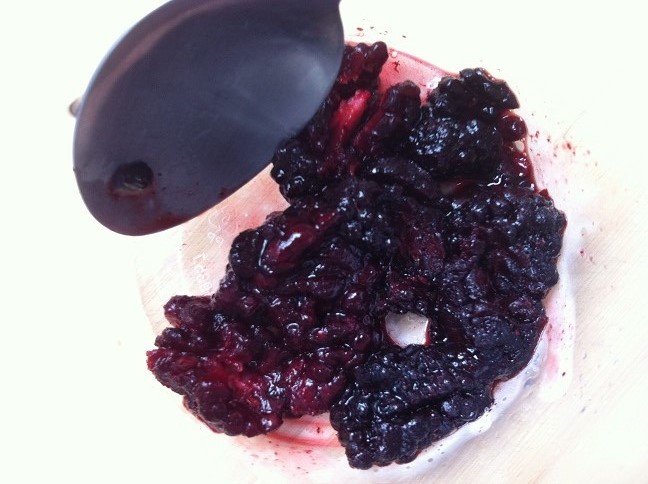 Place the ice tea lemonade in the refrigerator for about a half hour to chill and allow the flavors to enhance.
Serve the drinks cold with ice and more mint if desired.
Enjoy!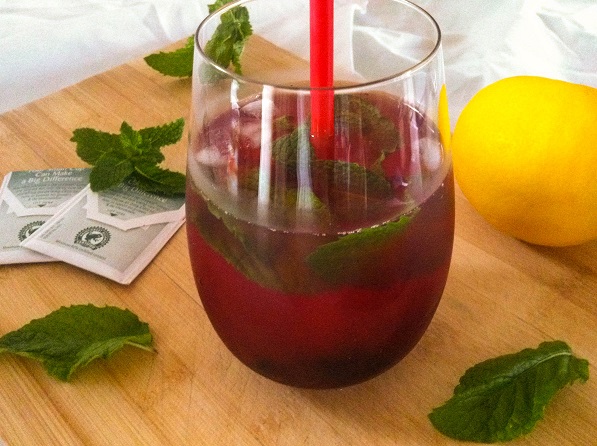 Want instant updates? Follow me on Facebook, Twitter,  Instagram, or Bloglovin.
Did you know that if you're not ready to print a recipe, you can save the recipe into an online recipe box through Ziplist? It's completely free to sign up and easy to use to organize your recipes as well as your grocery list.
You can also find nutrition info for this recipe by clicking on the magic button below.
[amd-zlrecipe-recipe:15]
*I'm affiliated with Ziplist, but I'd only recommend products that I love. I've been using Ziplist to format my recipes =)