Moist muffins filled with fresh strawberries and bananas in every bite. Slightly sweet and very moist, these muffins are healthy and great for breakfast.
I love the combination of strawberries and banana. I hope you do too because this is one of the best muffin recipes ever. These muffins taste like the classic banana nut muffins, without the nuts, but with the added taste of fresh strawberries. Very moist, these muffins are perfect whether you eat them warm and fresh from the oven or cold from the day before. This recipe is quick and easy, with just several ingredients, most of which you probably have at home already. What better way to use ripe bananas? Or ripe strawberries?
First, preheat the oven at 350oF. Place cupcake liners in a 12 cup muffin tin.
Now, mash the ripe bananas. You want to use ripe ones because they're much sweeter and also softer, which makes it easier for you to mash. I used a fork to mash the bananas. If the bananas are difficult to mash because they're not as ripe as you thought they were, you can place them into the microwave and heat them for 30 seconds. It should help soften the bananas.
Add in the chopped strawberries. I actually recommend trying your strawberries before you add them to the batter. Some of mine were super sour.
Add olive oil. Instead of using butter, I used olive oil, which makes these muffins healthier.
Add both the granulated sugar and brown sugar.
Gently mix until the ingredients are all incorporated.
Add one beaten egg and mix it.
Add in Greek yogurt, vanilla extract, and baking soda, and mix with the other ingredients.
Lastly, add the flour, and mix until a batter forms.
Evenly spoon the batter into the 12 cups.
Bake them in the oven at 350oF for 20-25 minutes. Test to see if the muffins are ready by inserting a toothpick. If the toothpick comes out clean, the muffins are ready. It took me about 23 minutes. But again, each oven is different. It may take you less or more time.
Serve warm or cold. Enjoy!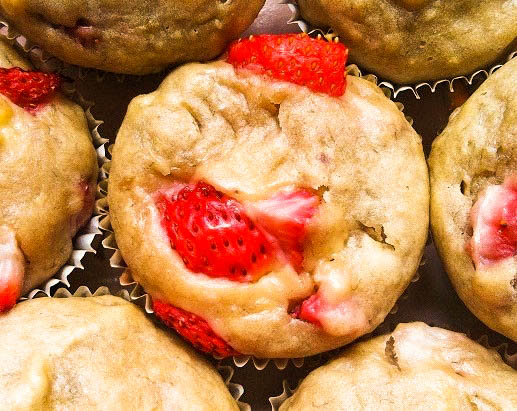 Want instant updates? Follow me on Facebook, Twitter,  Instagram, or Bloglovin.
Did you know that if you're not ready to print a recipe, you can save the recipe into an online recipe box through Ziplist? It's completely free to sign up and easy to use to organize your recipes as well as your grocery list.
[amd-zlrecipe-recipe:35]
*I'm affiliated with Ziplist, but I'd only recommend products that I love. I've been using Ziplist to format my recipes =)