Crispy tortillas filled with melted cheese, refreshing basil, and shredded chicken for a simple yet delicious meal. These quesadillas consist of less than five ingredients but can still tantalize your taste buds.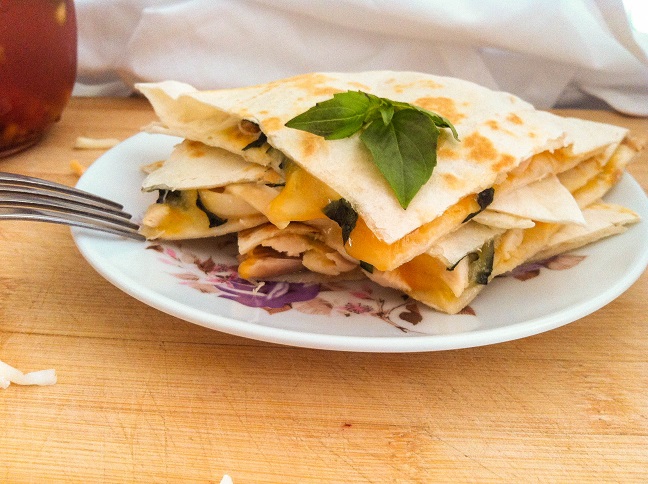 Happy early weekend!
As I'm writing this post, I'm in the car on my way to LA for a mini family vacation, but don't worry, I still plan to post to the best of my abilities. I mentioned in my previous post that I'm not used to hot weather, yet I'm venturing into hotter weather. Luckily, I have macaron ice cream sandwiches to look forward to. I didn't even know they existed until my sister accidentally stumbled across a photo of it on Instagram. I'll share photos of our trip through Instagram and in a Life of a Wallflower post in a few days once I'm back from my trip.
In today's post, I want to share with you a recipe for Basil Chicken Quesadillas. Don't you just love the simplicity of quesadillas? Packed with your favorite ingredients, or I supposed, my favorite ingredients, quesadillas take just several minutes to make before you have a warm tasty meal in front of you. Customize them to your taste. My recipes are inspirations for you to get started on making your own. Like cheese? Throw more in. As much as you like. Love vegetables? Add your favorites. Like more meat? Add more chicken or beef or even shrimp.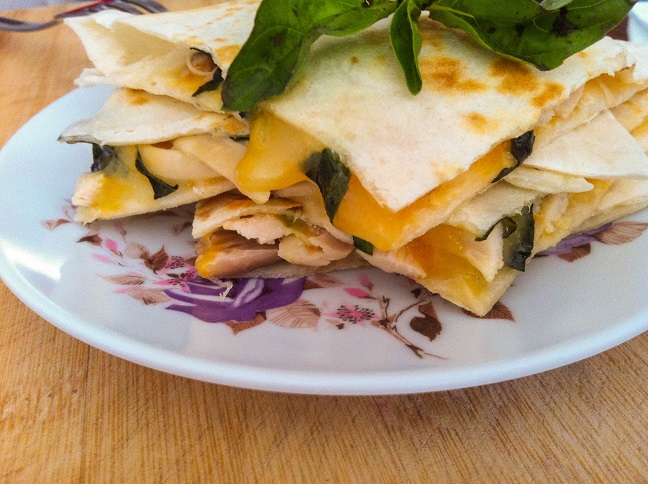 But if you try these Basil Chicken Quesadillas, I know you won't regret it. They're so very delicious. Basil and chicken complement each other so well. Bite into these quesadillas and you'll have the crunchiness of the golden brown tortillas, warm gooeyness of melted cheese, juicy chicken shredded into smaller pieces, and the light aromatic fragrance of basil.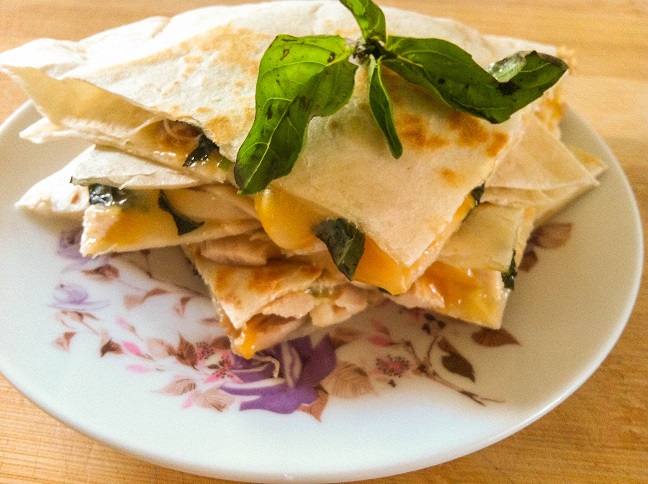 These quesadillas are so tasty, I have to share with my friends at Fiesta Friday. If you haven't heard of Fiesta Friday before, I highly recommend that you visit Angie at the Novice Gardener. You'll meet new people and discover tons of new recipes too.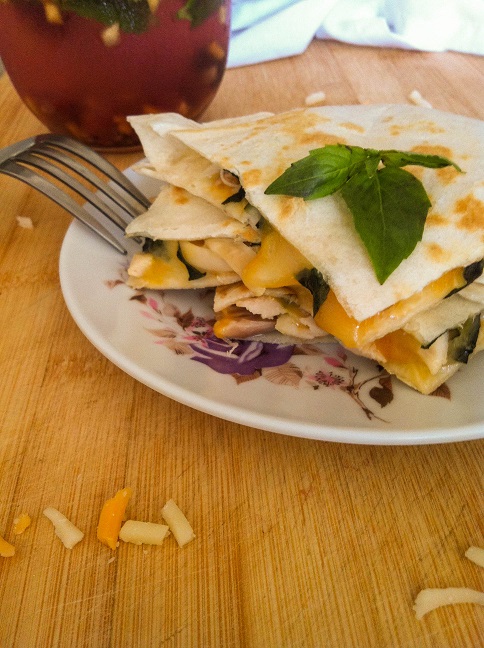 First, lightly coat the bottom of a skillet with nonstick cooking spray.
Place a tortilla in the skillet over low heat. If you're on a gluten free diet, you can find gluten free tortilla in stores.
Add your favorite cheese. I like using mozzarella and cheddar. Make sure to place a generous amount on the edges of the tortilla. This will help seal the quesadilla later.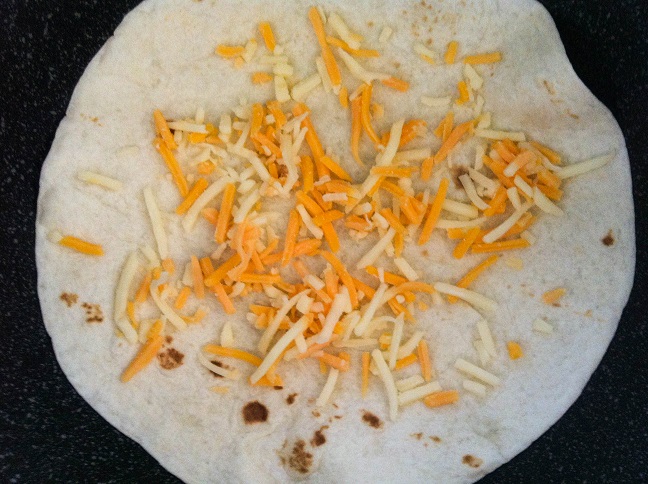 Add shredded chicken. You can make your own by roasting or grilling chicken. I used leftover rotisserie chicken, which makes life so much easier. =)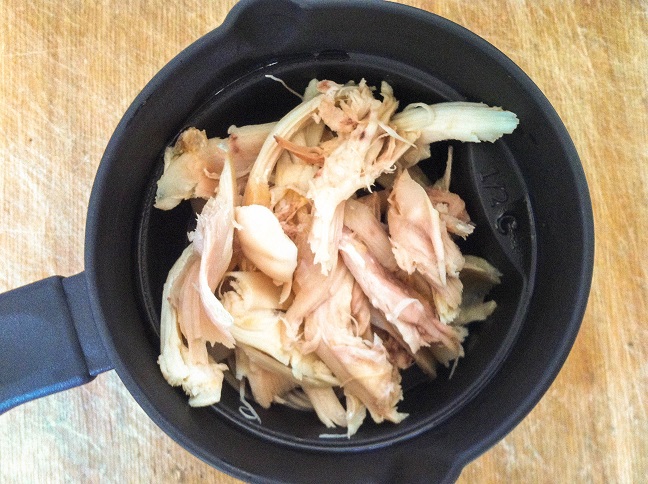 Tear up basil leaves to create a rustic look and place it on top of the quesadilla.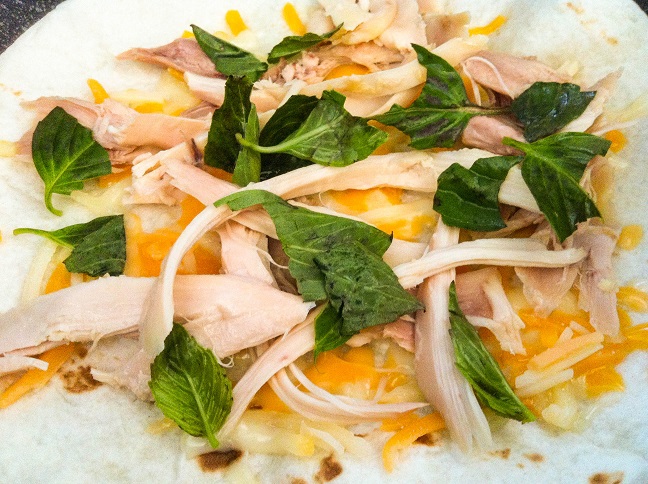 Add more cheese over the quesadilla before placing a second tortilla on top.
Once the bottom tortilla has turned crispy and a golden brown color, slip a spatula underneath the quesadilla and flip it over.
Allow the tortilla to heat until it becomes crispy and golden brown before removing from heat and plating.
Cut the quesadillas in half or in fourths.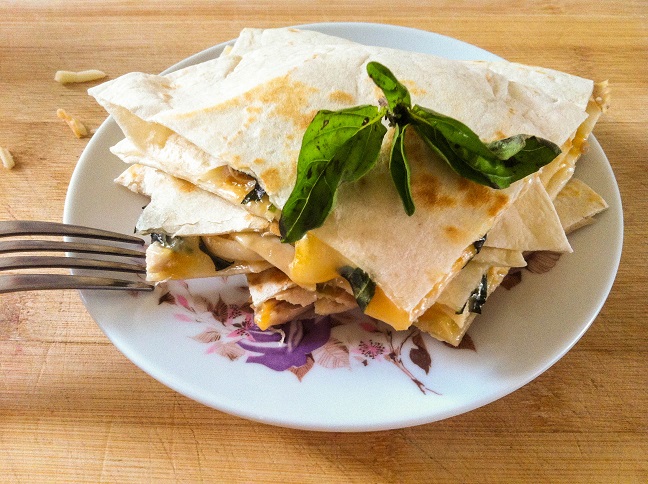 Serve the quesadillas warm. Enjoy!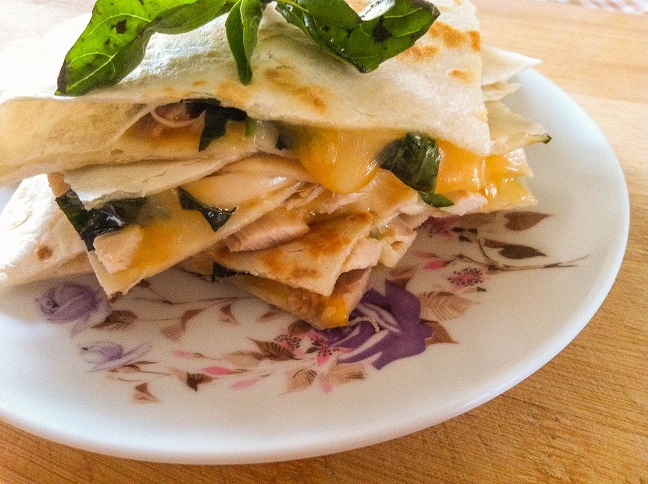 Want instant updates? Follow me on Facebook, Twitter,  Instagram, or Bloglovin.
Did you know that if you're not ready to print a recipe, you can save the recipe into an online recipe box through Ziplist? It's completely free to sign up and easy to use to organize your recipes as well as your grocery list.
You can also find nutrition info for this recipe by clicking on the magic button below.
[amd-zlrecipe-recipe:10]
*I'm affiliated with Ziplist, but I'd only recommend products that I love. I've been using Ziplist to format my recipes =)