A refreshing mix of chopped fruits seasoned with citrusy lemon juice and tangy Tajin. A quick healthy snack for the family on a hot summer day.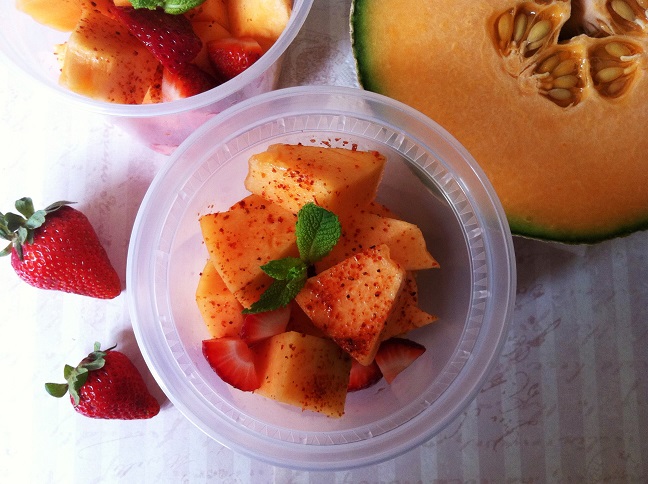 Have you ever had a Mexican Fruit Cocktail? If you haven't, you're missing out! It's one of my favorite desserts during the hot summer season (and throughout the year).
I actually didn't discover this tasty healthy snack until last summer when a friend bought one to share.
Fruit salads are delicious in general because a mixture of various chopped fruits has so many different flavors. But adding lemon juice and Tajin seasoning takes this healthy snack to a whole other level. You can taste the refreshing lemon juice drizzled on the outer surface of the fruit.  Tajin powder, which is a combination of chile powder, salt, and dehydrated lime juice, adds tanginess to the fruits. These seasonings intensify the flavors of the fruits.
I love the Mexican fruit cocktails, but if you've ever bought one from the fruit stands, you know what they don't come cheap. Each container, about the size of the container I used, costs $7. Pretty pricy to me. Luckily, the fruit stands have see through glass windows. So I get to watch the people make the fruit cocktails and see exactly how they made it, which means I can share this simple and healthy dessert with you. =)
Hope you'll like it as much as I do! It's perfect as an afternoon snack, a dessert at a picnic or a refreshing side at a BBQ.
First, chop up your favorite fruits. I used strawberries, mango, and cantaloupe, and added blueberries at the end. Some of the fruits and vegetables that you can often find in these fruit cocktails are watermelon, pineapple, cucumber, jicama, mango, strawberries, and honeydew. You get to pick whichever fruits or vegetables that you like and are available to add to your cocktail.
Divide the fruits between 2-3 containers. Sprinkle in Tajin seasoning. Drizzle lemon juice over the fruits and seasoning. Then sprinkle on more Tajin seasoning. The lemon juice will help distribute the seasoning to the rest of the fruits at the bottom. If you need more Tajin seasoning, add more to taste, but don't forget that this seasoning does contain salt so you don't want to over season your fruits with it.
Serve the fruits cold.
Enjoy!
Want instant updates? Follow me on Facebook, Twitter,  Instagram, or Bloglovin.
For a printer friendly version of this recipe, click here.
Click on the image below for an enlarged version of this recipe.