Slightly crispy chicken over a bed of garlicky sautéed spinach served with a side of deliciously creamy coconut peanut sauce. This simplified version of the classic Pra Ram Thai dish is great as an entrée with rice.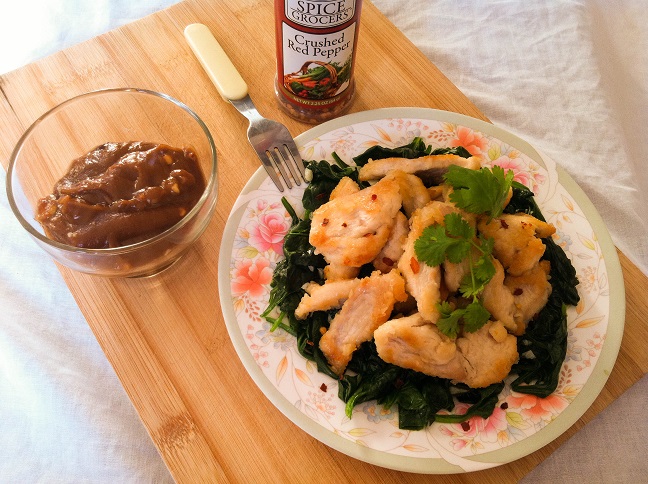 I don't go out for Thai food that often anymore, but when I do, I think it's safe to say that anything that comes with peanut sauce is bound to be a favorite.
If you've had peanut sauce before, you'd know just how creamy and exotic this dip is. I swear it goes well with pretty much everything. In Thai restaurants, peanut sauce is often served with grilled chicken skewers as an appetizer or poured onto an entrée as a sauce. And if you're obsessed with it, as some of my sister's friends are, you'd order a side of it with anything you order. That's how addictive they can be.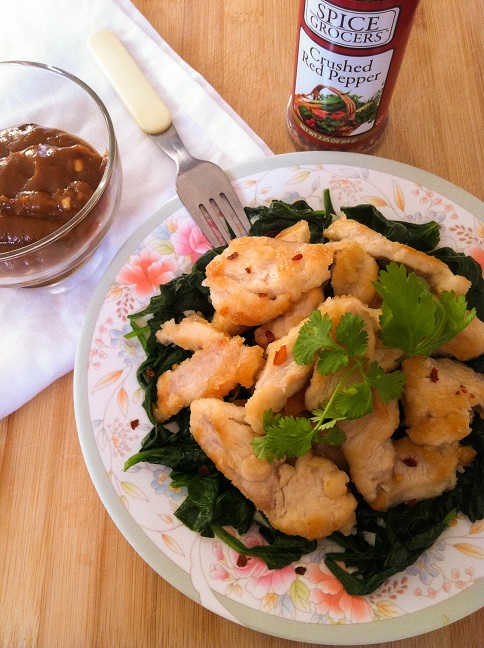 If you have yet to discover Pra Ram, a classic Thai dish that consists of fried chicken over sautéed spinach topped with a creamy peanut sauce, then you really need to try this dish. My version of this recipe is simplified and healthified (I know, I know, not a word), but the essence of this Thai dish can still be tasted, especially in the peanut sauce. Every place you go, the sauce will be prepared a bit differently, which is true for every dish, right? It's your own twist to each dish, each recipe, that makes it unique and your own. So feel free to change it to fit your tastebuds. For my peanut sauce, I chose to add coconut milk to the sauce to give it a more rich and tropical taste. I hope you'll like it as much as I do!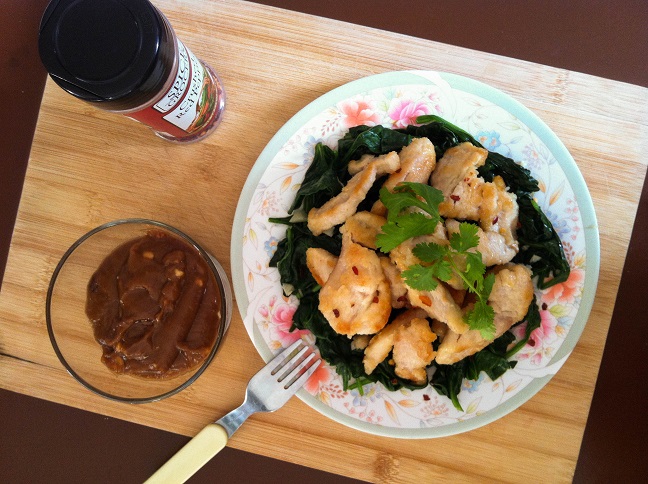 First, prepare the peanut sauce. Add hoisin sauce, peanut butter, and coconut milk into a small pot over low heat. Use a heat resistant spoon or spatula to stir the sauce. Once the ingredients are evenly incorporated, remove the sauce from heat, and pour it into a small bowl. Set aside for now.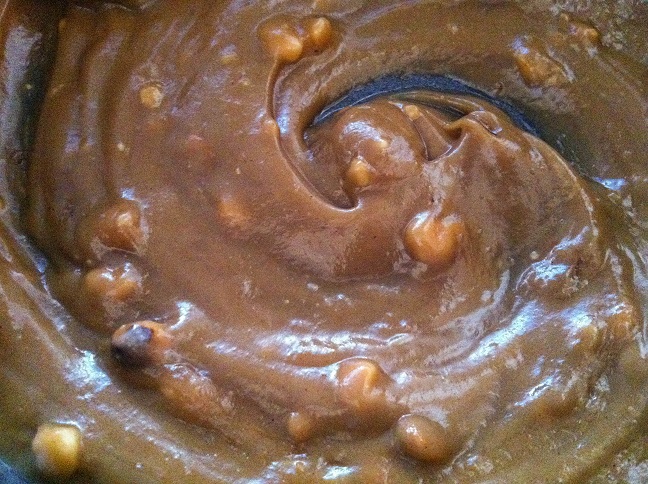 Add a tablespoon of olive oil to a medium to large skillet over medium to low heat. Allow the oil to heat up for about a minute before adding in the minced garlic. Use a spatula to stir the garlic to cook it evenly and to prevent it from becoming burnt. Cook the minced garlic until the outer edges begin to turn a golden brown and the garlic is aromatic. Add the spinach and cook them until the leaves become wilted. Remove the spinach from heat and drain them. Spinach contains a lot of water, which will come out when you cook them. Place the spinach on a plate and set aside for now.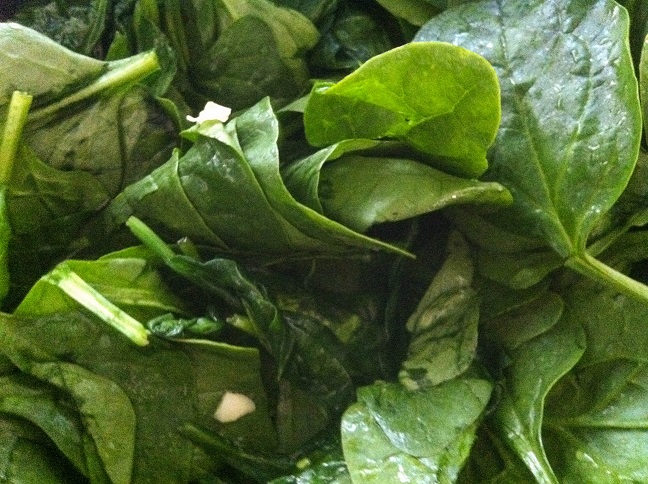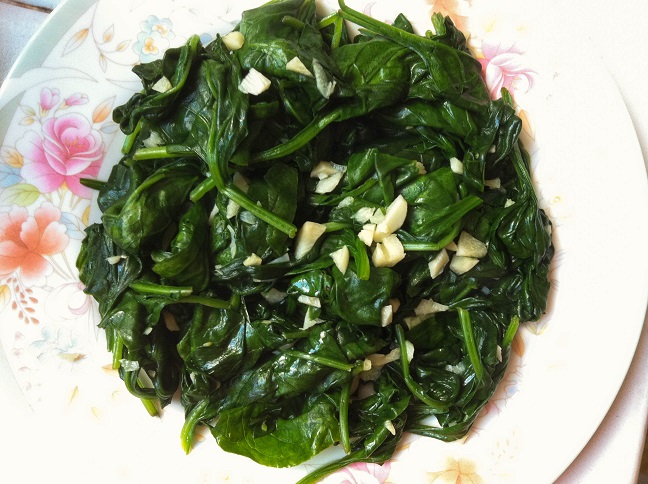 Dry the sliced chicken with a paper towel, then add them into a Ziploc bag and toss them with cornstarch. The cornstarch does two things: tenderizes the chicken and allows the outer part of the chicken to crisp and become golden brown. However, if the chicken is wet or if water is added, the cornstarch will start to form a gel, leaving you with a gooey mess.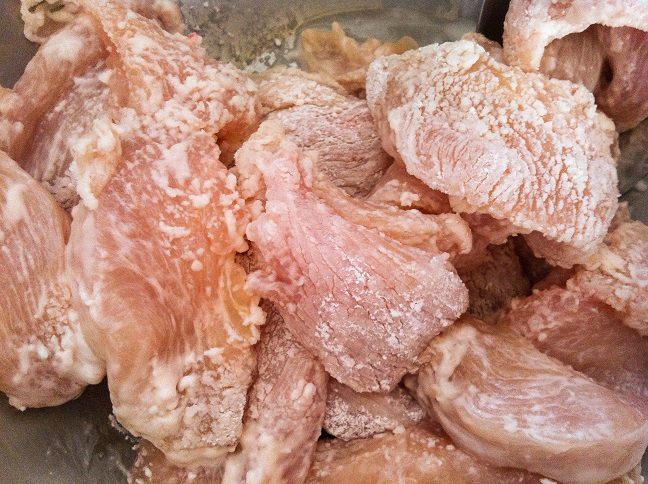 Clean the skillet, or use a different one, and add about two tablespoons of olive oil over medium to high heat. After about a minute or two, add the chicken to skillet and cook the chicken until it turns a golden brown. The chicken will not take long to cook since you've sliced them into thinner pieces. These chicken slices will be tender on the inside and crispy on the outside. Isn't that just perfect? I love it that way.
Place the chicken over the spinach. While in Thai restaurants, the peanut sauce is poured over the chicken and spinach, I'm a firm believer of portioning. With salads, it's recommended that you get dressing on the side so that you can dip rather than pour the dressing over the salad. This helps keep us from consuming too much dressing. I think the same concept works here. If you pour all the peanut sauce over the chicken and spinach, you'll probably eat more of the sauce than you need. So I recommend serving the peanut sauce on the side and dip as needed.
I also sprinkled a little bit of crushed red peppers over the chicken for a hint of spicy, but that is optional.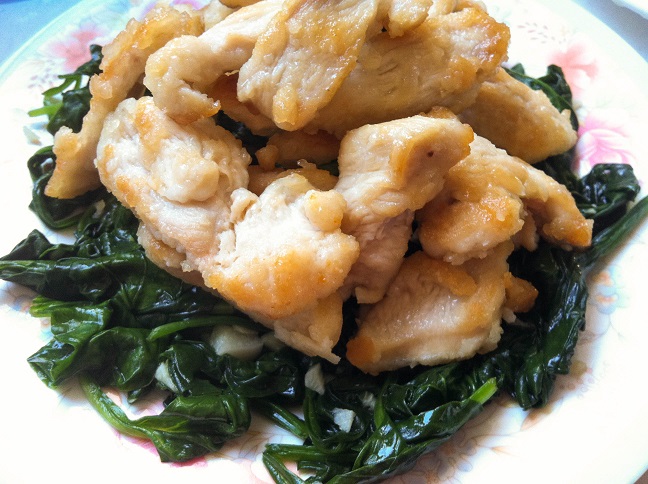 Serve the chicken and sautéed spinach warm with the peanut sauce.
Enjoy!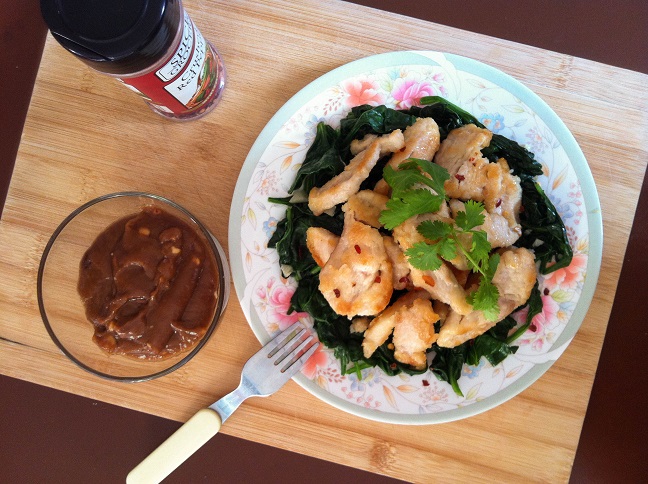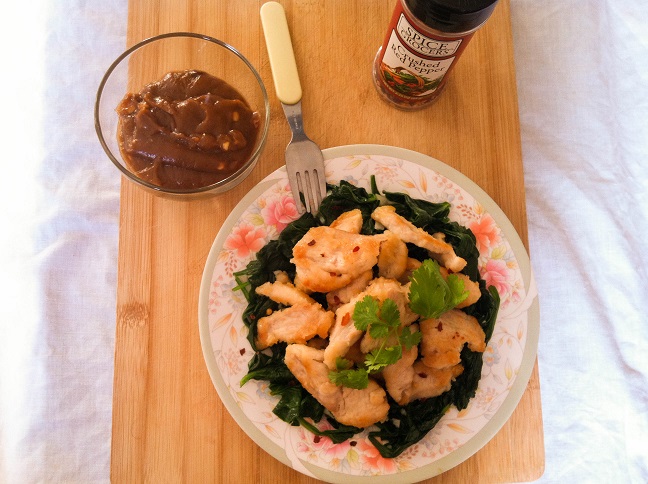 Want instant updates? Follow me on Facebook, Twitter,  Instagram, or Bloglovin.
Did you know that if you're not ready to print a recipe, you can save the recipe into an online recipe box through Ziplist? It's completely free to sign up and easy to use to organize your recipes as well as your grocery list.
[amd-zlrecipe-recipe:41]
 Disclaimer: This post contains some affiliate links.