Creamy honey yogurt filled with diced sweet strawberries and peaches, a refreshing little treat for a hot summer day. Simple to make with just three ingredients, these mini yogurt cups are guilt free and delicious snacks for the entire family to enjoy.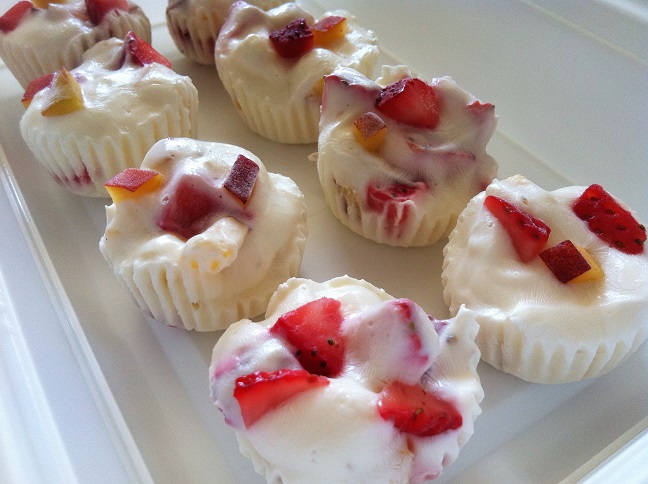 I think these are my new favorite snacks!
I'm so ready for summer, but the weather in San Francisco isn't willing to cooperate with me. It's been cloudy, foggy, and freezing. Well, freezing to my standards, that is. Yet, I can't resist these frozen yogurt cups.
Filled with my favorite fruits, strawberries and peaches, I'm pretty sure I can sit there and eat these little frozen treats all day long. Just three ingredients and no cooking or baking involved. How much easier can making healthy desserts get?
I hope you'll enjoy these little frozen strawberry peach yogurt cups! They'll be especially delicious on a hot summer day. =)
I'm definitely sharing these with my friends at Fiesta Friday! If you haven't been over to check it out, you definitely should. So many terrific recipes to try!
In my first batch, I wanted to do something a little creative. I had these cute ice cube molds in different shapes. I thought it'd be easy to place the yogurt into the molds and pop them up. Unfortunately, it didn't quite turn out that way. The ice cube tray didn't want to cooperate so I had to use a spoon to scoop the frozen yogurt out, which damaged the shapes. They look like this. So I ended up going back to my mini yogurt cups.
First, dice peaches and strawberries until you have about a ½ cup of each.
Place about ¾ – 1 cup yogurt into a medium sized bowl. I used Honey Noosa yogurt, which is my favorite yogurt. But you can use Greek yogurt too. There are directions for that in my Frozen Greek Yogurt Blueberry Cups recipe.
Add in the diced peaches and strawberries. Mix the fruit and yogurt until it's evenly incorporated.
Place muffin/cupcake liners in a mini muffin tin.
Add the strawberry and peach yogurt mixture into each of the liners.
Place the muffin tin into the freezer for about 1 ½ – 2 hours until they have solidified. This method is perfect for those of us who don't have popsicle molds.
Remove the yogurt cups from the freezer.
Serve them cold, and enjoy!
Want instant updates? Follow me on Facebook, Twitter,  Instagram, or Bloglovin.
For a printer friendly version of this recipe, click here.
Click on the image below for an enlarged version of this recipe.