Cheesy pasta shells coated with rich, slightly sweet pumpkin puree, bite size kale, and just a kick of garlic. Fall meets comfort food in this deliciously creamy pumpkin kale mac and cheese.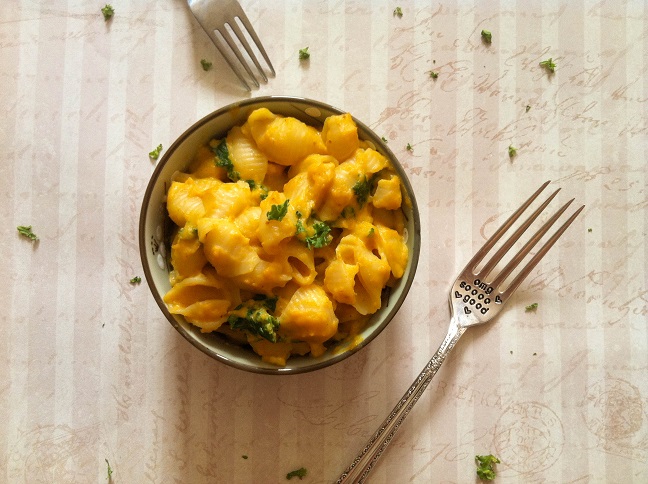 I think I just found a new side dish for my Thanksgiving dinner. Or maybe it'll just be my main dish.
Seriously. That good.
Slightly sweet pumpkin puree coating every little surface of those cheesy pasta shells with little bits of kale in each bite. Yes please. Because this mac and cheese is no longer that comfort food made from powdered cheese straight from that familiar blue box. No, this is comfort food at its autumn finest.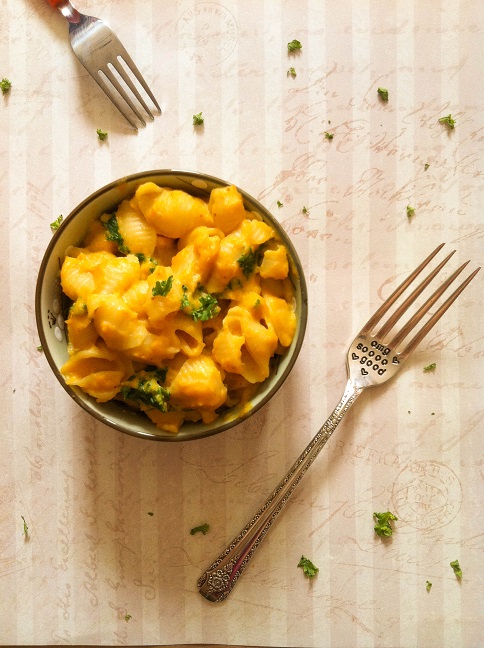 Sometimes the best recipes come from great ideas, other times by accident, and occasionally due to random luck.
If you're like me, sometimes you don't know what you're making for dinner. Actually, it's more than sometimes. It's practically every other day. I like to plan out recipes (most of the time), but I rarely plan out meals, which means there are times when I'm not sure what we're eating right up until I'm making it.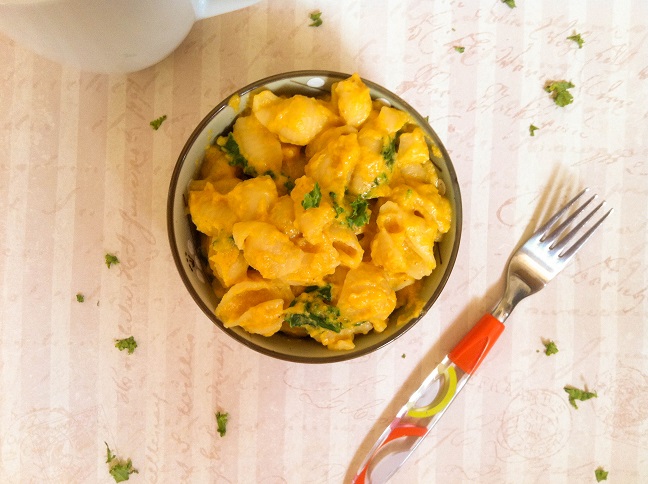 So what does that have to do with this recipe? When I have absolutely no clue what to make for dinner, I browse through the refrigerator to see what ingredients I have. Kind of like the Mystery Box challenge from Gordon Ramsey's Masterchef. Only to discover that I should have done my grocery shopping yesterday instead of doing whatever else it was that I did that I didn't have to do (reading food blogs, online shopping, celebrity gossip, etc). It's a flaw, really.
Rummaging through my fridge, I discovered I had leftover pumpkin puree, shredded cheddar cheese, a bundle of kale, plus a bunch of other ingredients that probably wouldn't work so well together.
And if I have nothing to eat, I usually reach for pasta. It's a habit I developed in college. Apparently, I haven't quite managed to grow out of it, and probably never will.
Does this sound familiar to anyone? Or is it just me?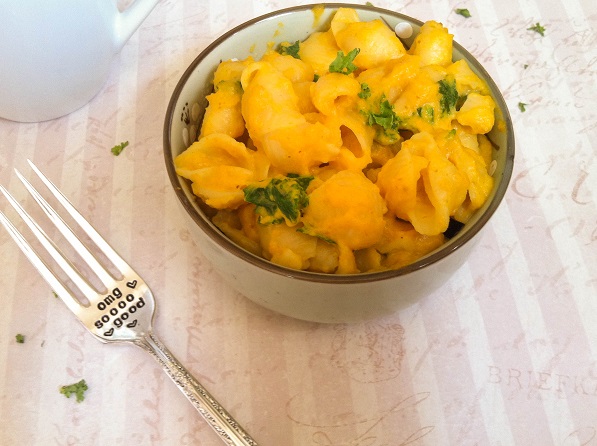 Let's infuse mac and cheese with the essence of fall.
Boil your favorite pasta in water for about 7-9 minutes until it's just cooked. The pasta has softened but is still firm. I chose to use small pasta shells this time, but penne, rotini, or elbows would be perfect for this recipe too. Drain the water and run the pasta through cold water to prevent it from continuing to cook.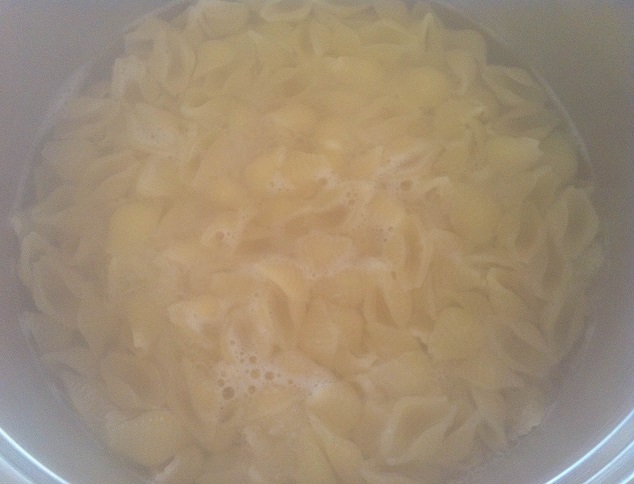 Mix half the milk with cornstarch. Make sure that all the cornstarch is dissolved otherwise you'll have clumps of cornstarch once the milk starts to heat up. Trust me, clumps of cornstarch does NOT taste good. But you need the cornstarch to help thicken the milk into a sauce.
Add the milk to a large saucepan or skillet over medium heat, stirring with a spatula to make sure that the milk/cornstarch does not form clumps.
Stir in the cheese and the pumpkin.
Add in the pasta, mixing to make sure that the pasta is coated with the pumpkin and cheese sauce. If the pasta is too dry, feel free to add more milk. The texture will be a little bit grainy, but that's normal. It's because of the pumpkin puree.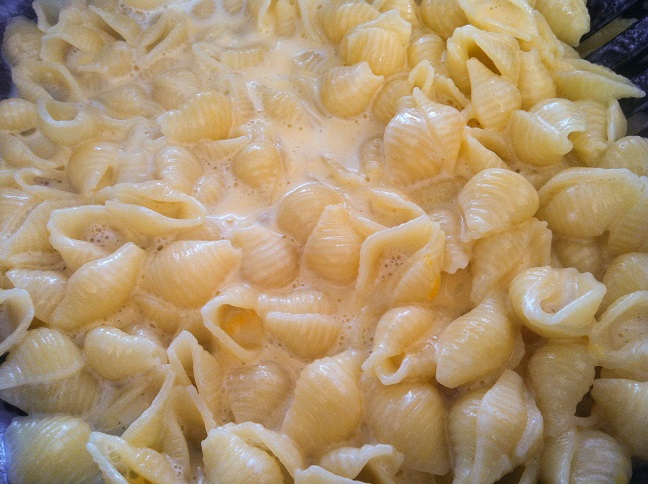 Add the torn kale leaves. I liked mine partially raw so I added it at the end. But if you prefer your kale completely cooked, add the kale before you add the pasta.
Season with garlic powder and salt.
Serve the pasta warm.
Enjoy!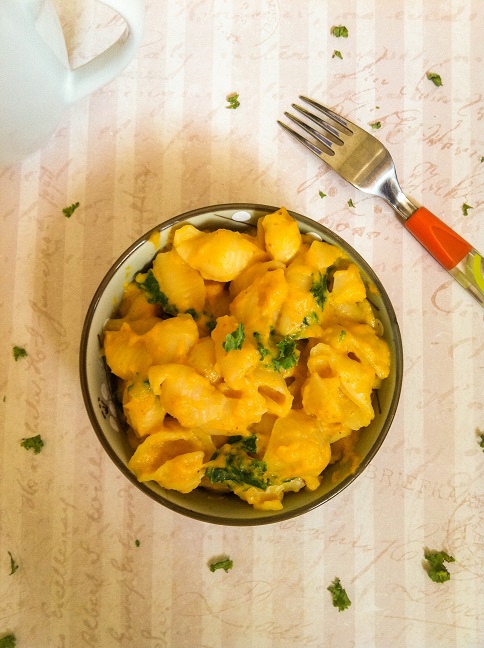 Dental Hygiene Tip #8: I know how often we're reminded to floss. So I'll keep this short. Try to floss at least once a day. When we brush, the bristles of the toothbrush are too big to reach between our teeth. It's important to floss to remove any food and bacteria that might be stuck between our teeth.
Want instant updates? Follow me on Facebook, Twitter,  Instagram, or Bloglovin.
Did you know that if you're not ready to print a recipe, you can save the recipe into an online recipe box through Ziplist? It's completely free to sign up and easy to use to organize your recipes as well as your grocery list.
Pumpkin Kale Mac and Cheese
Cheesy pasta shells coated with rich, slightly sweet pumpkin puree, bite size kale, and just a kick of garlic. Fall meets comfort food in this deliciously creamy pumpkin kale mac and cheese.
Ingredients
2 cups dry pasta (shells, penne, elbows, rotini)
Water
1 ½ cups milk (2% or whole), more as needed
1 teaspoon cornstarch
2/3 cup pumpkin puree
2/3 cup shredded cheddar cheese, more to taste
½ cup kale, torn into bite size pieces
¼ teaspoon garlic powder
¼ teaspoon salt, more to taste
Directions
Boil water in a medium sized pot. Once the water comes to a boil, pour in the pasta. Cook the pasta for about 7-9 minutes until the pasta become al dente. The pasta will be soft but still firm. Drain the pasta and run it through cold water to prevent the pasta from continuing to cook.
Add half of the milk and cornstarch into a small bowl. Stir to dissolve the cornstarch in the milk. Make sure that the cornstarch has dissolved completely. Otherwise, clumps may form.
Pour the cornstarch milk mixture into a large skillet or saucepan over medium heat. Stir to evenly heat the mixture. Add in the rest of the milk, pumpkin puree, and cheese. Stir to evenly distribute and to evenly melt the cheese.
Add in the kale and cook for about a minute.
Then add in the pasta. Stir to evenly coat the pasta with the pumpkin cheese mixture. If needed, add more milk until the consistency is to your liking.
Season the pasta with garlic powder and salt. Add more to taste.
Serve the mac and cheese warm.
https://cookingwithawallflower.com/2014/10/18/pumpkin-kale-mac-and-cheese/
© *Cooking With a Wallflower.* All images and content are copyright protected. Please do not use my image without prior permission. If you want to republish this recipe, please rewrite in your own words, or link back to this post for the recipe.