Creamy coconut milk mixed with condensed milk for a simple yet amazing little dessert. With just two ingredients, this ice cream is coconut-y and rich with just the right amount of sweetness.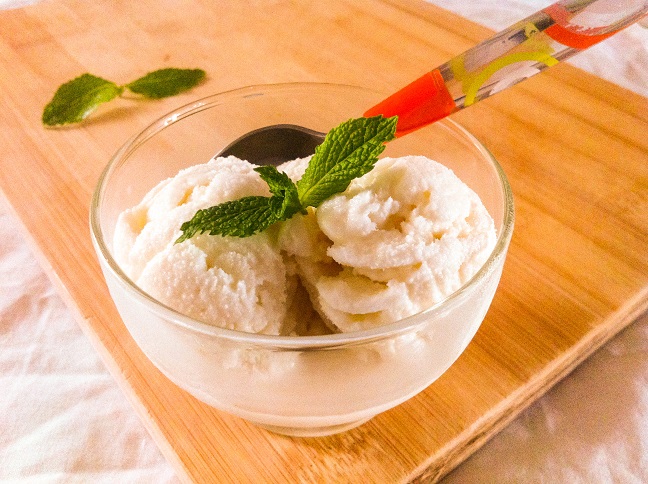 We almost never have freezer space, but I always like to keep a pint of ice cream in there, in case of emergencies. You never know when you need your ice cream.
I love ice cream (and chocolate) because there are so many varieties. You just can't try them all. But as much as I like eating them, I can't eat too much of it. I feel that many of the brand name ice creams are way too sweet, which means I can only eat a spoonful or two before I have to stick it back in the freezer. Does anyone else feel the same way?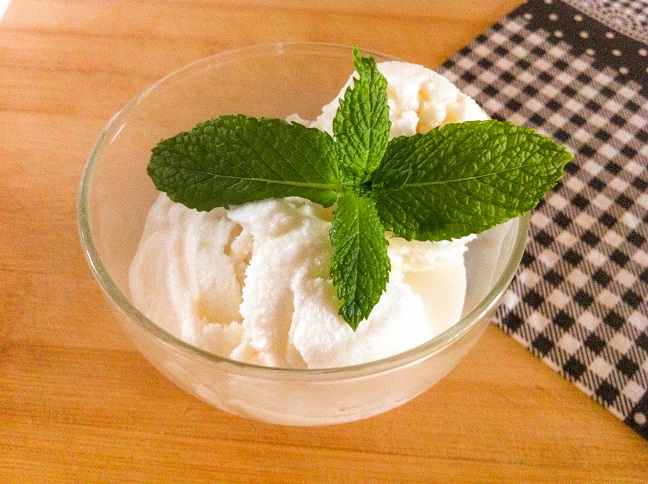 My favorite ice cream comes from Mitchell's. I don't think they sell outside of the San Francisco Bay Area, but if you ever have the chance to try them, they have the most amazing green tea ice cream, and even more mind blowing their buko (young coconut) ice cream. My dad used to buy them in party size, as in 1.5 gallons worth of ice cream. It's ice cream heaven for me, my sisters, and our visiting cousins. But don't worry. My parents monitored how much ice cream we were allowed to eat each day so we didn't get to overindulge.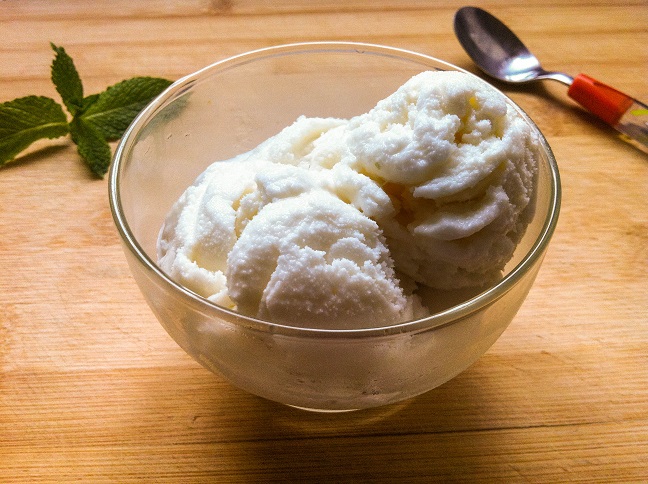 I love the idea of making my own ice cream because I would be able to customize it with my favorite flavors and ingredients. Unfortunately, I don't have an ice cream machine. But that just means I have to get creative.
If you've wanted to make ice cream that doesn't require an ice cream machine (like me!), you'll want to try this recipe. I've been working to create ice cream recipes that don't require an ice machine (mostly because I don't have one). If you're a fan of coconut ice cream, or coconut milk, I really think you'll like this recipe. And if you're not into coconut, you can try these other ice cream recipes: my Acai Banana Ice Cream and my Avocado Ice Cream.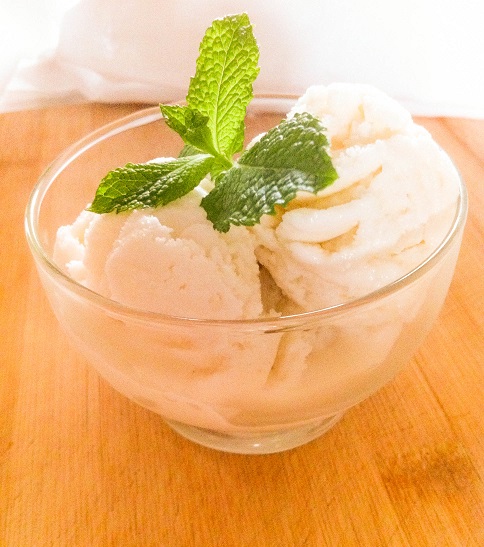 This coconut ice cream is soo good. It's sweetened to your liking and very creamy and coconut-y. Duh, right?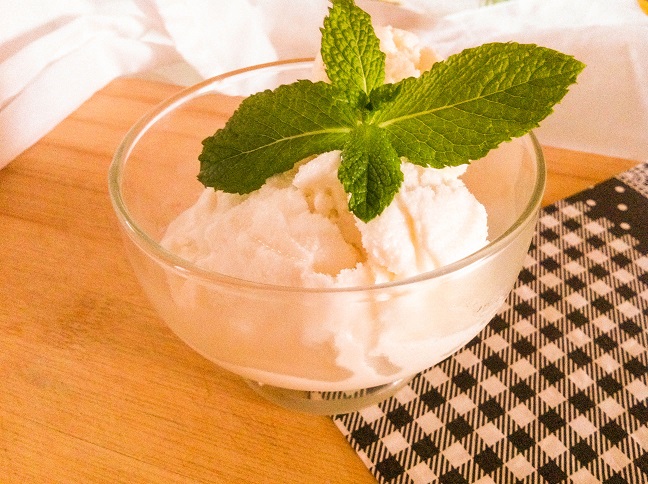 All you need is one cup of coconut milk or coconut cream, either would work, and a 1/3 to a ½ cup of condensed milk. That's it. If you prefer your ice cream less sweet, I recommend 1/3 cup, but if you like your ice cream sweeter, a ½ cup. I used a half cup. =)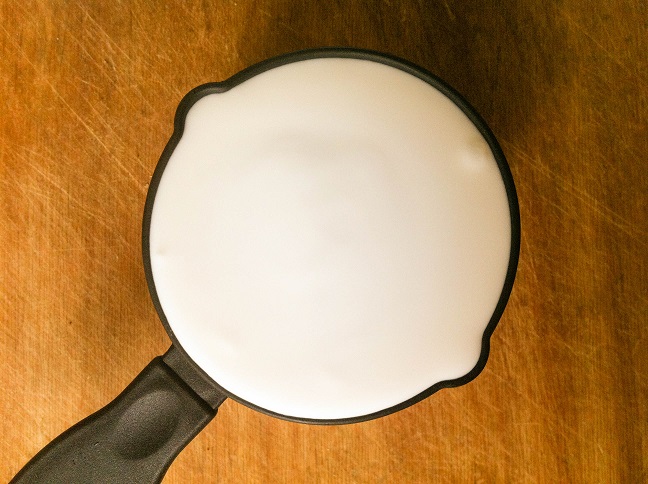 Once you've mixed the coconut milk with the condensed milk until it becomes evenly incorporated, pour the mixture into a freezable container. Place it in the freezer overnight. What I love is that the coconut condensed milk doesn't completely harden in the freezer.
When you're ready to eat the ice cream, use a spoon to scrap the top layers. I originally wanted to create shaved snow, which is similar to shaved ice, just softer. These shavings slowly start to form a little round ball as you're scraping, like an ice cream scoop, perfect for serving.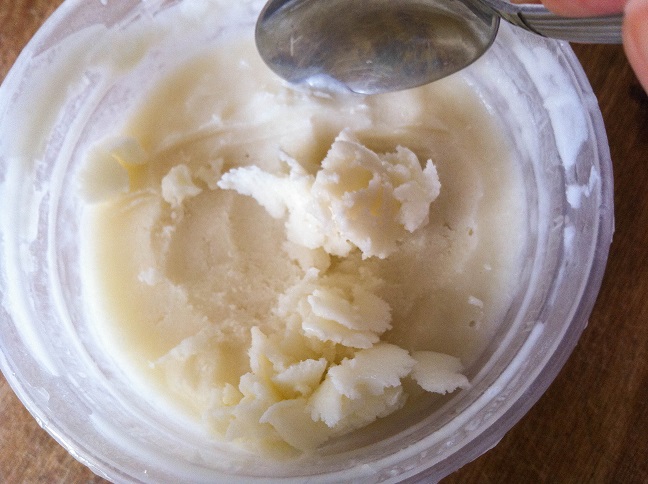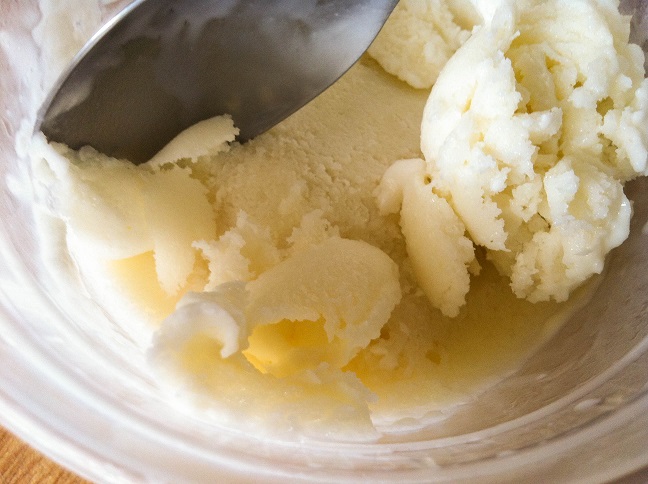 Serve immediately cold.
Enjoy!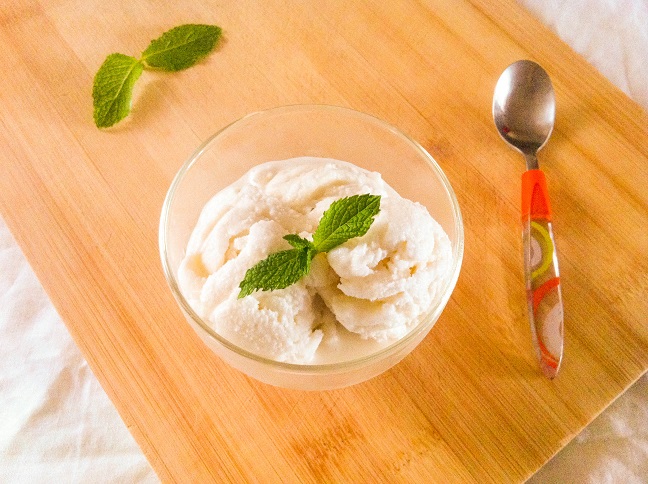 Want instant updates? Follow me on Facebook, Twitter,  Instagram, or Bloglovin.
Did you know that if you're not ready to print a recipe, you can save the recipe into an online recipe box through Ziplist? It's completely free to sign up and easy to use to organize your recipes as well as your grocery list.
[amd-zlrecipe-recipe:40]
Disclaimer: This post contains affiliate links.