Small batch homemade bagels baked with parmesan cheese on top. These homemade parmesan bagels are delicious and easy to make.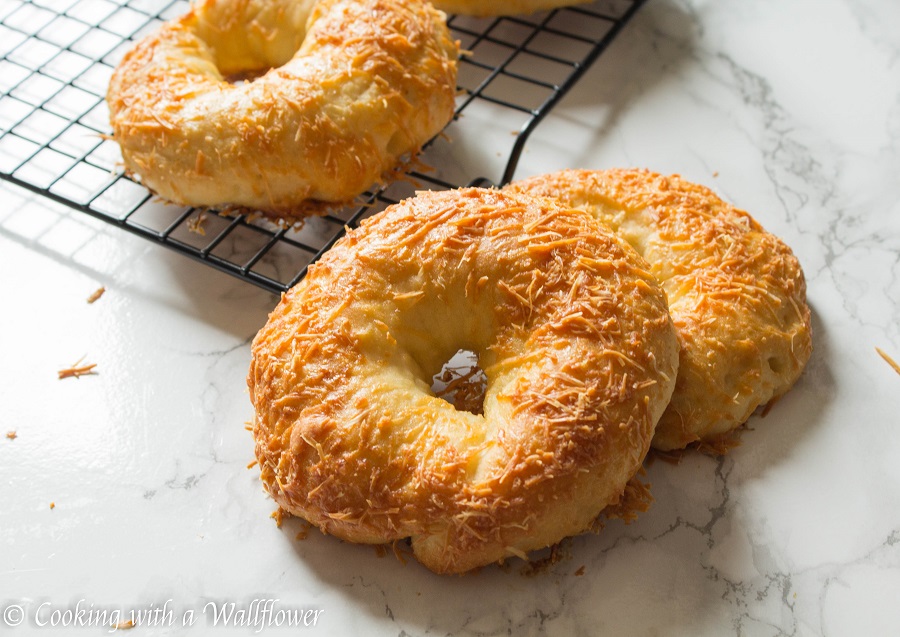 It's been so dreary lately.
Why is it that it's already April and yet other than cherry blossoms blooming in the trees, it doesn't feel like spring is ready to come? It's as if winter decided that it'll prolong it's stay. So I can't decide if I should continue to make warm cozy winter dishes or if I should start to work on fresh spring recipes. What a dilemma.
And since I've been back from my vacation, I haven't really wanted to do anything. After a week of having my luggage sit in the living room taking up precious space, I finally unpacked all of it over the weekend. But now I'm dreaming about my next getaway. Possibly this Memorial Day weekend? I'm not sure yet.
I got bitten by the travel bug, apparently.
In the meantime, while I'm still wishing I could turn back time and be on vacation, despite the cold, all over again, let's talk about these homemade parmesan bagels.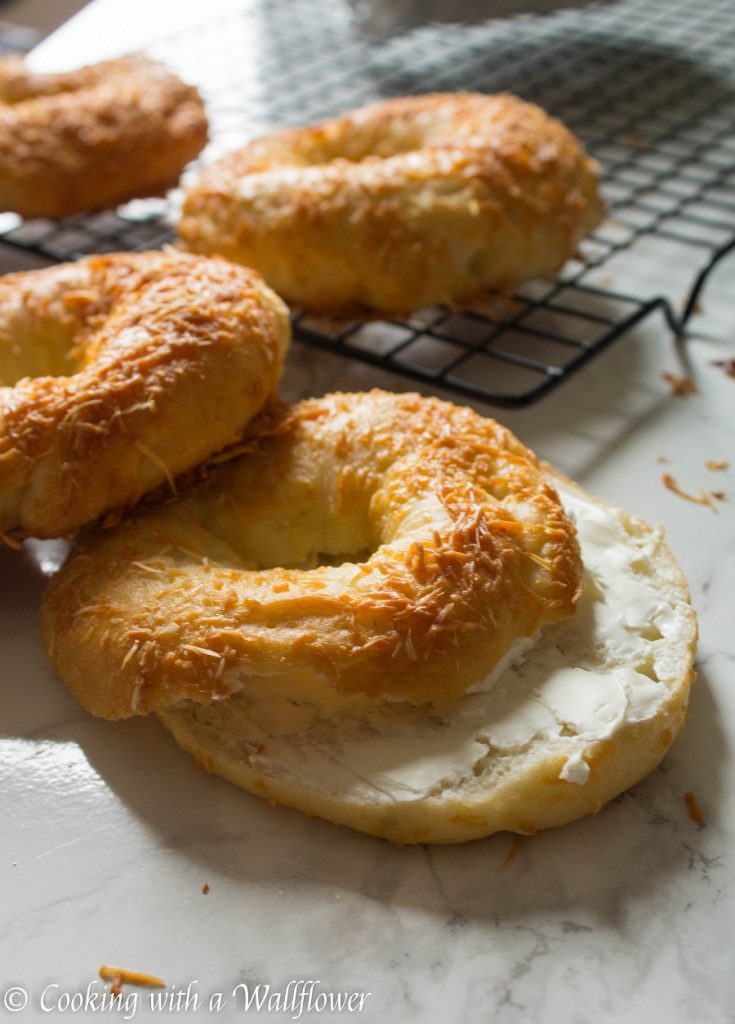 Cheesy bagels are one of my favorites. It's not my ultimate favorite. That's reserved for everything bagels. But parmesan bagels come a close second. Don't you just love that crusty top, that sharp taste of parmesan? Especially when it comes straight from the oven.
The center is soft and chewy, the top is crusty. Each bite is soo delicious. I like to keep it simple and just spread a good amount of cream cheese on the bagels before taking a bite.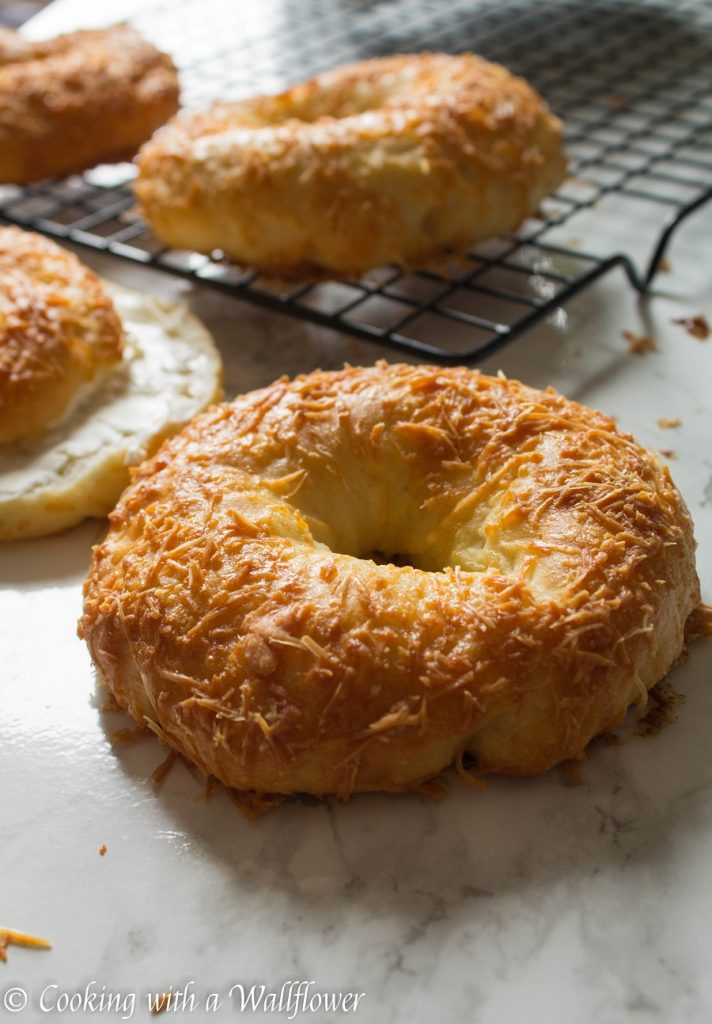 These parmesan bagels require just a few ingredients: all purpose flour, baking powder, honey Greek yogurt, and salt. Mix all these ingredients together and knead the dough until it all comes together but not unoverly sticky. Roll out the dough and shape them into bagel form.
Brush the top with an eggwash.
Then top with a generous amount of shredded parmesan cheese.
It's super easy to make and in a short time, you can have a small batch of four homemade parmesan bagels. Soooo good.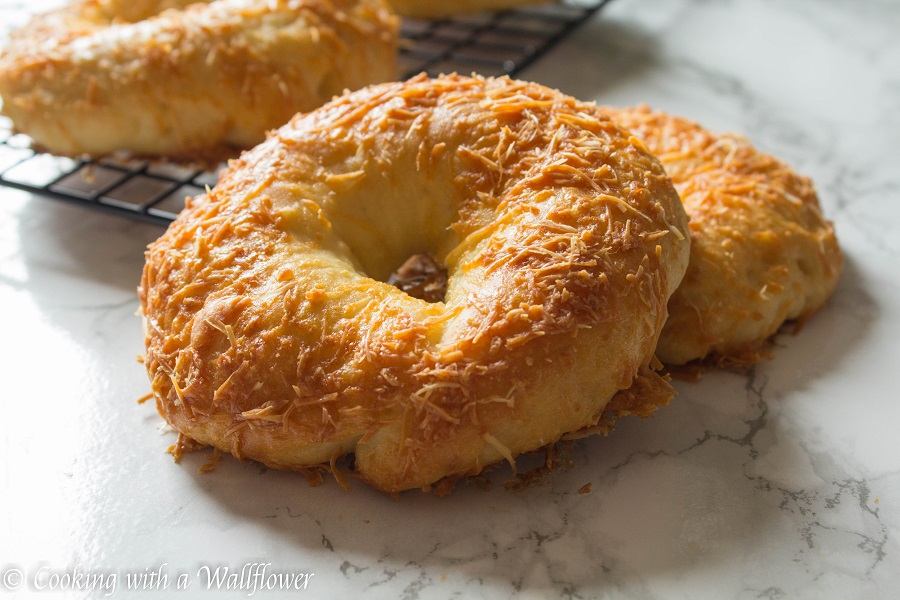 You can find the full recipe for homemade parmesan bagels over at Ask Anna where I contribute recipes once a month.
Enjoy!