Pumpkin pie custard coating bite sized pieces of soft fluffy Hawaiian rolls for a delicious breakfast that tastes exactly like dessert. Filled with the flavors of fall in every delectable bite, this Baked Pumpkin Pie French Toast is the perfect way to begin a cool autumn day.  
Finally, I get to have dessert for breakfast!
I'm a huge fan of Hawaiian rolls because they're slightly sweet, soft, and well, pineapple-y for a lack of a better word. But when they're dipped in pumpkin pie mixture and then baked so that the flavors seep into the bread? Oh. My. God. Best dessert breakfast ever. My photos don't do this dish justice! Each bite is soft and moist with all the flavors of pumpkin pie. You really can't get more fall than pumpkin pie spice.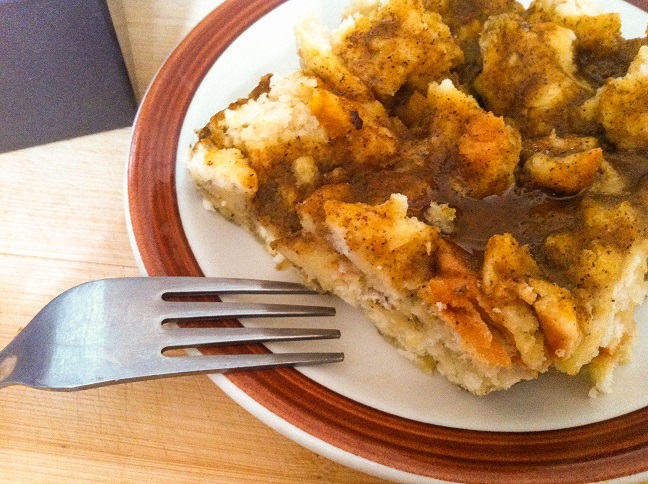 If you don't have Hawaiian rolls, that's fine. You can use regular bread slices (though I recommend toasting these so they don't disintegrate), French bread, challah, or whatever bread you like. I just happen to love Hawaiian bread. And actually, I'm showing you terrible photos of my baking failure too.
See, I was actually trying to create Hawaiian rolls at home because wouldn't it be great to have them anytime I want? But the problem is, I have never used yeast in baking before. To be honest, I'm terrified of using them. It just looks so difficult to incorporate.
The result?
Lopsided, un-round, not smooth, and far from being golden brown "Hawaiian" rolls. They actually kind of remind me of durians if you've seen the infamous fruit before… But they taste right. Slightly sweet, pineapple-y, soft. Unfortunately, they're more like dinner rolls than Hawaiian rolls. Sadness…
But it'd be such a waste to toss these out! They're definitely not blog worthy on their own (so unappetizing in looks!), but they deserve their chance too. So? Why not use them as French toast?
It doesn't matter how long you've been blogging, cooking, or baking. There will be times when things just don't work out. And that's okay. You'll just have to try again. Although to be honest, this attempt with yeast has scared me even more away from using yeast. lol
I sprayed a 9×9 inch square pan with nonstick cooking spray. Then I tore up about 5 of these rolls into bite size pieces, which comes to be about 5 cups. Spread them evenly on the baking pan. Now, they look just like regular bread, don't they? A success, of sorts =)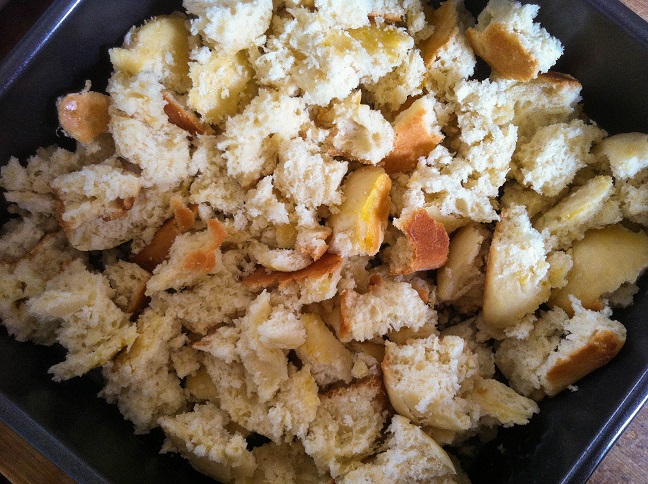 Now, crack two eggs into a large bowl, and beat them. Add pumpkin puree, pumpkin pie spice, cinnamon, almond milk, brown sugar, and granulated sugar. Mix all these ingredients together until they're evenly combined and appear smooth.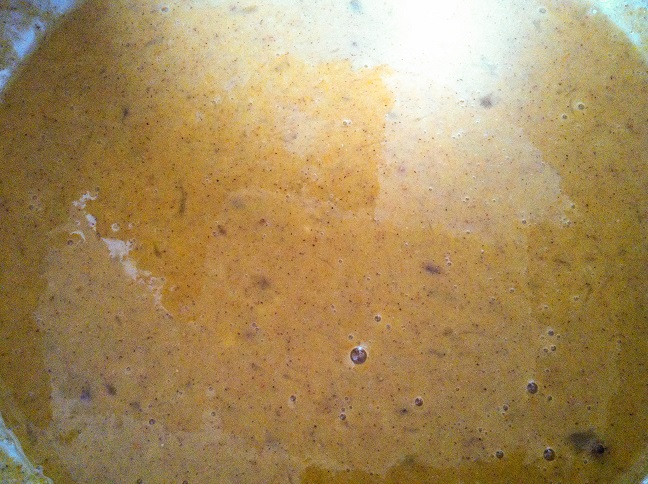 Pour this pumpkin and egg mixture over the bread.
If you want all of your French toast to have that rich orange brown color, make sure to dip all the bread pieces in the mixture. I did some for mine and left others alone. So you can see that in my photos.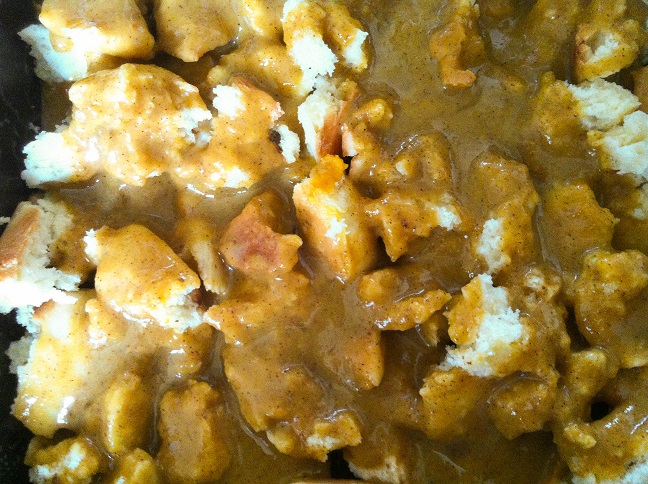 Bake this French toast in the oven for about 20 minutes until it's all nice and custard like.
Slice the baked French toast into 4, and serve warm with a drizzle of maple syrup.
Enjoy!
I'm bringing this to the Novice Gardener's Fiesta Friday. Come join the fun! =)
Dental Hygiene Tip #10: It's recommended to chew gum that has xylitol as the first ingredient. Xylitol is a sweetener that cannot be broken down by bacteria that causes tooth decay.
Want instant updates? Follow me on Facebook, Twitter,  Instagram, or Bloglovin.
Did you know that if you're not ready to print a recipe, you can save the recipe into an online recipe box through Ziplist? It's completely free to sign up and easy to use to organize your recipes as well as your grocery list.
[amd-zlrecipe-recipe:51]