For me, summer is all about the weather, the stone fruits, the berries. It's all so hard to resist.
Before I went to the farmer's market regularly, I had no idea that there were so many different types of peaches and nectarines.
When you shop at the supermarket, peaches and nectarines come in only two types: yellow and white.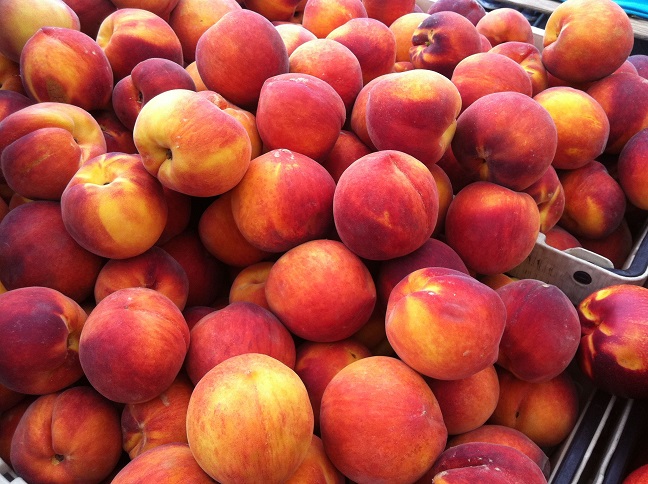 And after all those taste testing at the stalls at the farmer's market, I finally discovered a favorite: the O'Henry.
So I'm practically hoarding all these peaches while they're still in season =)
In this week's finds…
Freshly squeezed mimosa cupcakes? Does that mean that I can have these for breakfast? Because this would definitely get me up in the morning.
The gorgeousness of this muddled berry mojito.
How delish does this blueberry champagne cocktail with rum, lime, and mint?
This corn fritter pancake looks and sounds soo amazing.
This balsamic roasted cherry ice cream sounds soo mouthwatering.
Oh my gosh, these dark chocolate coconut blondies! It'll definitely be the perfect dessert for any of your late summer gatherings.
I have a weak spot for teriyaki. This 30 minute teriyaki shrimp dish would be the perfect weeknight dinner.
Is this for real? How much more decadent can you get with this salted caramel chocolate covered potato chip sundae? It's perfect for those days when you're just craving for the most insane dessert.
Looking for something perfect to feed your guests? How about this market veggie board with roasted corn jalapeno hummus and honey whipped goat cheese? What a way to impress your family and friends, right?
For another indulgence, you might want to consider this crème caramel flan with dulce de leche ice cream.
This rainbow coconut smoothie bowl sounds soo amazingly delish.
I can totally eat this summer shrimp and charred corn pasta carbonara any day and every day.
In case you need a dessert, try these chocolate kahlua rum balls.
I'm going to have to add this chilli garlic noodles to my to make list!
One of the things I like to order at restaurants is Chinese 5 spice chicken. Now, I can make my own.