Today, I'm sharing photos of my recent trip to Sonoma Valley. Be prepared for a ton of photos. =)
Every summer, my sisters, my cousins, and I take a trip together.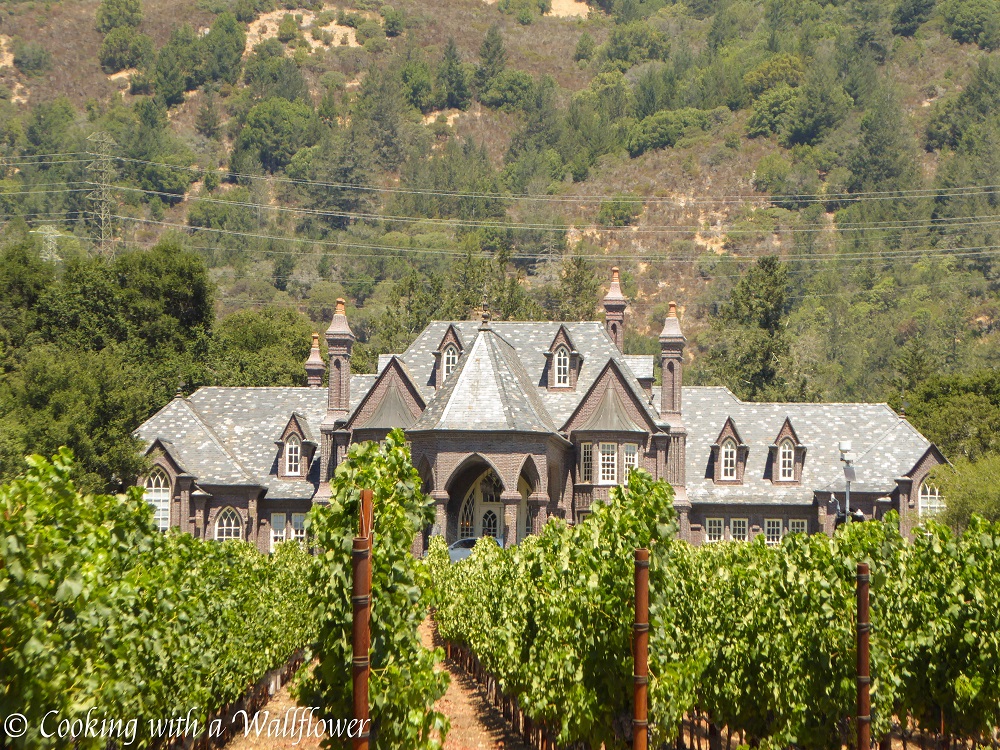 We're all obsessed with food, which makes traveling together so much easier.
But with 5 different schedules, sometimes it's difficult to plan a vacation together. So this year, we were thinking of just doing a day trip up to Sonoma County.
Have you ever been?
Sonoma is similar to Napa, but it's not as touristy, which means it's a lot more relaxing and less crowded.
At the last minute, we opted to do an overnight trip, that way we would have more time to explore, and let's be honest, eat.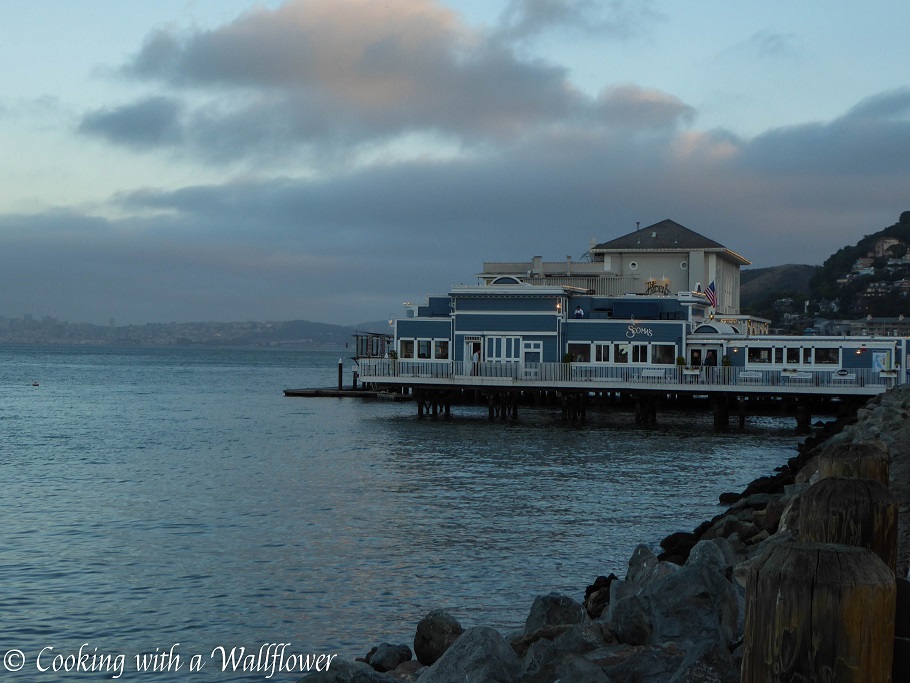 Our first stop was Sausalito.
Sausalito is a small coastal town just across the Golden Gate Bridge. Little boutiques line the streets, amazing restaurants, luxury spas, and gorgeous views.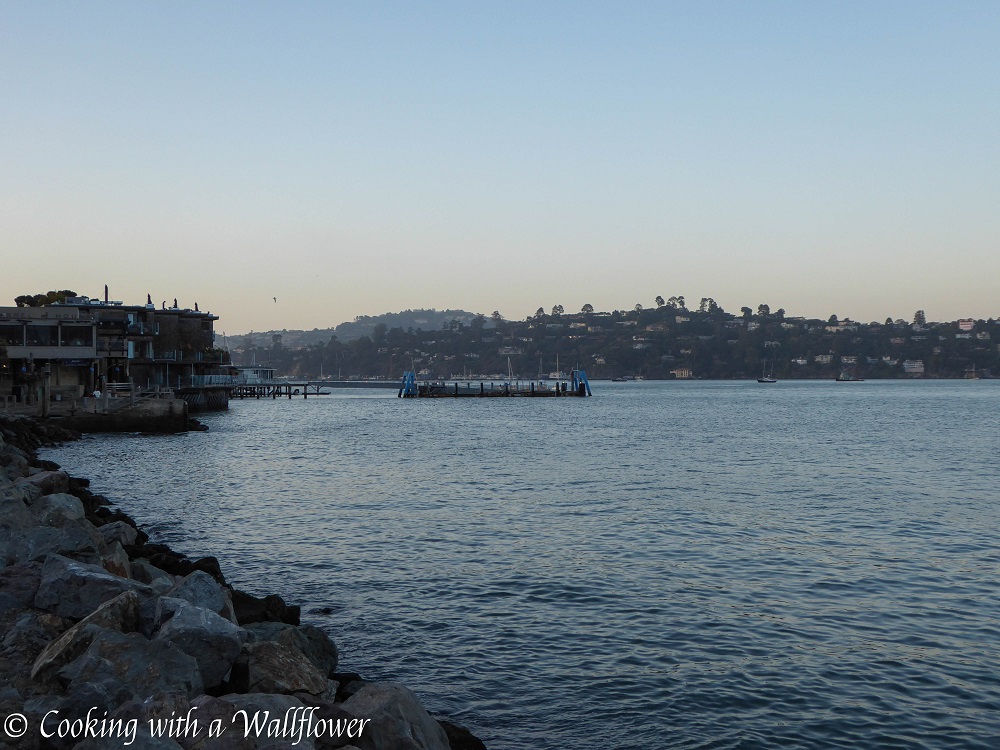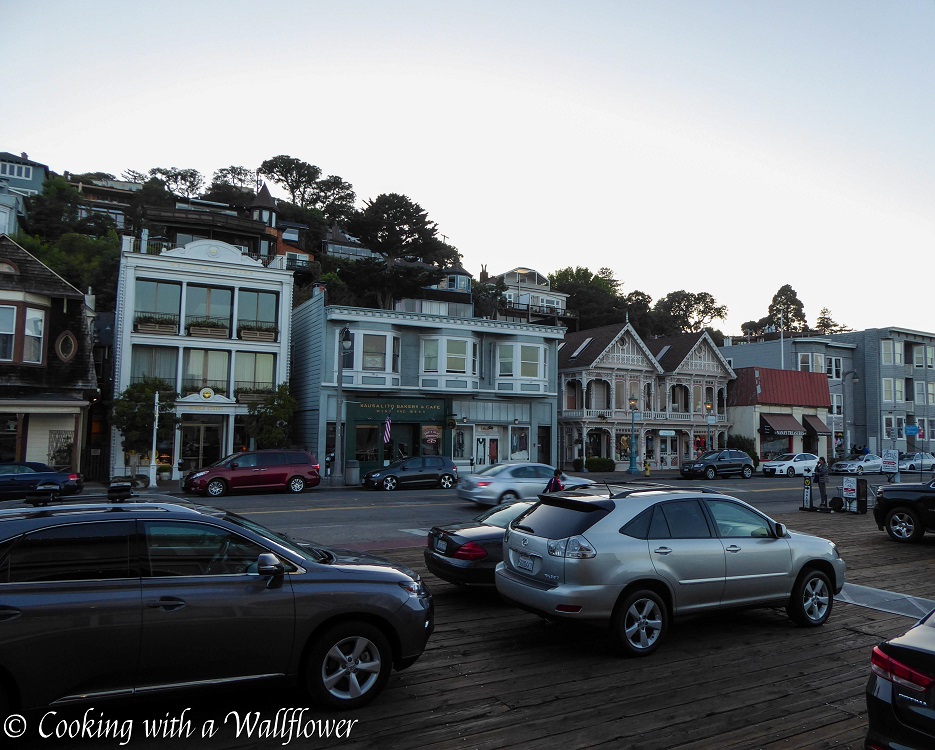 We opted to eat at the Trident, a seafood and steak restaurant with amazing views of the water. Plus there was live music on Saturday nights.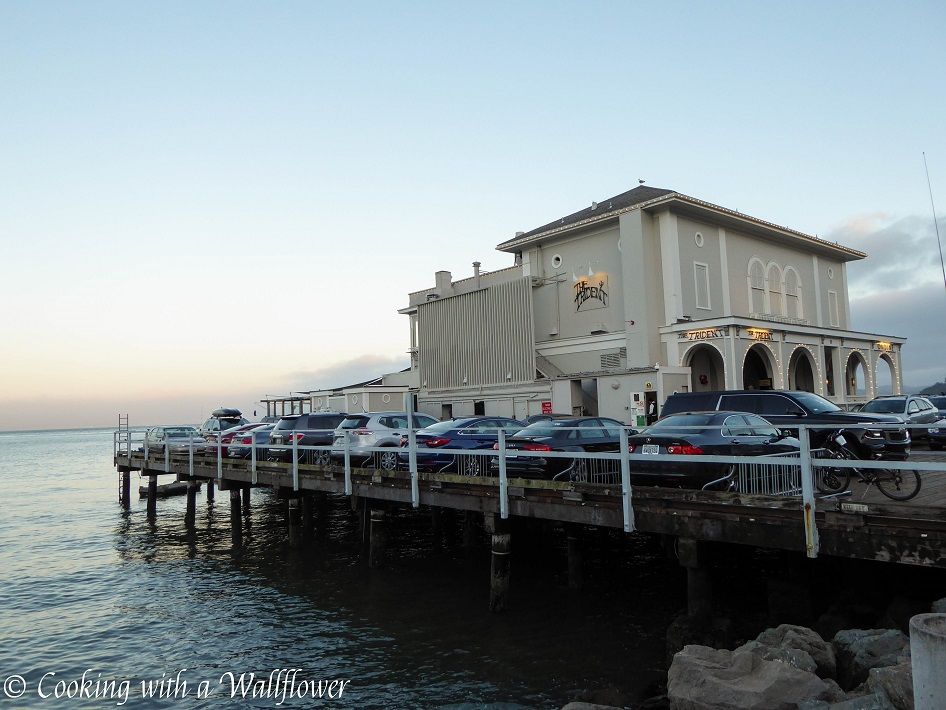 Here are the dishes we ordered:
Citrus Grilled Artichoke with Truffle Aioli.
I love artichoke, but it's so much work to eat!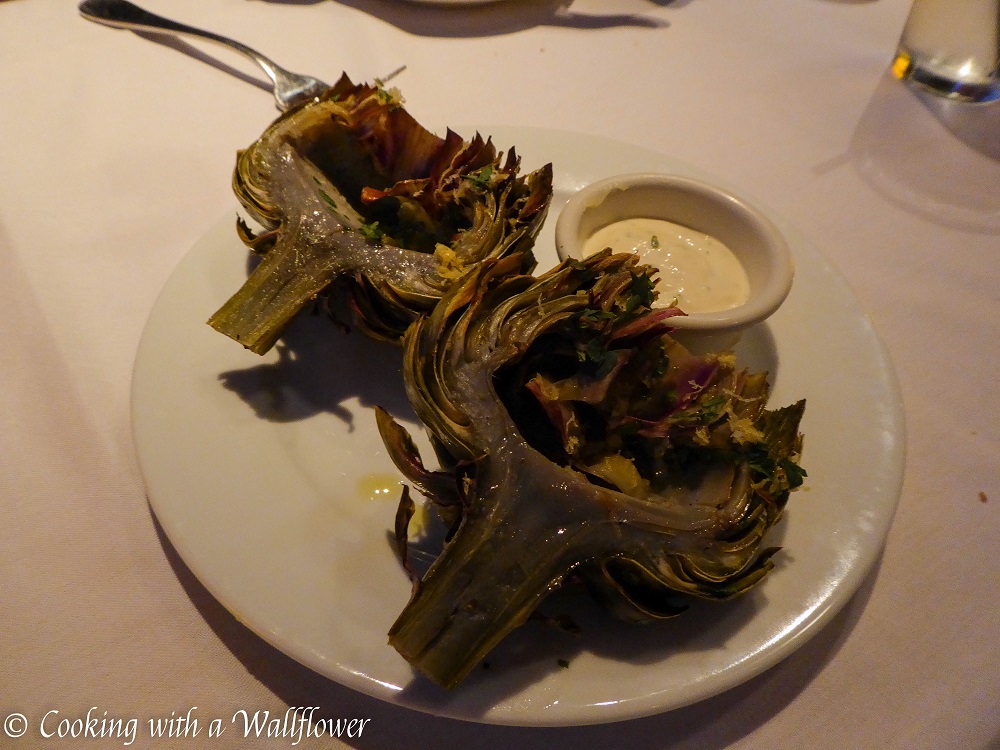 Butter Poached Lobster Tail with Summer Corn Risotto and Meyer Lemon Grilled Asparagus.
Loved the lobster tail, but I'm obsessed with the summer corn risotto!
Pan Seared Jumbo Sea Scallops with Pancetta, Forest Mushrooms, Butternut Squash, and Sherry Reduction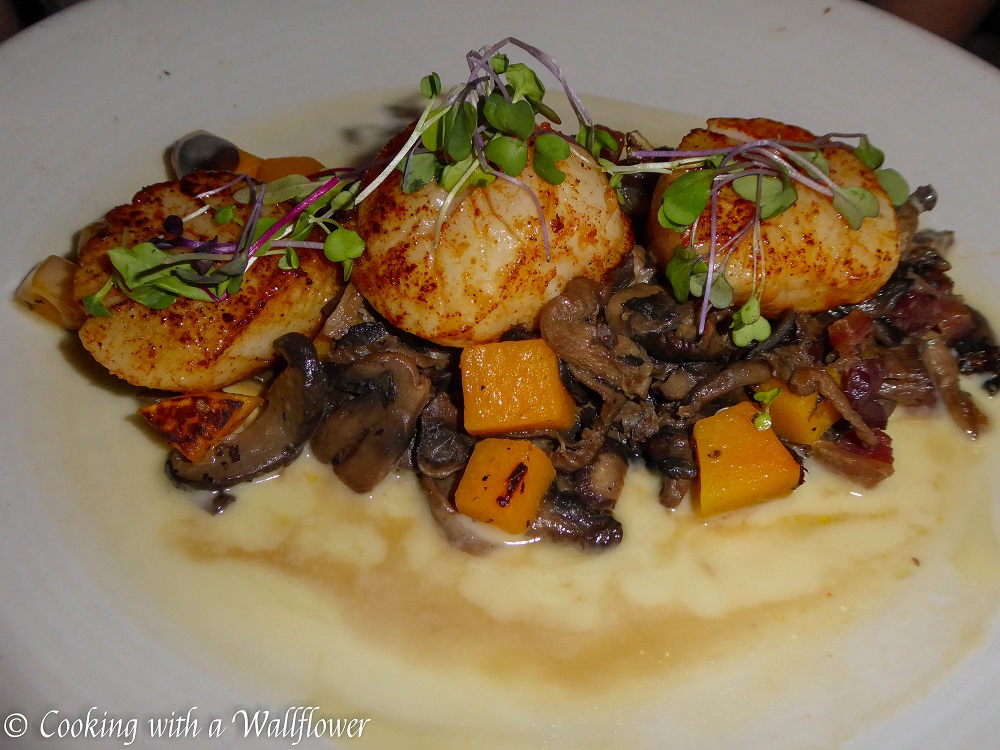 Bistro Steak Frites with Burgundy Onion Compote, Arugula, Frisee, and Saffron Chimichurri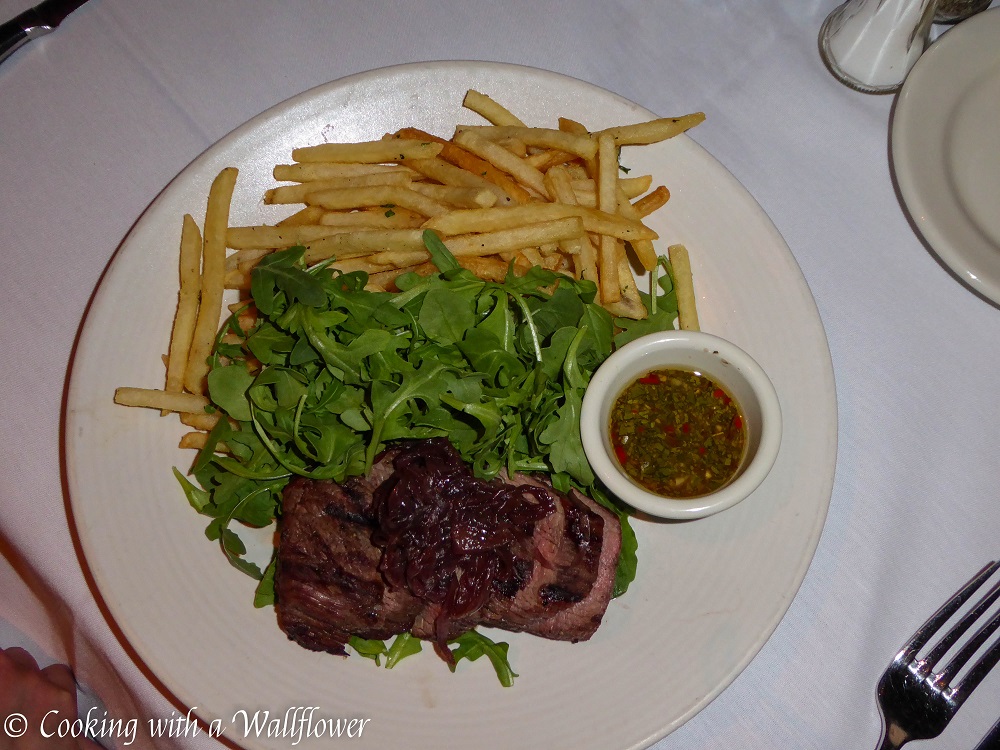 Grassfed Boneless Ribeye with Whipped Potato, Royal Trumpet Mushrooms, Haricot Verts, and Madeira wine Sauce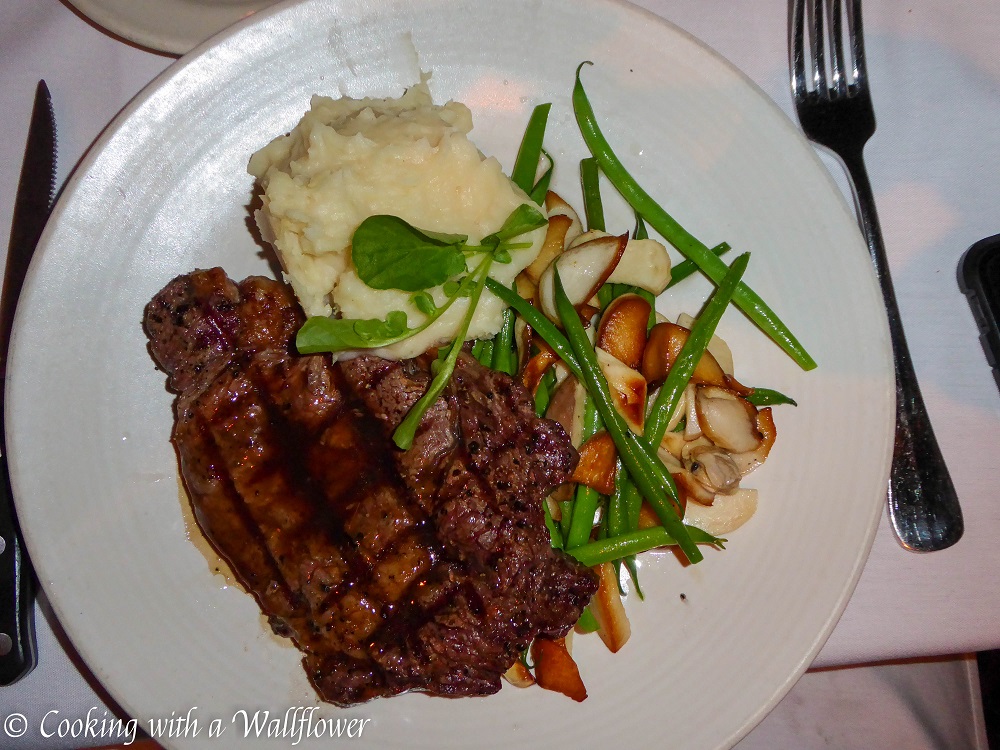 Grilled Hawaiian Ono with lobster coconut sesame rice, asparagus, baby tomatoes, sunburst summer squash, fresh pineapple relish, and ponzu
How can I not be obsessed with the lobster coconut sesame rice?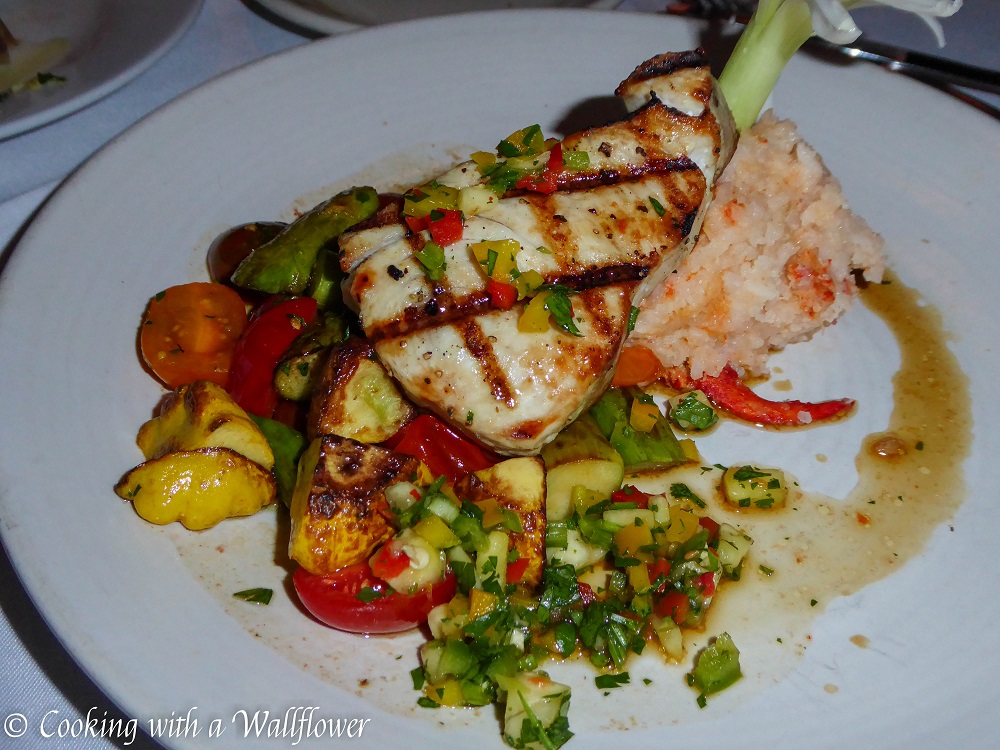 By the time we checked into our room at the Hampton Inn in Windsor, it was already after 11pm. But because we are so indecisive, I wanted to make sure we had an idea of what we wanted to do the next day. That way we could go from one activity to another and make the most of the day we had.
Of course, since Hampton Inn offers a complimentary breakfast, we had to partake in it.
We woke up extra early so that we could have breakfast at the hotel, and then still be able to make it to brunch. Yes! We wanted both breakfast and brunch.
The breakfast offered was very satisfying, but we wanted to save room for later.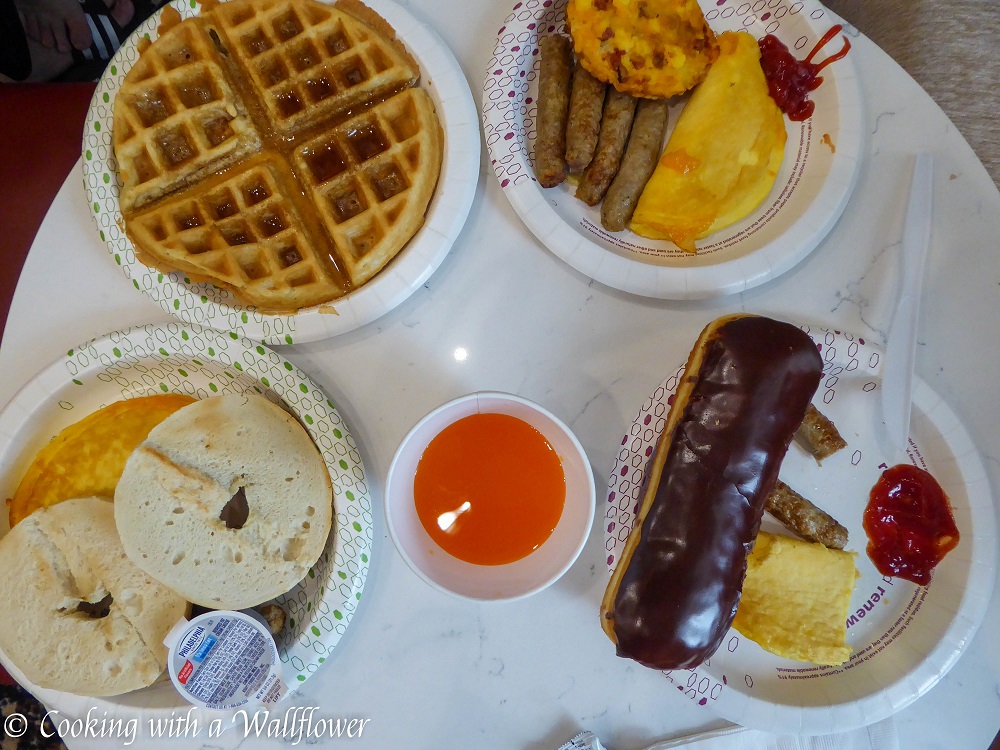 Even on vacation, I couldn't resist going to the farmer's market.
Old Downtown Windsor was so pretty. I wish we could have spent more time here.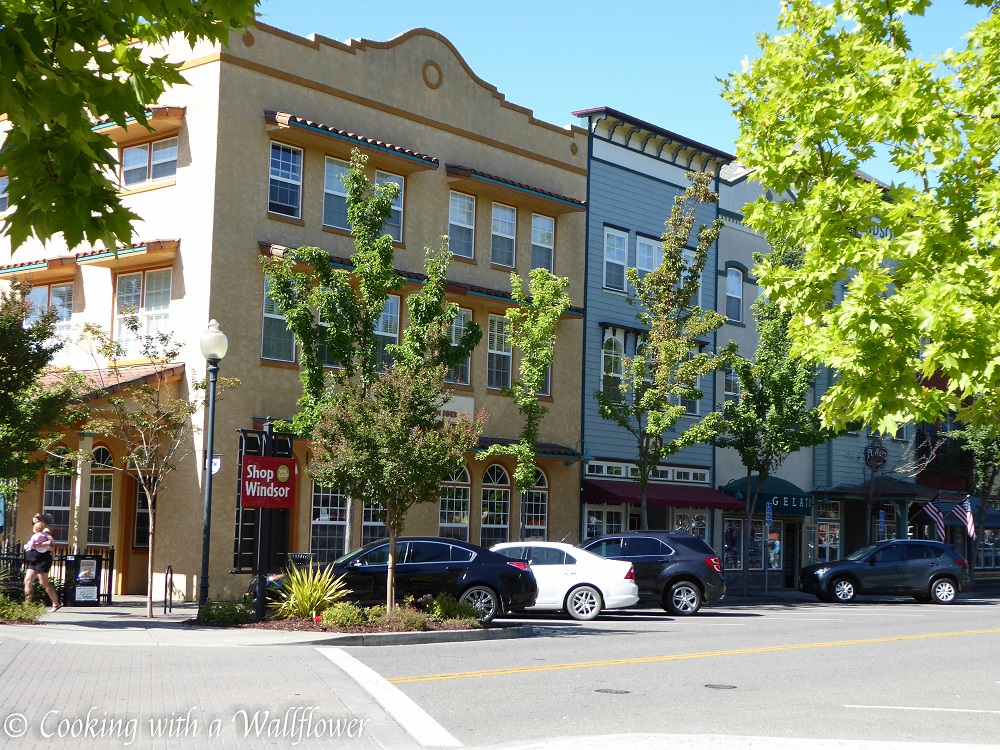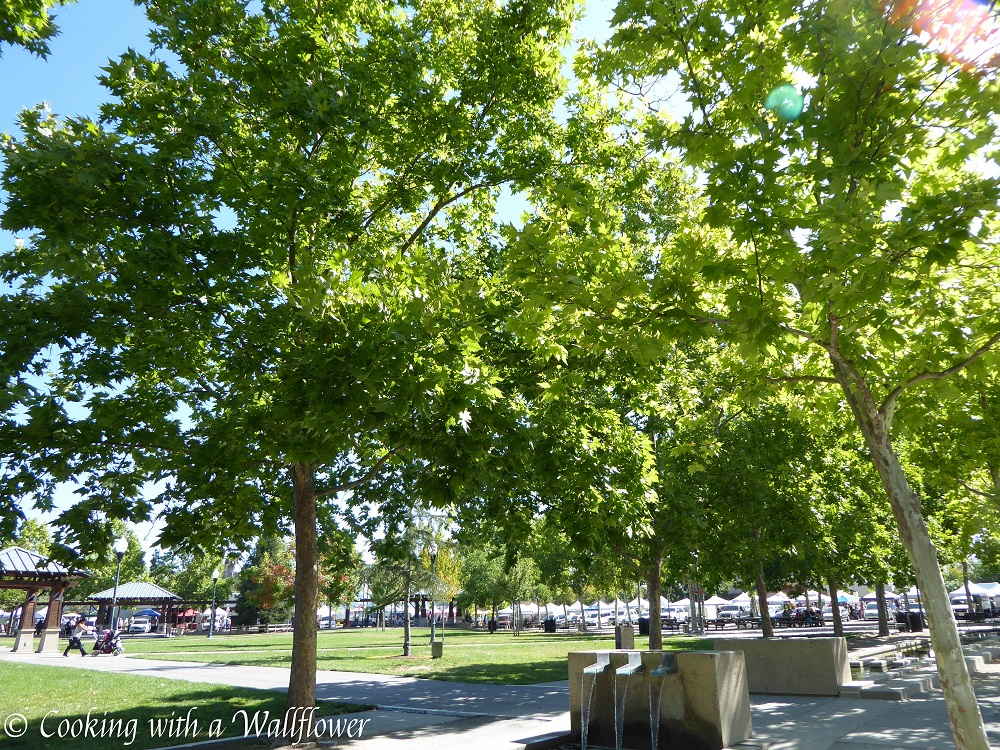 We walked through the farmer's market, and it's soo different from the farmer's markets in SF. There are so many more small business start up companies by locals. You'll find locals selling their own pastas, their own sweet potato tomato sauce, their own jams.
We even met the vice mayor of Windsor. She sells jams on the side.
I love that!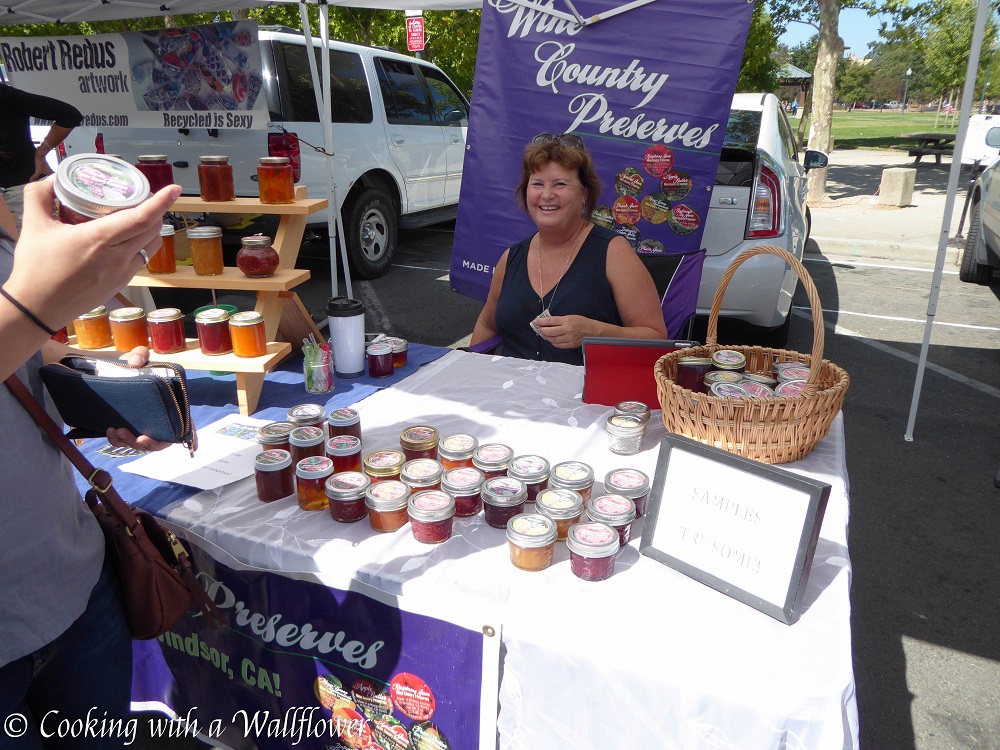 Our next stop was brunch at the Naked Pig in Santa Rosa.
The place was super small so I thought that the wait would be long since there were so many people standing around!
But the host told us that it would be about 20 minutes for a table of 5.
20 minutes! That's nothing. In SF, people wait over an hour sometimes to get seats for brunch on a Sunday.
And true to his word, we were seated in about 20 minutes.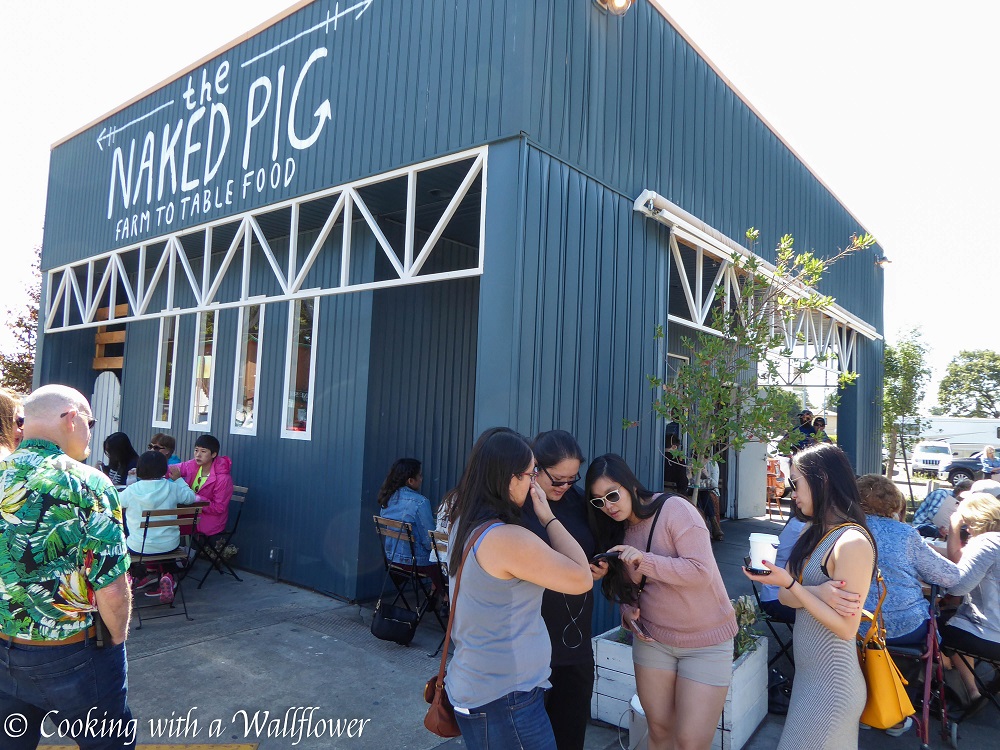 Here was what we had:
Drop Biscuits with Honey and Butter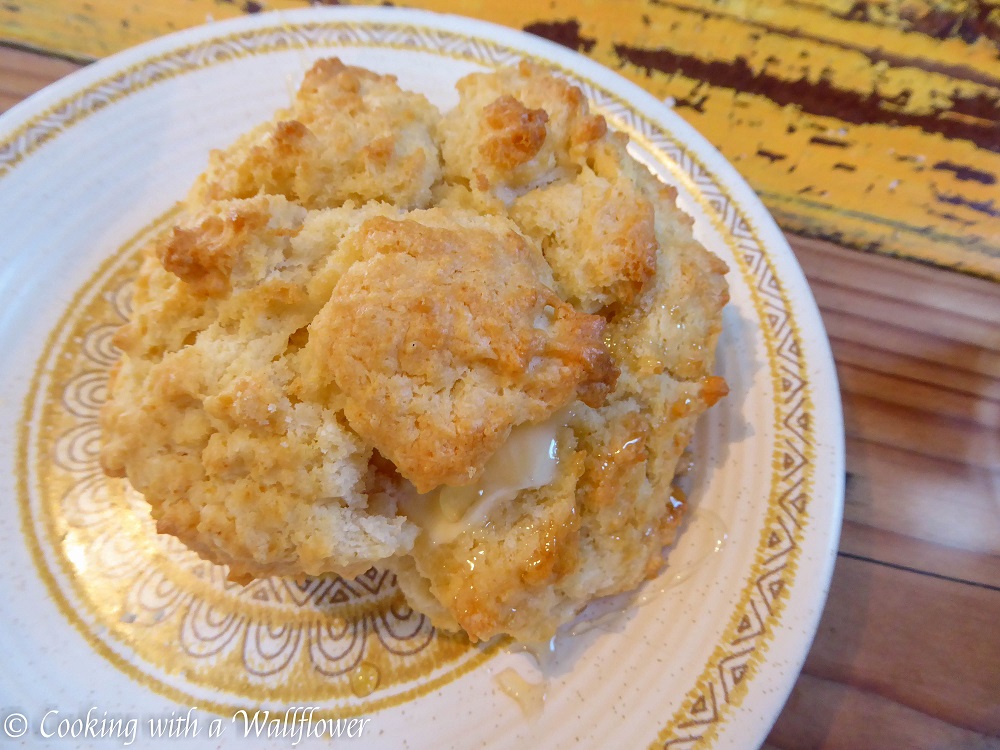 Strawberry Cream Soda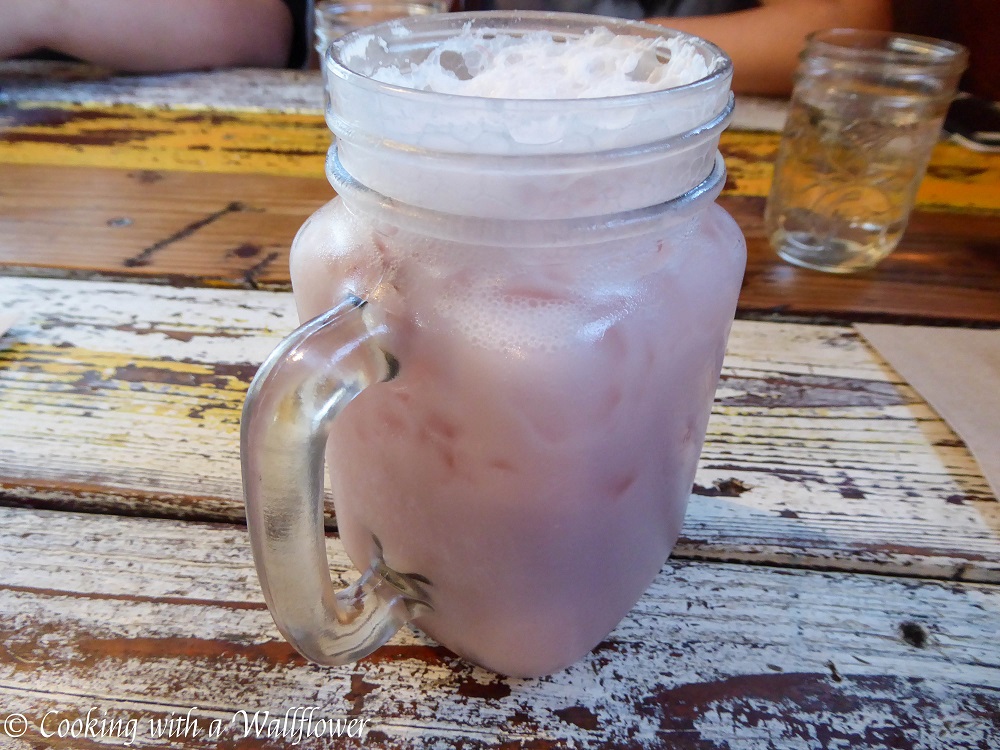 Small batch raw jersey cow farmer's cheese and stone fruit salad.
This dish was delicious and refreshing, but simple. I loved it, but at the same time, when we ordered stone fruit salad, I expected more fruits than just peaches.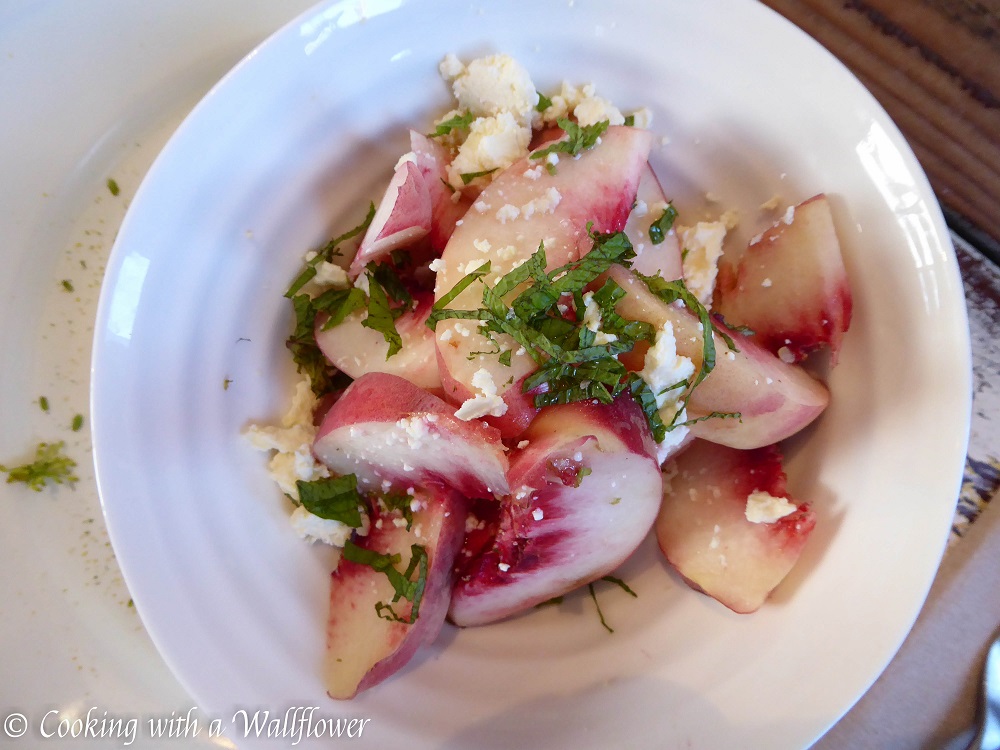 Squash Blossom Rellano – Goat Chevre Stuffed Squash Blossoms in Egg Batter, Spicy Tomato Sauce and Quinoa, Heirloom Cranberry Bean Salad.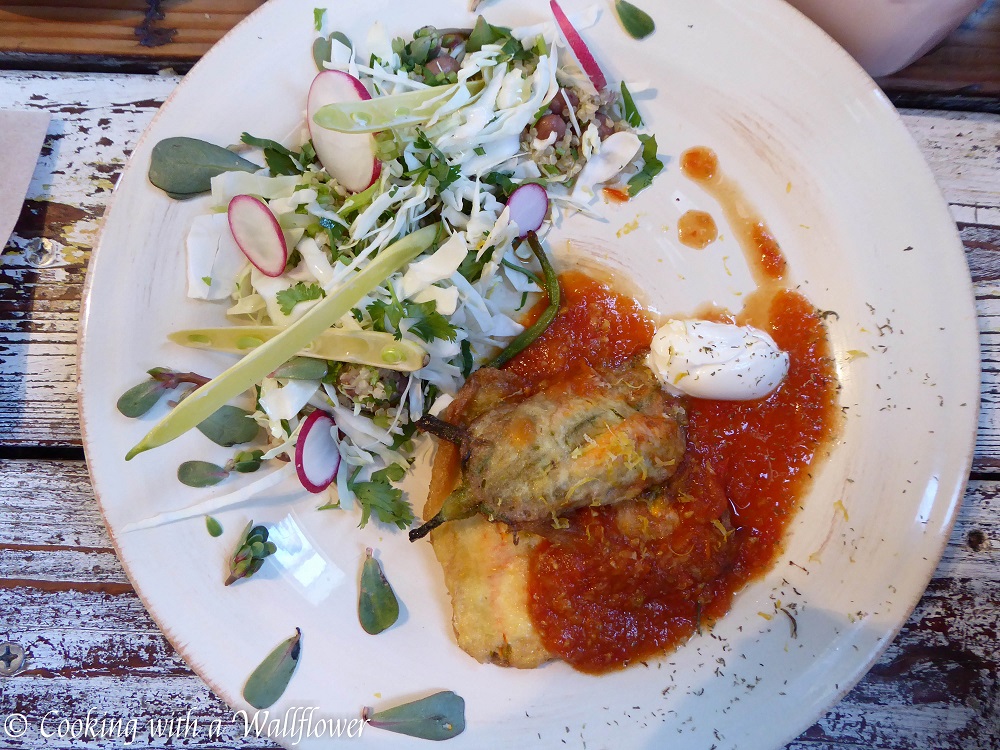 Ham and Eggs Benedict topped with urban forged meyer lemon hollandaise on english muffin with potatoes and petite salad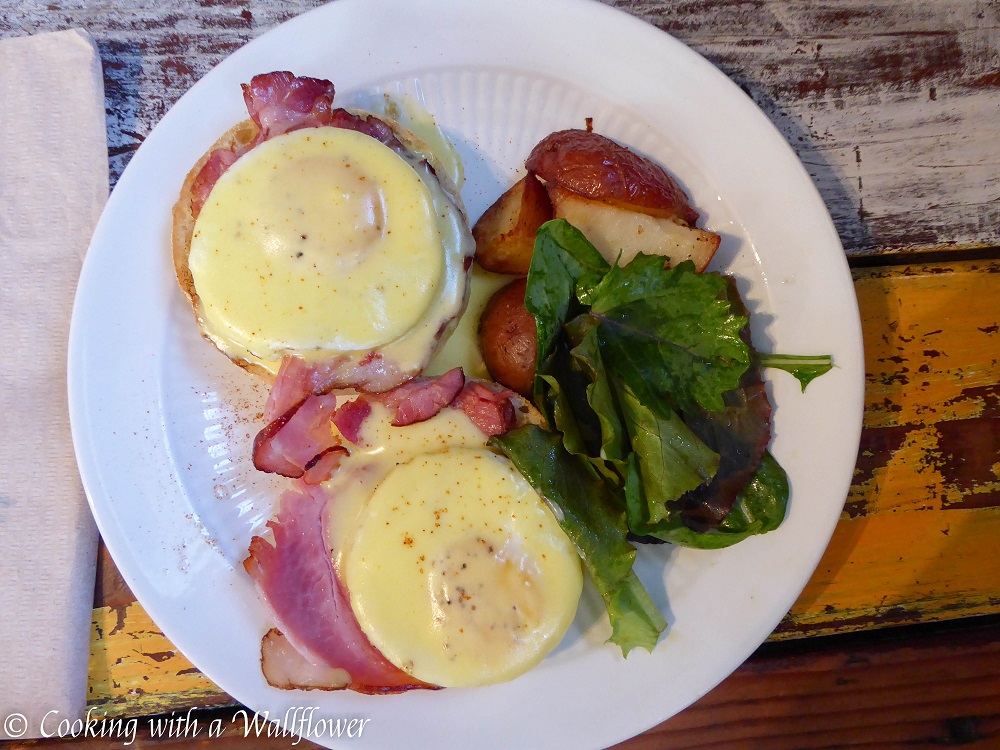 Bacon Waffle with wildflower honey.
For reals, the best. If you come here, please do yourself a favor and order the bacon waffle!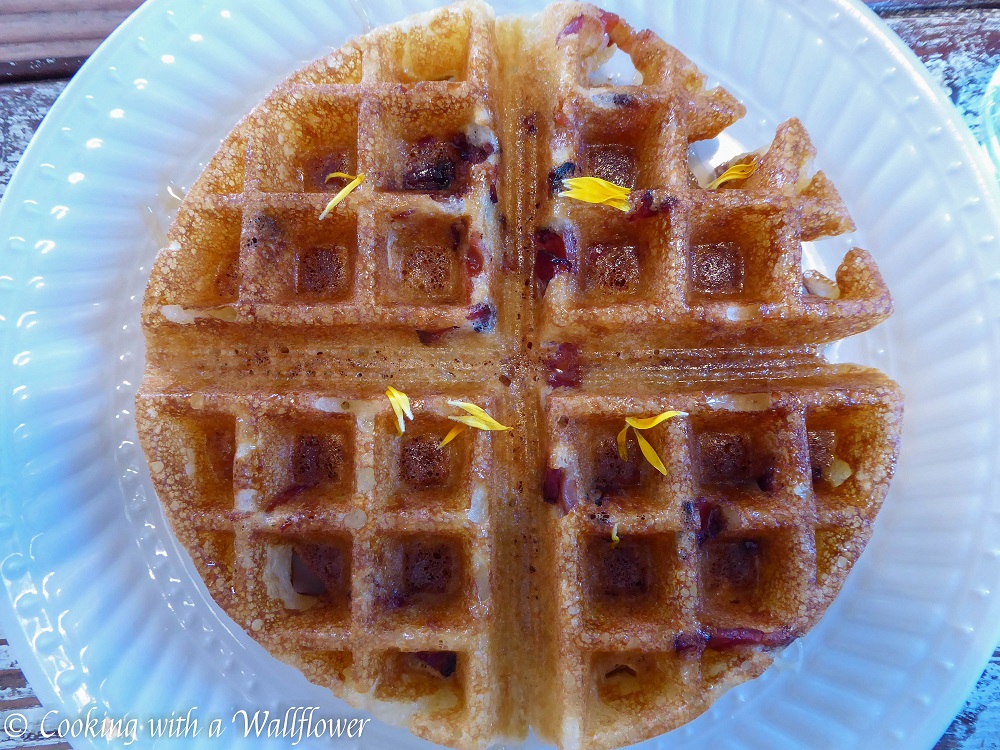 After brunch, we stopped at St Francis Winery and Vineyard to do a self guided tour.
The vineyards were gorgeous and so relaxing.
We didn't do wine tasting here.  We mainly wanted to wander around and enjoy the scenery.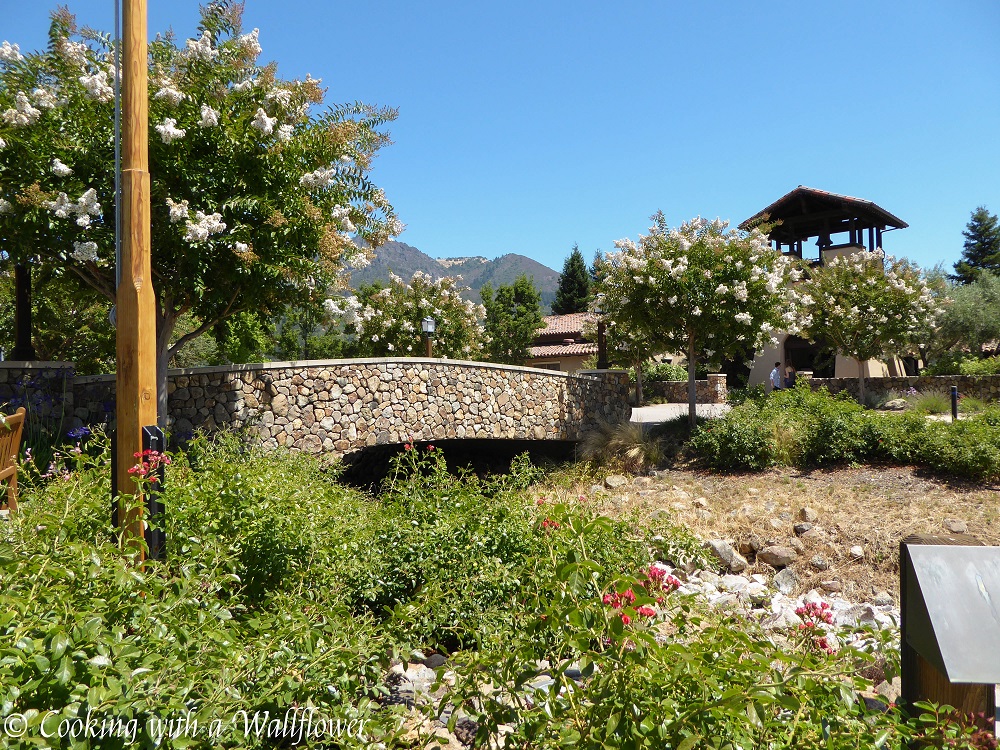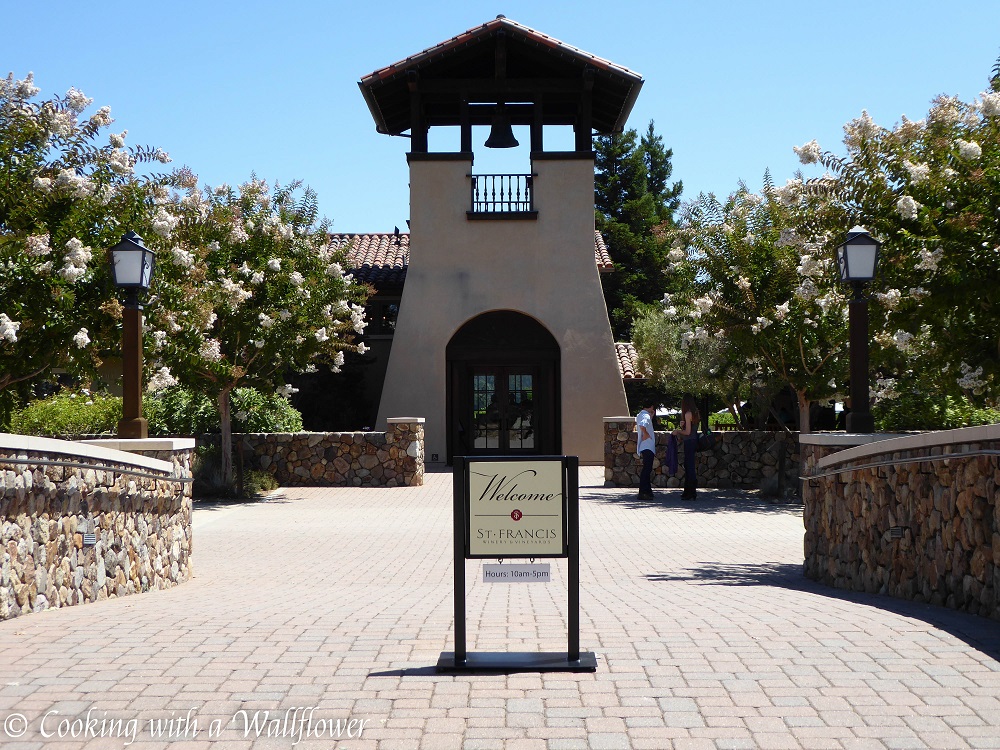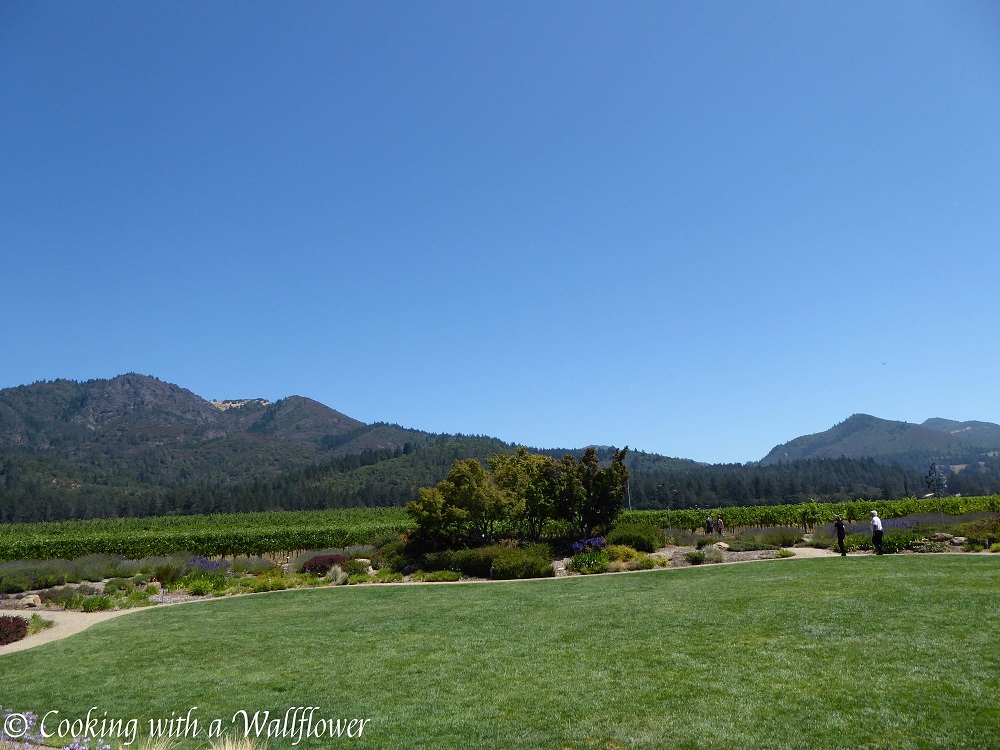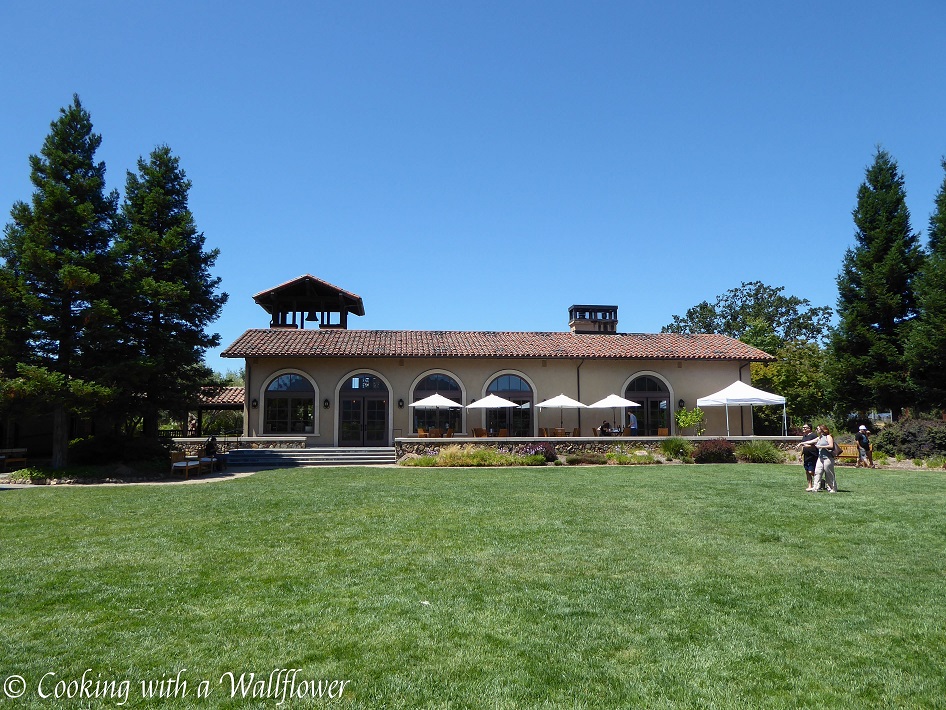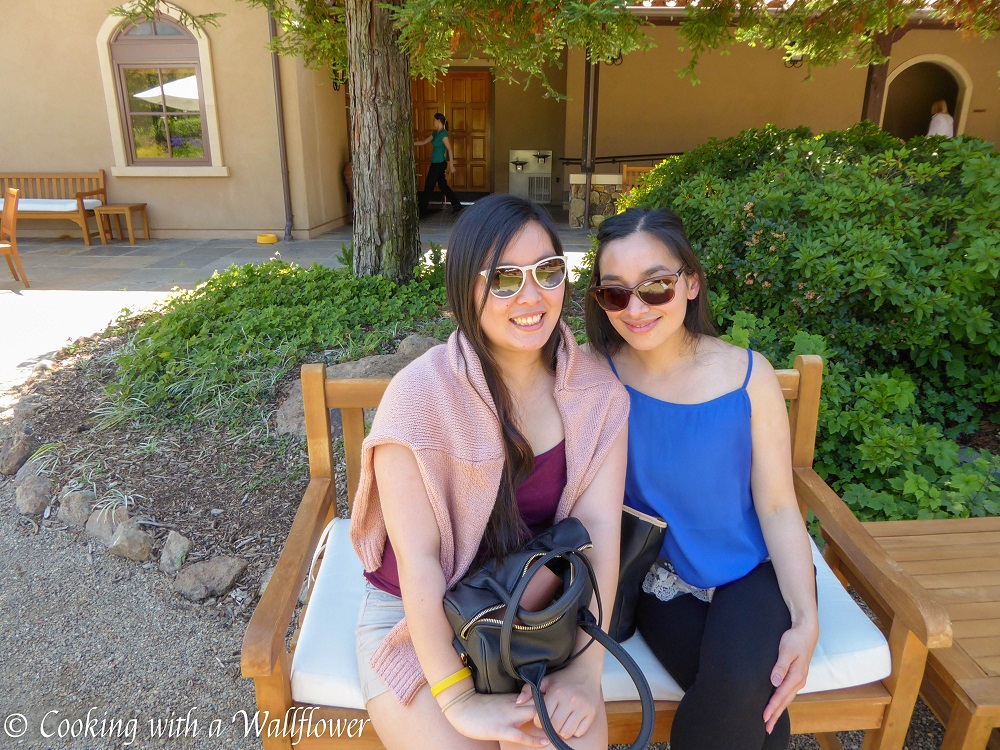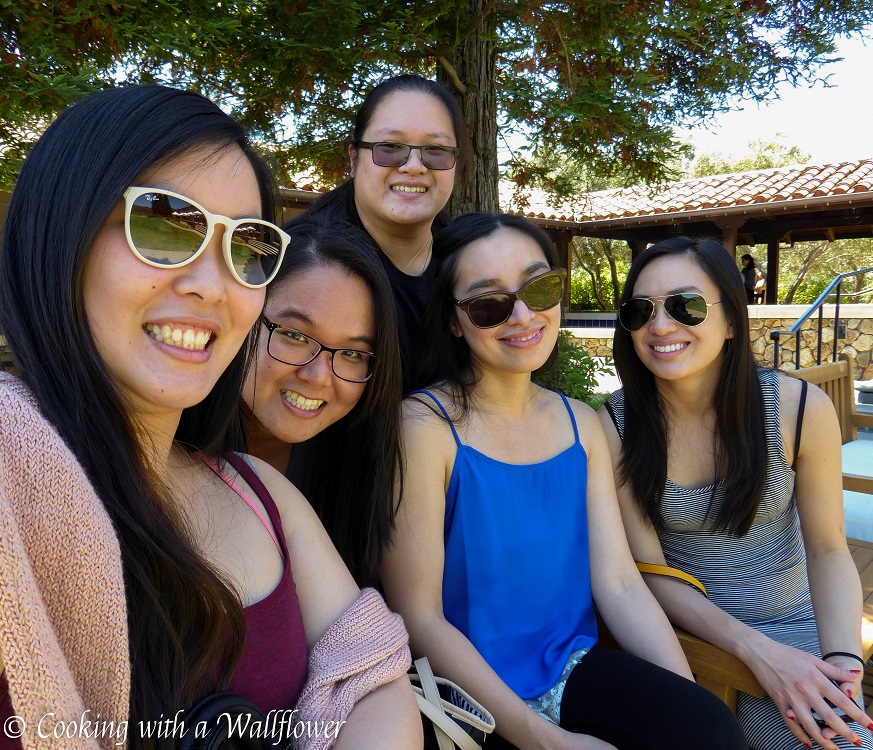 So tempted to try these grapes…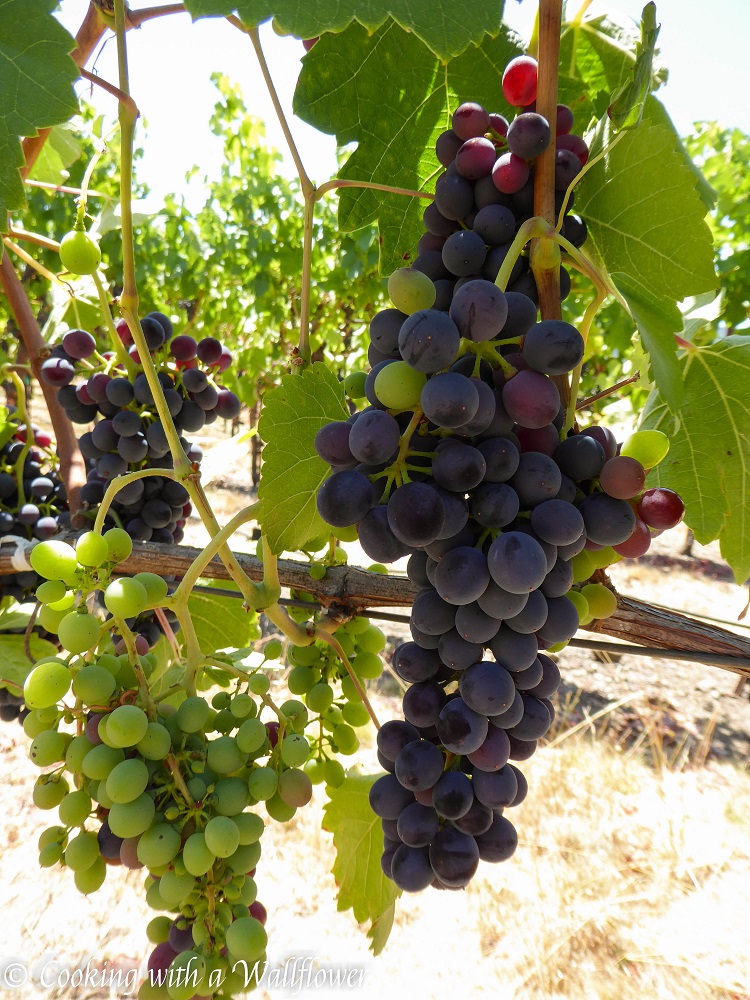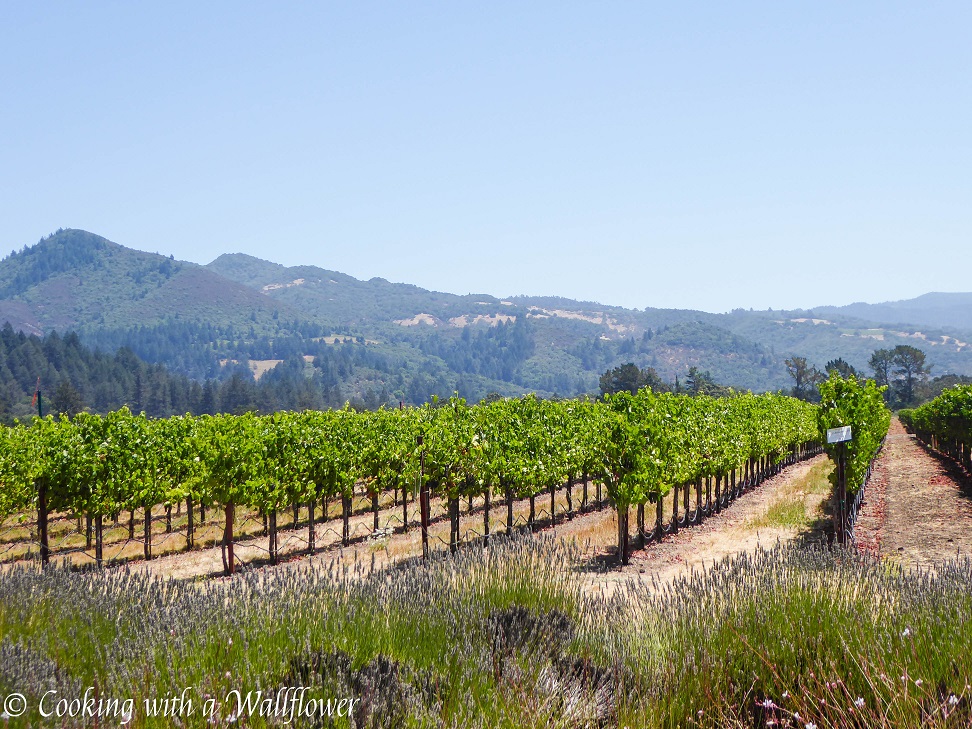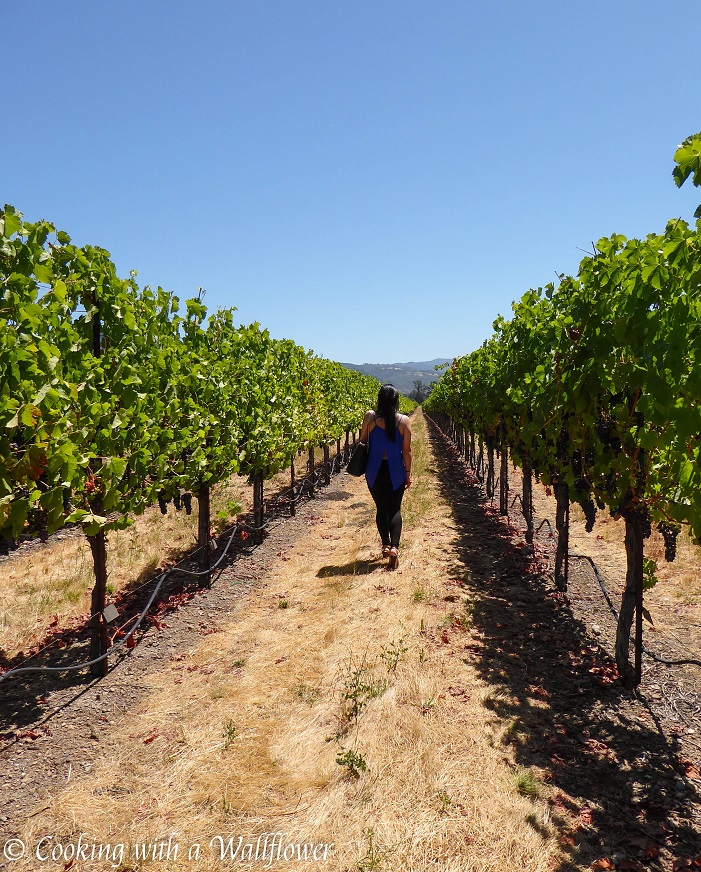 Afterwards, we went next door to Ledson Winery.
Sooo pretty.
The owner originally wanted to build this place for his retirement home. But after so many people stopped by while it was being built, thinking that it's a winery, the owner decided to turn it into a winery and vineyard.
You can only buy their wine directly on the estate or through their website. So of course, we wanted to do wine tasting here.
But, if you're not much of a wine drinker, which none of us are, you can also do some cheese tasting, olive oil tasting, mustard tasting, and oh my god! Merlot or Zinfandel Chocolate Sauce. Utterly obsessed. I want the chocolate sauce on everything!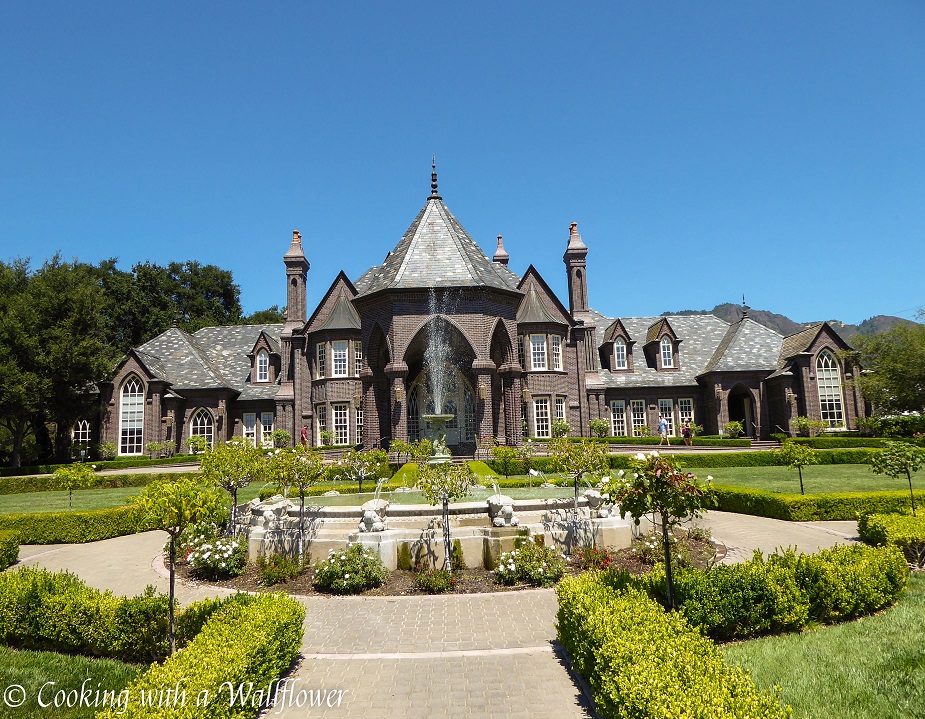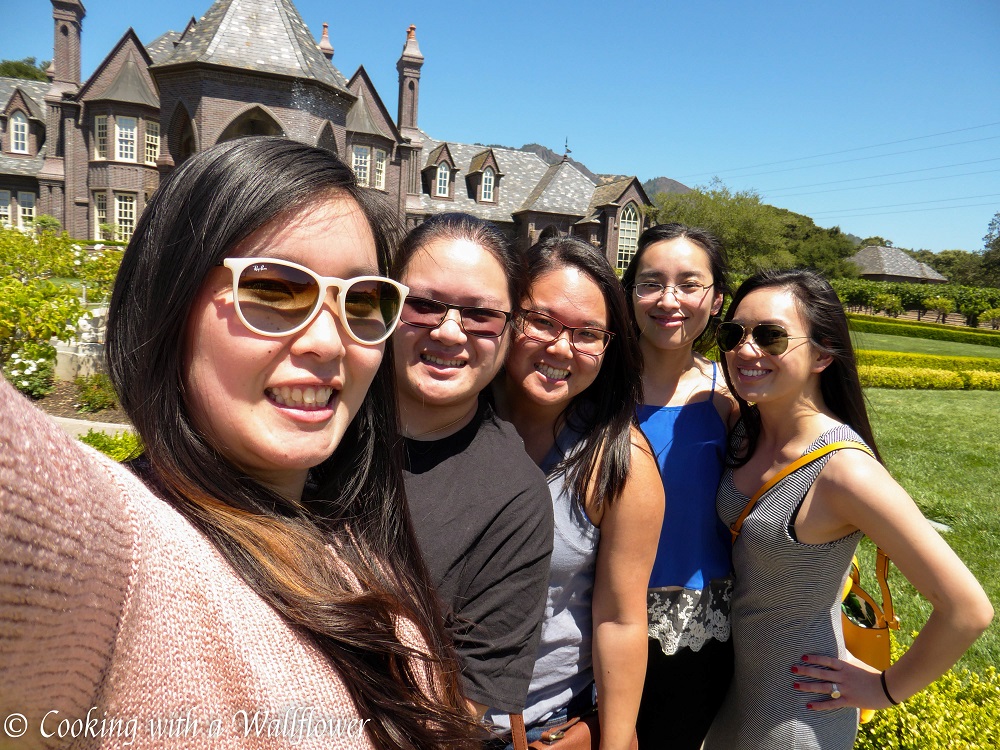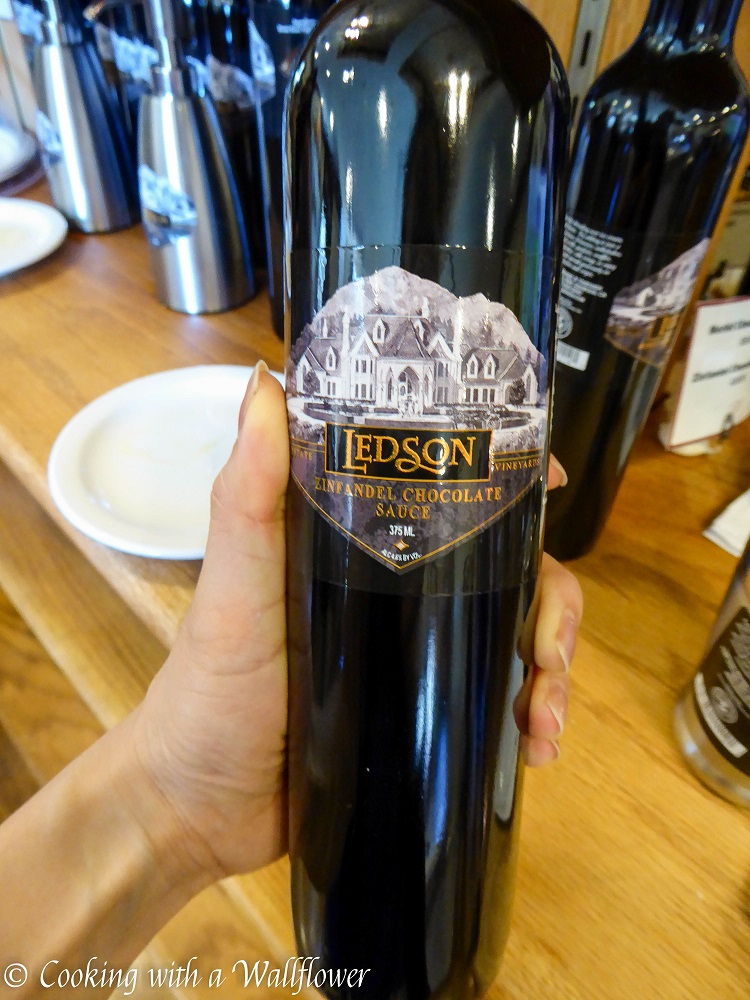 In love with the architecture.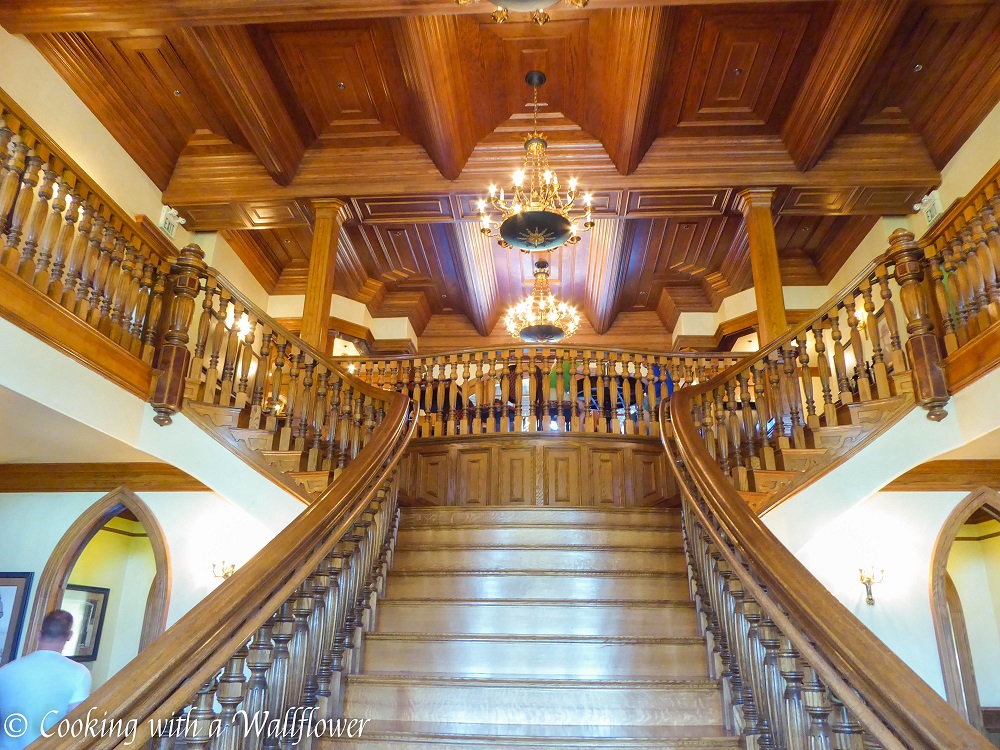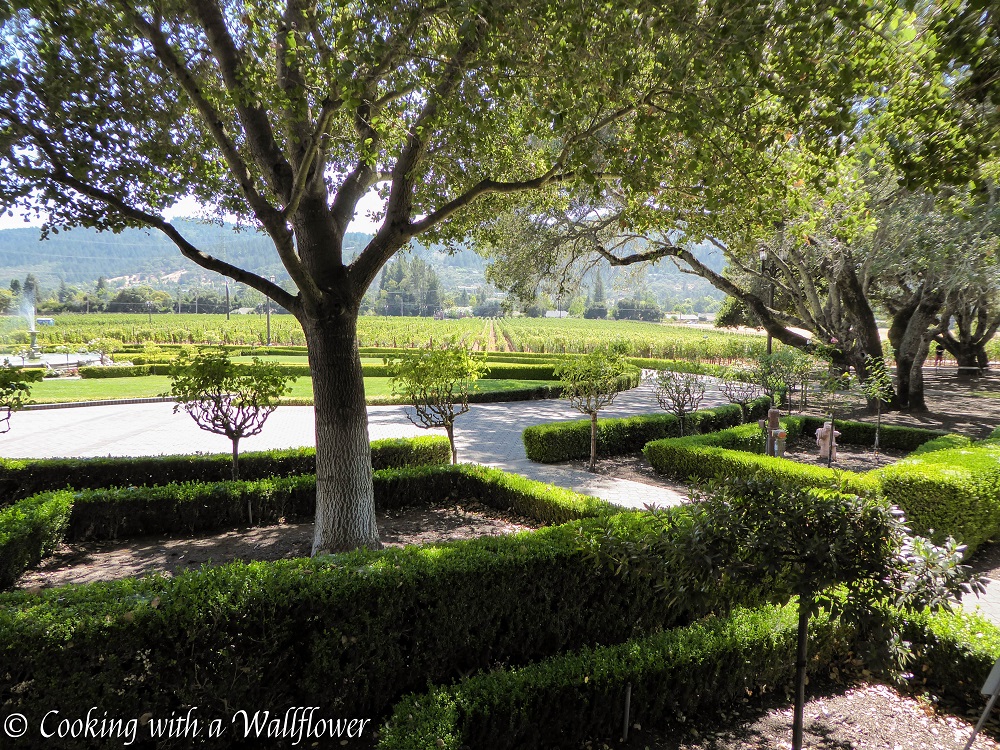 On our way home, we stopped at the Petaluma Creamery for some homemade ice cream.  Dessert before dinner. Shhh.
The blueberry ice cream and the peach ice cream <3
They have a huge selection of cheese too!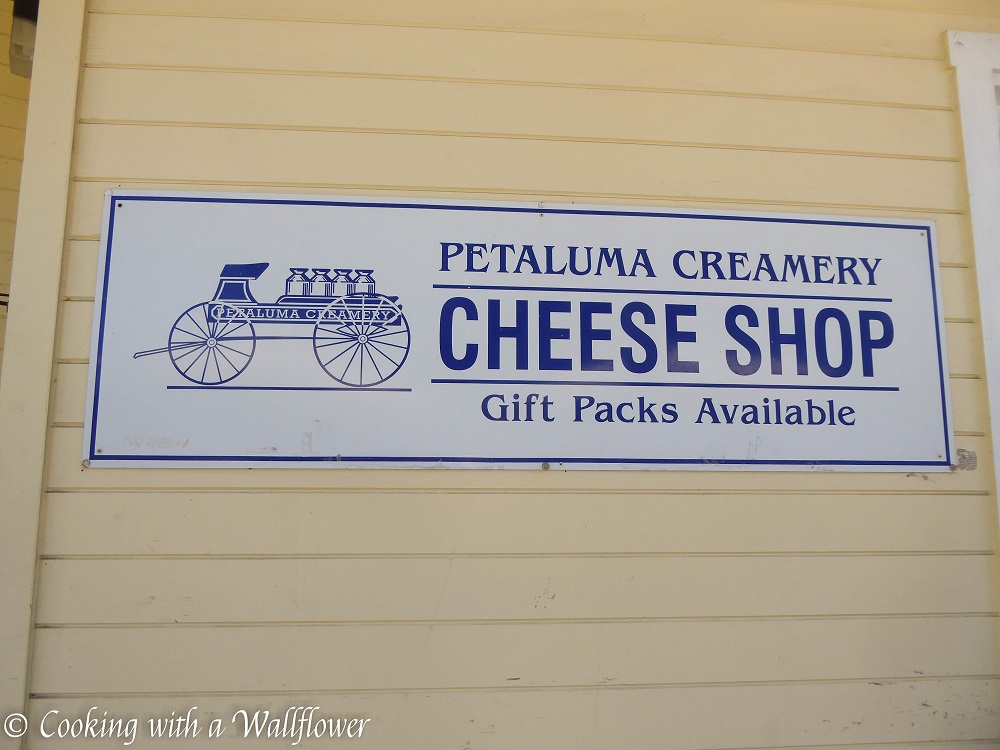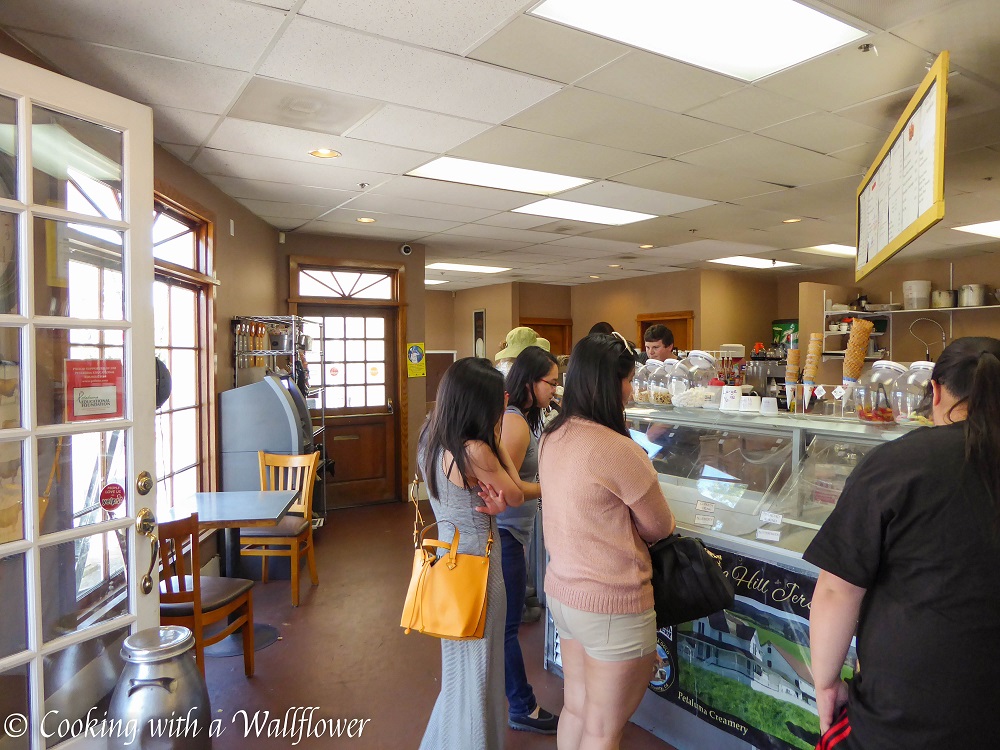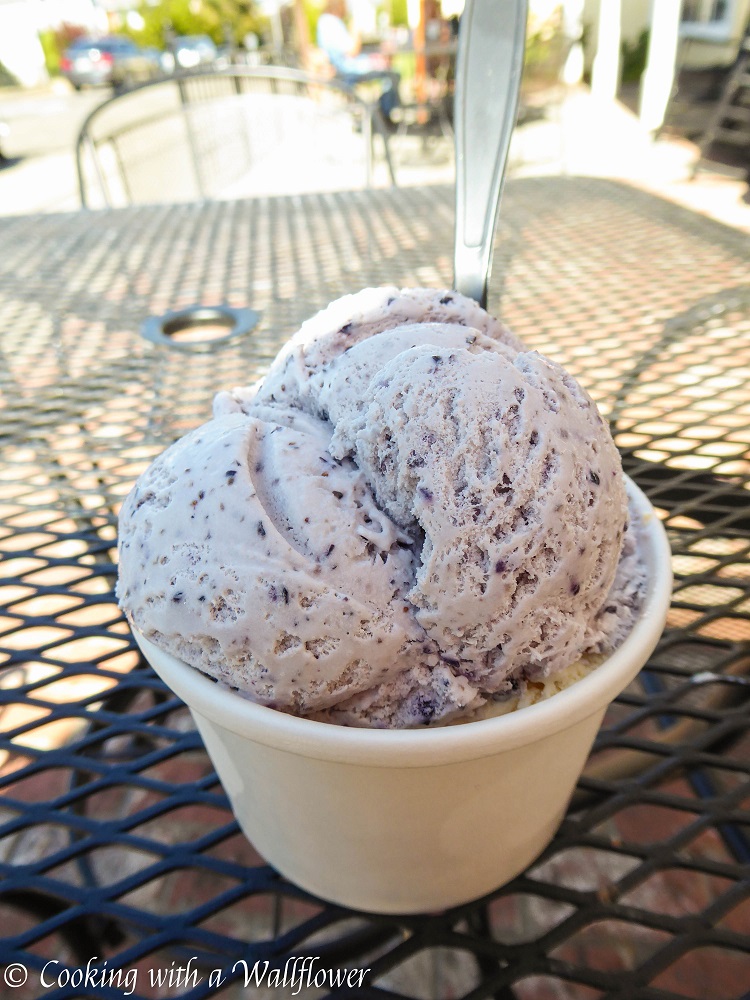 We had dinner at Sauce BBQ and Spirits in Petaluma as the last part of our trip.
The food was soo good. And there's a ton per plate.
What we ordered:
Flash fried brussels sprouts and braised pork belly with honey balsamic glaze garnished with fried onion rings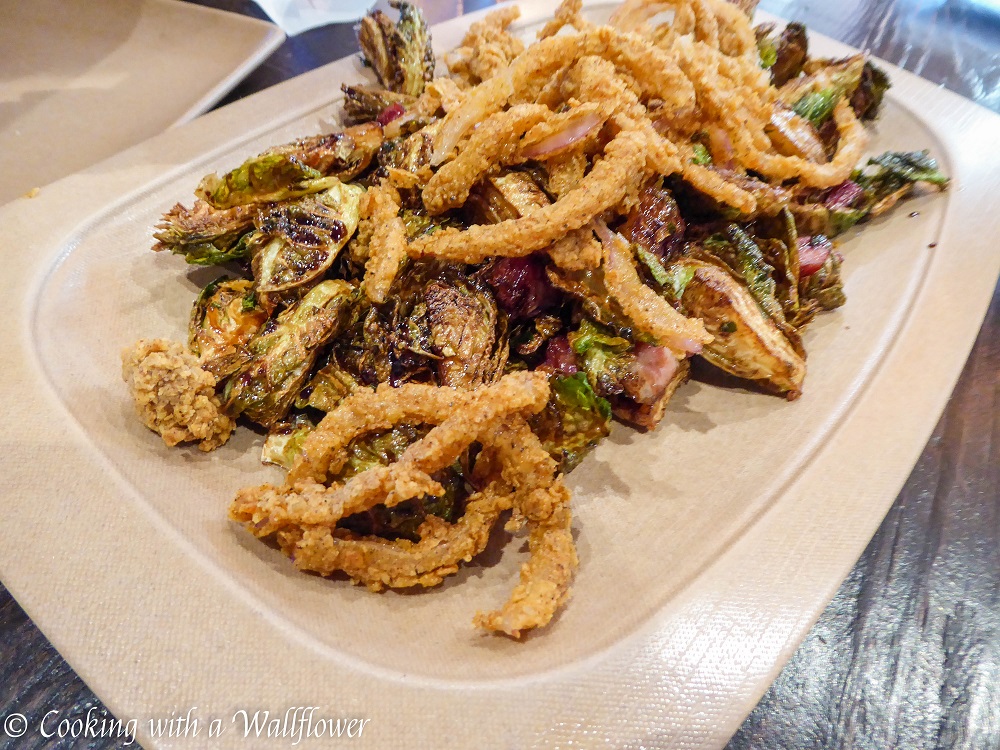 Pulled pork and Baby Back Ribs Combo with Honey Cornbread and Cheesy Jalapeno Grits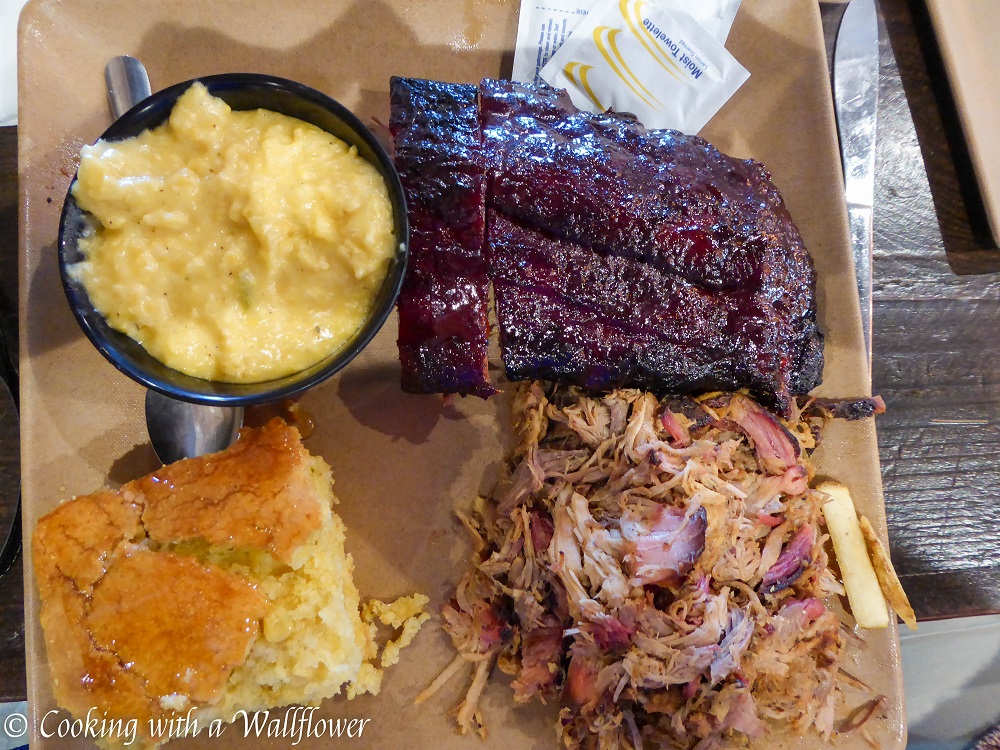 Burnt ends with Grits and Cornbread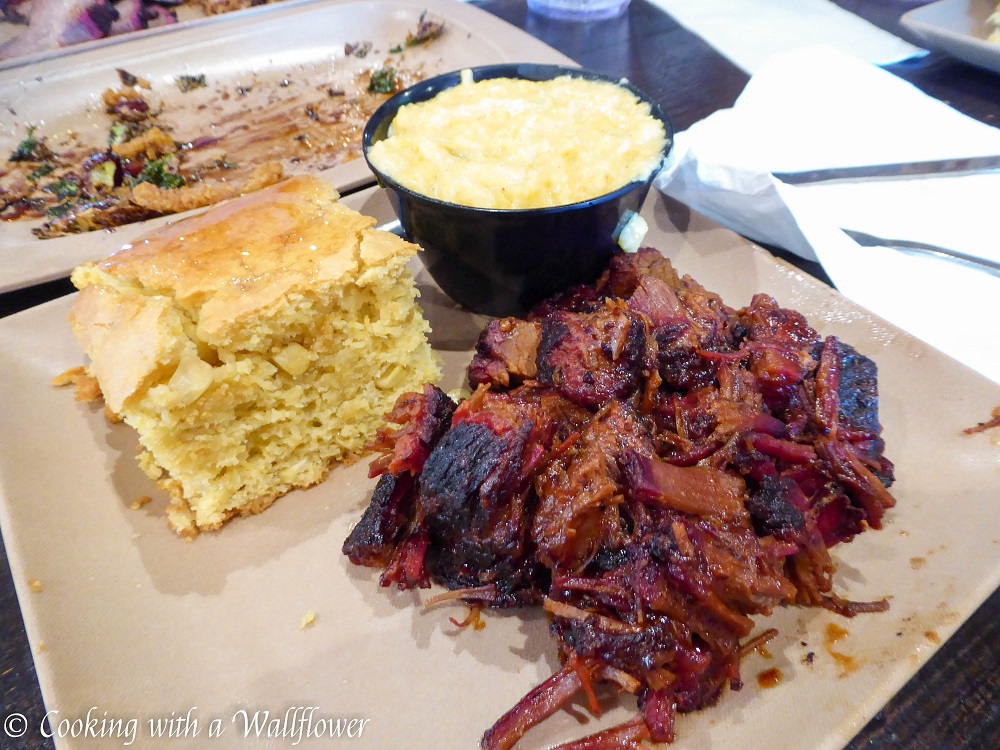 Chicken Wings and Brisket with Cornbread and Mac and Cheese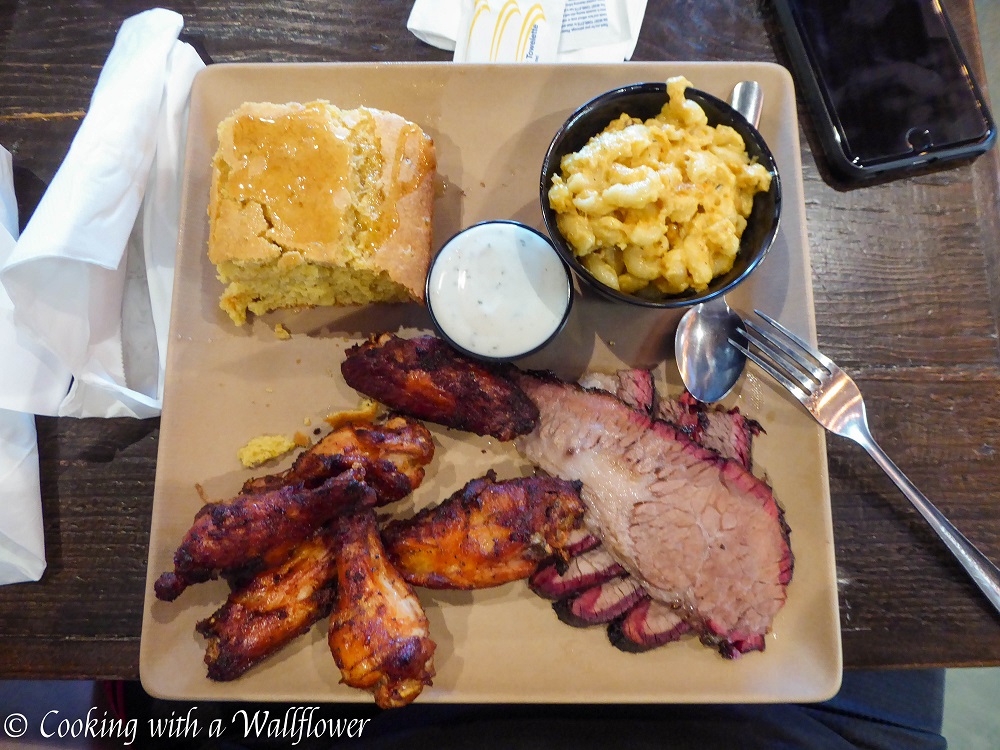 Brisket and Pulled Pork with French Fries and Mac and Cheese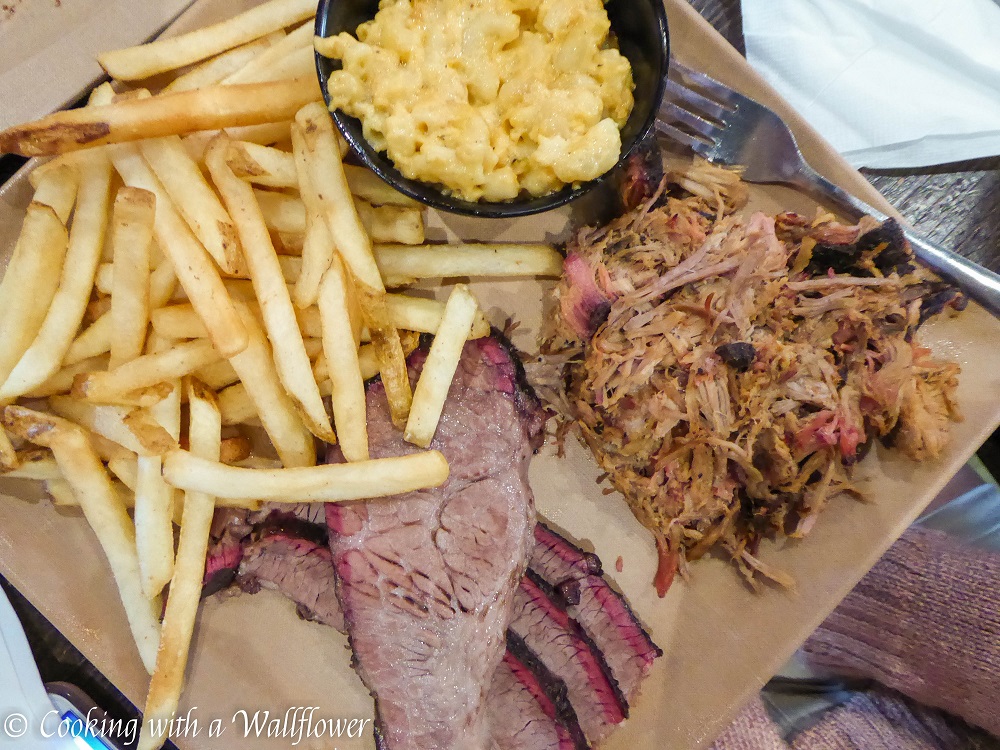 Just a quick overnight trip to get away from city life for a little bit.
But I think I need another vacation soon =)