Cable car tracks in the early mornings in SF.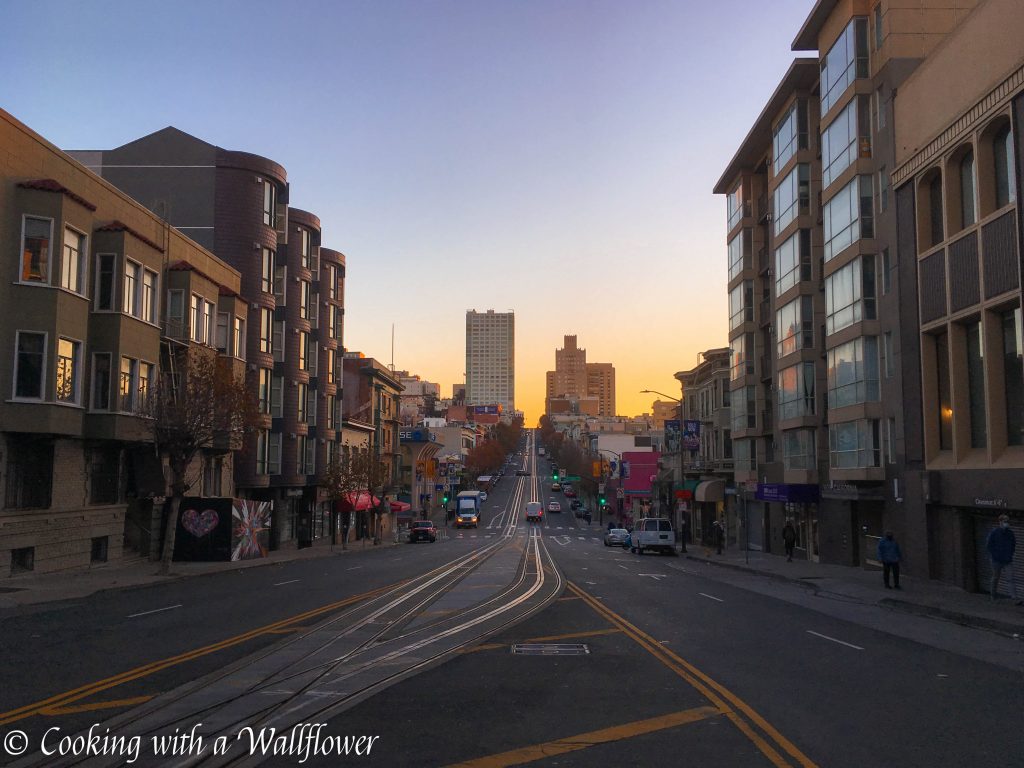 The streets are usually empty in SF early in the mornings. But especially right now.The cable cars have been suspended for months now so the tracks aren't used. I love standing at the cable car stop to take photos early in the morning though. You can still see the colors of the sunrise.
In this week's finds..
How cute and festive are these spelt brownie Christmas tree?
How delicious does this sweet potato spaghetti with mushrooms and bacon sound?
This chicken ramen noodle soup sounds so delicious and cozy on a cold day.
The festiveness of this pomegranate margarita. Perfect for the holidays.
I love the idea of this vegetarian based portobello mushroom french onion soup. It sounds so warm and comforting.
These huevos rancheros would make the perfect weekend brunch.
This chocolate fudge needs only two ingredients and it would be perfect for gifting.
These pistachio french macarons would make the perfect gift.
I'm obsessed with these red velvet Christmas wreath cupcakes.
How gorgeous is this red velvet lava cake?
My mouth is drooling over this spanish cod with vegetables. It would be perfect for date night dinner.
This croissant sandwich with mushrooms and brie sound soo delish.
This cheesy baked corn with bacon and jalapeno sounds sooo good.
I definitely want to try this vegetarian enchilada soup with beans and rice soon.
How delish does this gingerbread cake look?
I want to make these peppermint cookies ASAP.
Seriously. How amazing does this smoked gouda pork burger with apple sauce look?
It's citrus season and I want to try these meyer lemon bars.
The prettiness of this chocolate layer cake with vanilla whipped ganache.
These kung pao cauliflowerwith rice would make a great dinner any night.
I miss going out for dim sum so I would love to make these turnip cakes at home.
I love the sound of this vegan pandan pound cake.