In a town called Yountville just north of San Francisco, there are the most amazing restaurants. If you stop in the town early in the morning, you will notice a long line of people out the door of a small bakery called Bouchon Bakery. There are no indoor seating areas, but there is plenty of seats outside. And even though it was cold and rainy, it was worth the wait.
Oh my gosh, their baked goods are ah-mazing. I think I may have shared with you their rosé wine macarons before. Well, this time, I've discovered lemon poppy seed croissants. And they are just as good as they sound.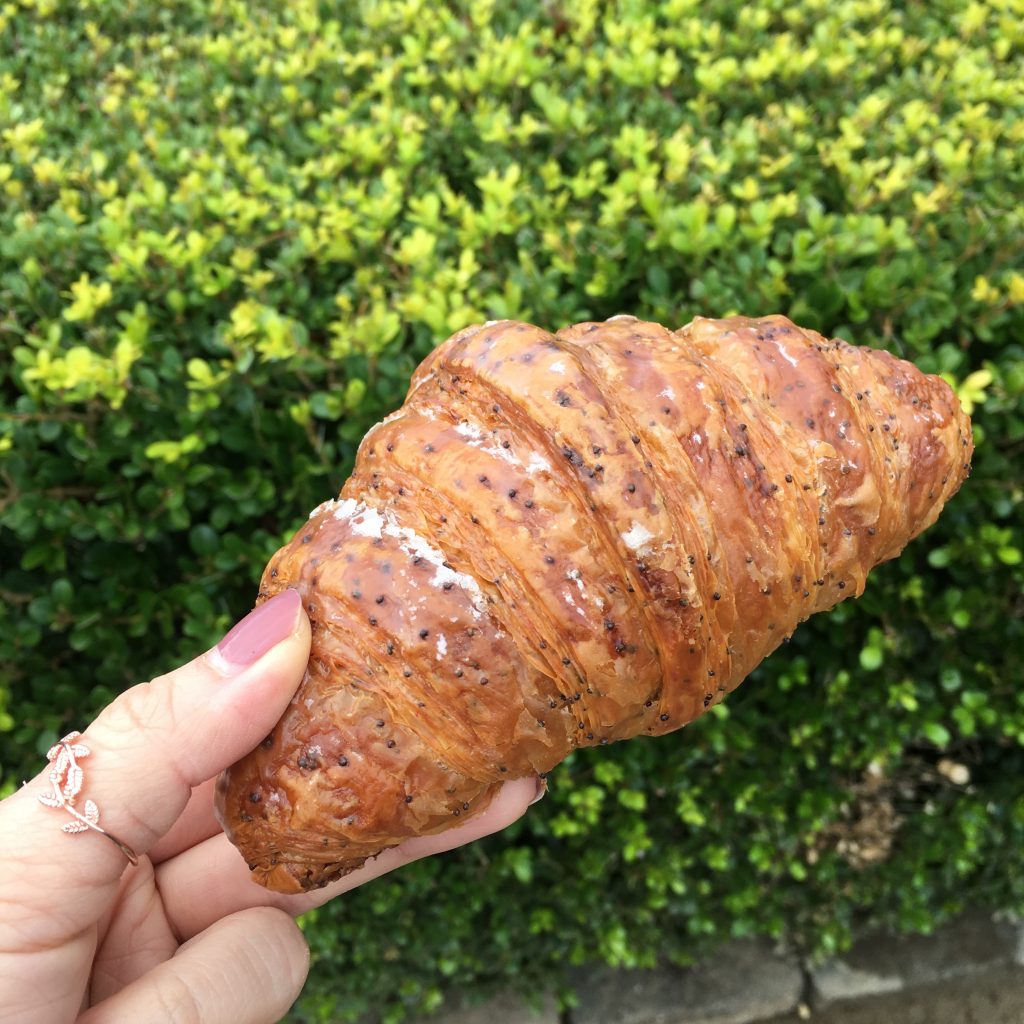 Seriously, place Bouchon Bakery on your "to visit" list.
In the mean time, in this week's finds….
These spicy buffalo deviled eggs would be perfect for serving guests.
This 20 minute veggie stir fry filled with noodles and vegetables is the kind of weeknight dinner I love to make.
How gorgeous is this mini lemon blueberry layer cake?
These lemon ricotta pancakes would be perfect for breakfast.
These gluten free banana muffins are filled with blueberries and dark chocolate. Yes!
This healthy vegetarian tortilla soup sounds sooo good and perfect for the cold weather.
I seriously need this oreo mint chocolate chip cheesecake in my life.
These vegan funfetti donuts look soo delicious.
How delicious does this Indian red coconut curry with homemade pita sound?
I'm so obsessed with toffee so I can't wait to try this English toffee.
These cake mix chocolate chip cookie bars sound like a great option for dessert.
The decadence of this maple pecan cheesecake.
Um, flatbread brunch pizza? Yes, please.
Look at the fluffiness of these vegan cinnamon streusel pancakes!
Do you love passion fruit as much as I do? I'm always looking for desserts with passion fruit and these passion fruit cheesecake cups and these honey passionfruit cupcakes sound soo mouthwatering.
These creamy dijon pork chops sound sooo good.
I'm excited to try these spicy peanut tofu bowls with quick pickled veggies.