It's been a really difficult week in California. You may have heard that there are fires burning both in the North and in the South. The Camp Fire, as the wildfire in the Northeast part of California is called, has been devastating. So many lives lost, so many people without homes. It's going to be a difficult holiday season for so many people. And as awful as it sounds, and as depressing as it is, these wildfires seem to be our new reality.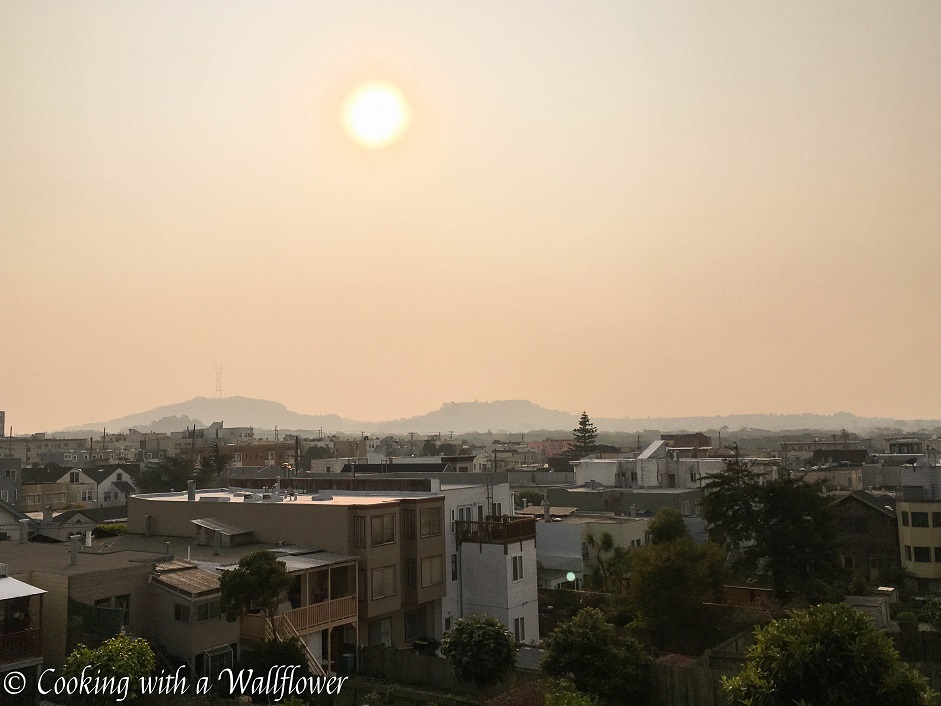 San Francisco has been smoky since last Thursday when the fire started. Since then, it has gotten so much worse. Our homes smell like smoke. We're told to wear masks when going outside. A blanket of orange haze sits over the city. And it is predicted that this will continue for at least another week.
This photo shows what it looks like at 9 in the morning.
.
.
.
In the mean time, since we're less than a week away from Thanksgiving, we're going to talk about Thanksgiving recipes. These are my favorites from this week.
Pre-Dinner Ideas
Okay, so if you're like me, you're probably starving as you're cooking. Or you could have guests who are getting impatient. These cheese board ideas sound amazing for snacking. And these tips and tricks for charcuterie and cheese boards are perfect for entertaining.
Cocktail hour should include this smoked maple old fashioned or this pomegranate prosecco smash or this spiced cranberry rose spritzer.
The Turkey
The flavor in this lemon herb roasted turkey breast.
If you need seasoning ideas for your turkey, this garlic herb peppercorn dry brine sounds delish.
This rosemary apricot glazed turkey sounds soo good.
Oh my gosh. Apple cider rosemary turkey.
What about this orange rosemary glazed roast turkey?
Thanksgiving Sides
Cherry apple stuffing and this herby mushroom croissant stuffing sound perfect for Thanksgiving.
Drooling over these garlic herb butter parker house rolls.
Are you a fan of brussels sprouts? These balsamic brussels sprouts sound soo good.
I need this brussels sprouts gratin in my life.
Asiago scalloped potatoes would make the perfect side.
Thanksgiving Dessert
How amazing does this pumpkin pecan pie sound? Plus, it's gluten free too.
How gorgeous does this cranberry meyer lemon pie with gingersnap crust look?
This pumpkin cake with milk chocolate cream cheese frosting sounds perfect for entertaining.
How delish does this salted caramel apple pie sound?