"I'm in love with cities I've never been to and people I've never met." – John Green
Early in April, I traveled to Philadelphia for a few days to explore a new city on my own.There was so much to see, so much to eat, so much to rave about, and obviously so much to share with you. So, Philadelphia will be divided into different parts of the city. Today, I wanted to share with you Philadelphia's Old City.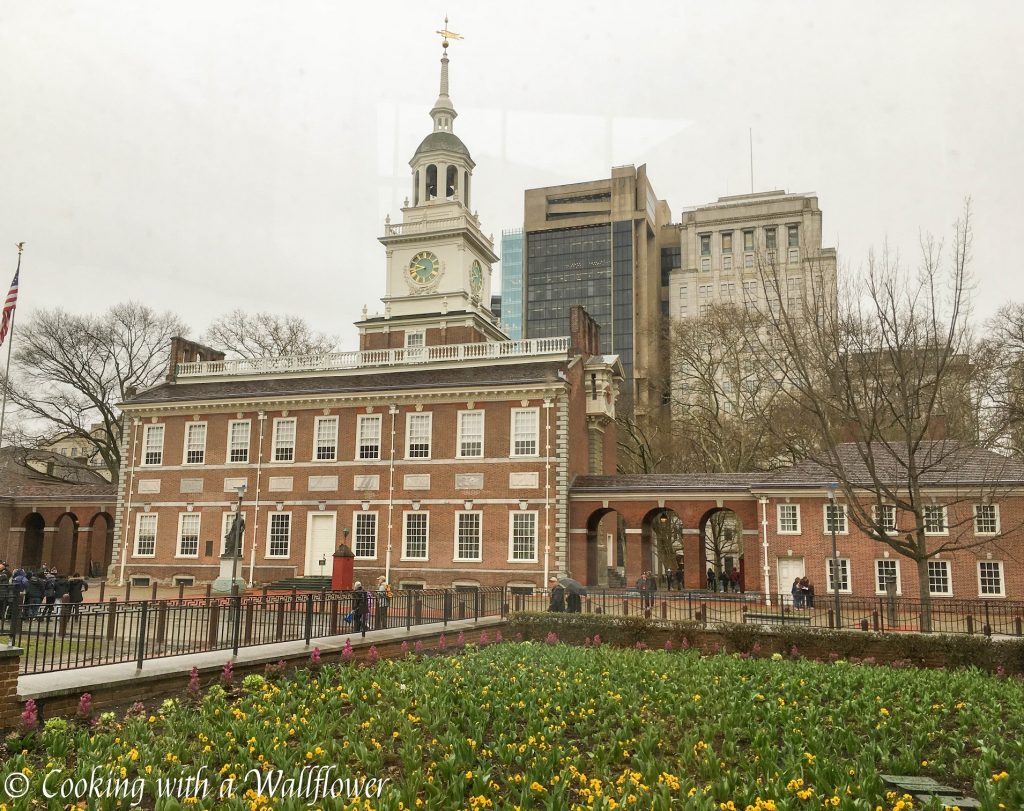 I took the red eye flight from San Francisco after work mostly because I wanted to arrive in Philadelphia in the morning and still have the whole day to explore. Even if I left super early in the morning, by the time I arrived on the East Coast, it would be early evening. So for me, it made sense to travel at night and arrive in the morning with a whole day left for adventures.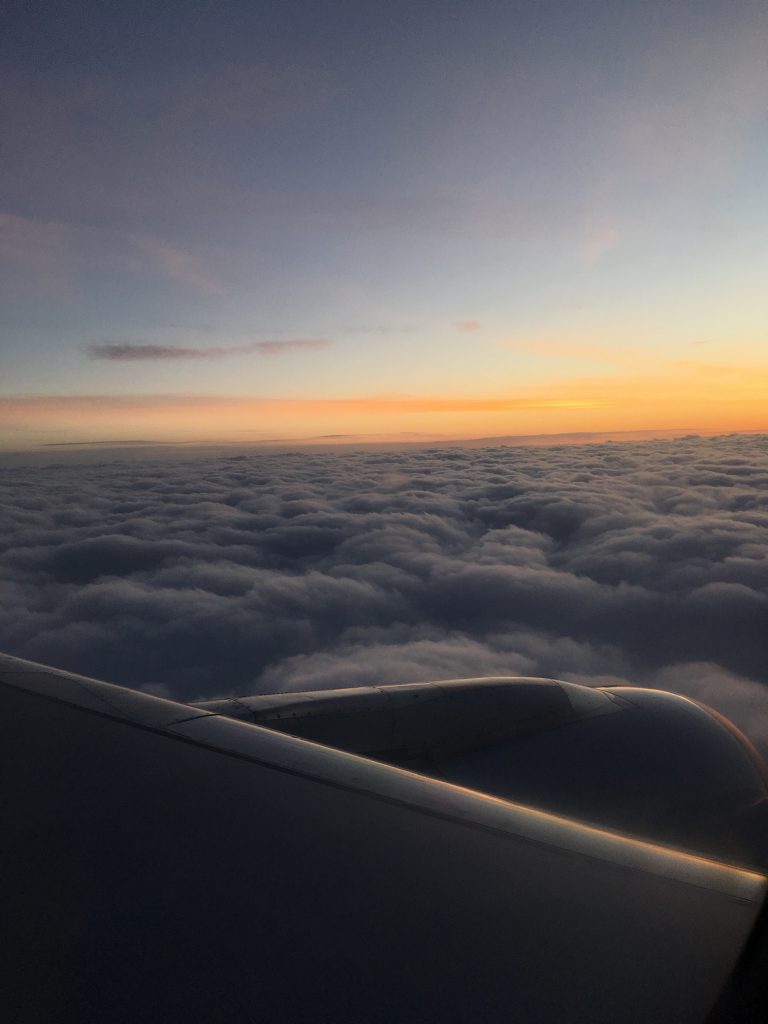 I checked in at my AirBnb apartment. Luckily, I was allowed to check in as soon as I arrived. My first stop was the Independence Visitor Center to grab tickets for a tour of Independence Hall. Even though I arrived as soon as the visitor center opened, my ticket wasn't until 1:40pm. Which meant I had to fill my schedule until then.
And the adventure begins.
I seriously loved Old City because there was just so much history. And I couldn't stop imagining that this was where the Founding Fathers gathered to create the Declaration of Independence and U.S. Constitution, that this was where the war for independence had taken place.
I started at the Liberty Bell. While it was free to go in and no ticket required, everyone had to wait to get through the security check point before being allowed inside. Not so fun when it's raining outside.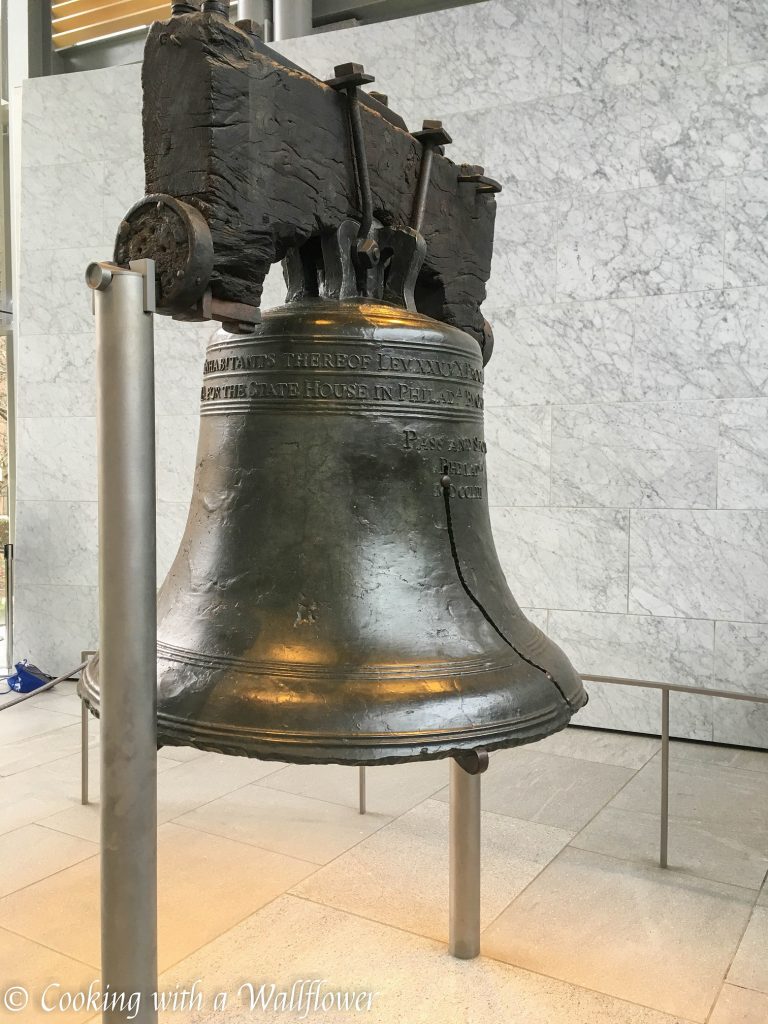 Once inside, you get to learn about the history of the Liberty Bell. You learn about how the bell cracked when it was first rung in Philadelphia, and how it was recasted. The wide crack on the Liberty Bell was actually the fix to a smaller crack.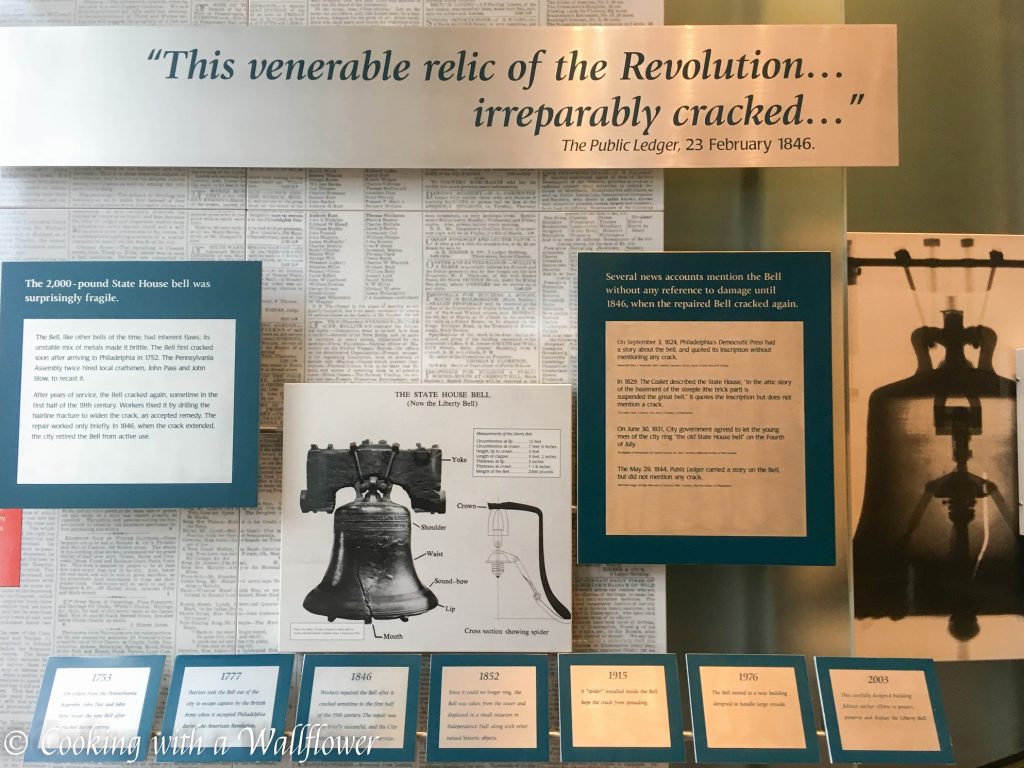 There were so many kids on field trips. So it was definitely crowded.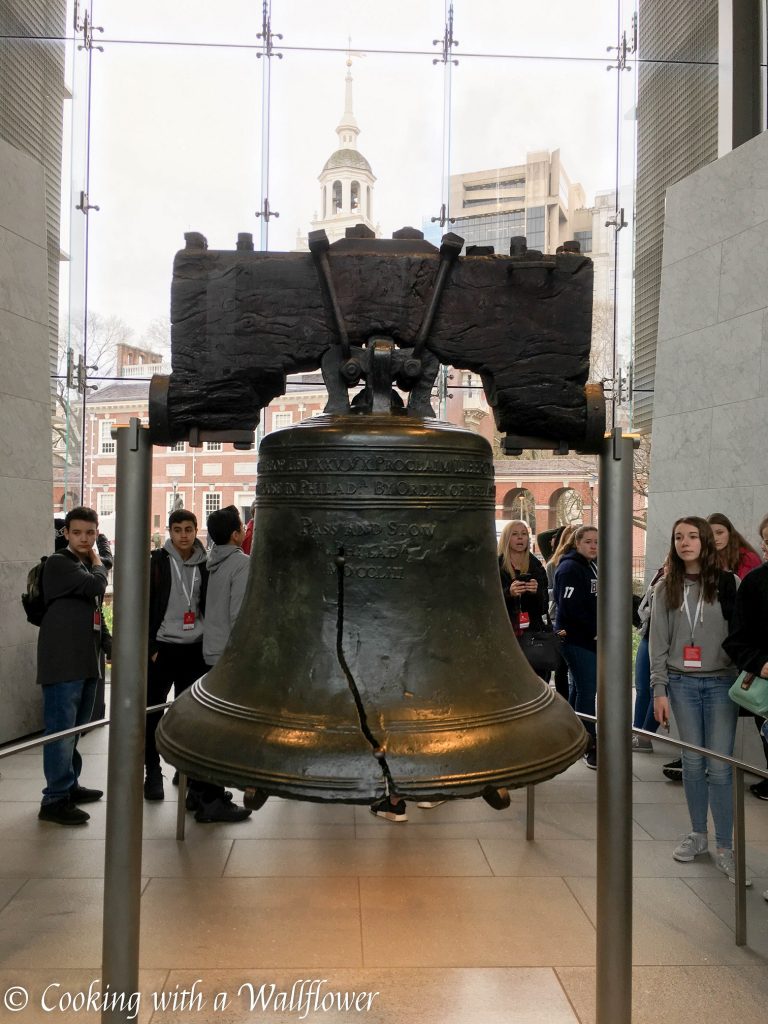 If you're in Old City in the morning, you need to stop by High Street on Market for the Forager egg sandwich. Their breakfast sandwich is soo amazing. Black sesame buns filled king oyster mushrooms, braised kale, farm egg scrambled, swiss cheese, and black trumpet mayo. It is sooo good and perfect for mushroom lovers. I bought one to go so I could sit in the park with Independence Hall in my view.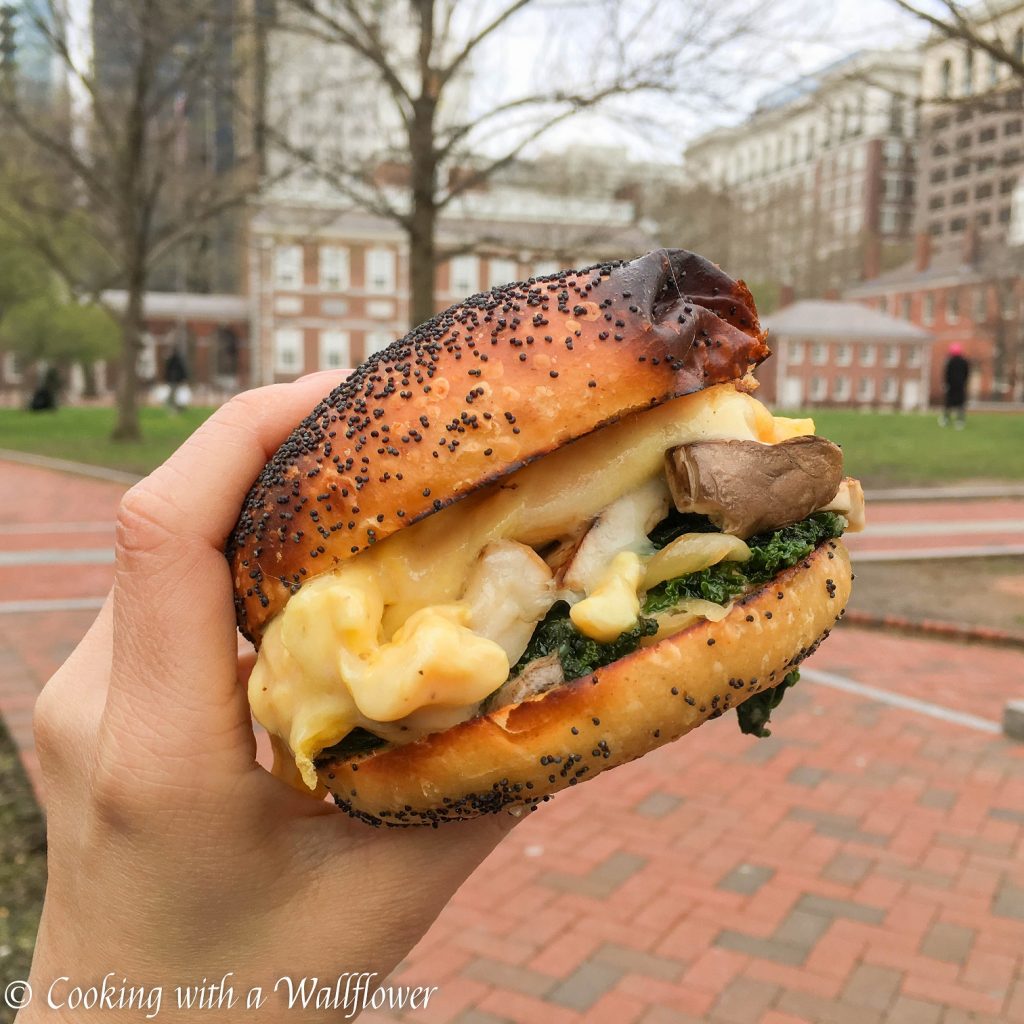 Old City Hall is located right next to Independence Hall, but you don't have to go through a security check point to walk in. I stopped at Old City Hall to see what the original city hall looked like. This is where the U.S. Supreme Court met in the late 1700s. It's the most basic of courtroom setups.
A park ranger sits inside to answer any questions you might have as well as provide recommendations. The park ranger I spoke to recommended visiting the U.S. Mint.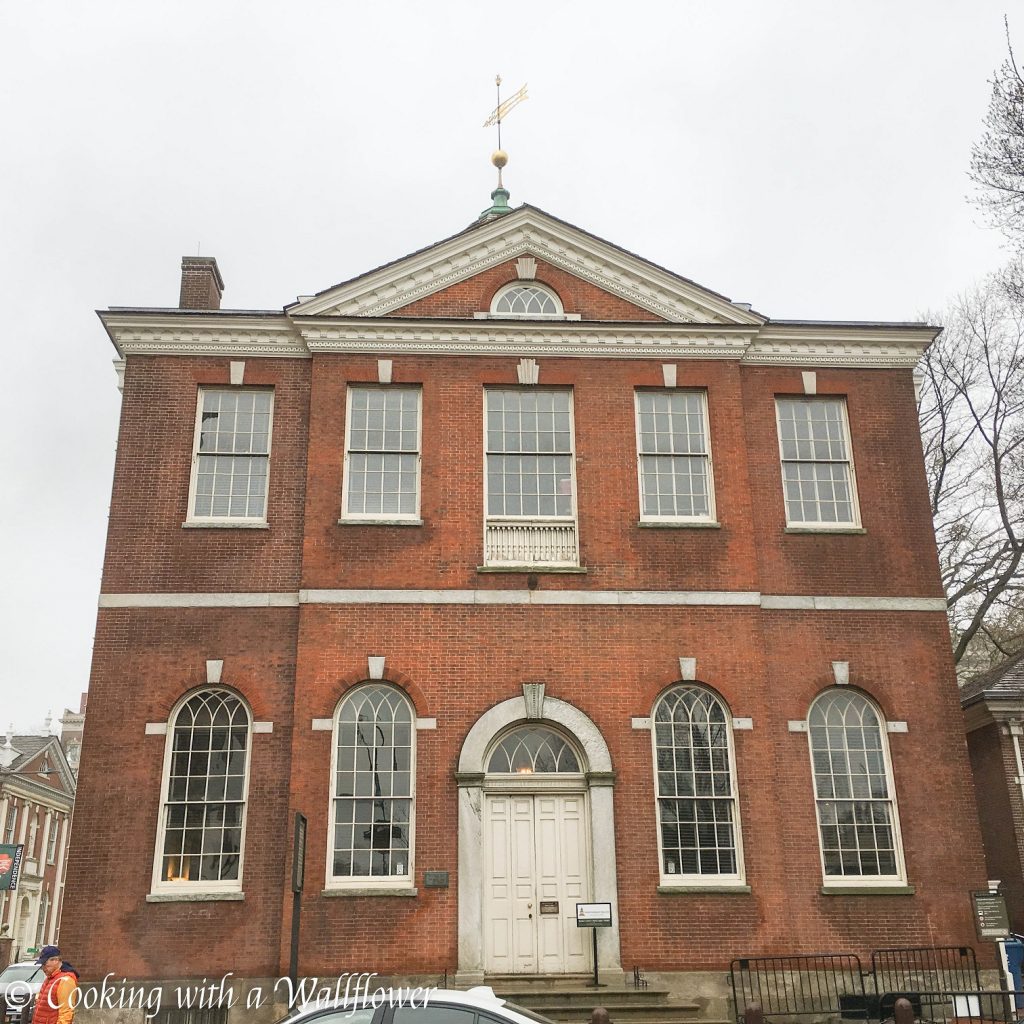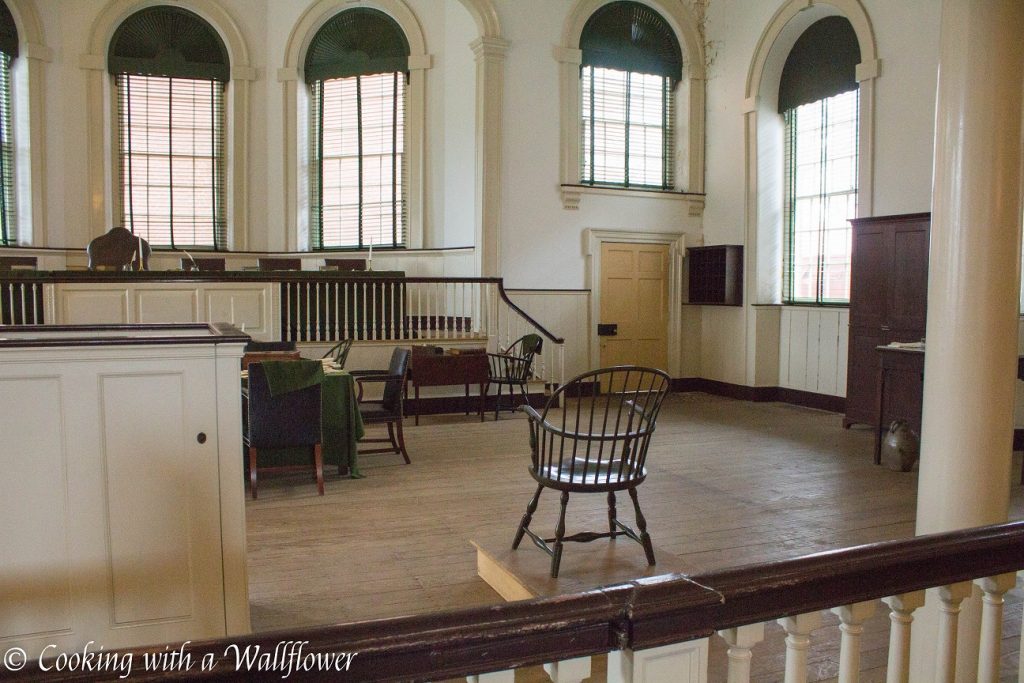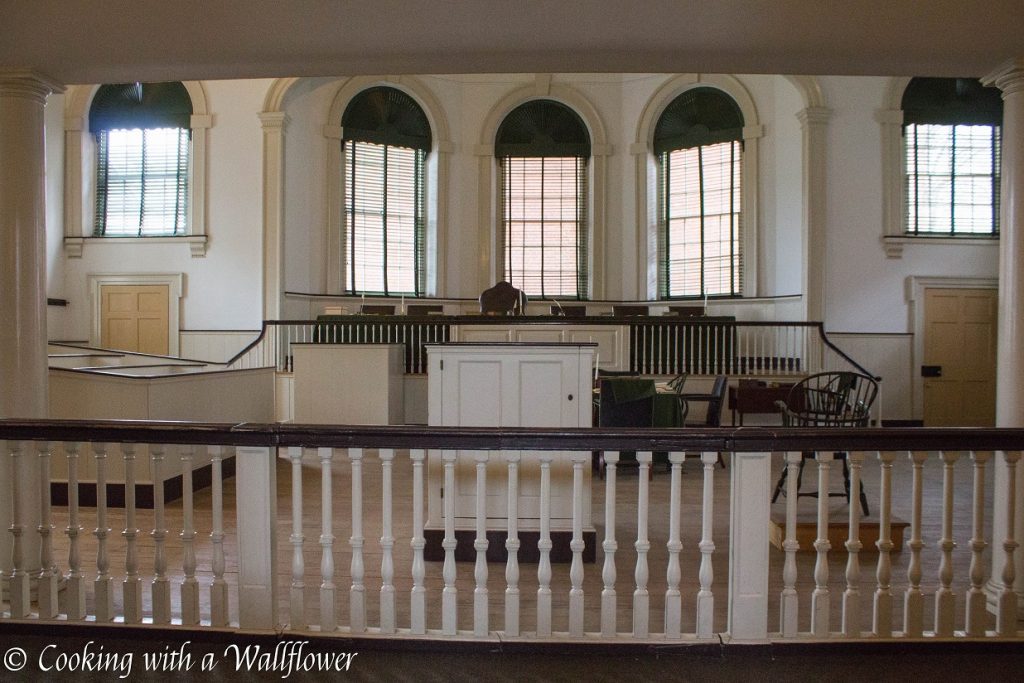 Benjamin Franklin's Burial Site
On the way to the U.S. Mint, I passed by Benjamin Franklin's burial site located in the Christ Church Burial Grounds, a Revolution-era graveyard. It wasn't on my itinerary, but since I passed by on my way to the U.S. Mint, I stopped to look and take a photo. I felt like I would have missed it completely if I weren't on the lookout for it. I think I imagined a huge fancy memorial for Benjamin Franklin since he played just a big role in history.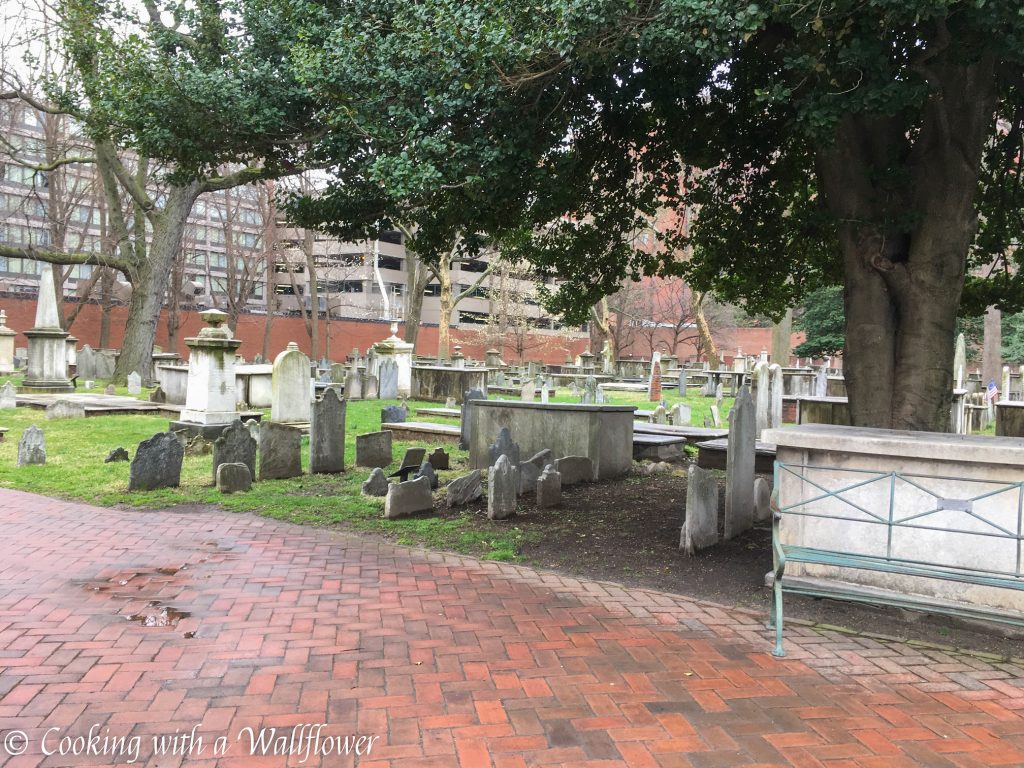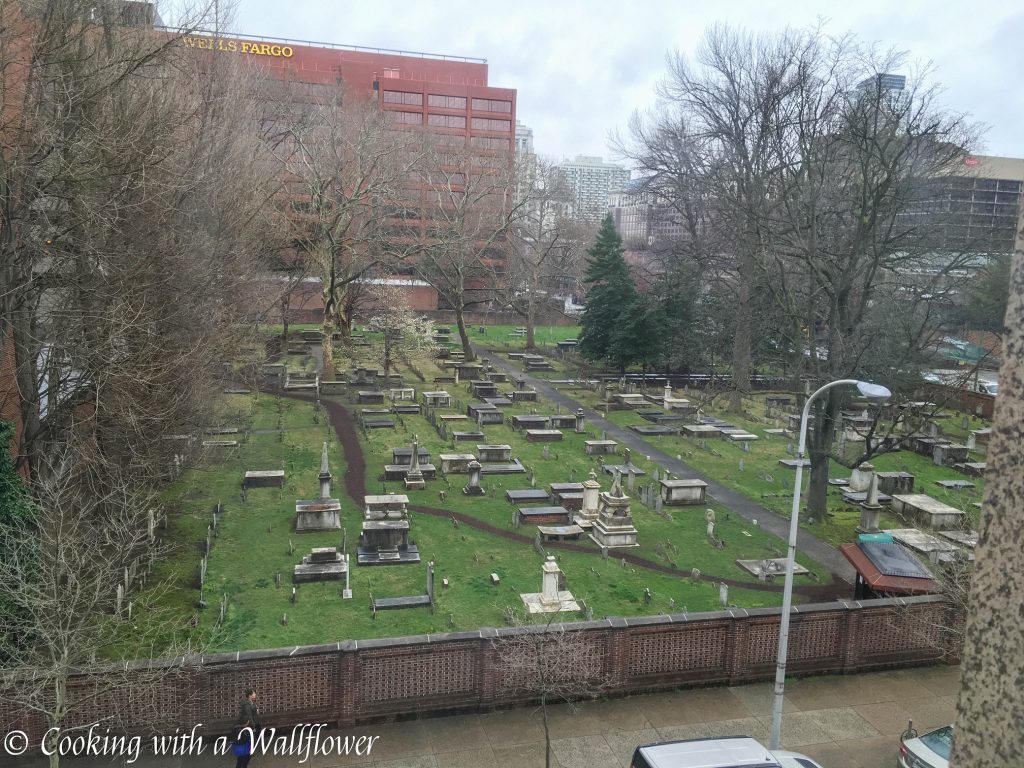 People often throw pennies onto his memorial in honor of his famous words, "A penny saved is a penny earned." There are even tours of the burial grounds. I didn't know it at the time. But if I had, I probably would have done the tour too.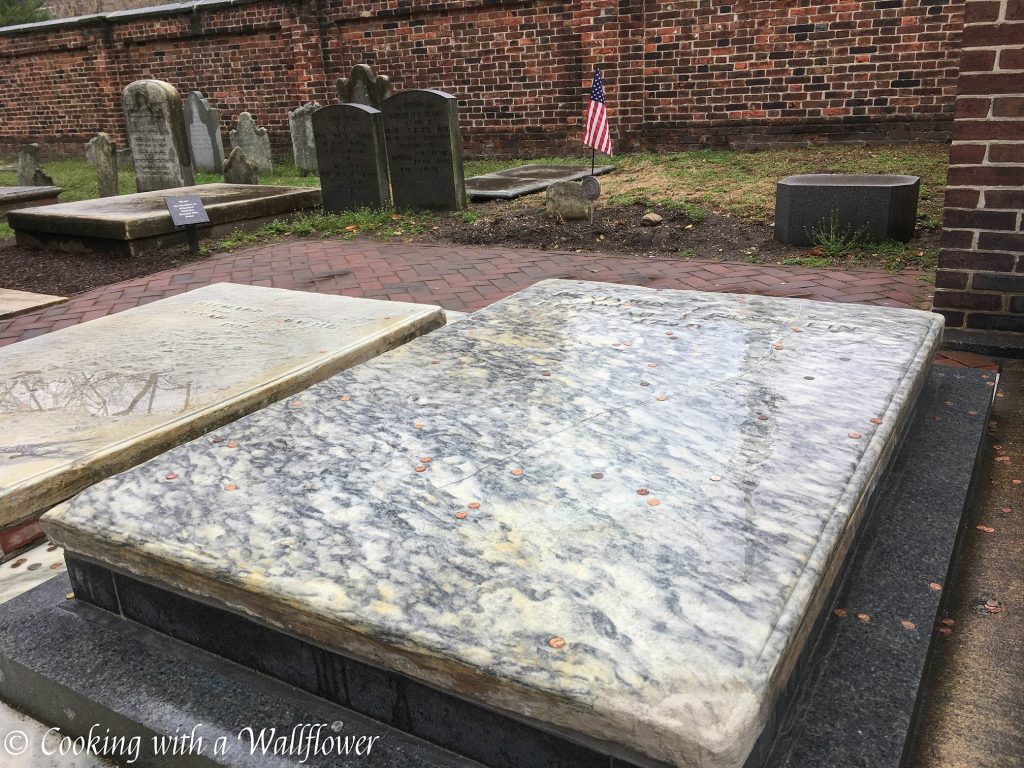 To get into the U.S. Mint, we have to walk through a security checkpoint. (So many of these all over Old City!). Once inside the U.S. Mint, we weren't allowed to take any photos, but you can do a self guided tour. And you can see how coins are manufactured and the entire process. What did I learn? If I were to identify mistakes in a coin, I would totally fail at it. It's actually someone's job to look and spot check the coins for flaws. Sometimes there are flawed coins that go into circulation and they become rare finds.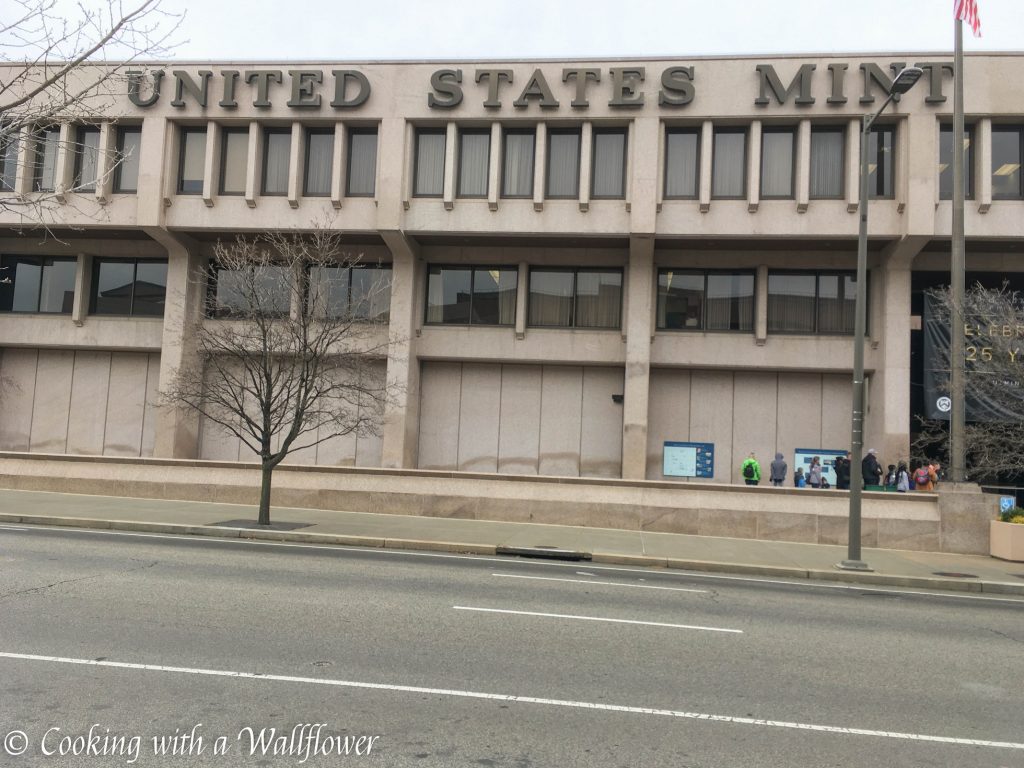 Can you believe that this was where the American flag was sewn? Betsy Ross lived in this house and when she was commissioned to make the American flag, she hid upstairs to work away from prying eyes. Inside, you can walk from room to room to see what it was like for Betsy Ross to live in this home. Not everything is original. But you can see the size of the rooms and replicas.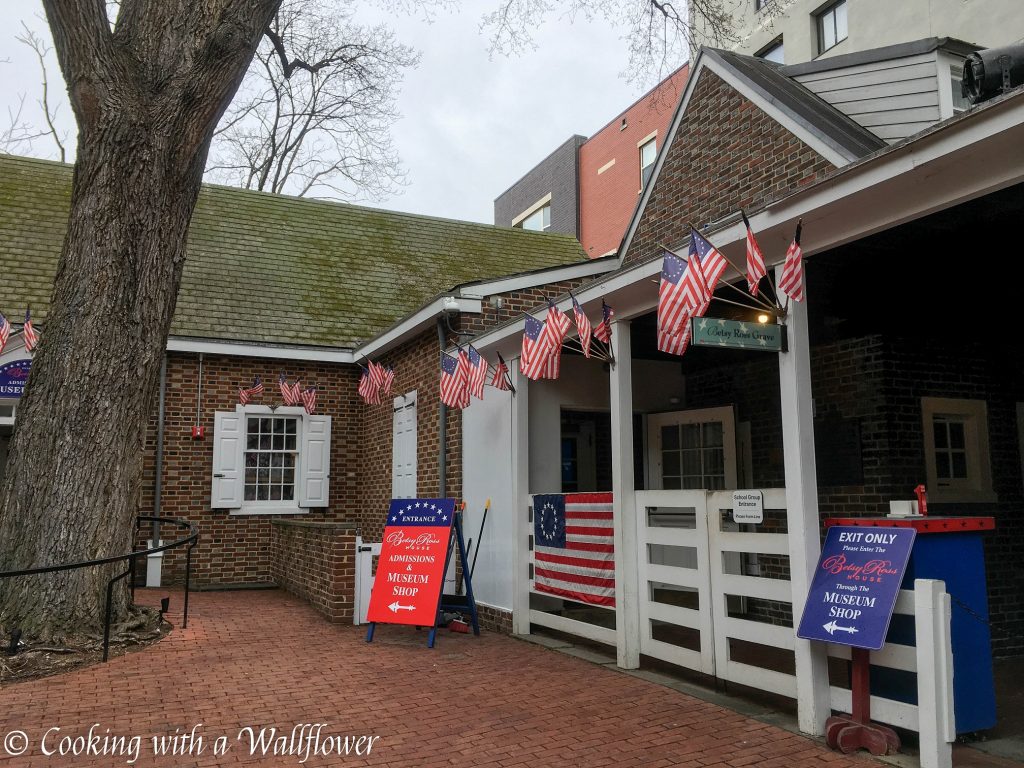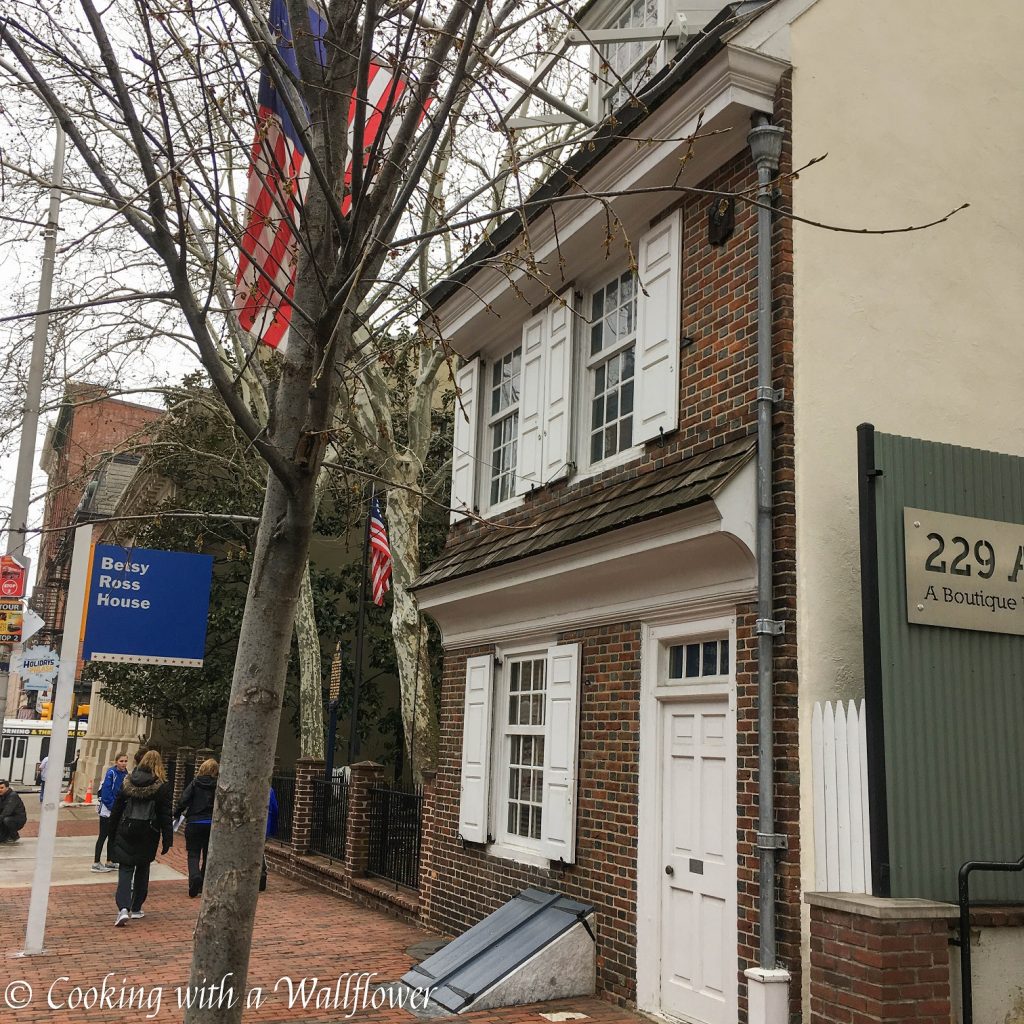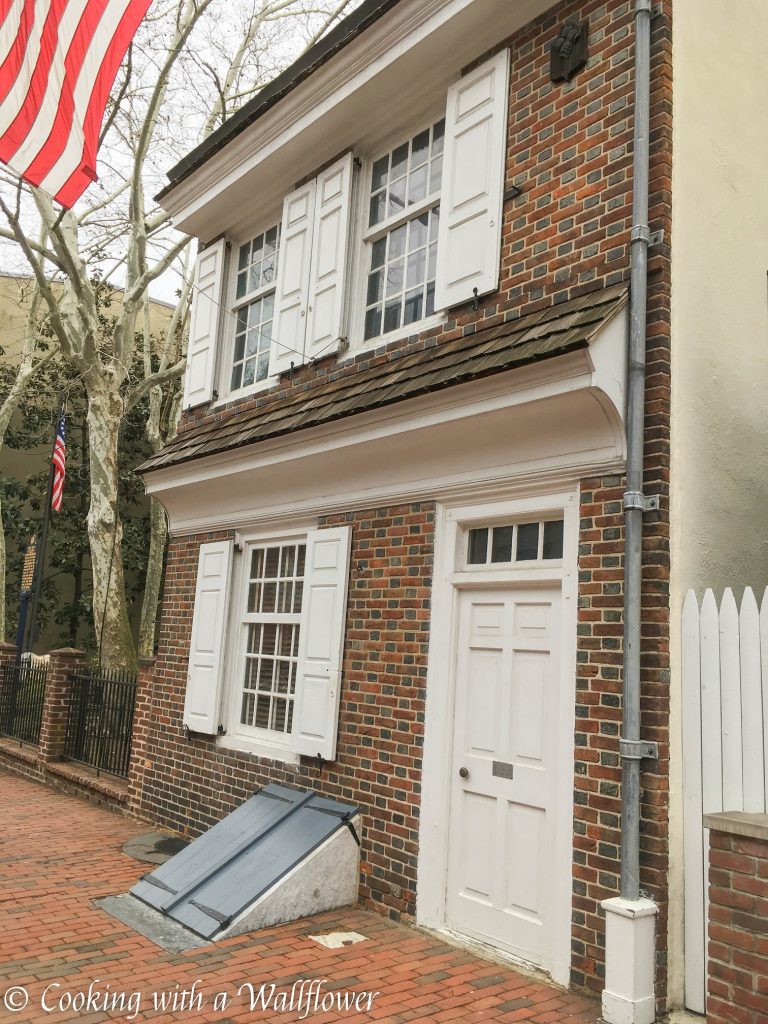 The rooms are set up as it would be back during the 1700's.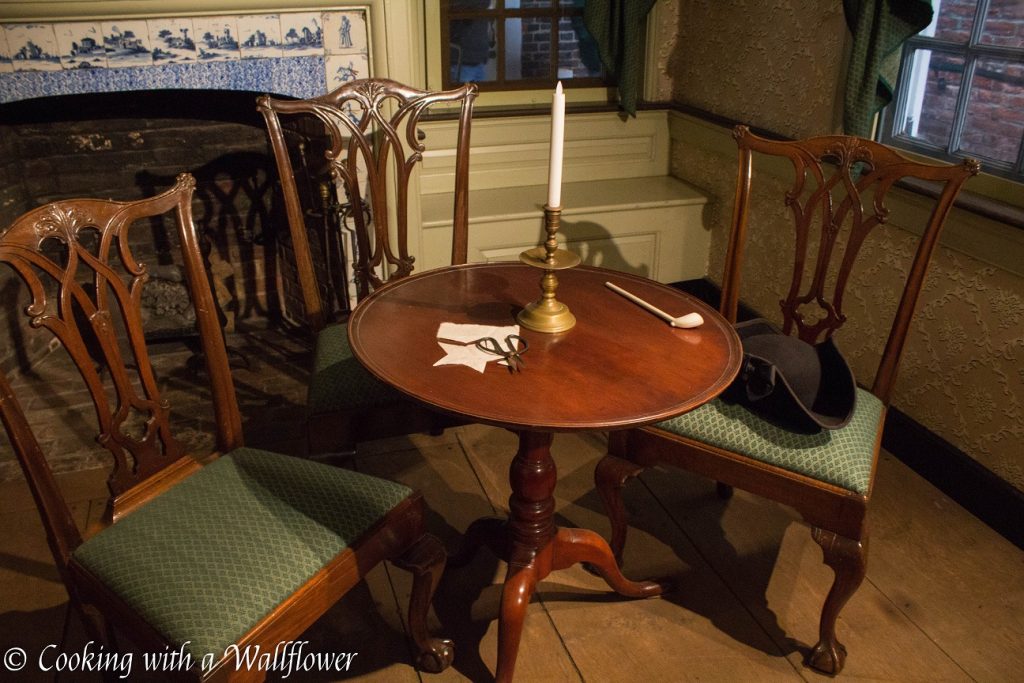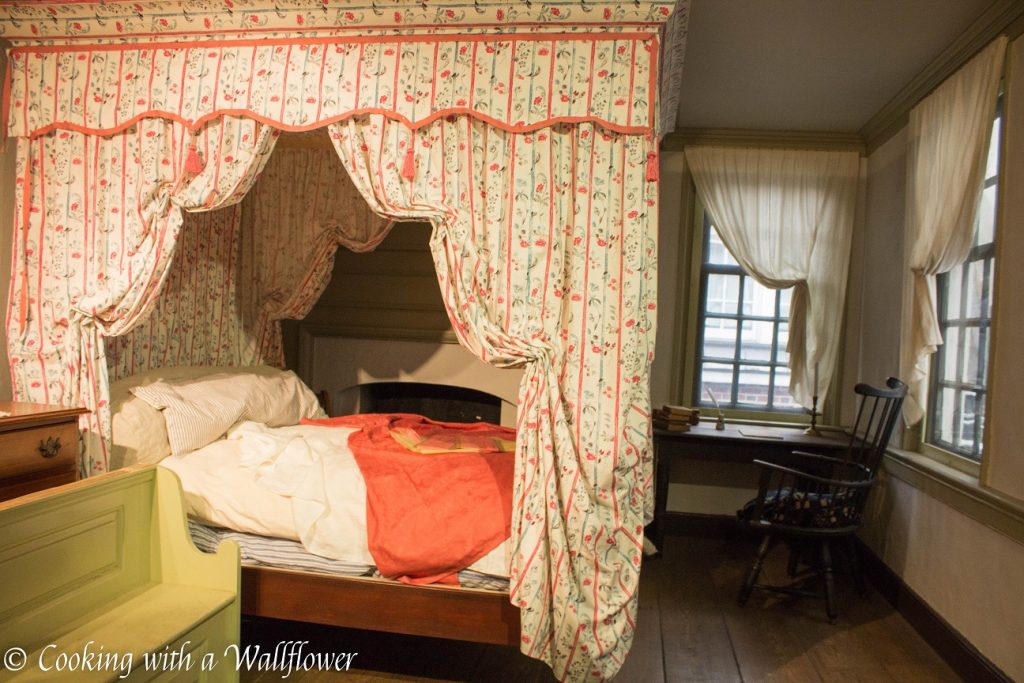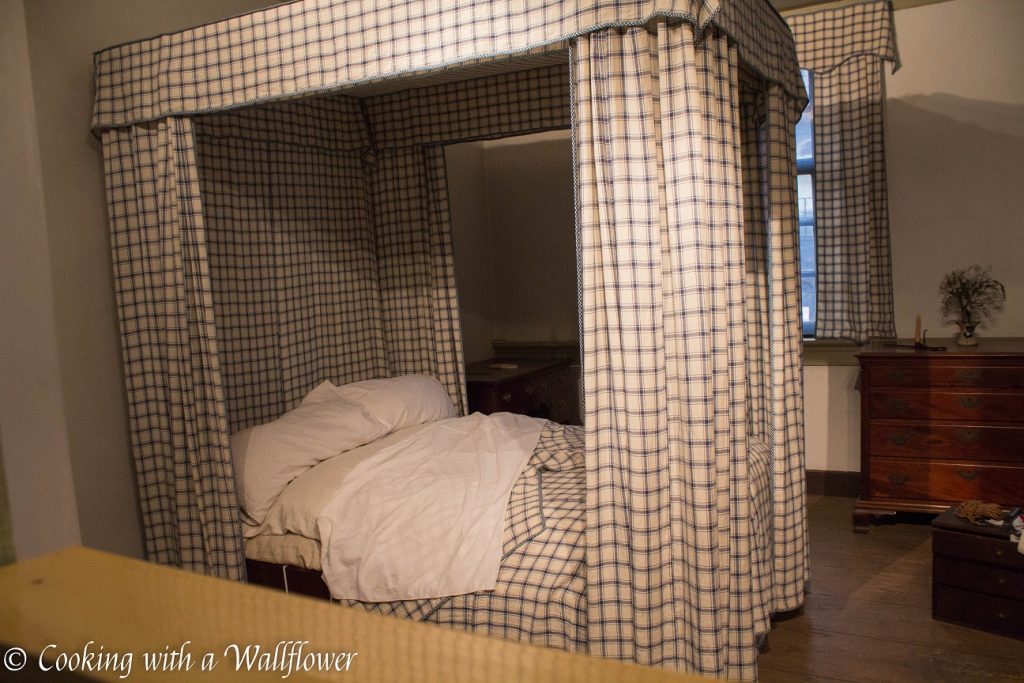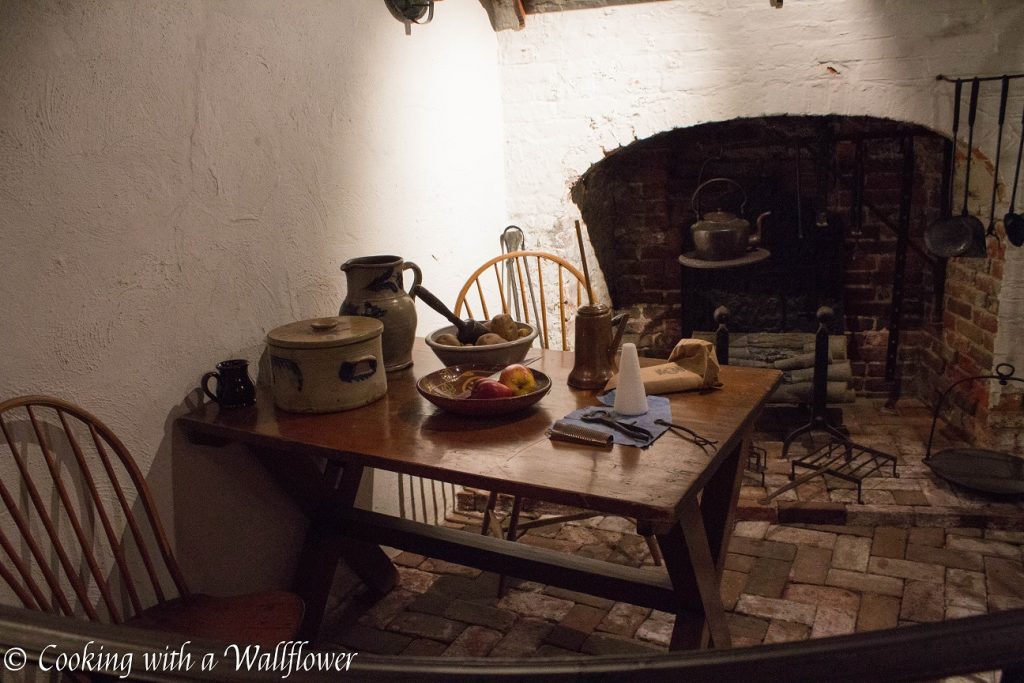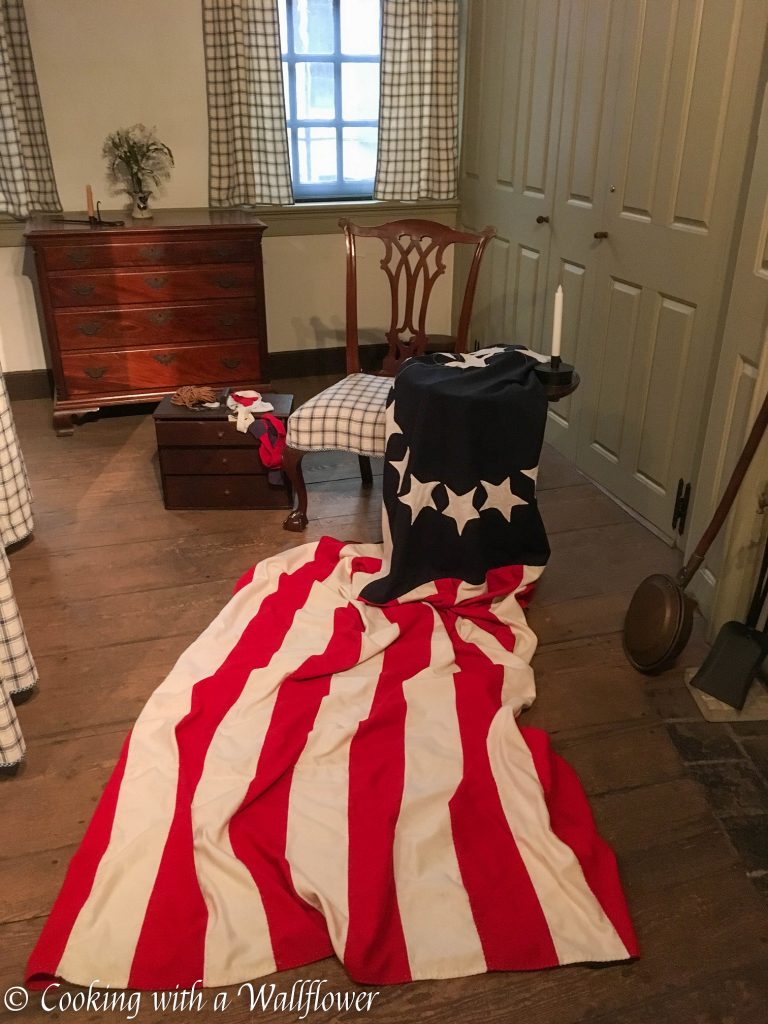 The staircase going to the second floor is original. It's also narrow and steep and just kinda scary. Lol.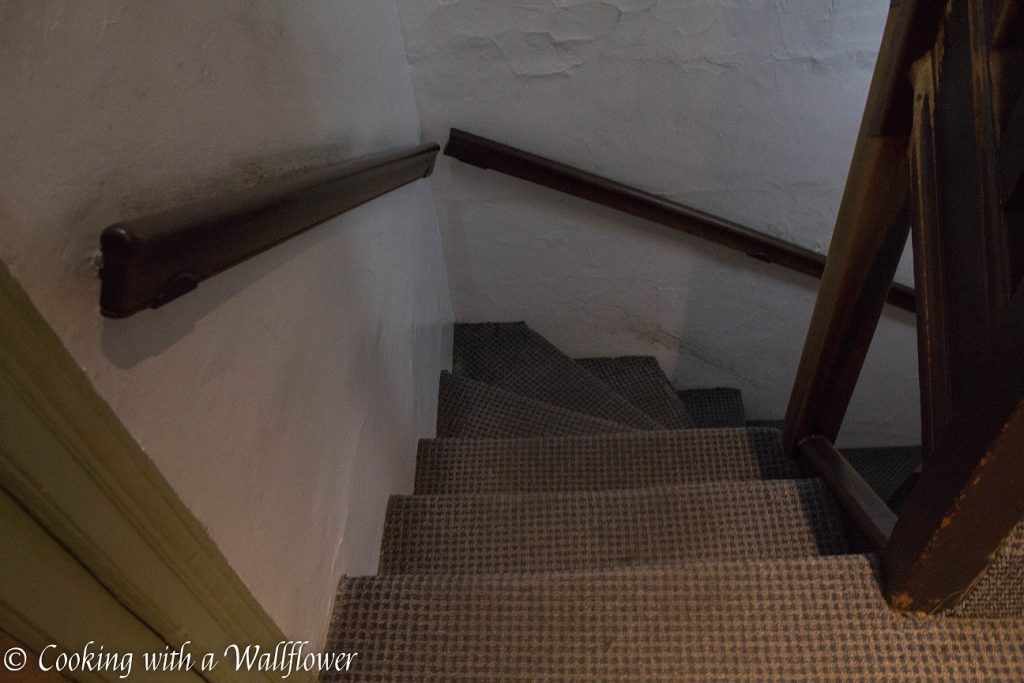 There's even an actor in the sewing room to give you a short history lesson.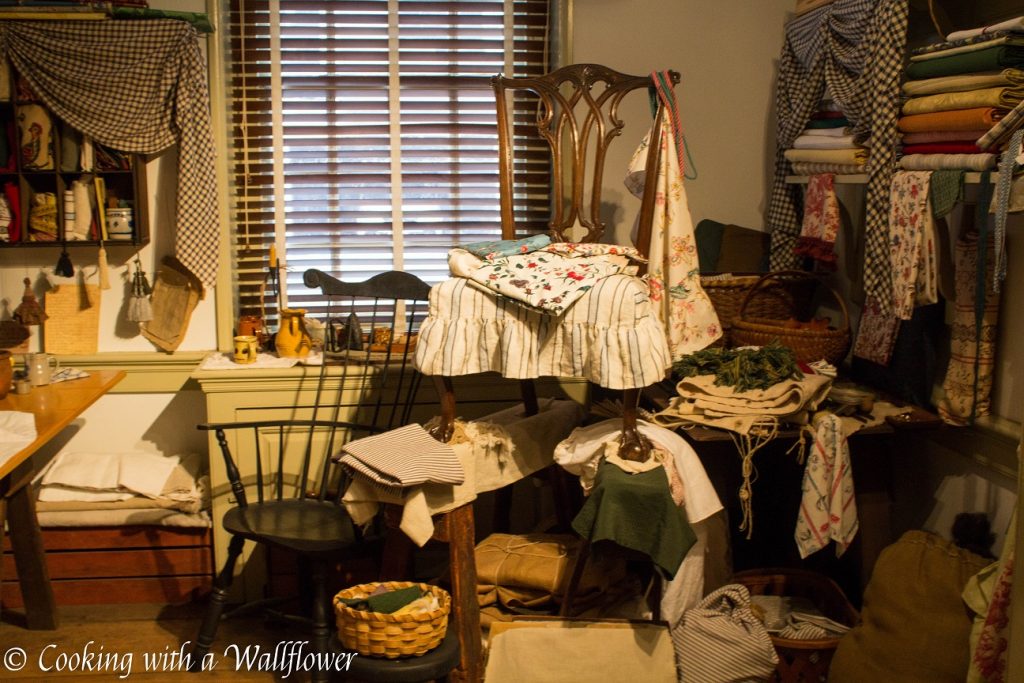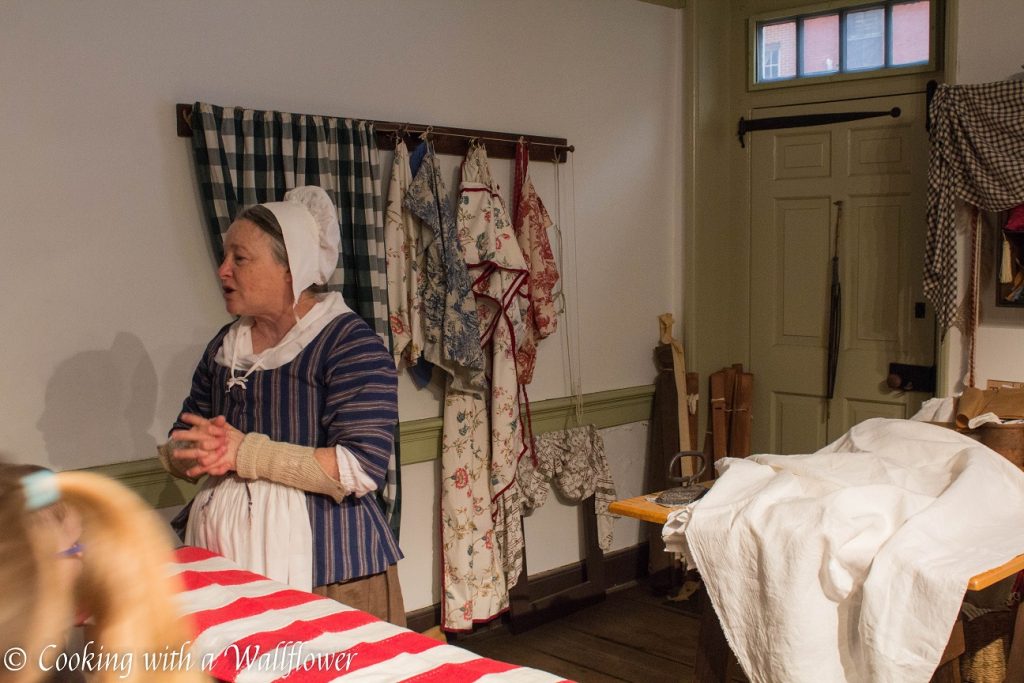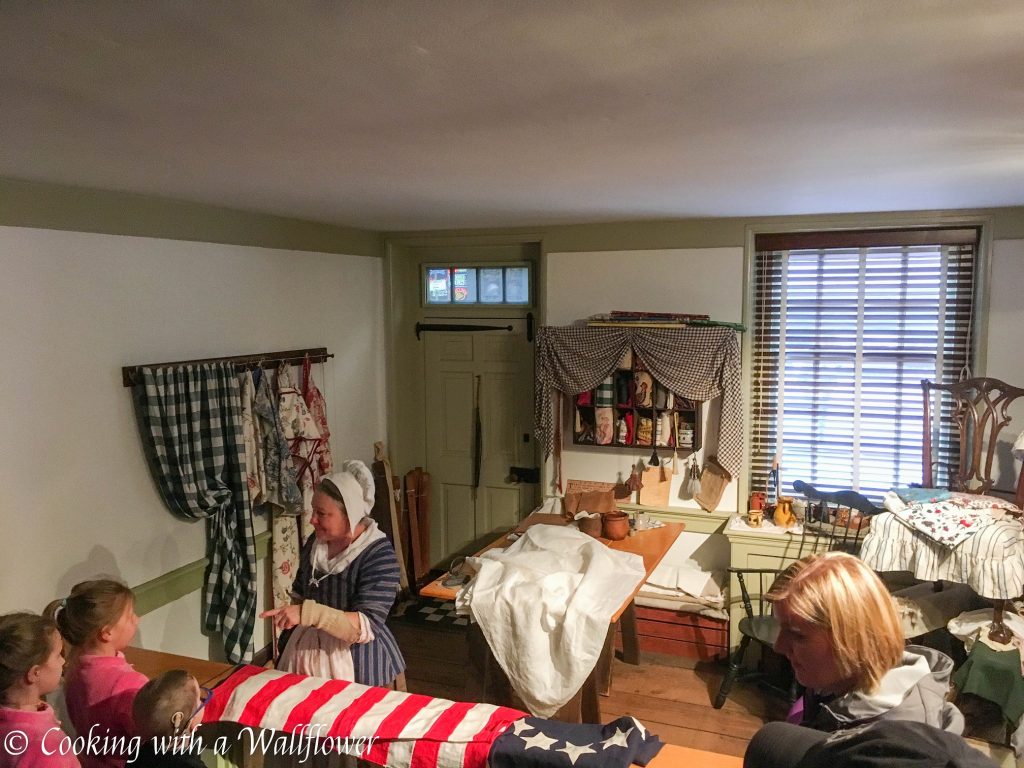 I had to make a stop at Elfreth's Alley to see our nation's oldest residential street. I loved seeing the architecture of the homes. Unfortunately, on the day that I went, the Elfreth's Alley museum was not open. Otherwise, I would totally go.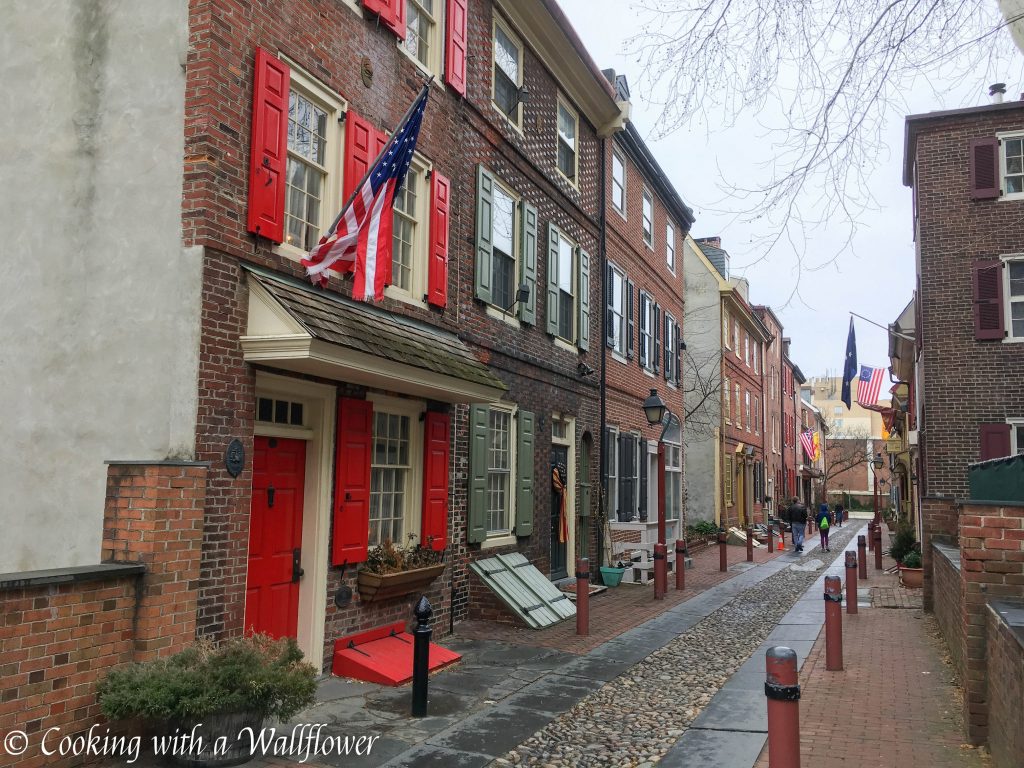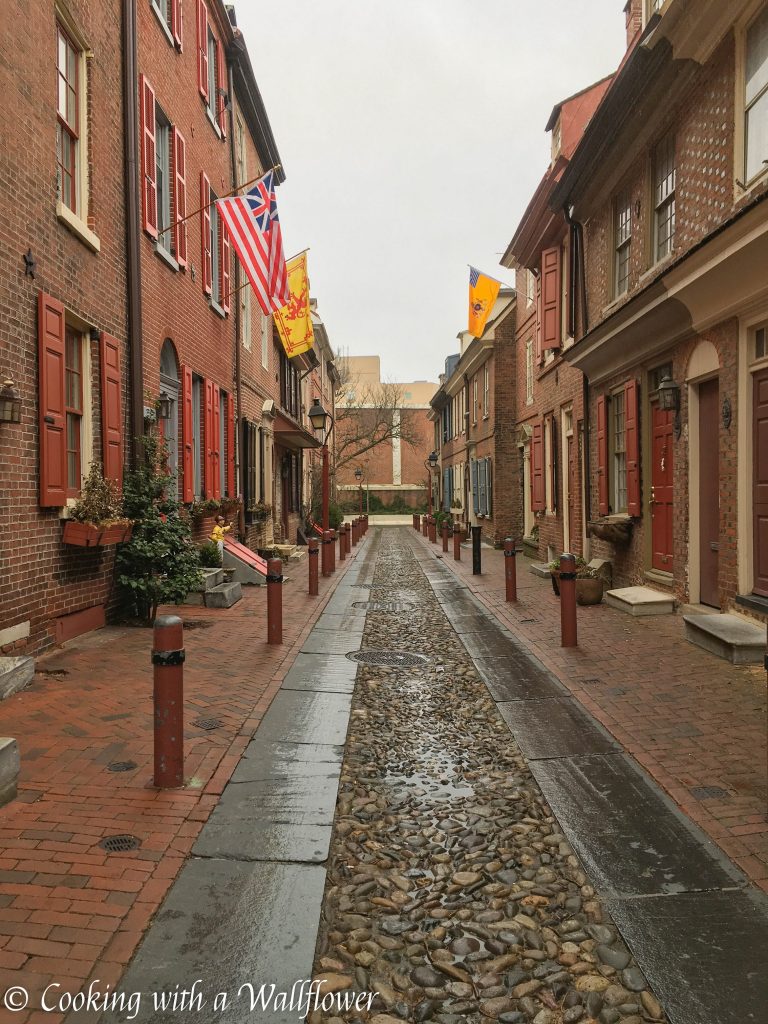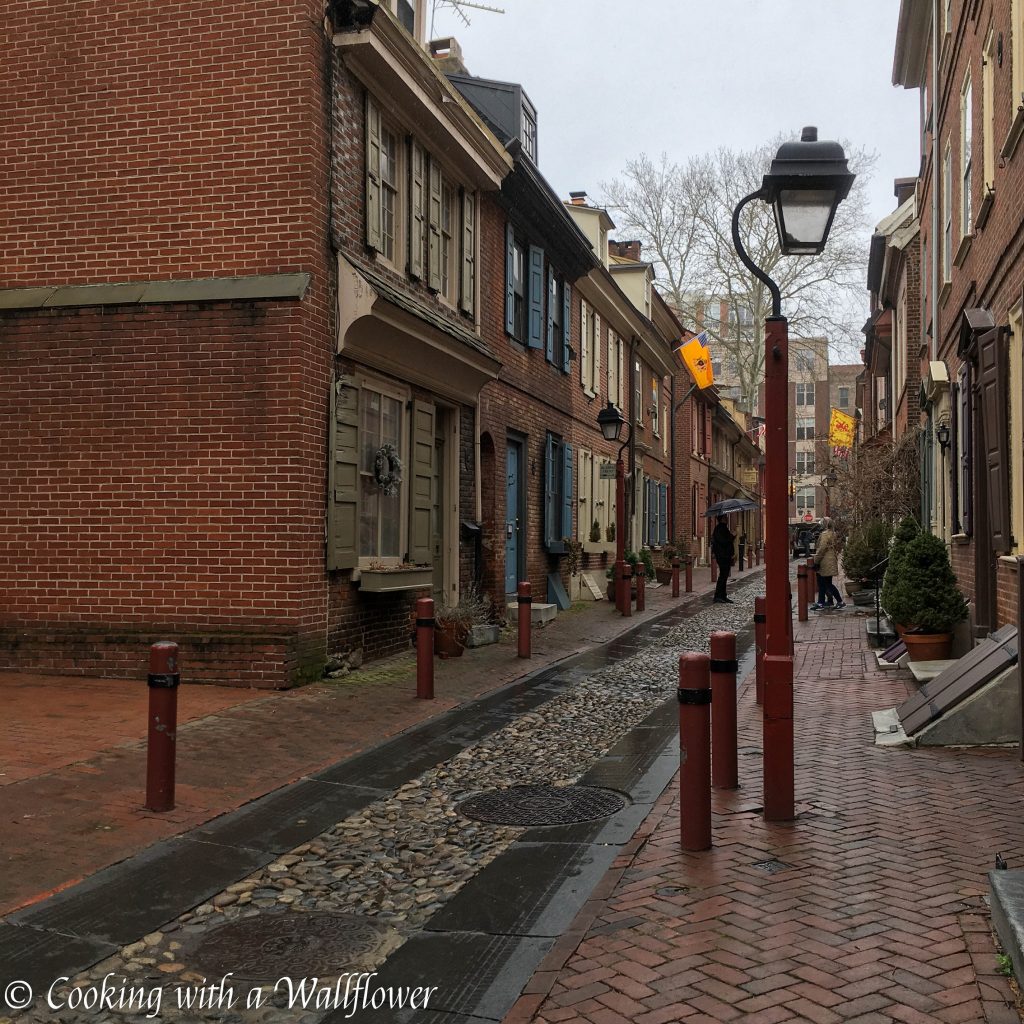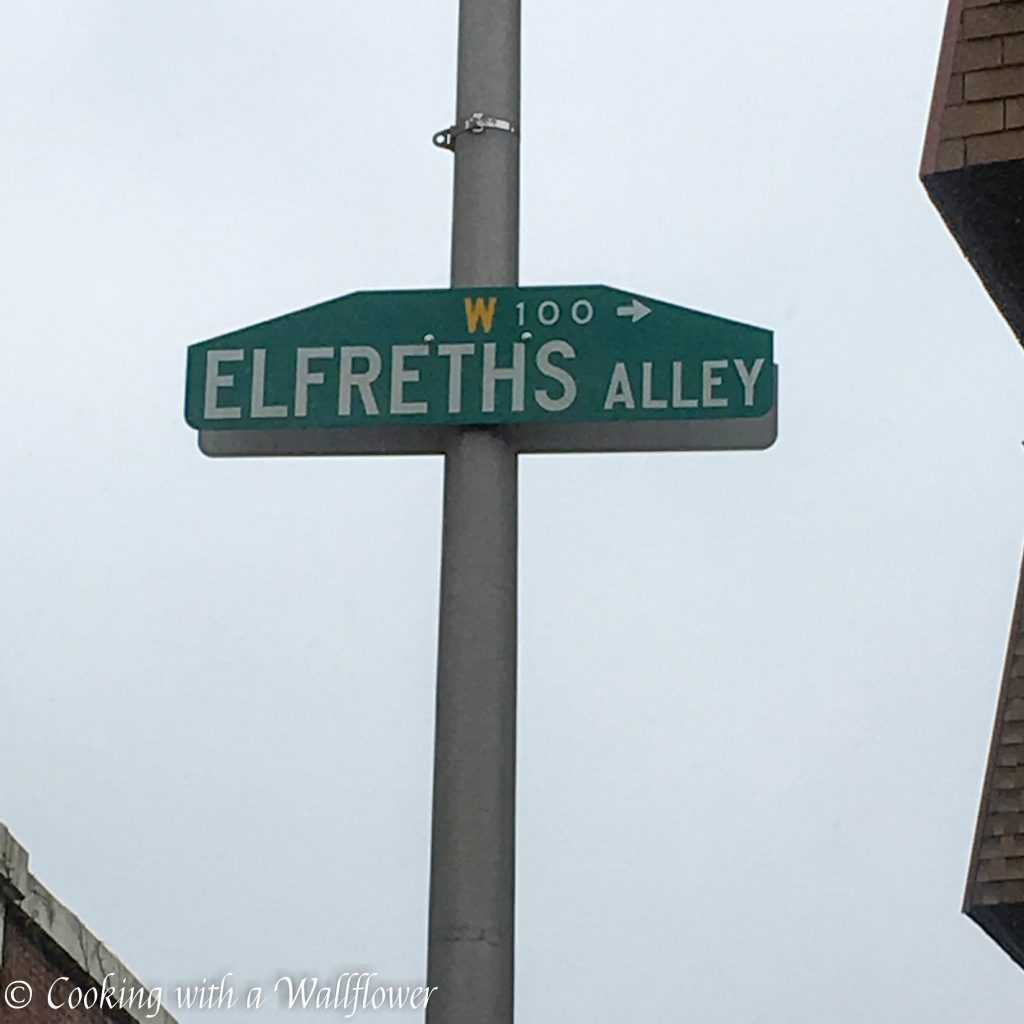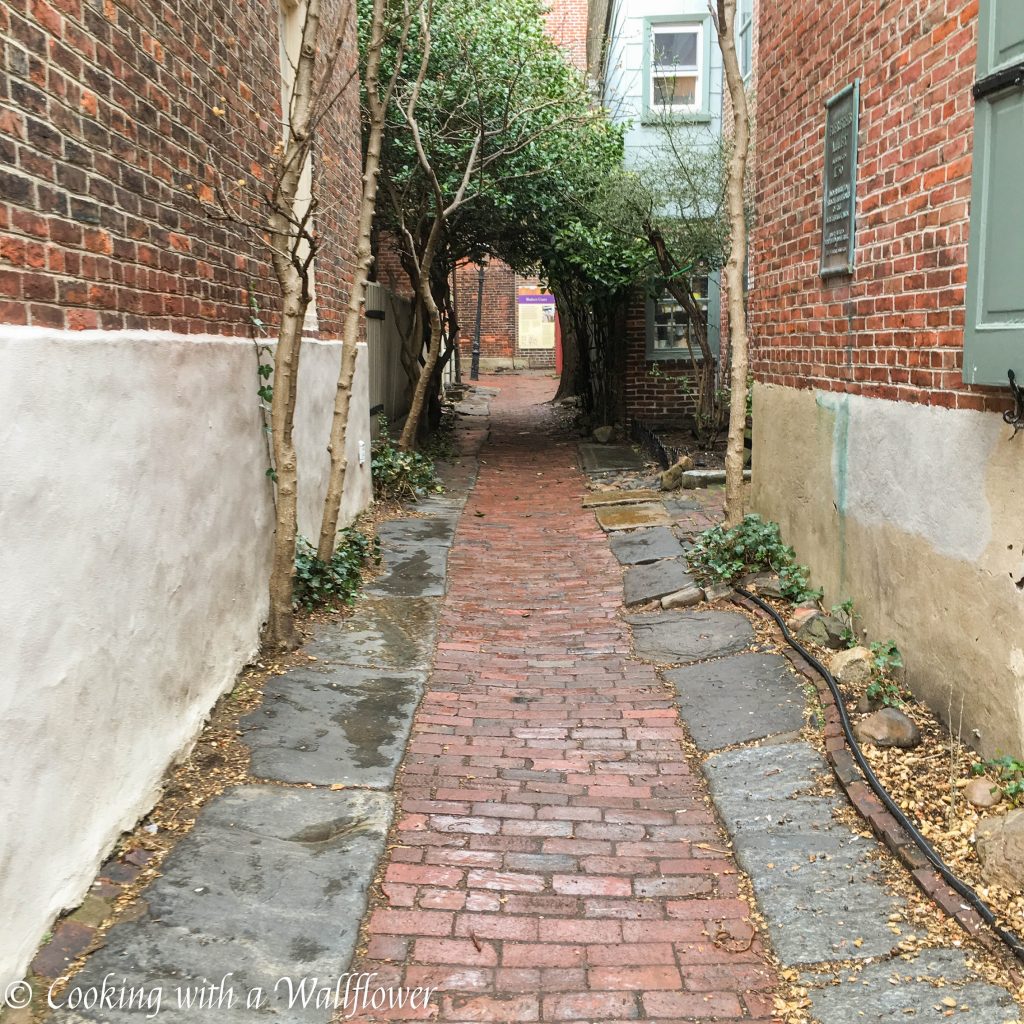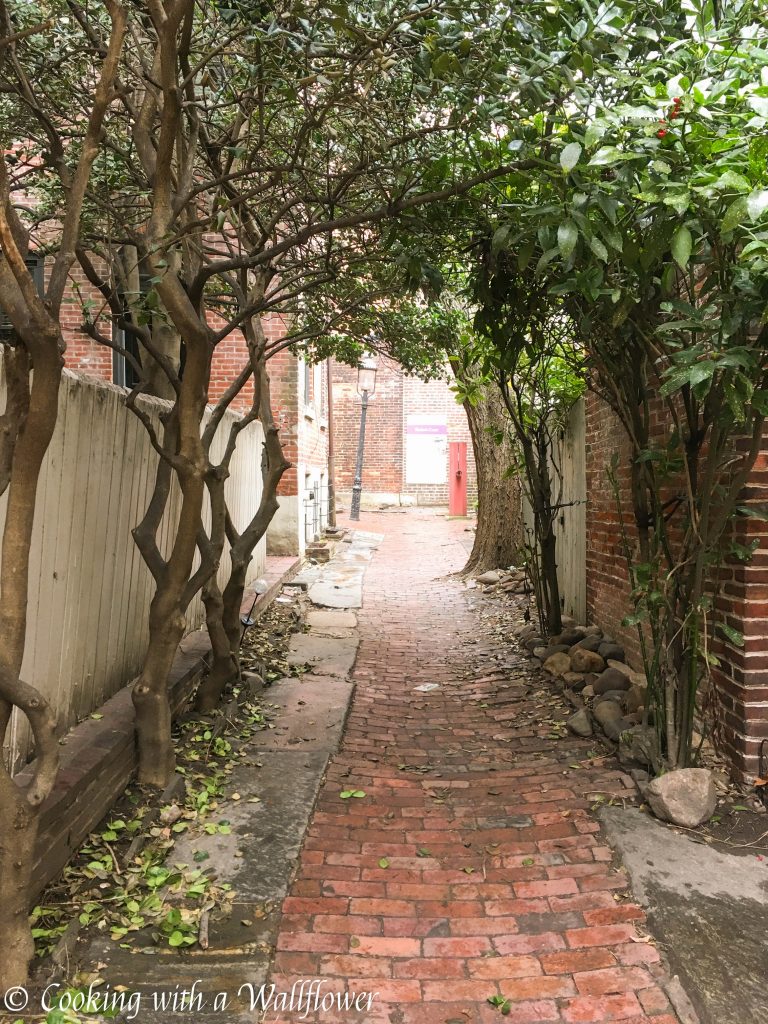 While it is free to go inside Independence Hall, you do need a timed ticket to get in. Which was where I went first thing in the morning. You also have to leave enough time to go through a security check point. But once inside you can wait for your tour to begin. Or explore Congress Hall or the West Wing.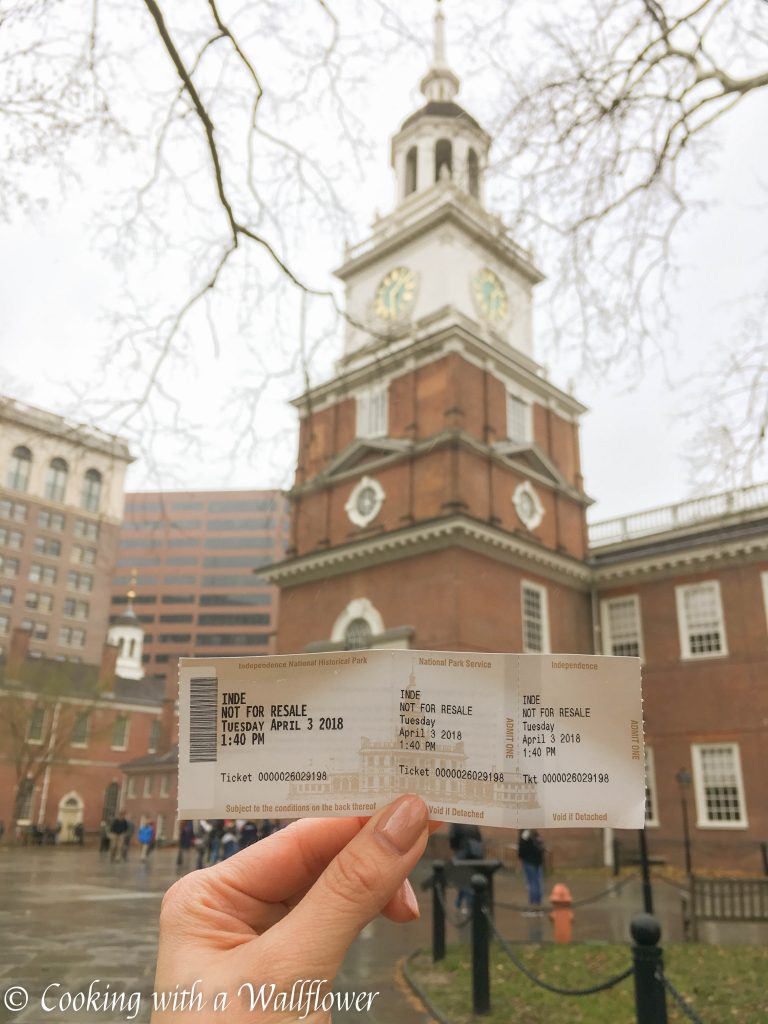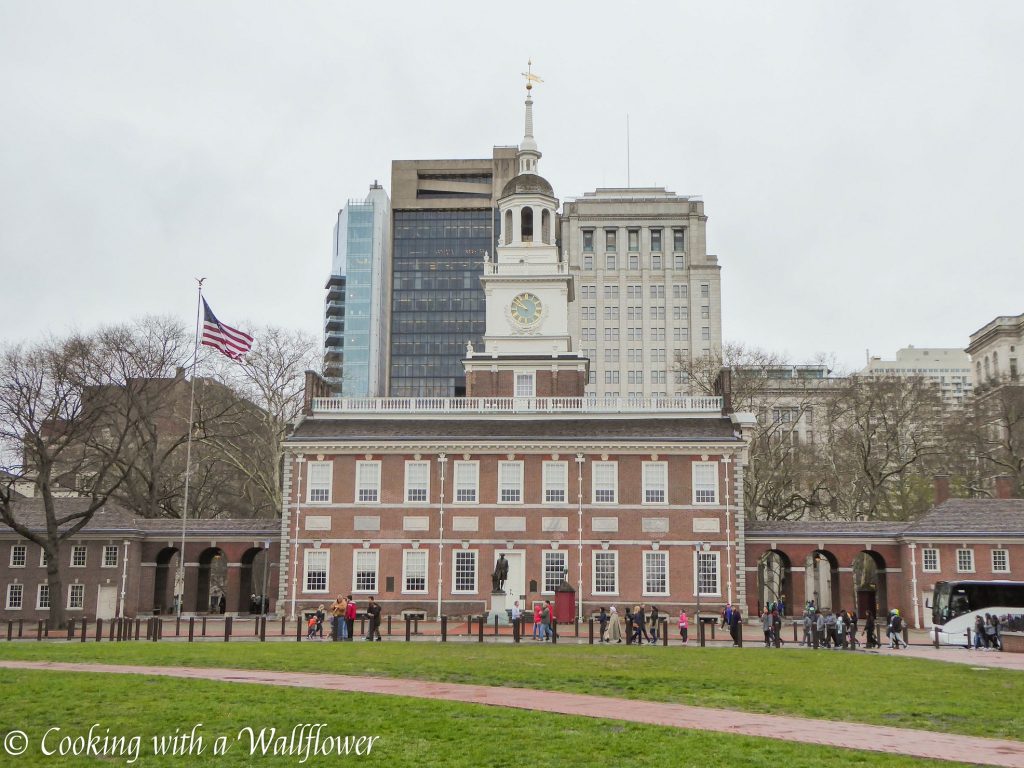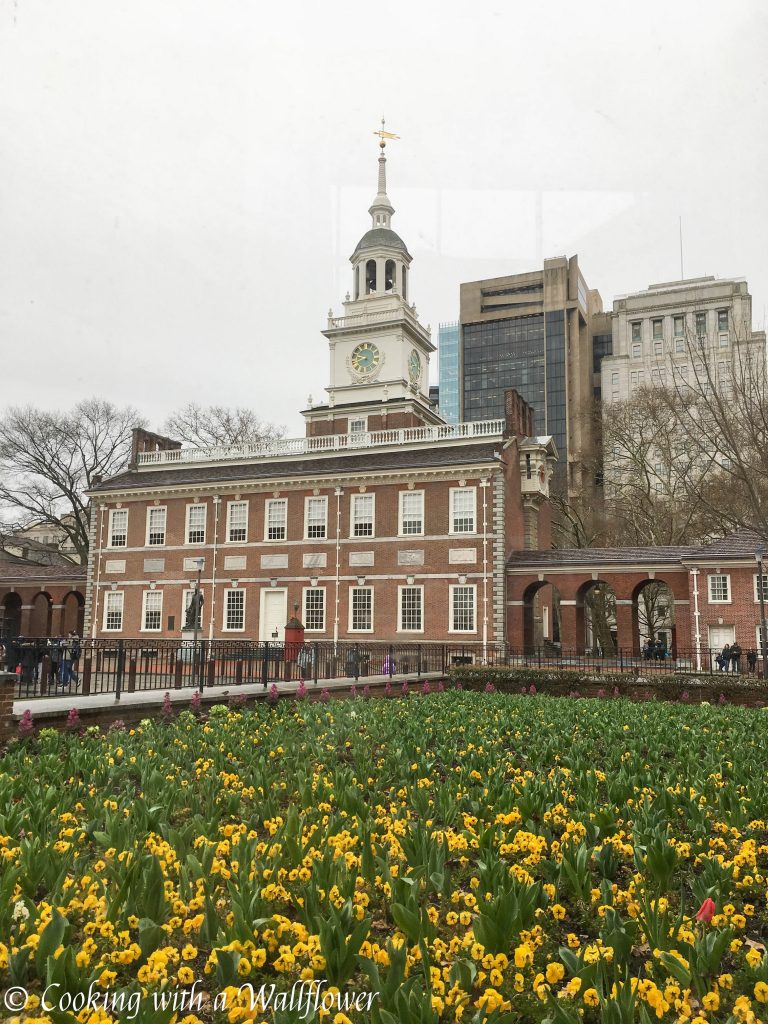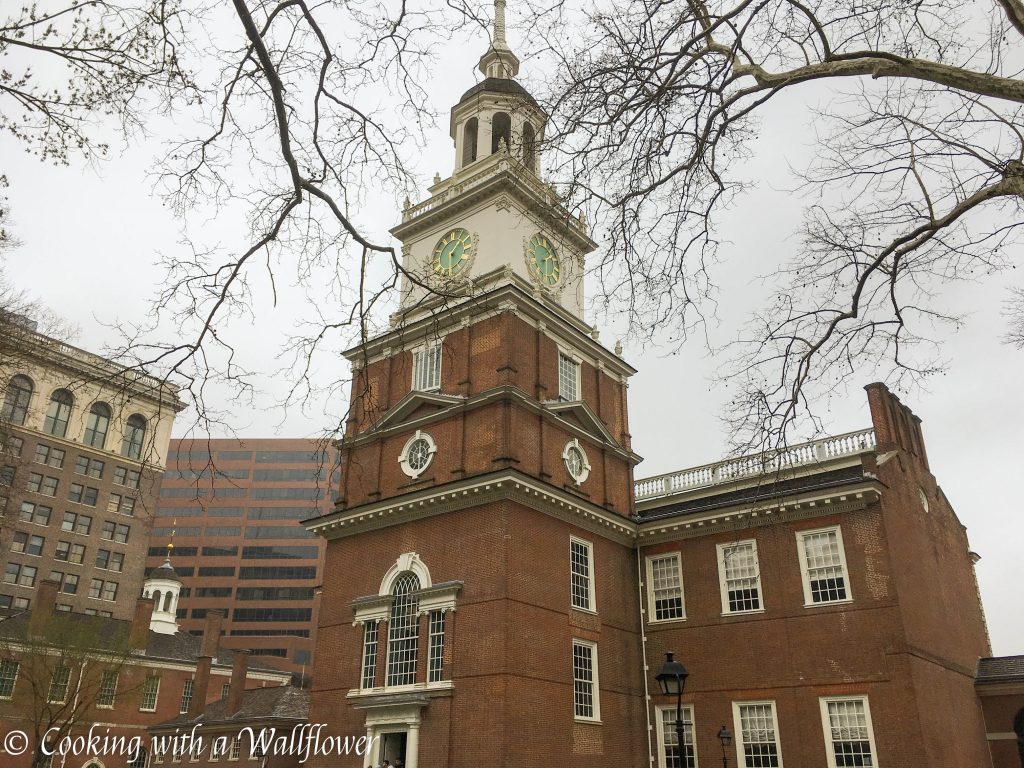 Once you walk into Independence Hall, you see two rooms. You can see where the Declaration of Independence and U.S Constitution were discussed and signed. This was where some of the first court trials were also held. While the rooms were simple, it was enough to hold hearings and try cases. Where justice was served.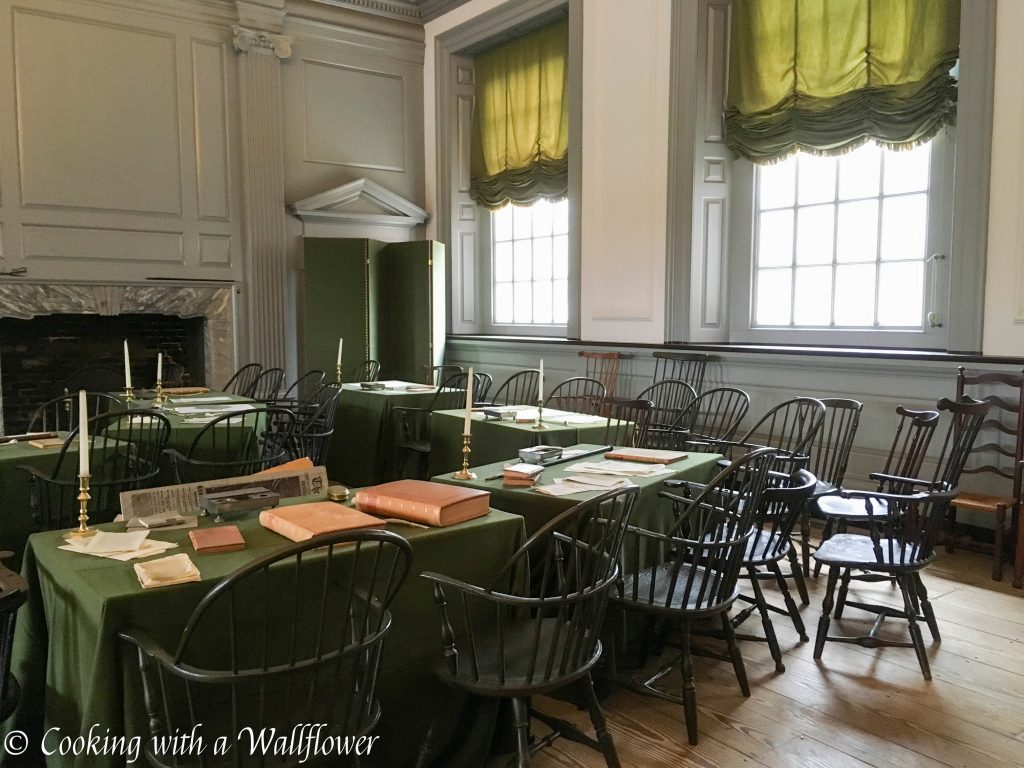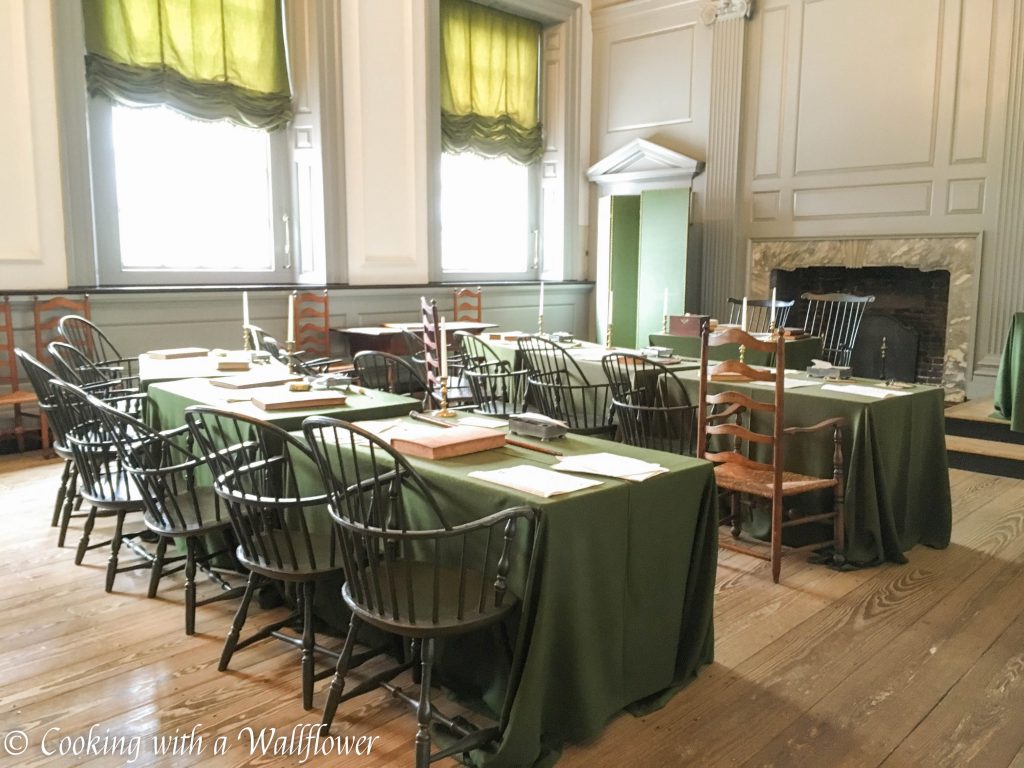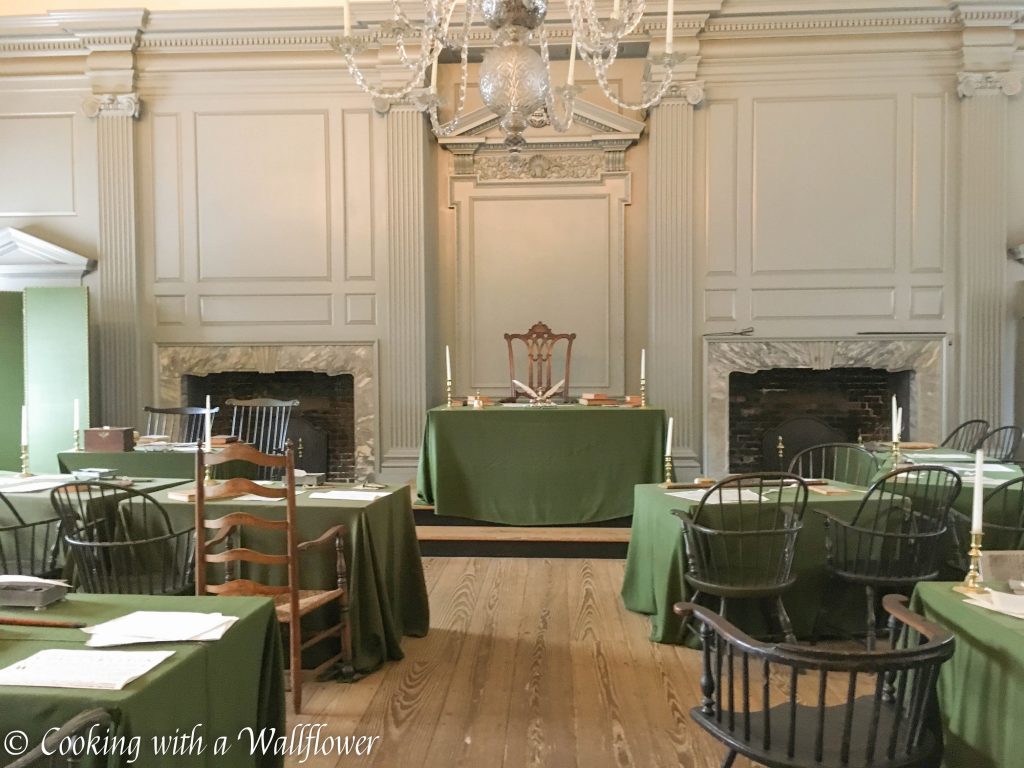 I see these places and I am completely in awe that this was where history was made. That hundreds of years ago, this was where the Founding Fathers stood, that this was where it all started. Can you imagine how amazing it is to stand so close to where it all began?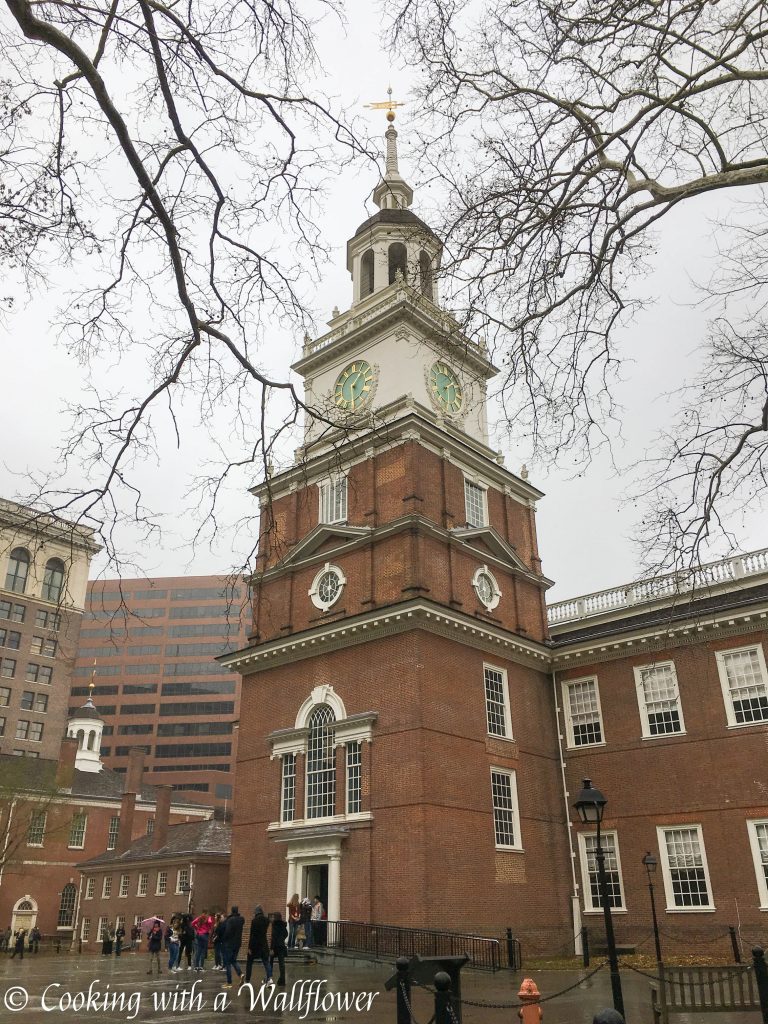 This building was where the First Continental Congress in 1774 took place. Over the years, many meetings took place here. Now, it's open to the public, but you can also book events.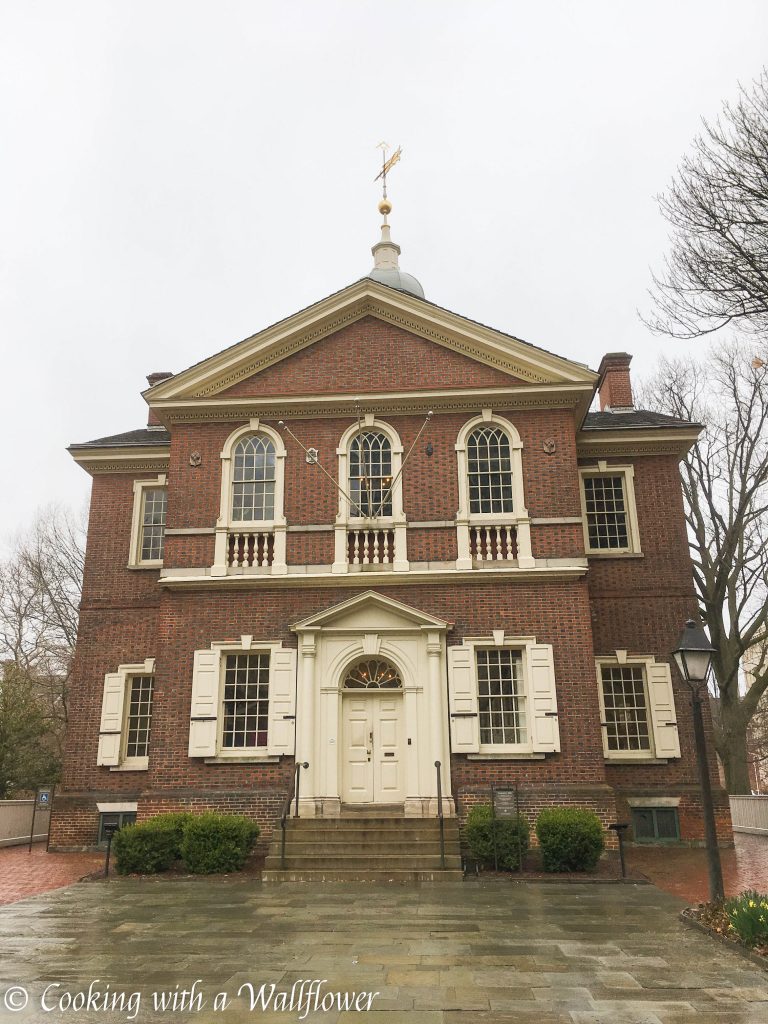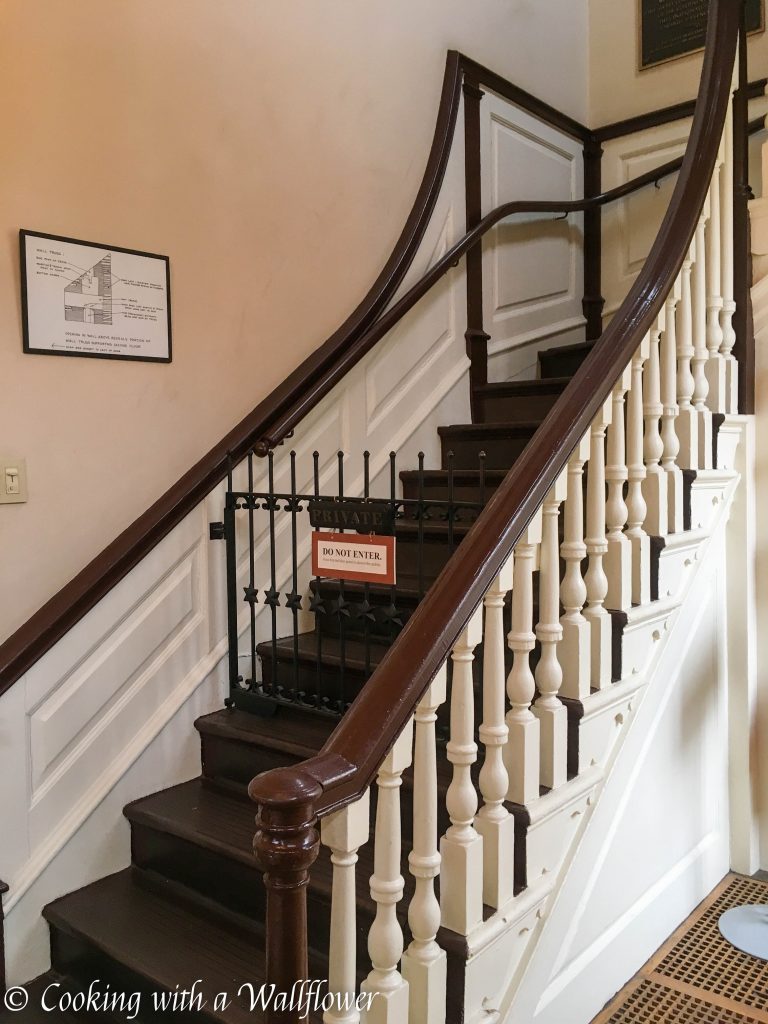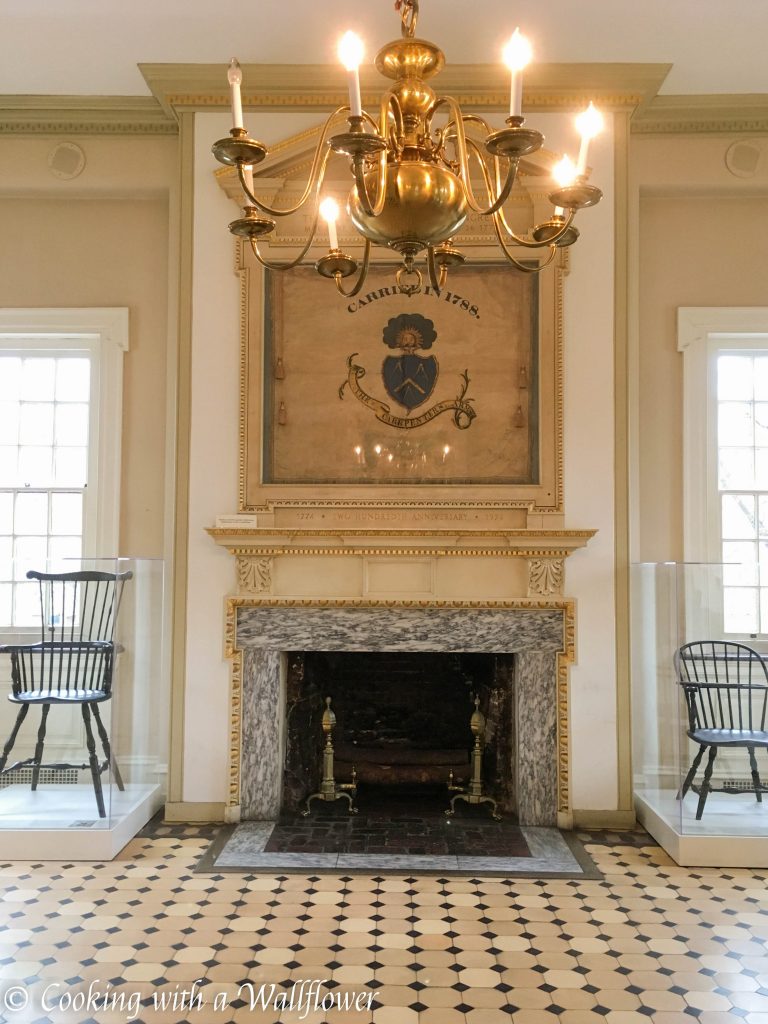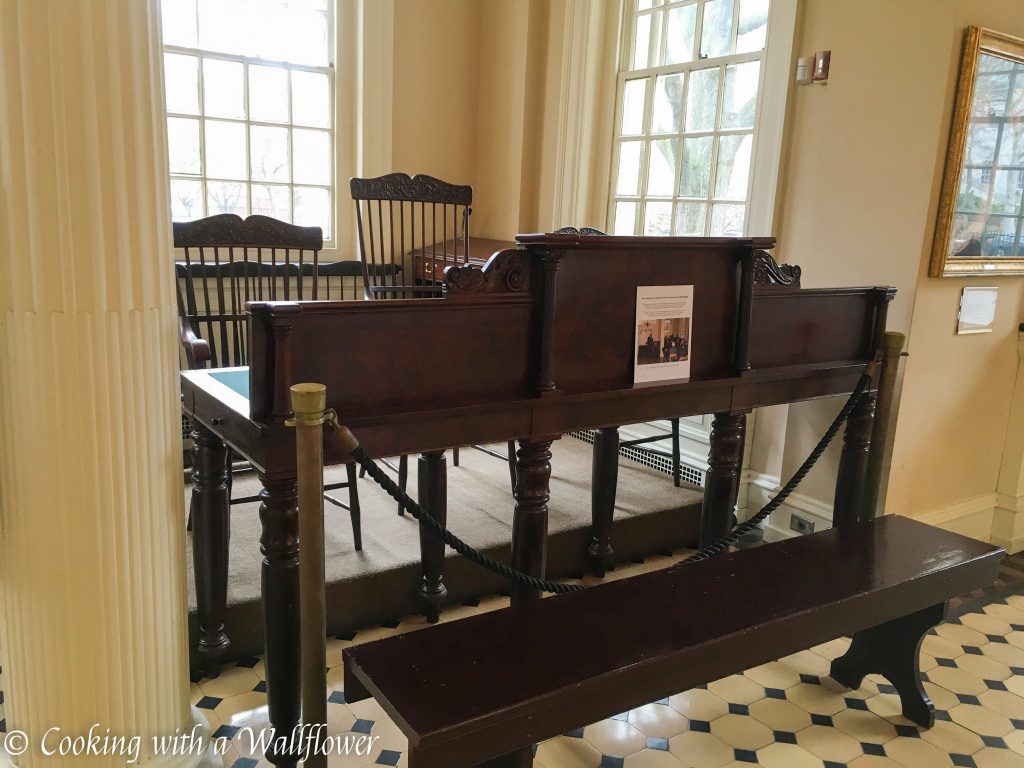 This mini little garden is right across from Carpenters' Hall and the perfect place to sit and relax. It's so pretty too. The garden is full of plants that can be found in Philadelphia in the 1700's.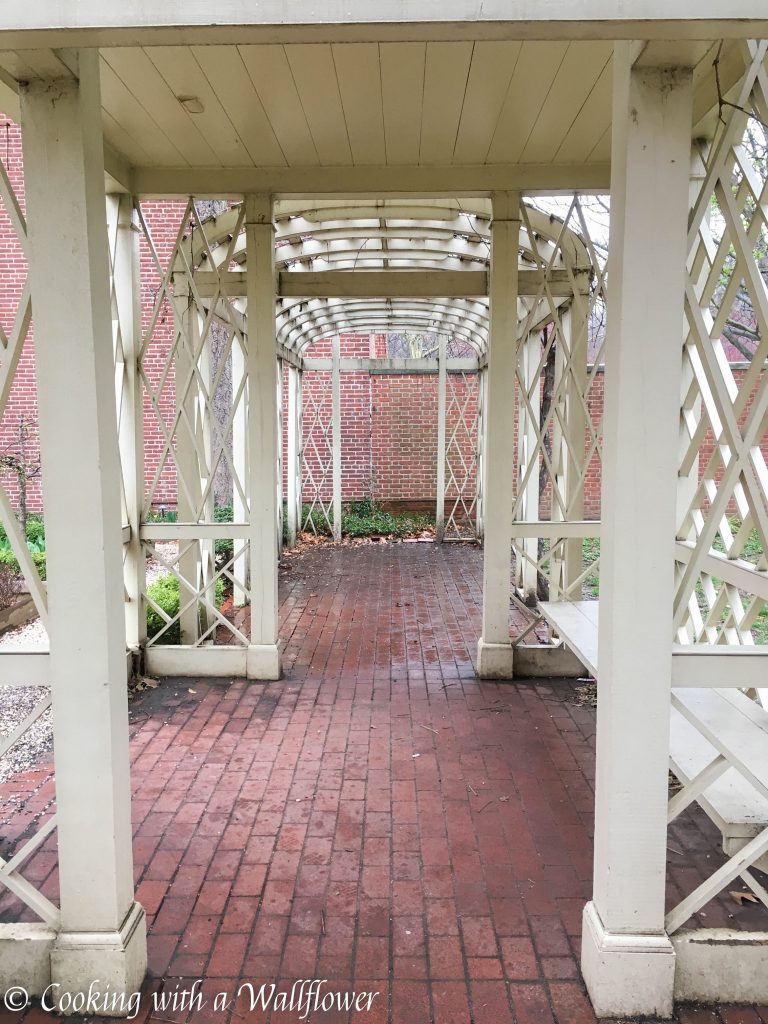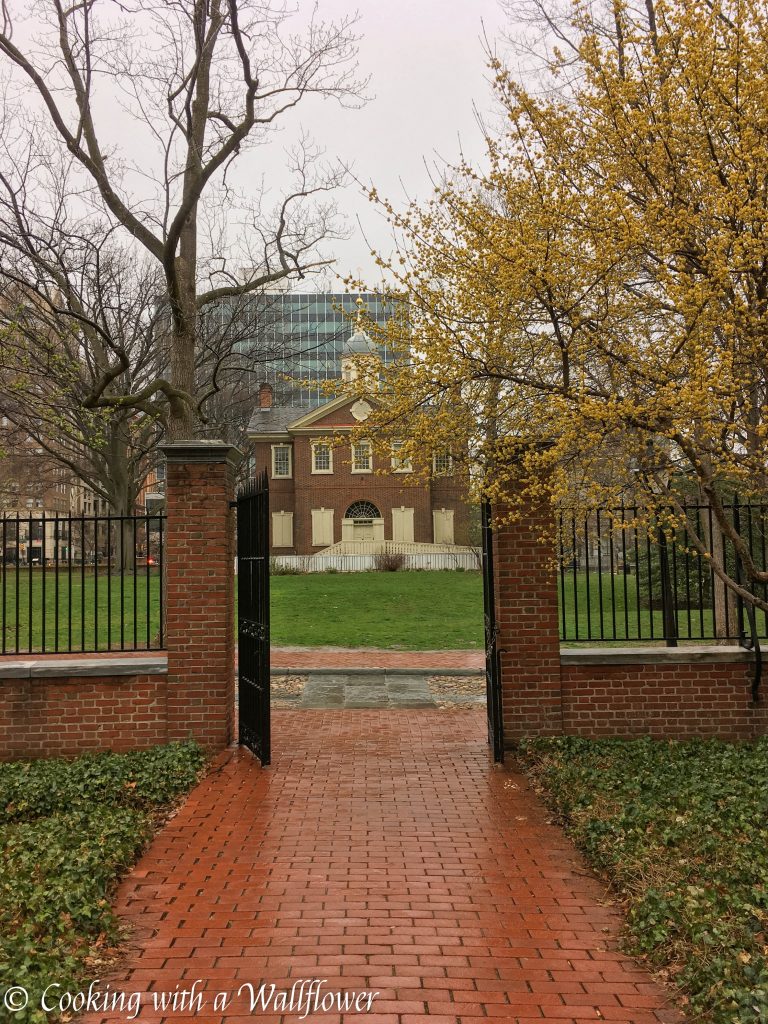 Museum of the American Revolution
This museum opened last year, and since I loved learning about the American Revolution, I knew that this had to be one of my stops. It's a great place to learn all about the American Revolution, especially for those who love history and a great place for kids. There are a couple theaters for featured movies and shows. Many of the exhibits are interactive. You can use touchpads to learn more about historical figures and events.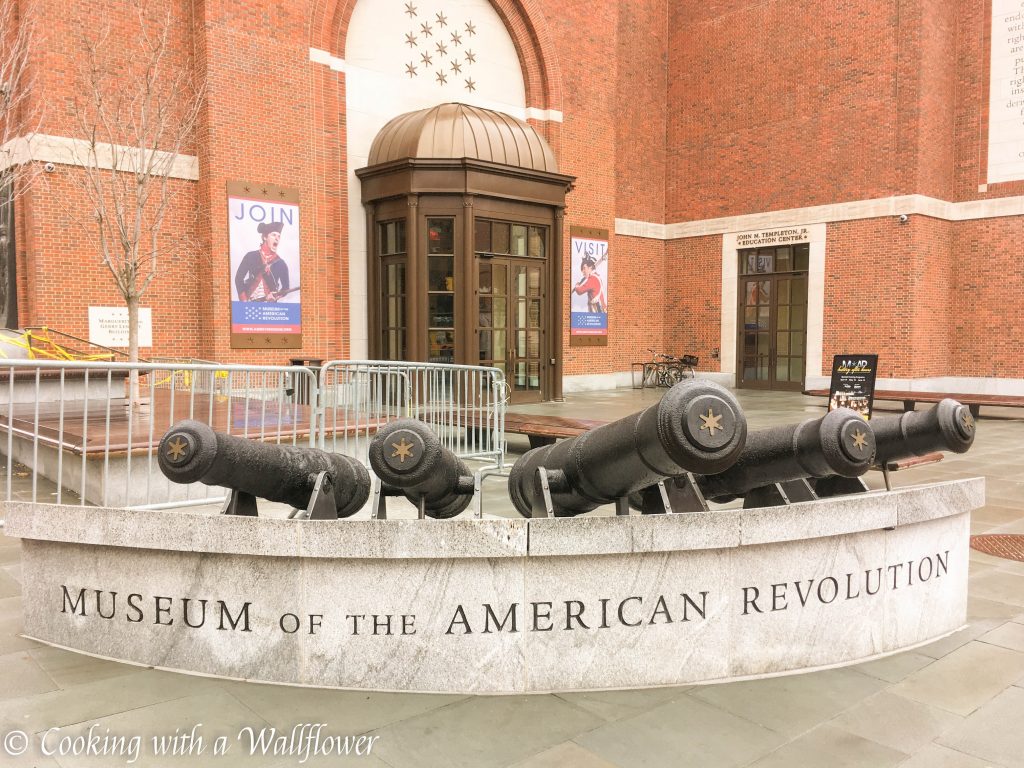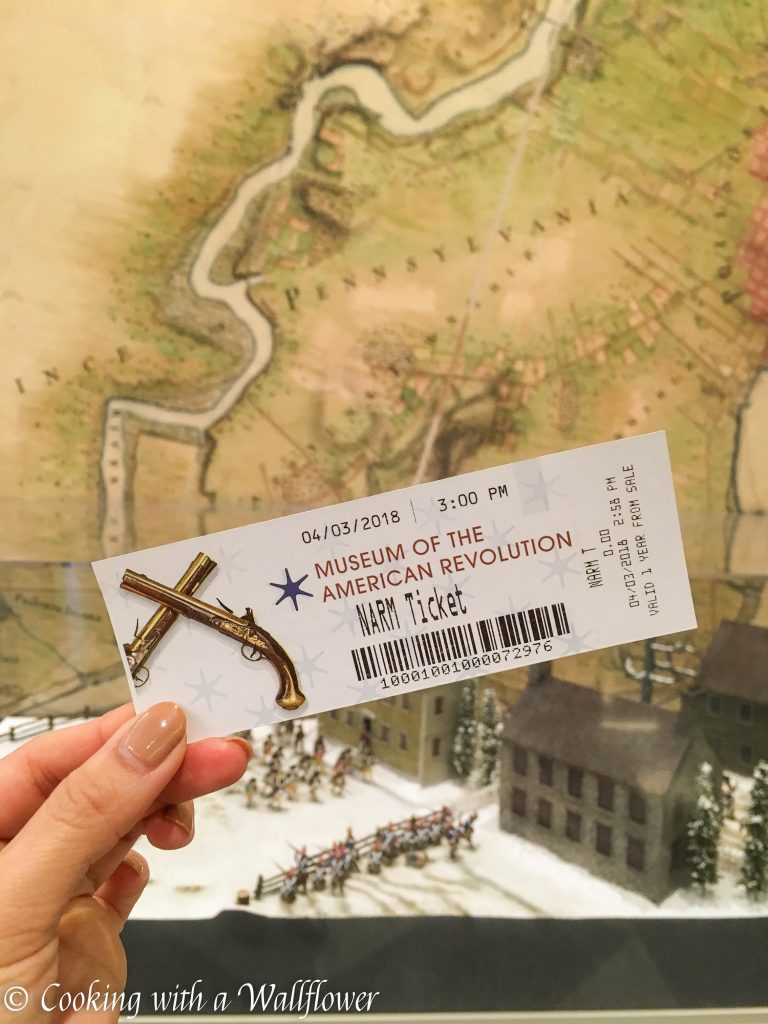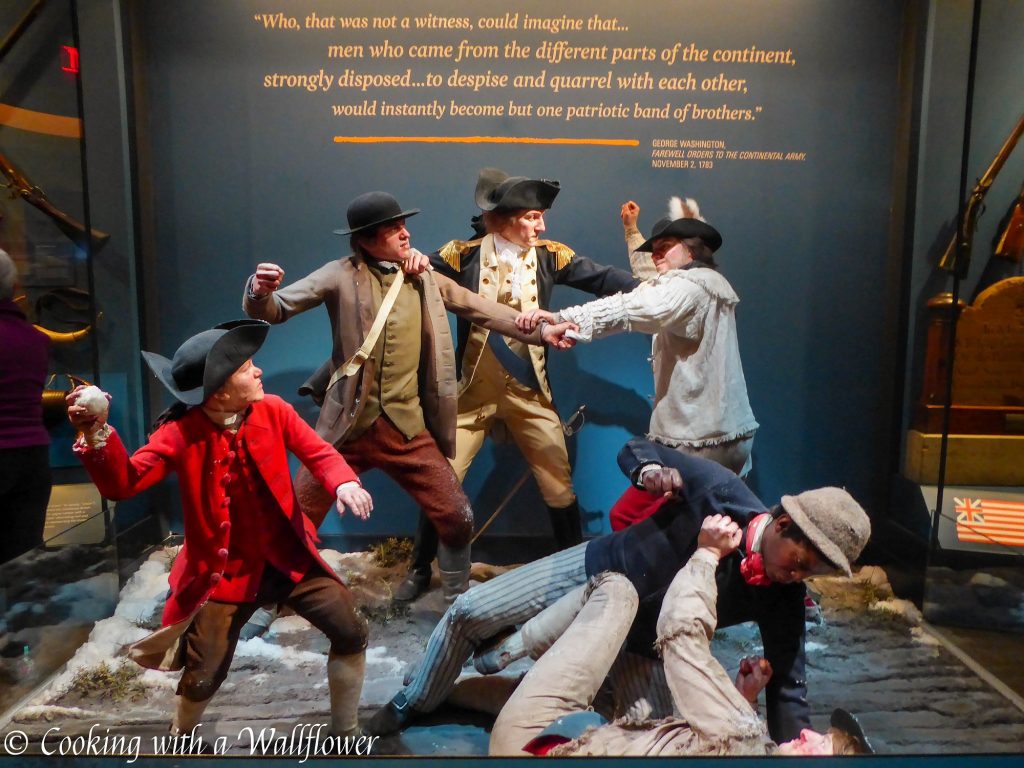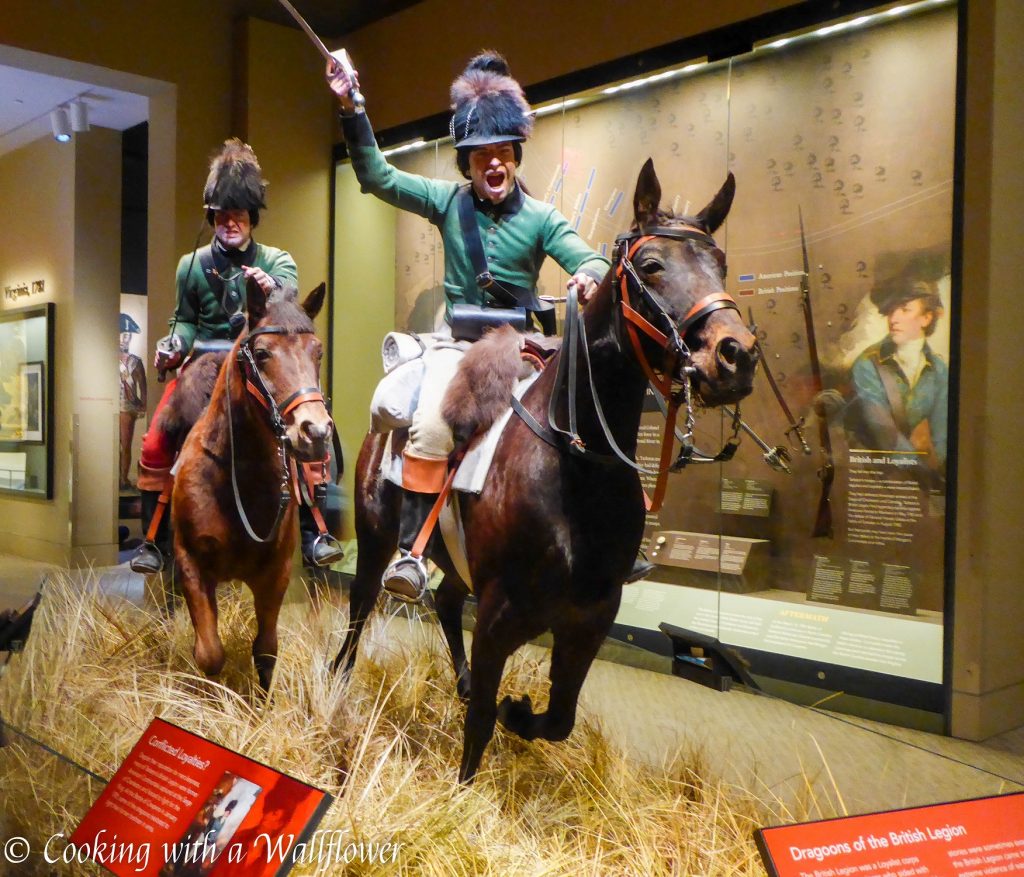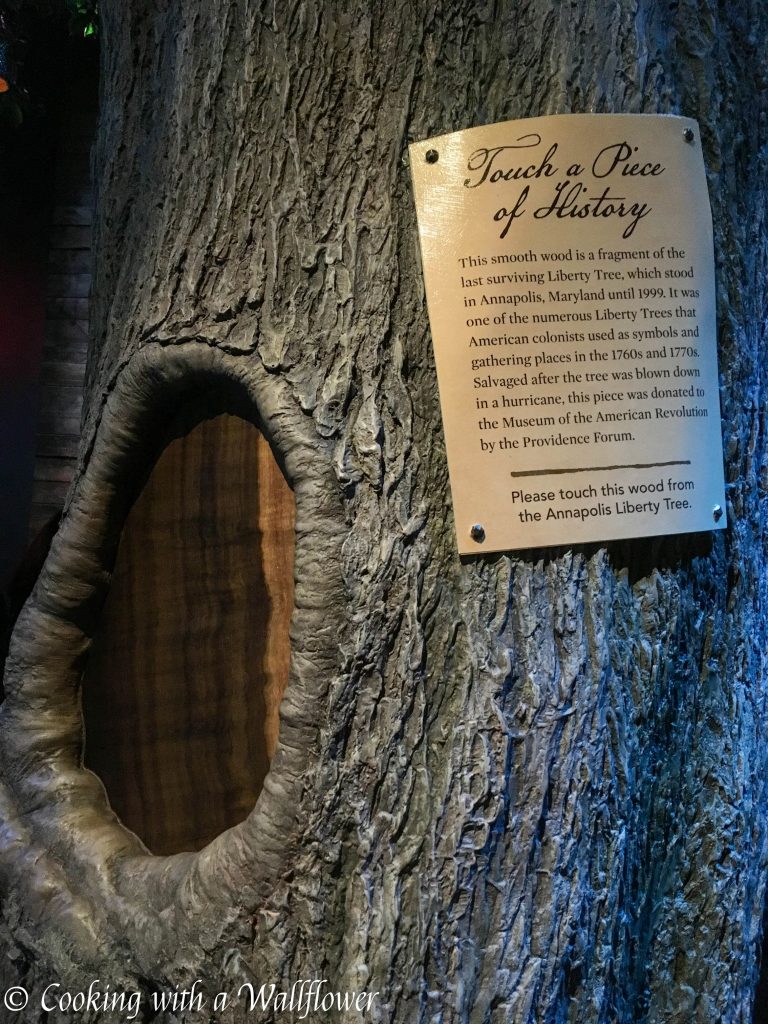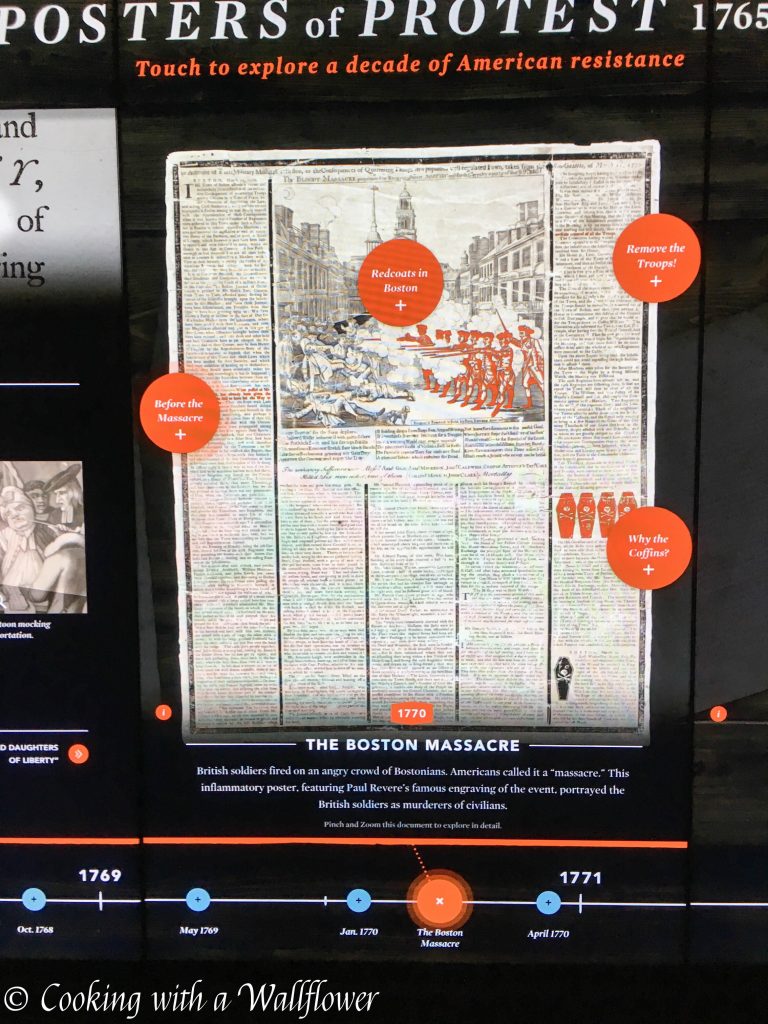 The highlight of this museum is that you get to see George Washington's War Tent. You're not allowed to take photos or get close to it, but it's so crazy and amazing to see that this was the tent that George Washington had used hundreds of years ago.
Even though it was raining, I wanted to walk through Washington Square Park just to admire the tree lined pathways. And to visit the memorial to Washington and the lost unknown soldiers of the Revolutionary War.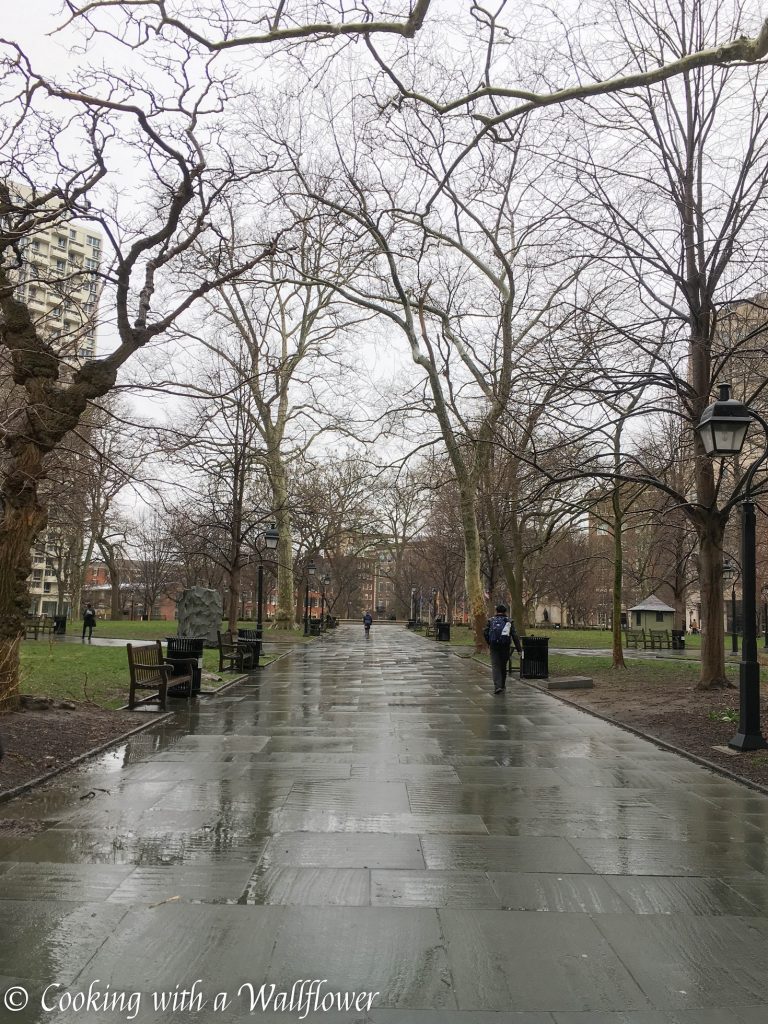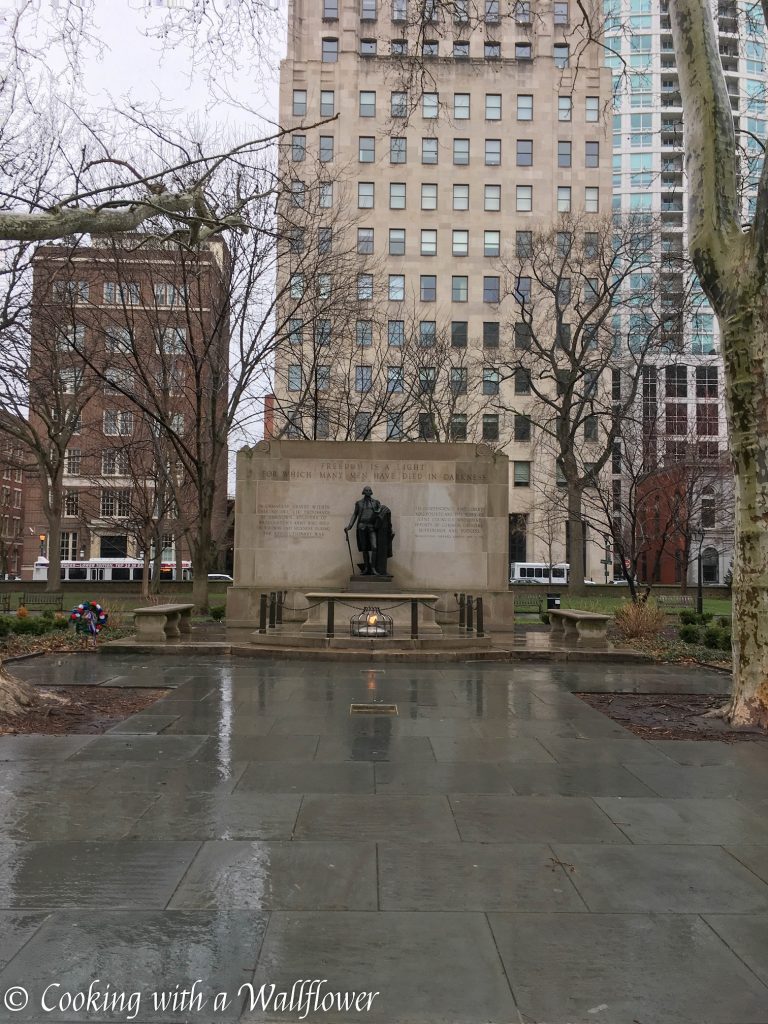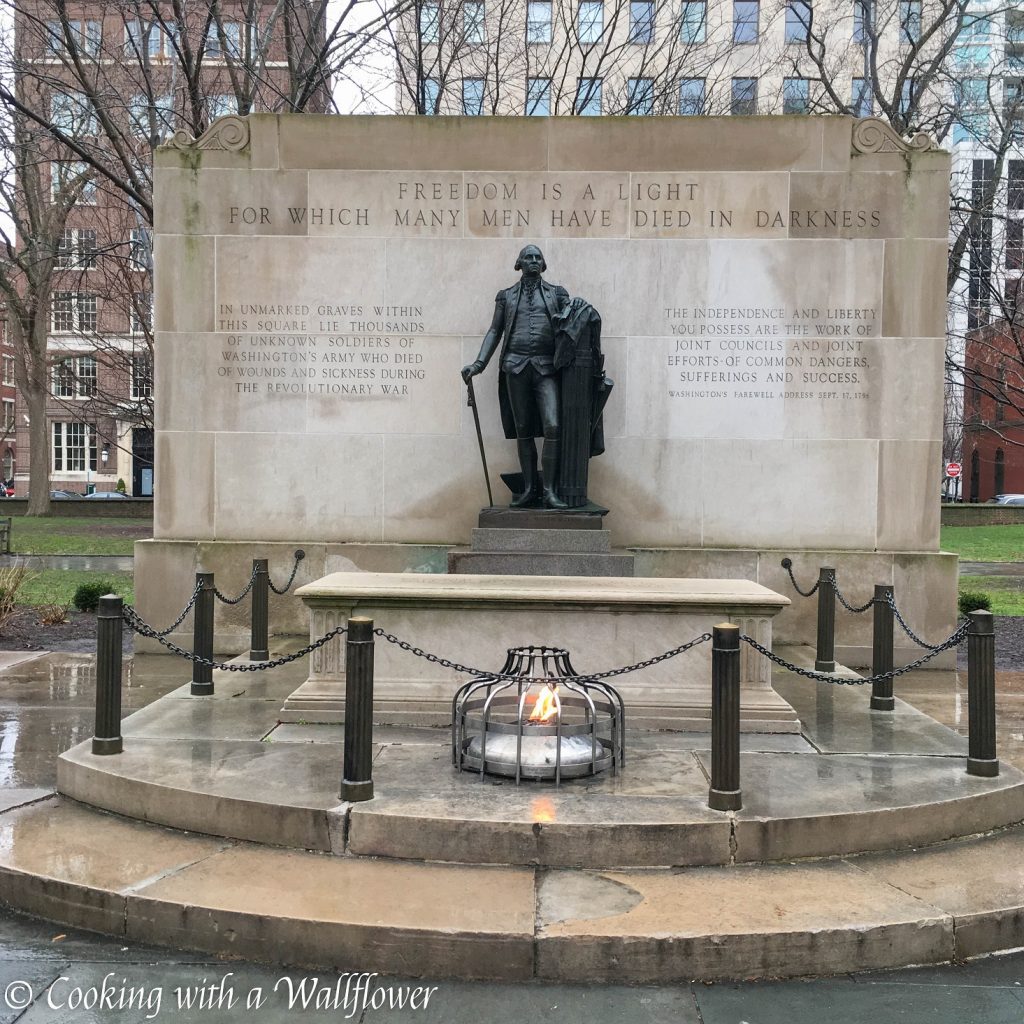 Oh, and I couldn't resist walking through the cherry blossoms too. The first signs of spring.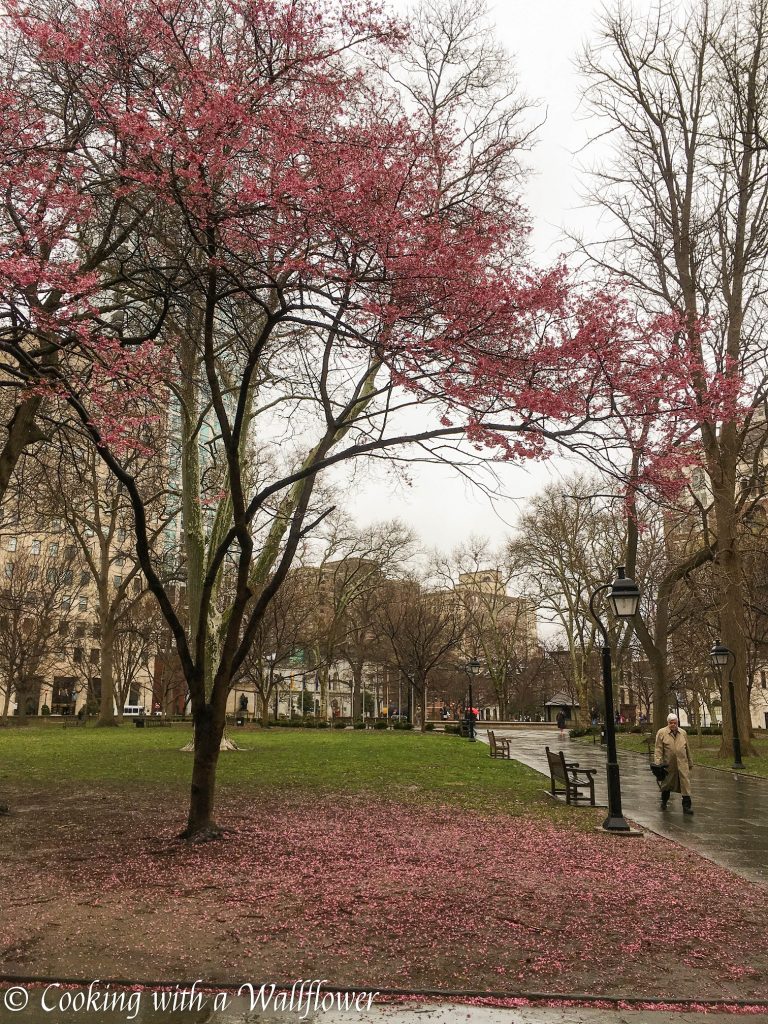 Before I even arrived in Philadelphia, I had booked two restaurants that I really wanted to try. Talula's Garden was the first one. I really wanted to enjoy dinner on the patio, but because it was raining, I had to sit inside, where the lighting wasn't so great. Romantic = dim lights.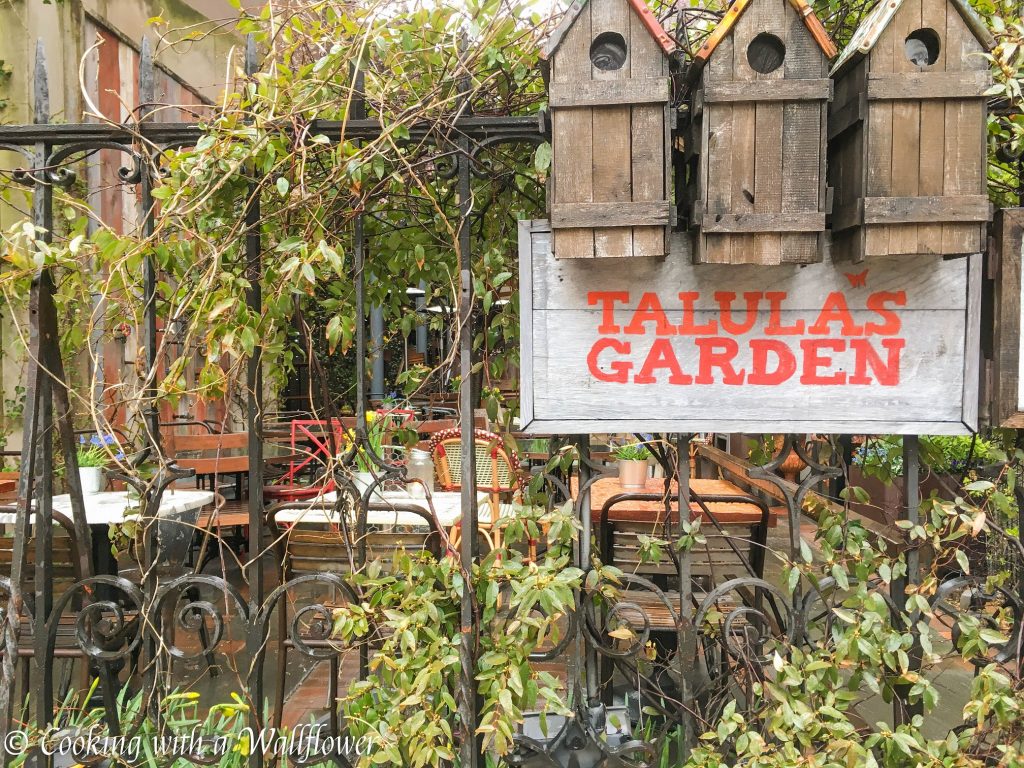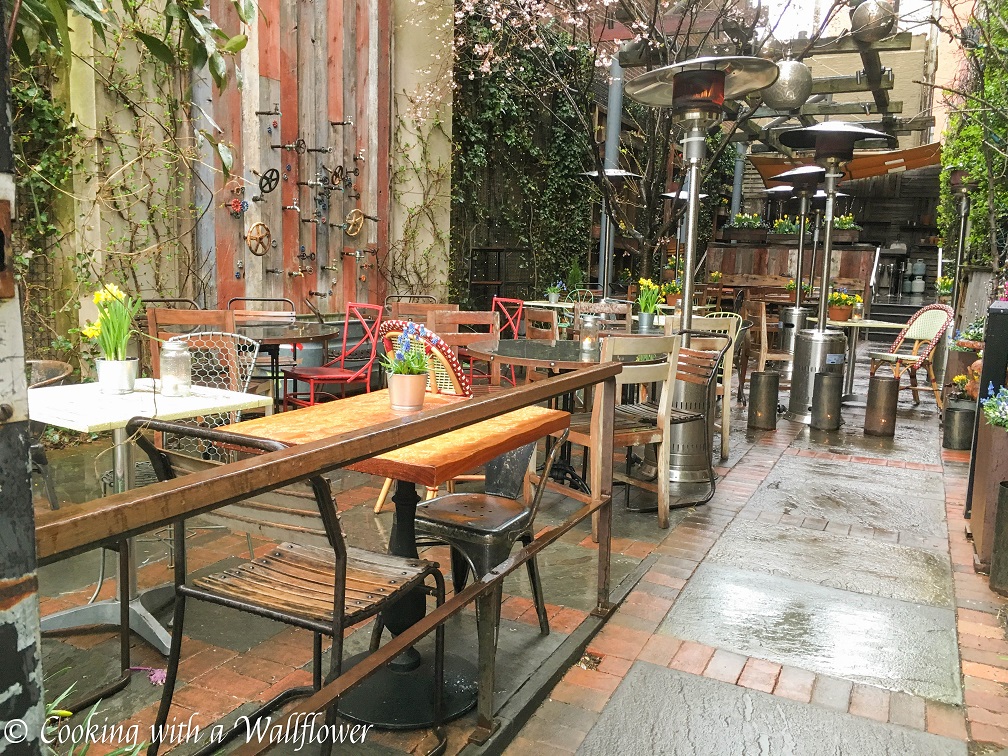 I was a little underdressed and a little out of place since I was eating alone in a restaurant with a romantic setting. But the food was soo good. At times like this, I wish I wasn't traveling alone. I would have totally ordered a cheese plate to share.
Brioche bread topped with honey cayenne butter. The bread was so soft and the butter was sweet with a spicy kick. I could totally eat this all the time.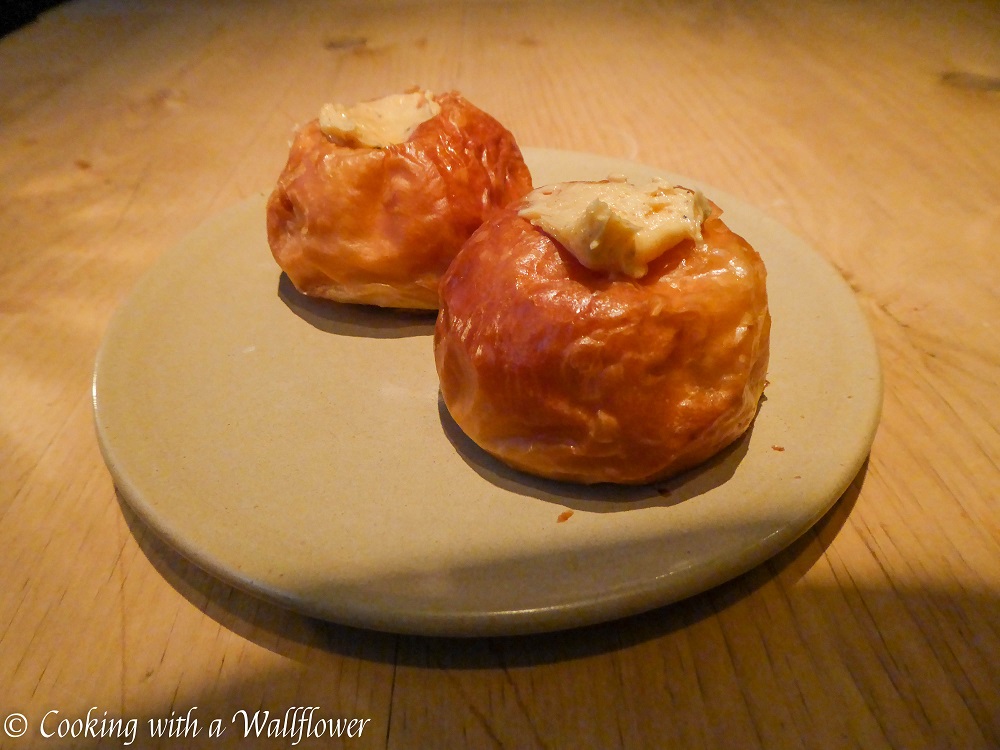 Nantucket clam chowder – clam chowder with green garlic, roasted potatoes, wild nettle and onions, and arugula pistou. If clam chowder could be refreshing, this would be it. While it was creamy, the clam chowder wasn't thick and it had a refreshing citrus flavor to it.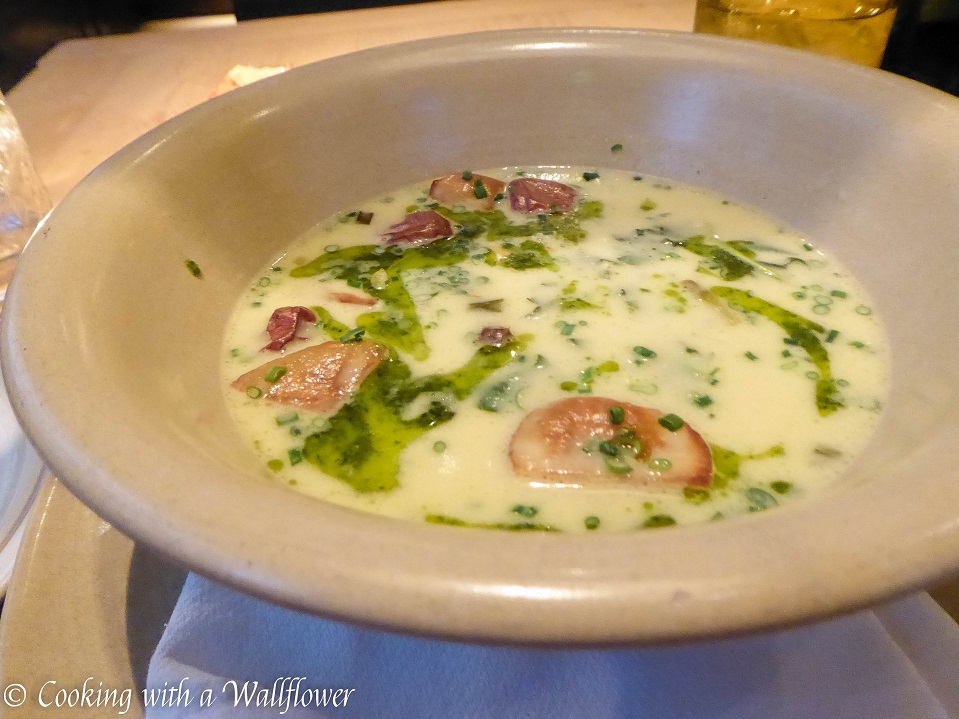 Smoked pork belly with pickled Asian pear, cabbage, cilantro, and ginger in a sweet and peppery sauce. Normally, I don't eat pork belly as an entree because of all the fat, but it came recommended by my server Nalini so I decided to give it a try. I loved that every bite of the pork was tender and flavorful. The pickled Asian pear, cabbage, cilantro, and ginger provided a balance to the sweetness of the pork belly.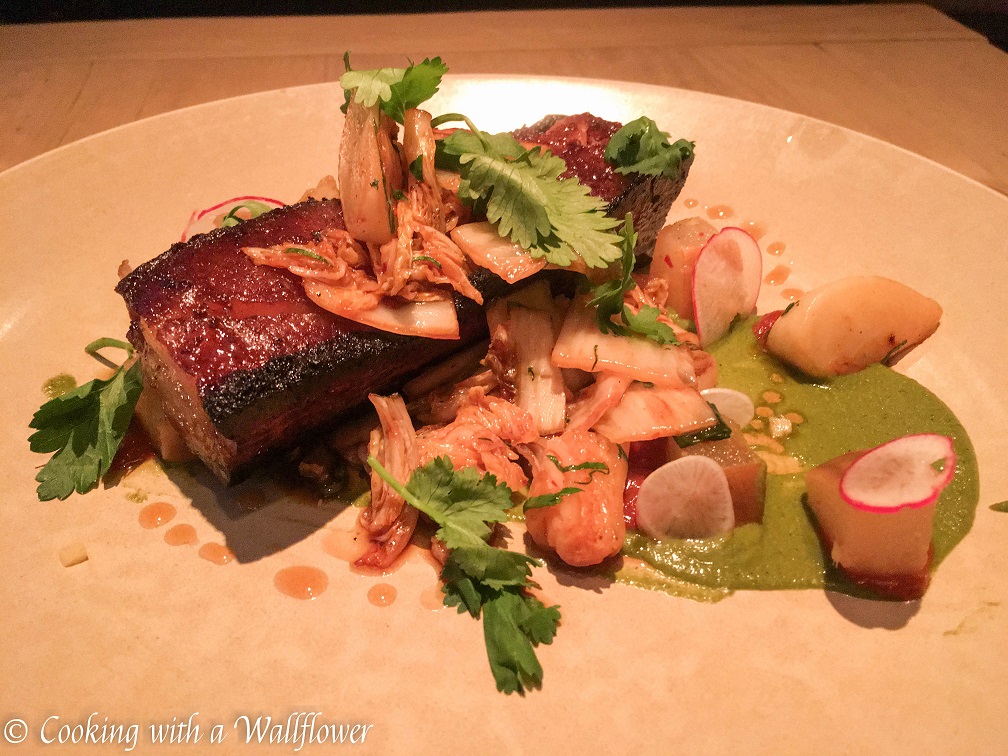 If I had more time in Philadelphia, I would have wanted to return to Talula's Garden to try some of their other dishes. And since it's a farm to table restaurant, each month, the menu changes to reflect the produce in season.
Penn's Landing is named in honor of William Penn's landing in Philadelphia in the 1600's. It's home to so many events and seasonal parks. Unfortunately, when I went, none of the parks were open for me to enjoy. It's a great place for a view of the Benjamin Frankin Bridge though!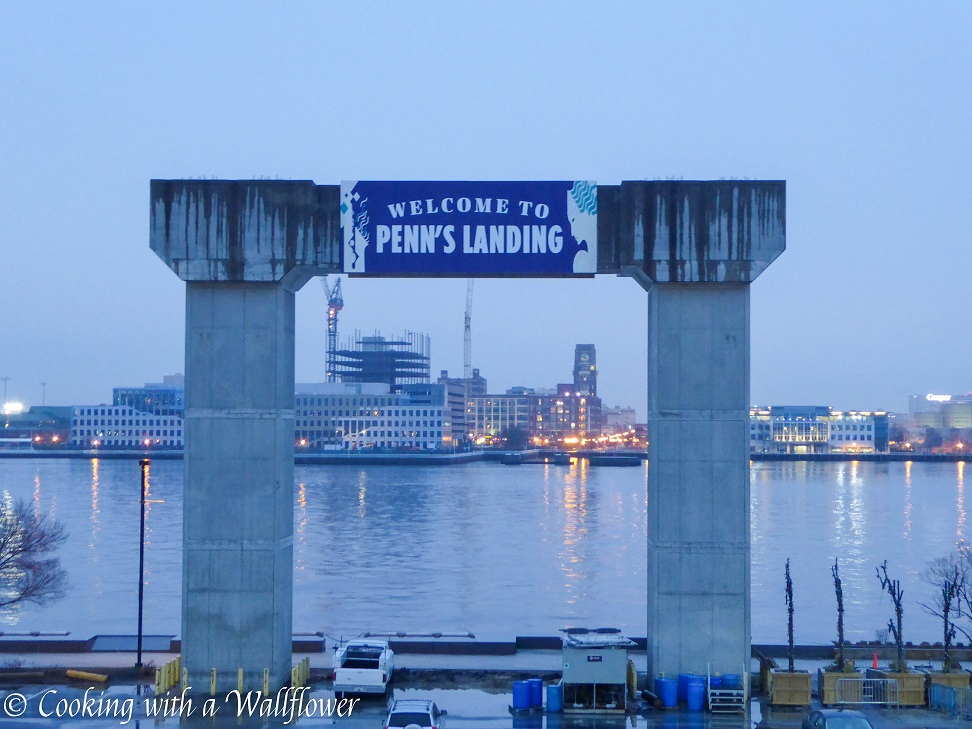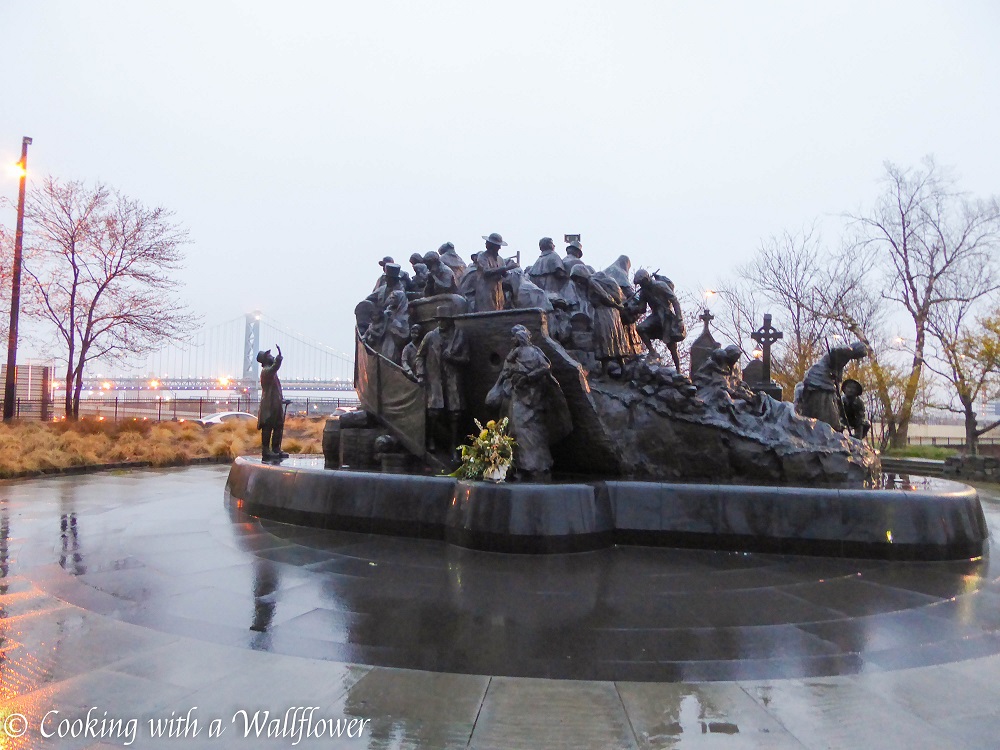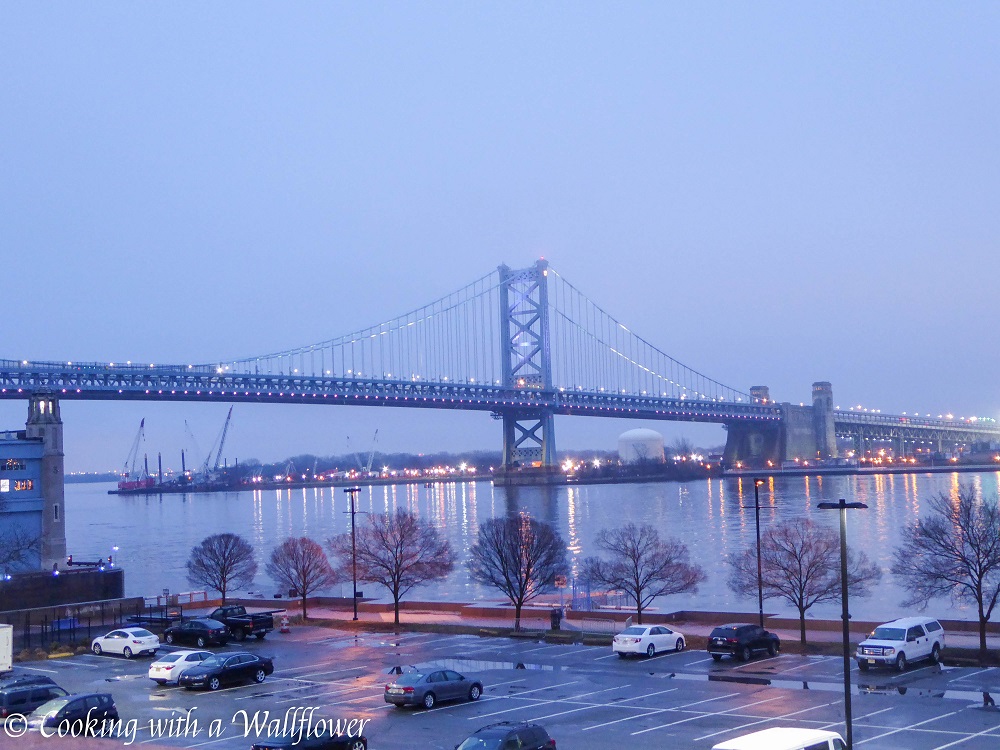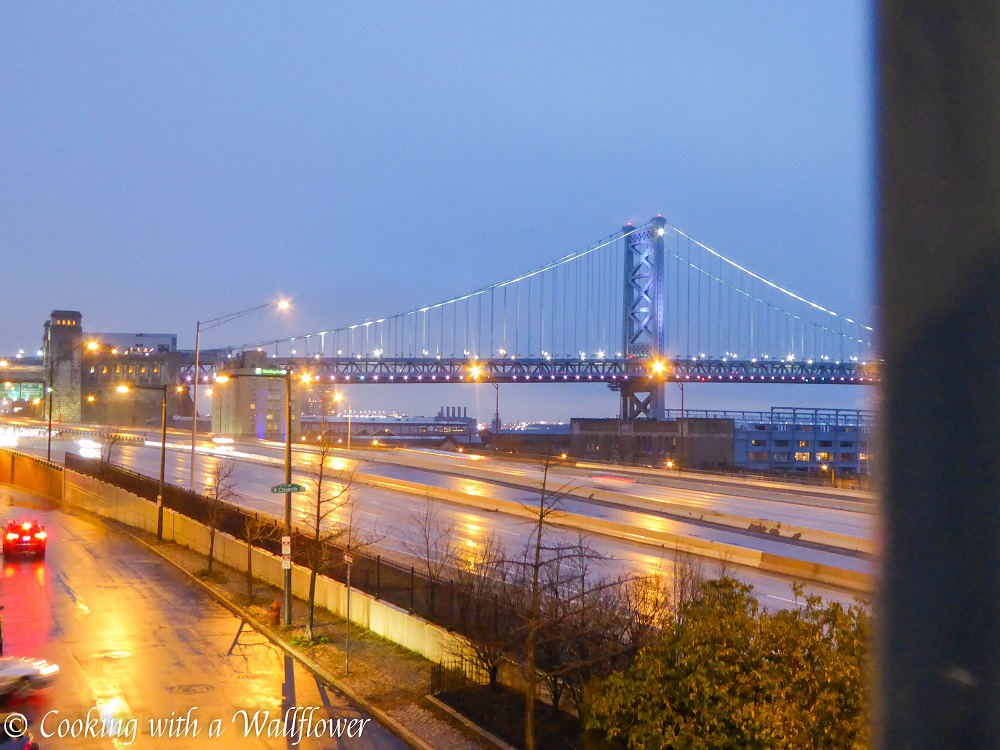 Thinking of dessert? You have to stop at Franklin Fountain. The little shop looks very old school, and they have a ton of ice cream flavors to pick from. I ended up ordering a root beer float to end my night. They make their own root beer too so it doesn't taste like the root beer soda from the can.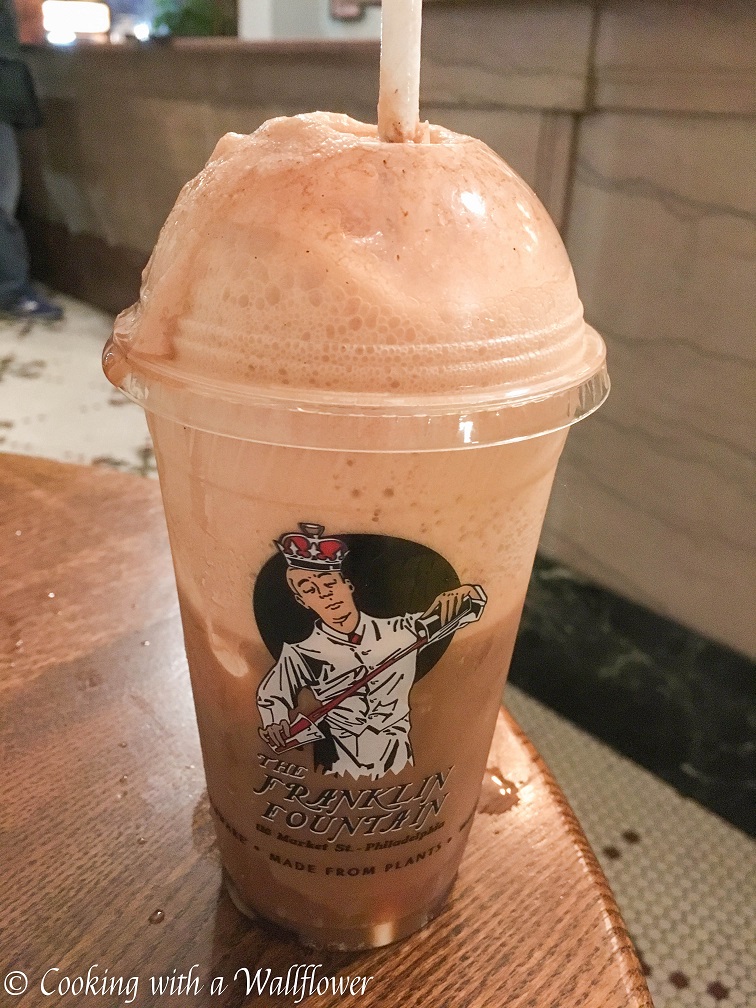 I actually couldn't fit the National Constitution Center into the first day so I did it on my third and last day. But it's located in Old City, so I stuck it in here. I honestly wasn't sure if I would like the National Constitution Center, mostly because as much as I love history, I'm not so much into politics. But it turned out so interesting.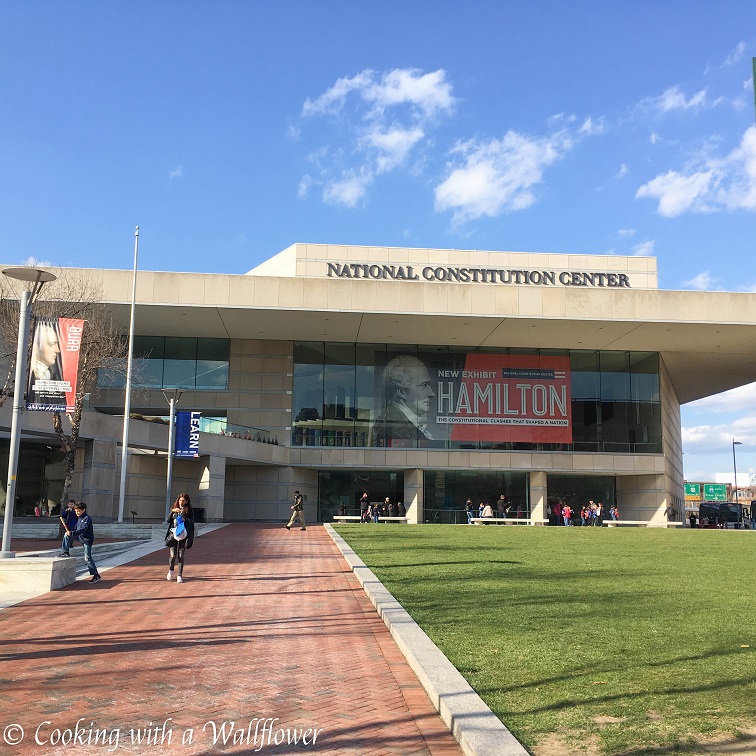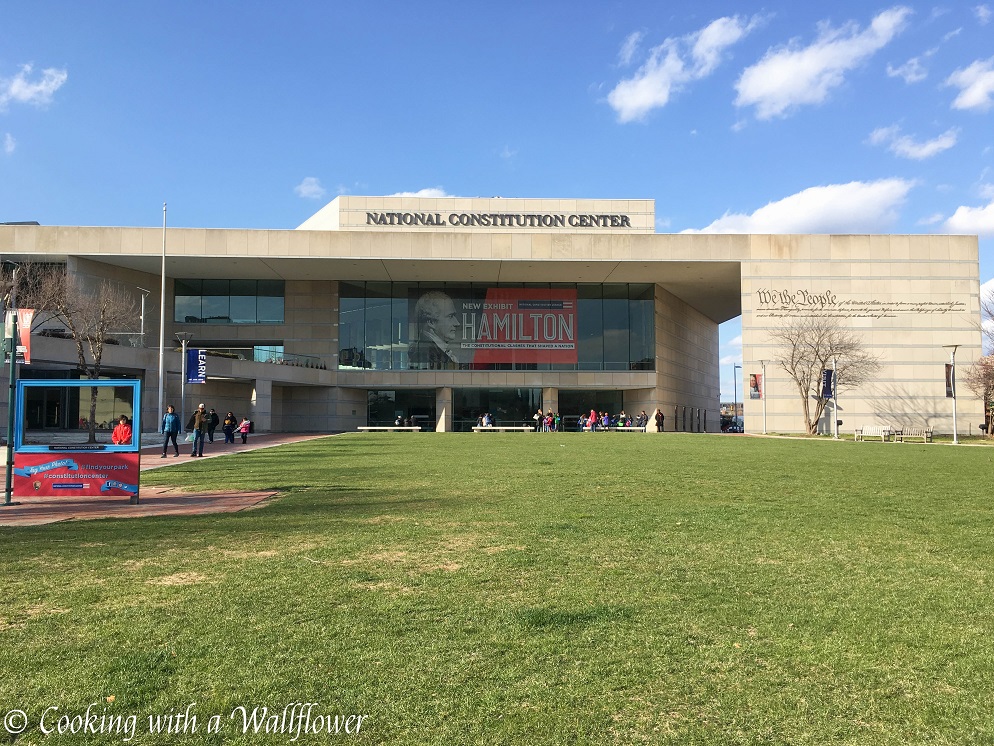 You're not allowed to take photos in the National Constitution Center with the exception of the Signer's Room.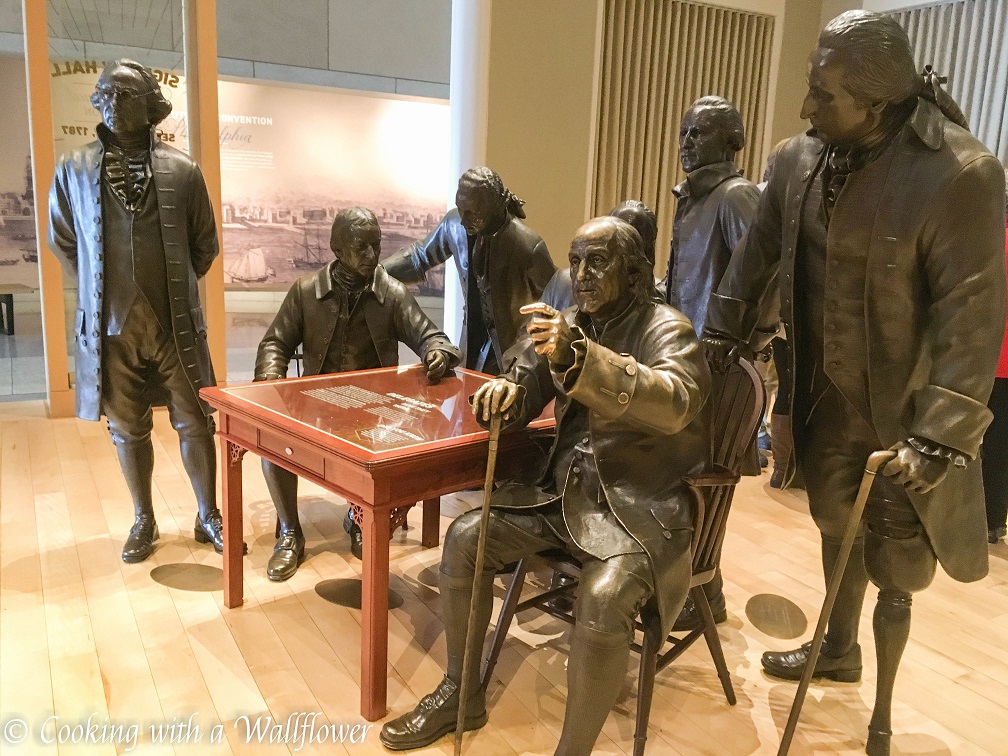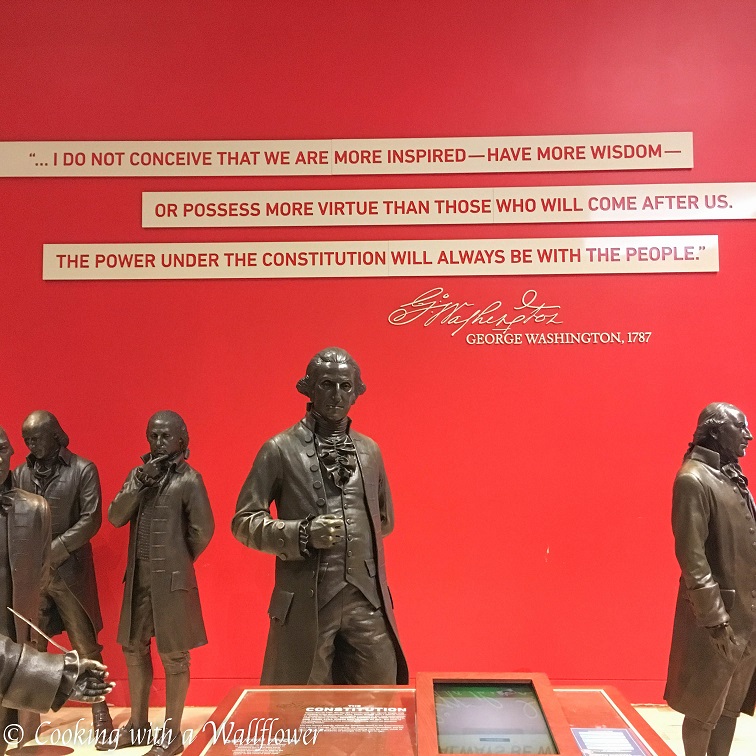 You start off with a movie and theater performance with Freedom Rising, and then you get to walk around all the interactive exhibits learning about how the Constitution came to be from the very beginning. I was expecting something dry, but you learn the stories behind what motivated a certain law to pass. And I became immersed in reading the stories and examining the artifacts.
Currently, the National Constitution Center has a special exhibit about Hamilton with letters that he had handwritten throughout his life. They also an exhibit called American Treasures: Documenting the Nation's Founding, which shows us how the Founding Fathers came about to create the Constitution and Bills of Rights.
Oh, and if you have luggages with you, you can always ask to leave your things at the coat check. And technically, you can store your things there while you explore the city until the end of the day as long as you have your number tag.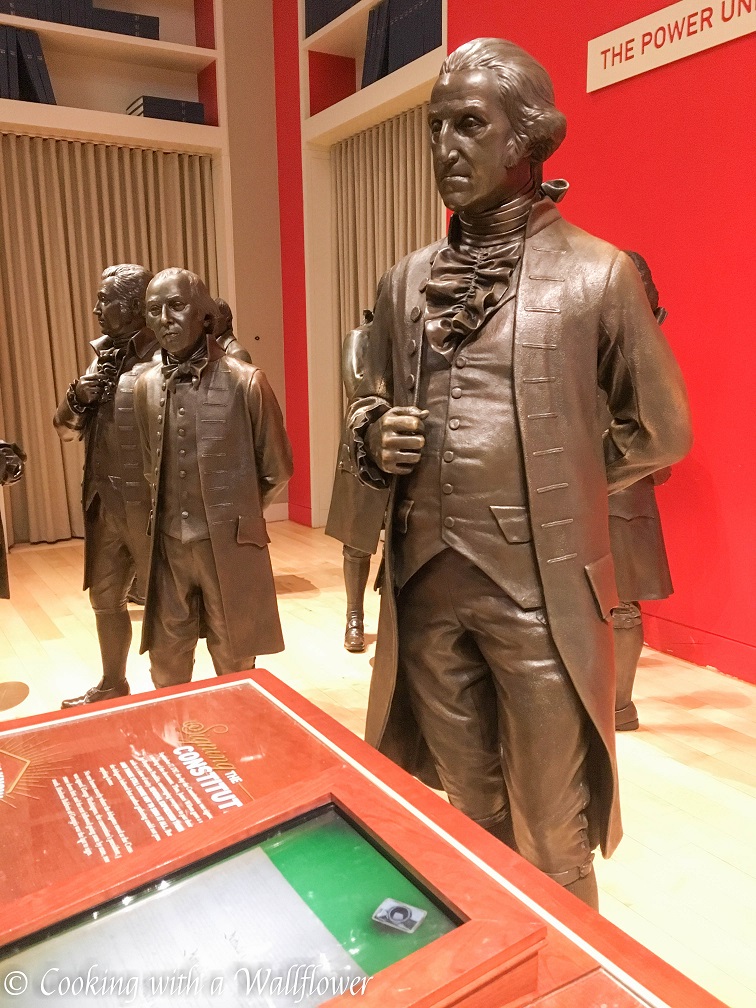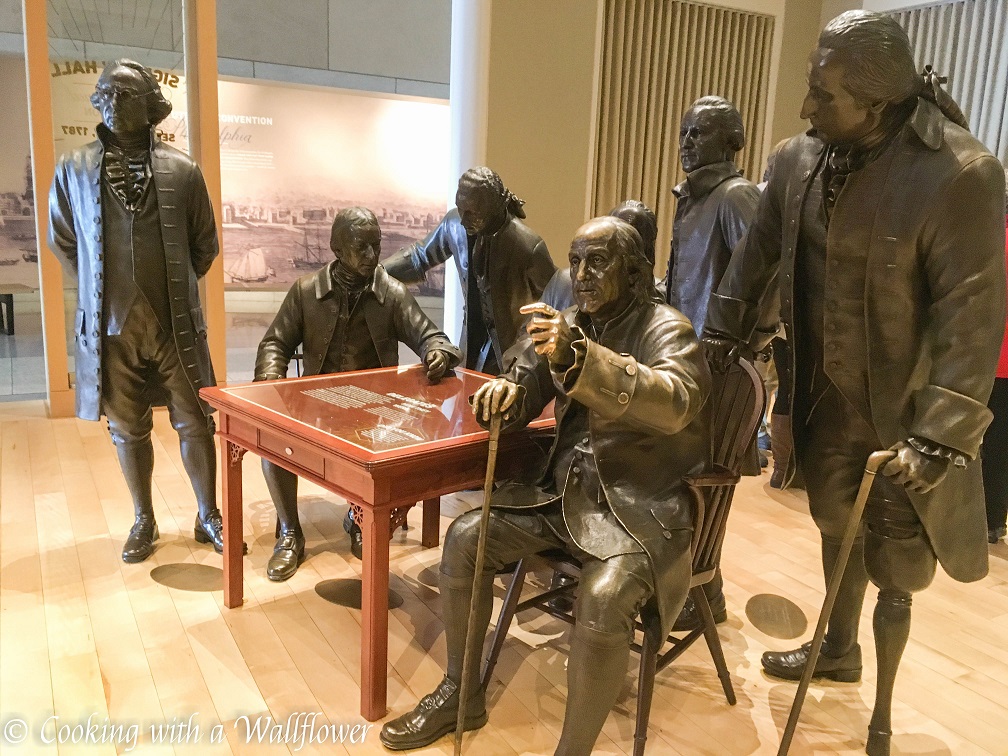 I was able to fit so many things into a day. But I think if I had a little more time, or the next time I return to Philadelphia, I would love to do a few more things in Old City.
Stay tuned for more Philadelphia posts!