"Go, fly, roam, travel, voyage, explore, journey, discover, adventure."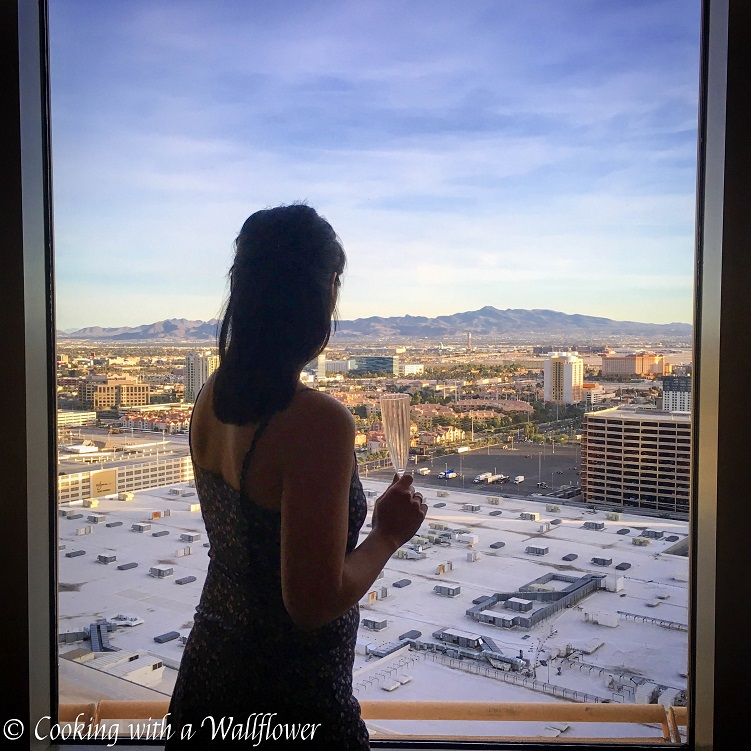 Several weeks ago, we were in Las Vegas for my cousin's bachelorette party. Although we were in the city for less than 48 hours, we did so much in that short amount of time. From exploring different attractions to eating at different restaurants, we tried to cover a little of everything.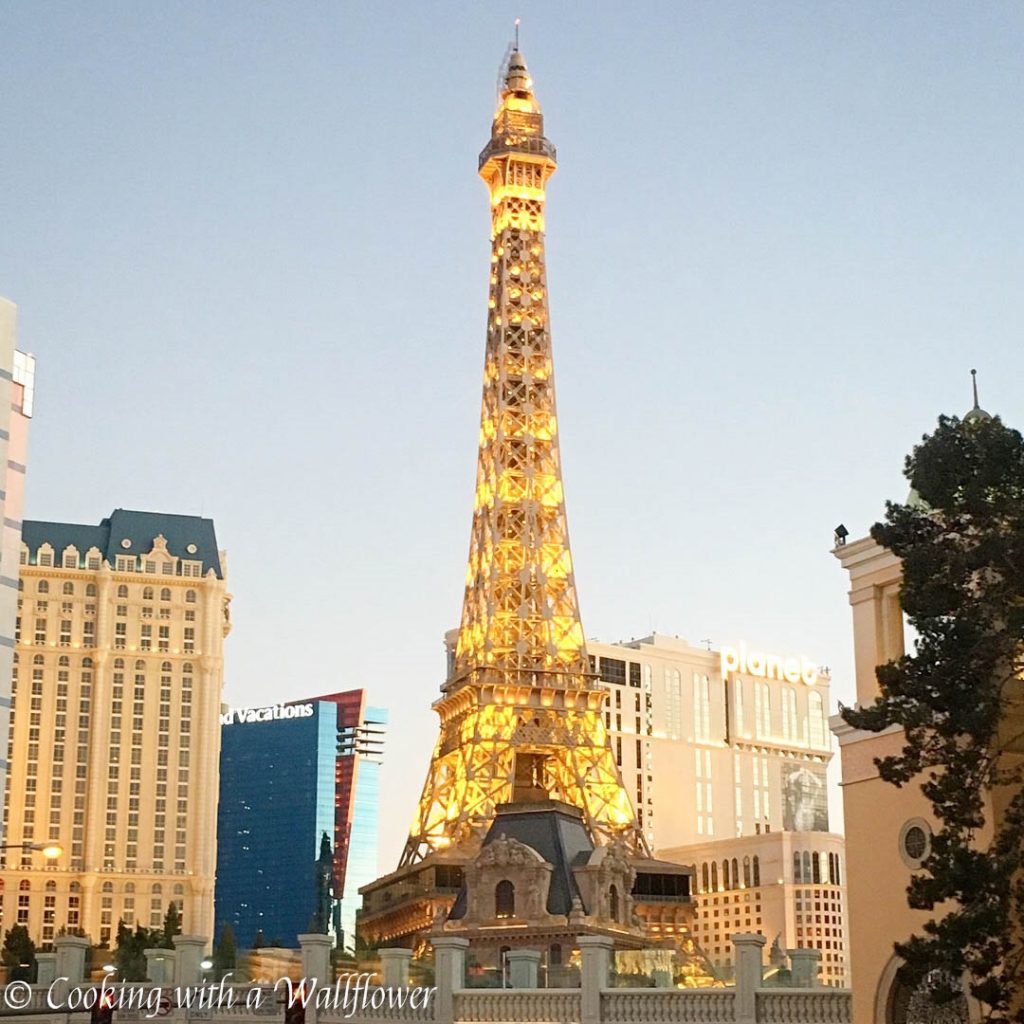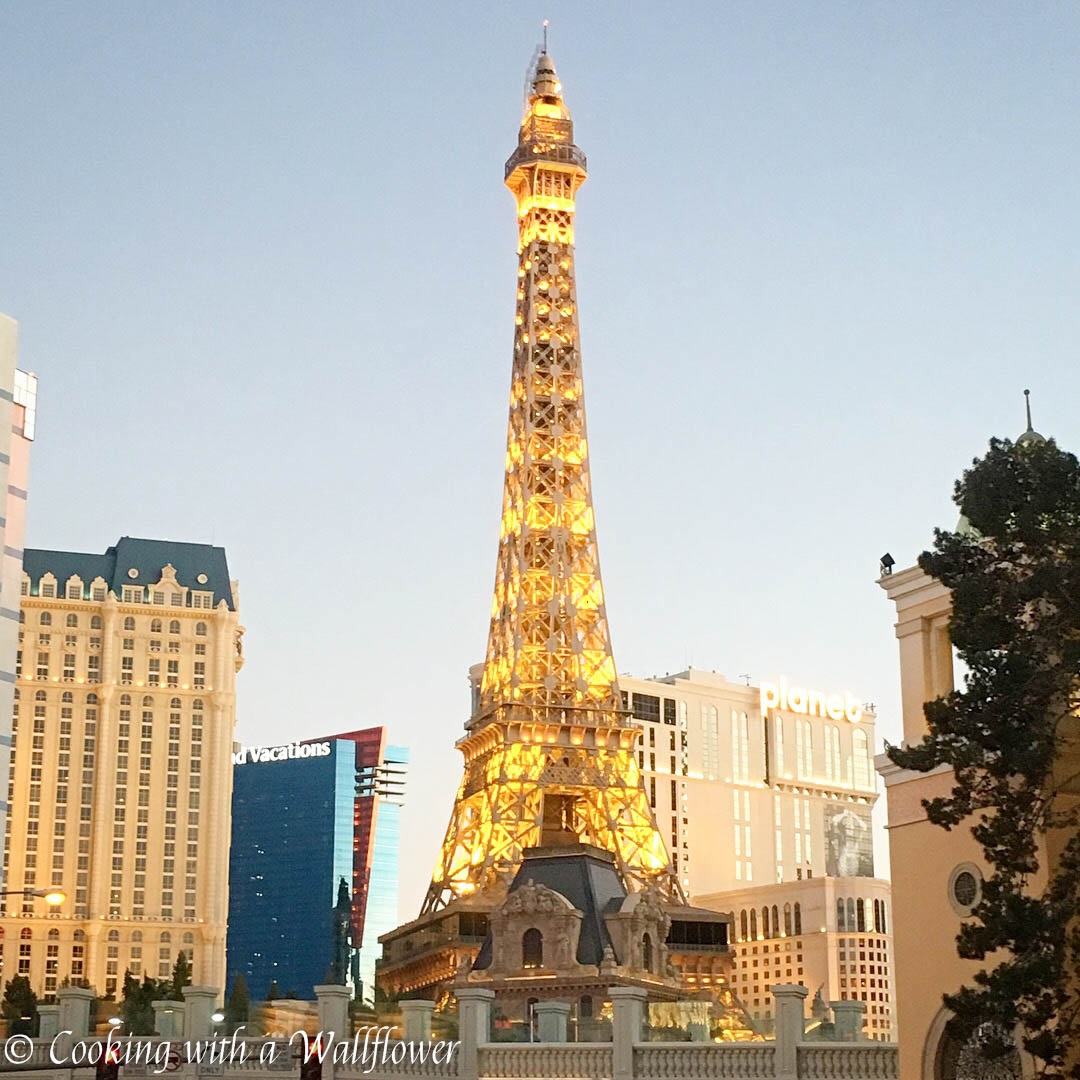 My sisters and I arrived in Las Vegas late on Friday night since I had work that day. The moment we landed, we headed to the Palazzo hotel to drop off our luggage in our suite before going out to meet the other girls at Omnia club at Caesar Palace to see Zedd, a DJ we all loved.
The hotel that we stayed at were decorated for the Lunar New Year.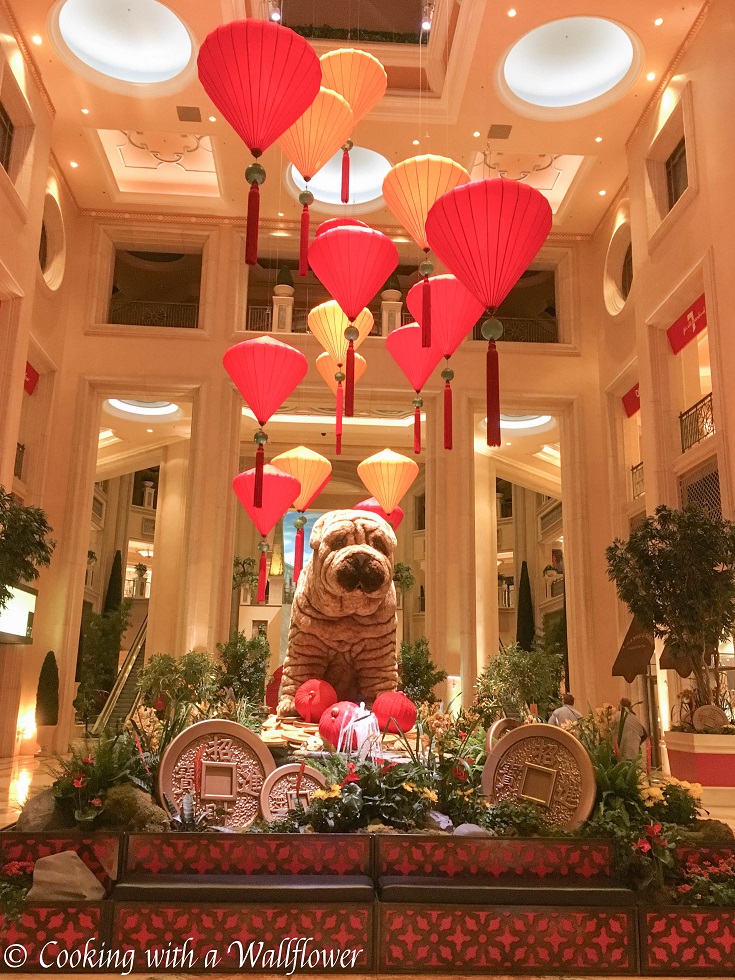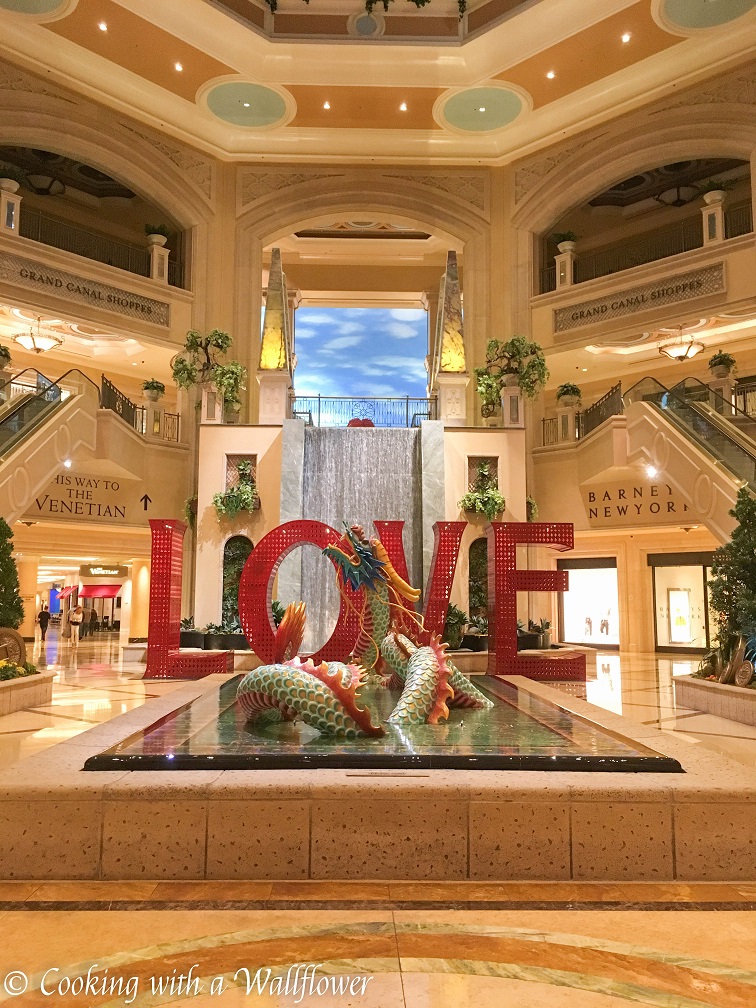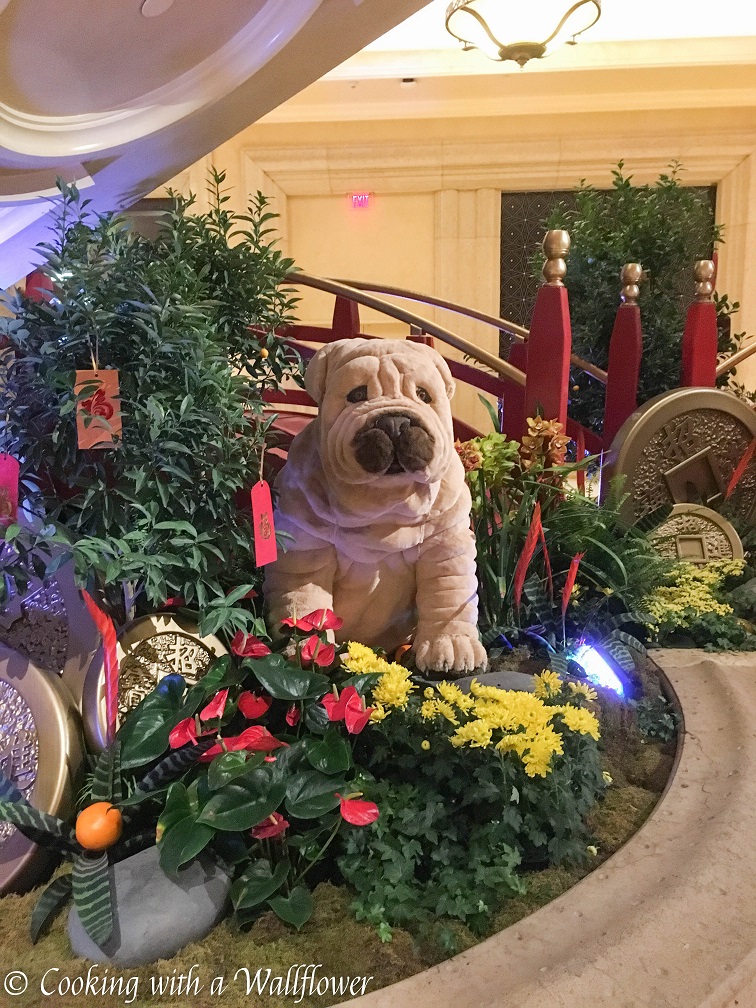 We got back to our hotel in the middle of the night and were starving. But luckily, the Grand Lux Cafe, a branch of the Cheesecake Factory, is opened 24 hours. I don't know what we were thinking, but we each ordered our own dish plus an appetizer at 5 in the morning.
Asian nachos, a caesar salad, a chili lime chicken and mango salad, cajun shrimp and chicken jambalaya, and zen noodles. We kind of regretted ordering so much food before getting ready to sleep.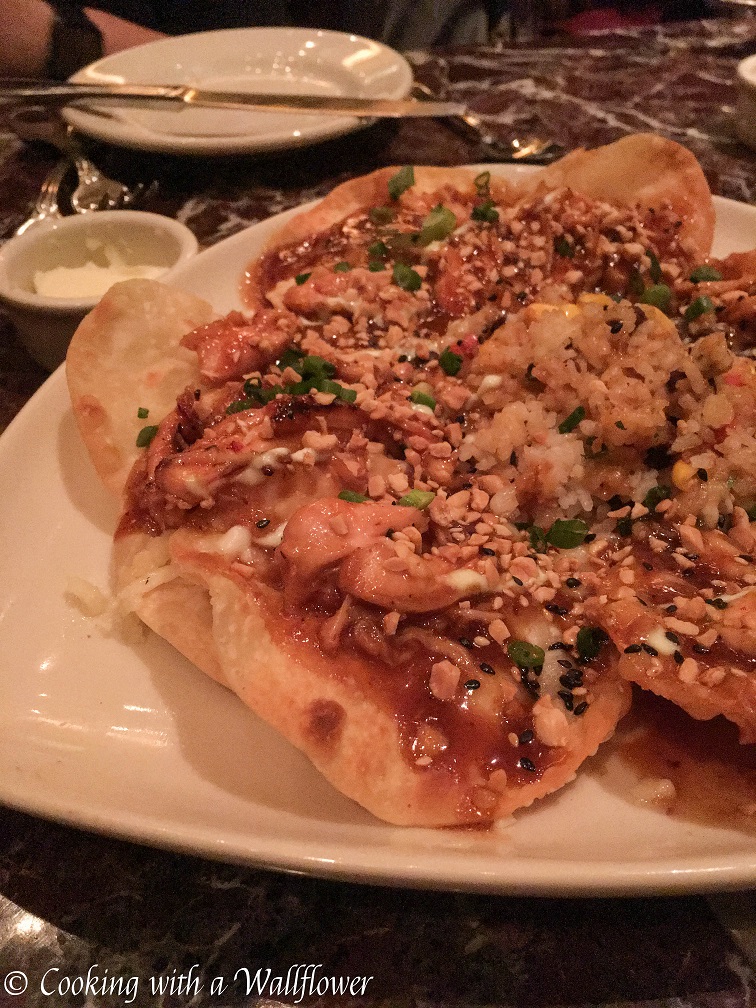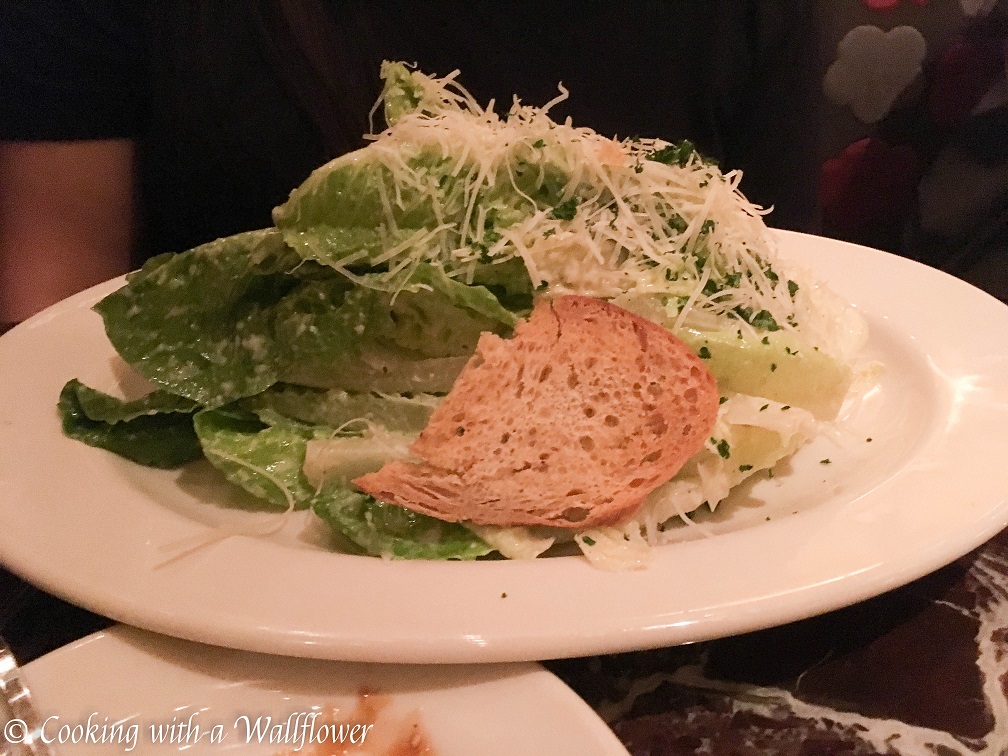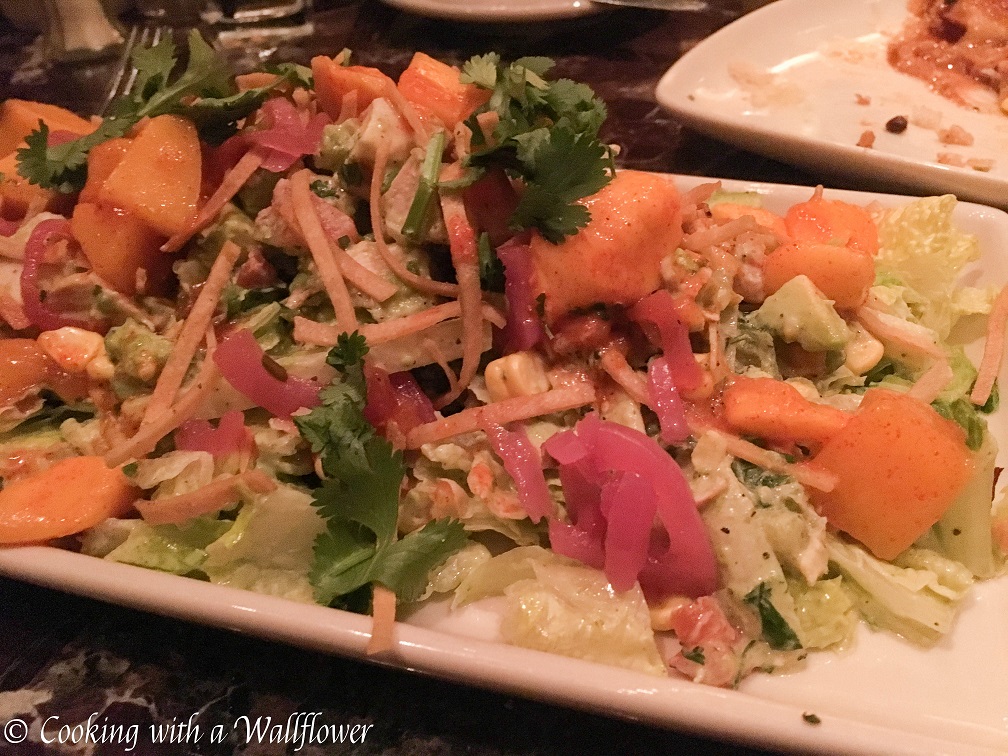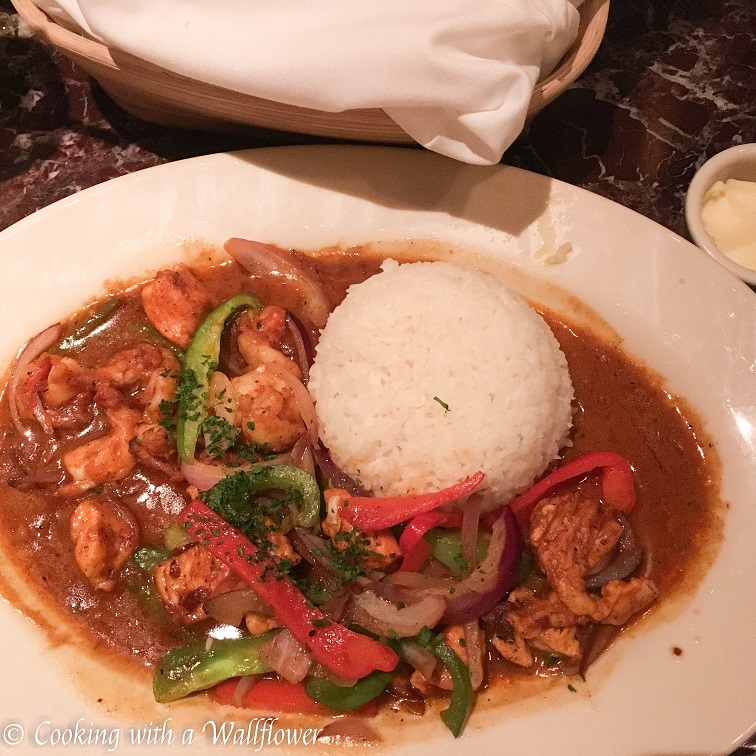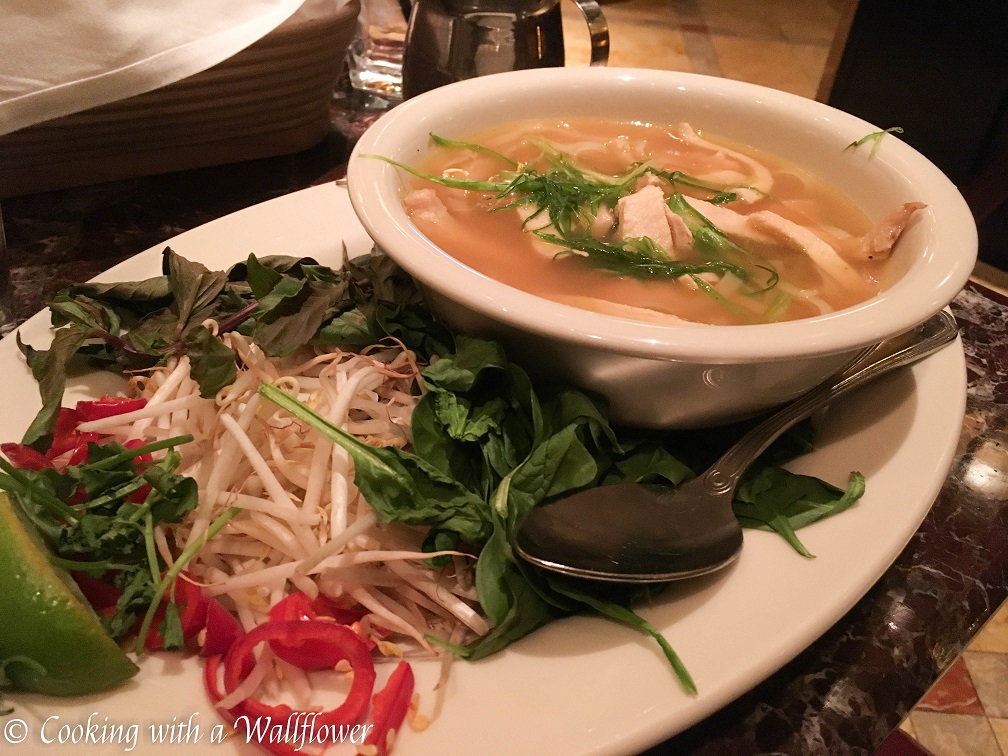 On Saturday morning, we had a somewhat tight schedule. Our first stop was breakfast at Egg Slut. I've heard how amazing the breakfast items are there. So I was excited to try the food. But I discovered that often times when there's a huge hype about a restaurant or a movie or an attraction, I get super excited and expect way too much. Do you ever feel that way?
I ordered the Slut, which is coddled egg on top of a smooth potato puree poached in a glass jar, topped with gray salt and chives served with slices of baguette. While I love the deliciousness of the potato puree with the runny egg, I didn't quite understand the hype over it and why there was such a long line for it. Maybe I'm too picky about my food? Has anyone tried Egg Slut?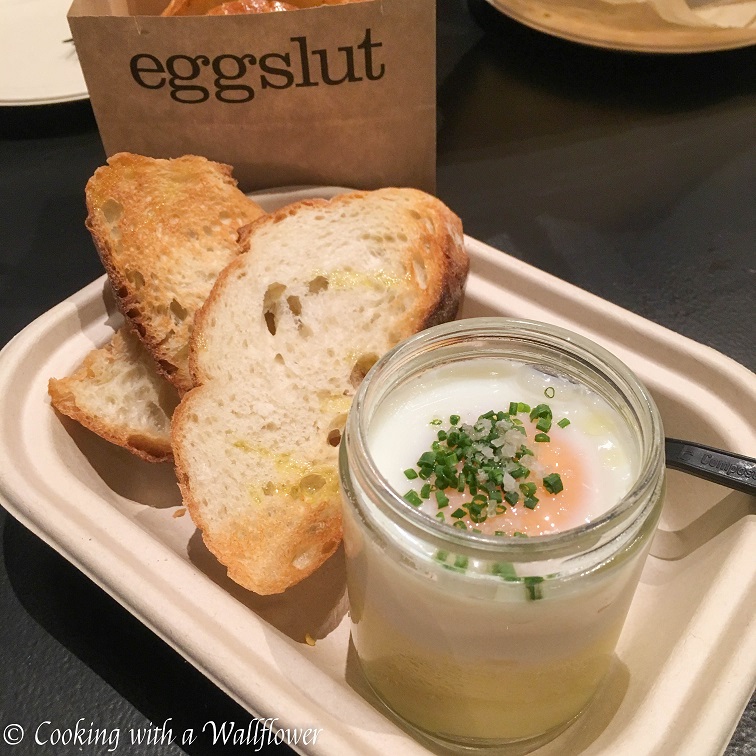 My sisters ordered the Fairfax, which is soft scrambled eggs and chives, cheddar cheese, caramelized onions, and sriracha mayo in a warm brioche bun, and the Gaucho, which is seared wagyu tri-tip steak, over medium egg, chimichurri, red onions and dressed arugula in warm brioche buns.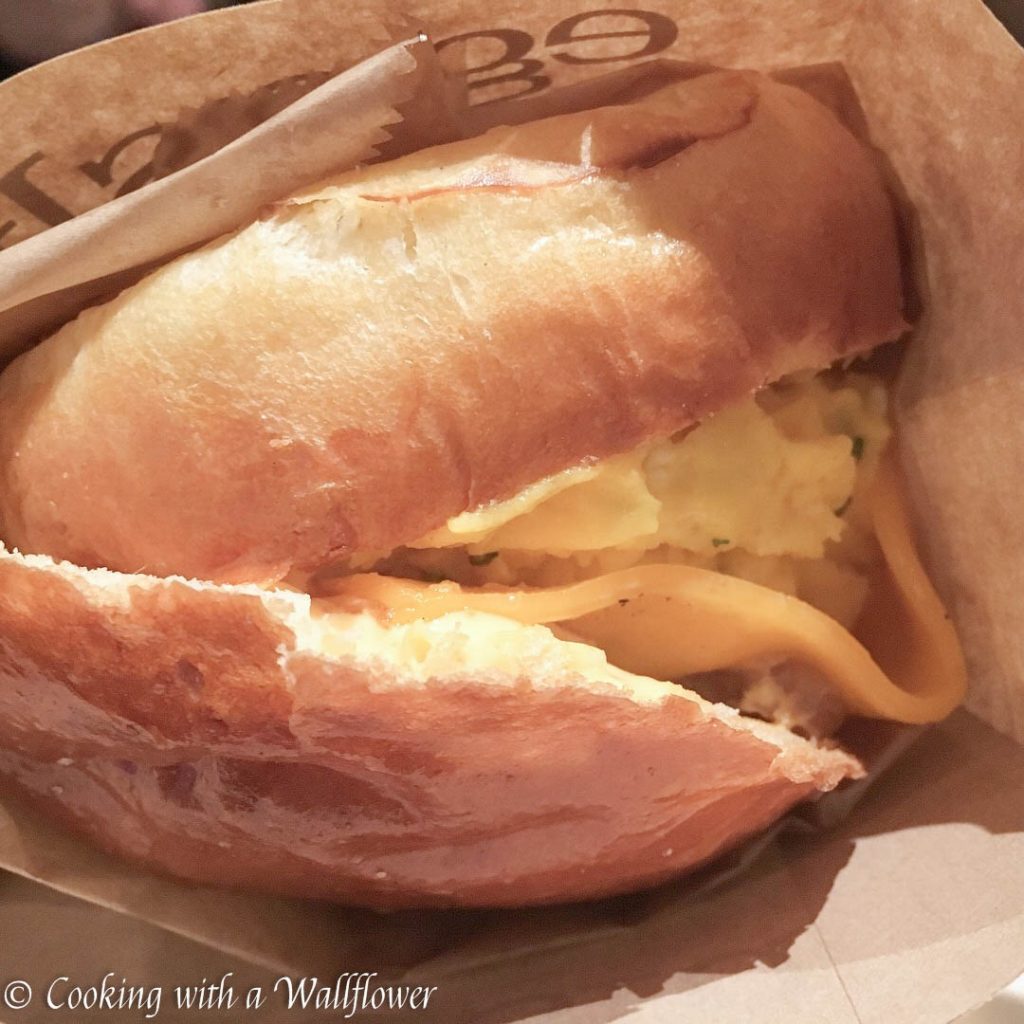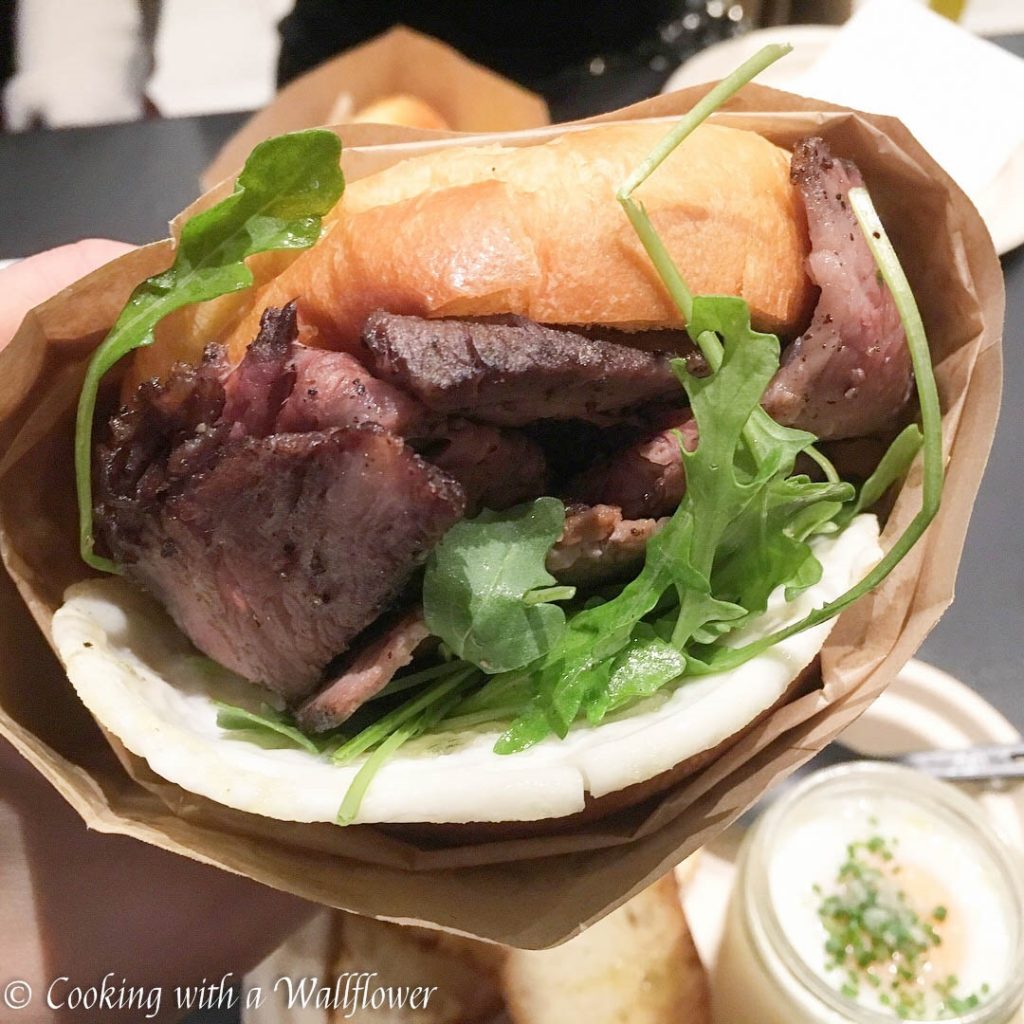 We visited the Bellagio to view the Bellagio Fountains watershow, which replays every 20-30 minutes or so. If you're in the area, it's definitely something to stop by and see. The show lasts just a couple of minutes, but it's fun to watch and even better it's free.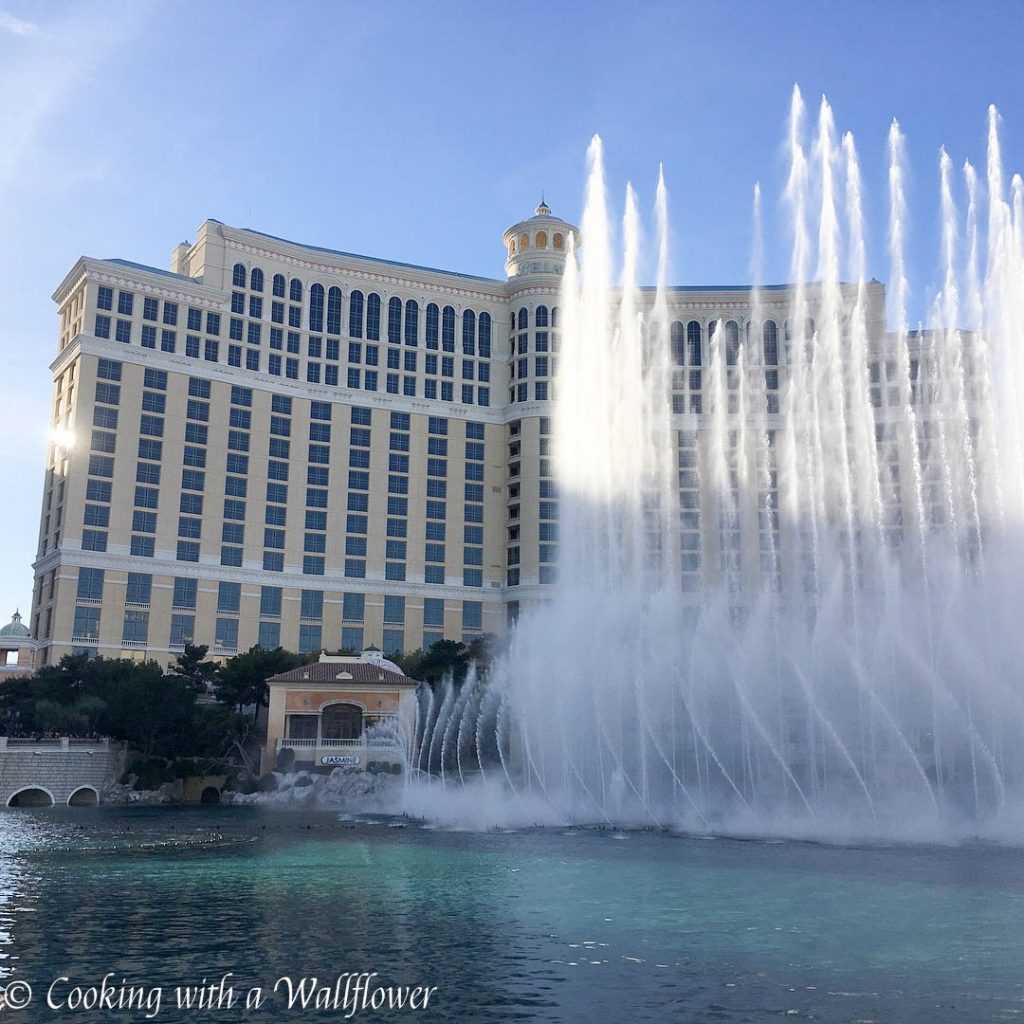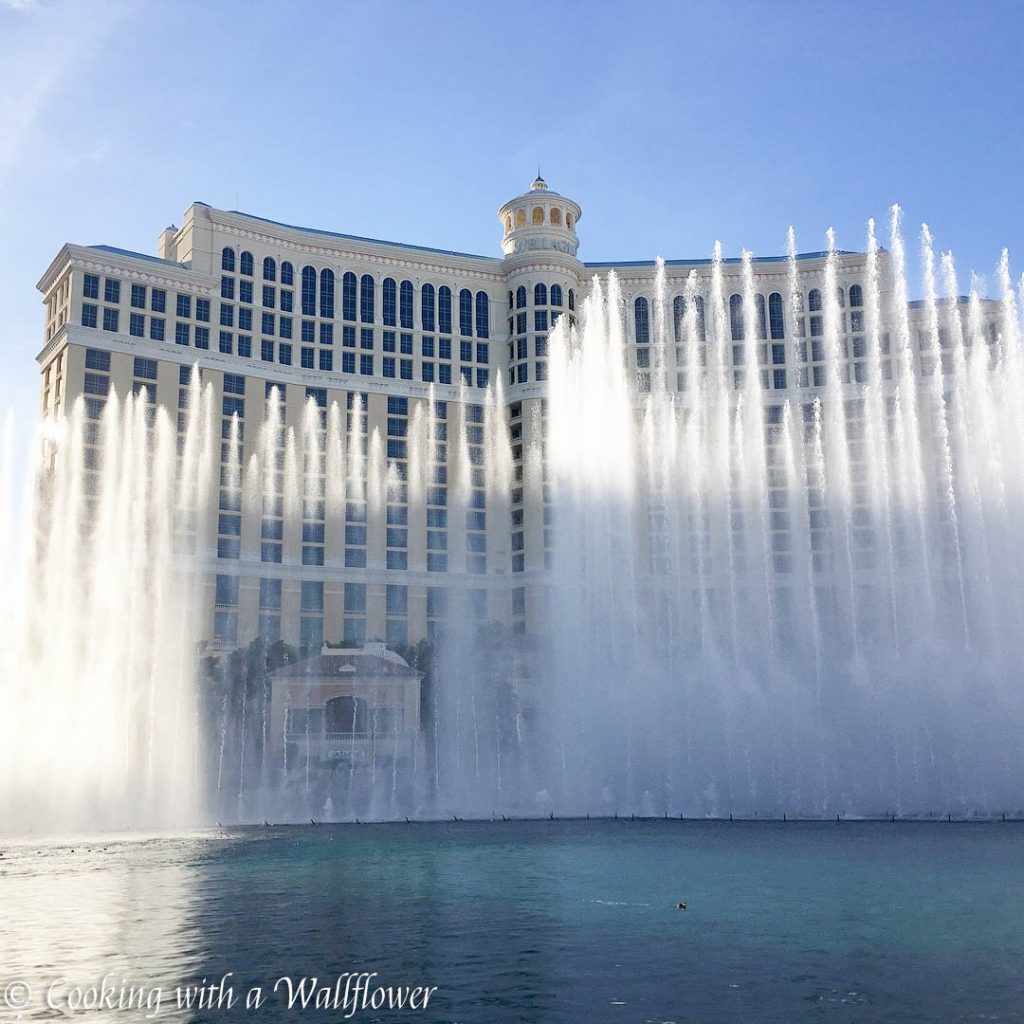 We also went inside to see the Lunar New Year display at the Bellagio Gardens. I've been told the Bellagio Gardens are changed every couple of months to fit a certain theme. Since we were there just a couple weeks before Lunar New Year, the gardens were created with the year of the dog in mind. It was so pretty but super crowded. Definitely a place to stop for sightseeing and also completely free.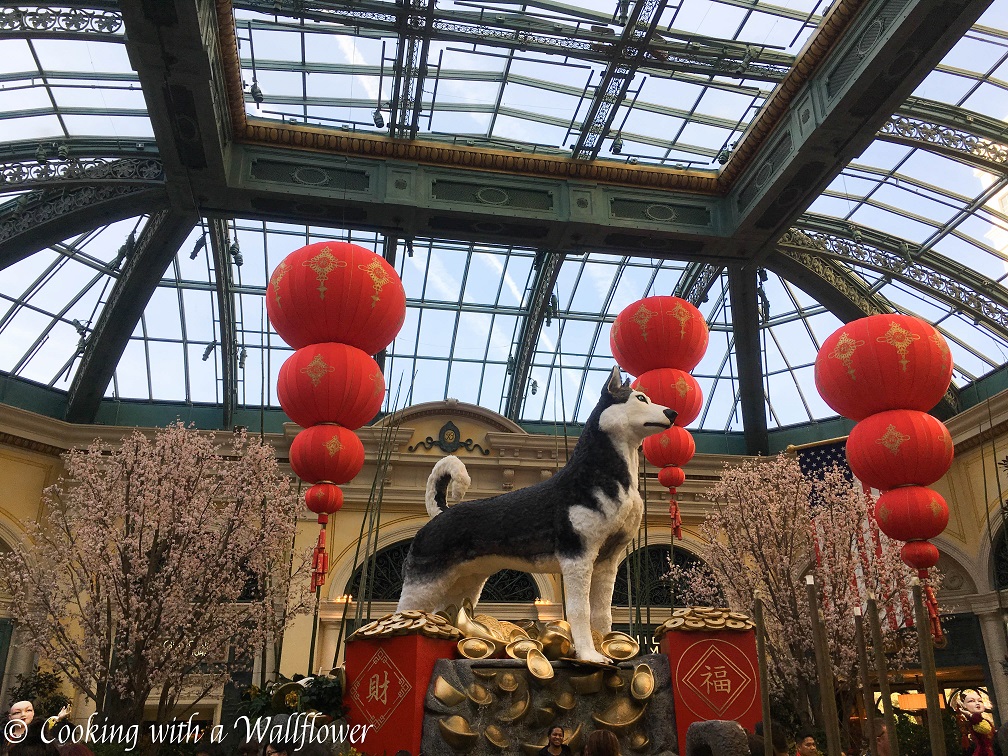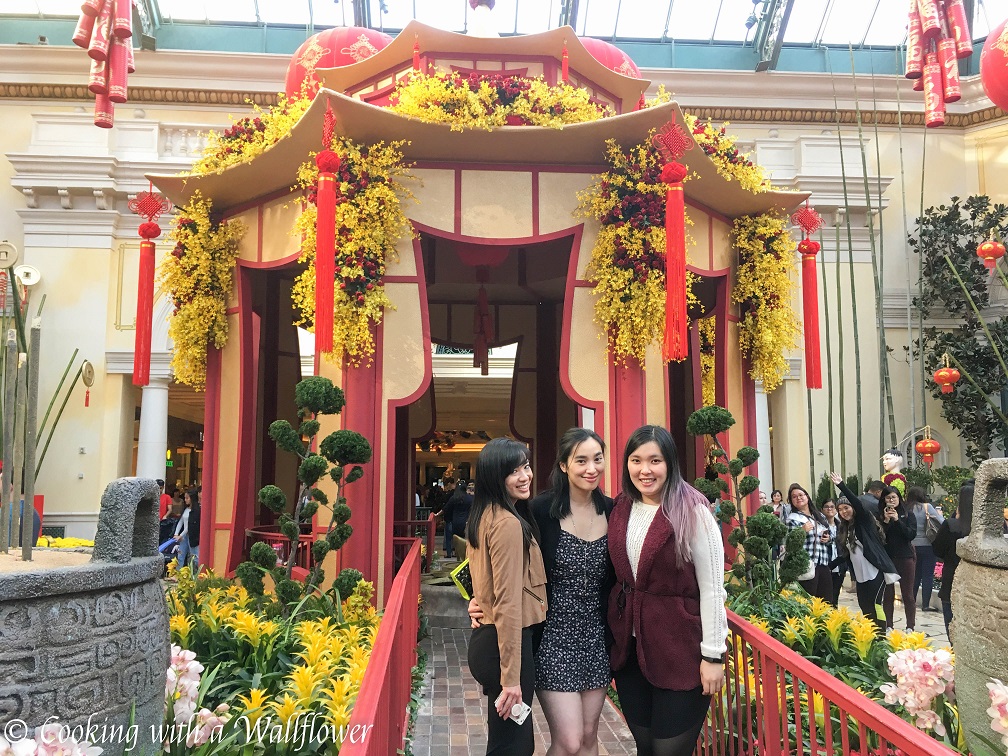 We spent the rest of the day walking along the Strip, shopping and buying drinks.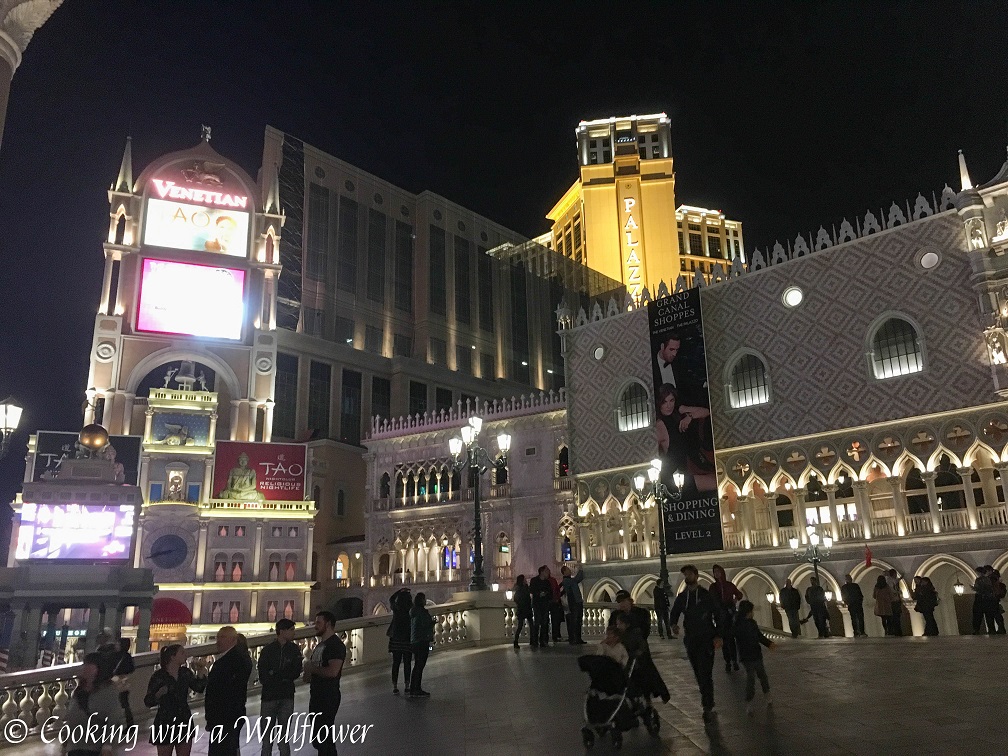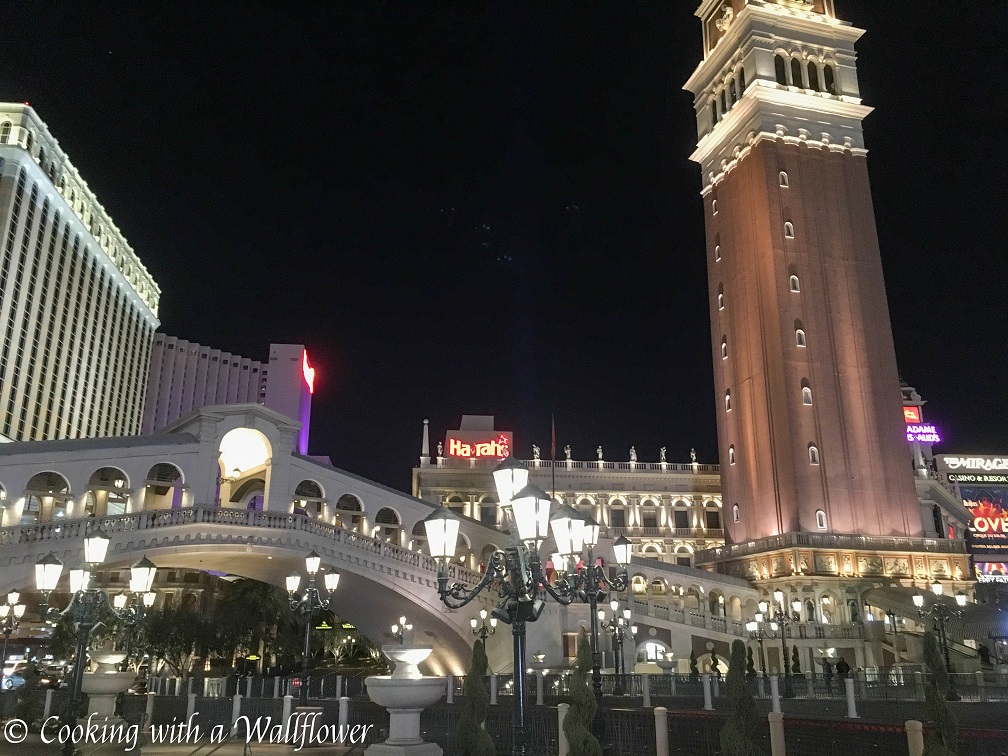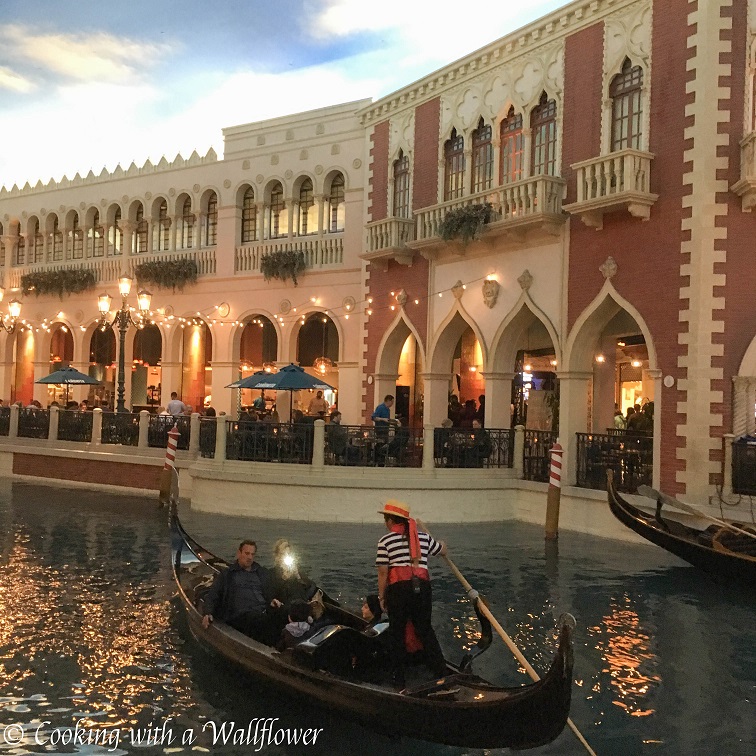 Once we were done, we got ready for dinner at Gordon Ramsay's Steak.
If you haven't been before, you have to go. Each dish is on the pricier side. With lots of different steak cuts for you to choose from. Many of the girls chose the Bone In Ribeye, but since I don't eat beef, I chose the Kurobuta Double Pork Chop, which was cooked so perfectly. It was well seasoned and every single bite was tender and juicy and practically melted in my mouth.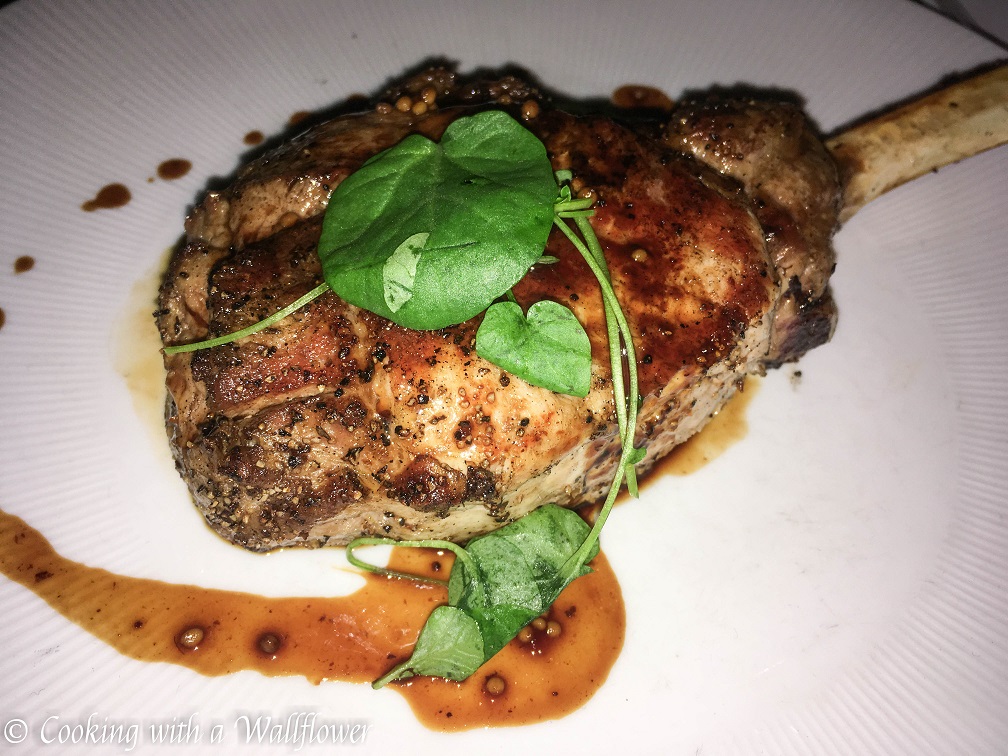 For sides, we ordered the potatoe puree, which is the creamiest I've ever had, asparagus with romanesco, focaccia, roasted bell pepper, and hazelnut vinaigrette, and the roasted brussels sprouts. Because somehow we all ended up with an obsession with brussels sprouts so that always gets ordered as a side.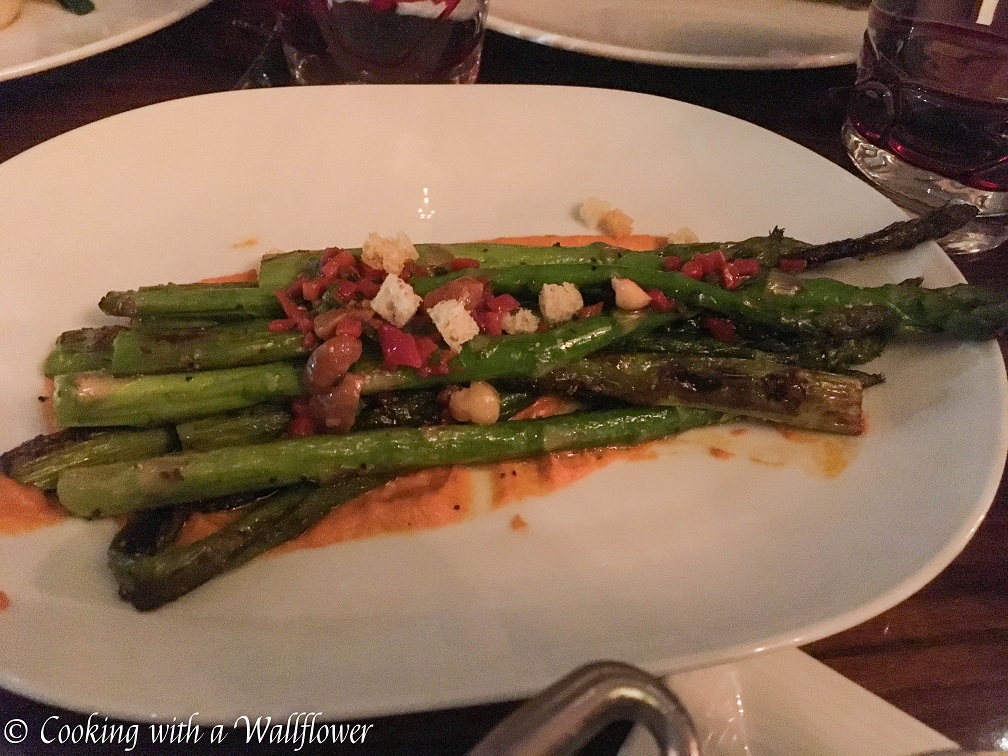 After dinner, we got ready to go to Intrigue Nightclub at the Wynn. It was another late night of drinks and dancing.
By morning, we were completely exhausted. Especially since most of us had a total of 6-8 hours the entire weekend.
So with a late start, we had lunch at Momofuku to try the ramen everyone has raved about. My sisters and I ordered the pork ramen, which has pork belly and shoulder, slow poached egg, scallions, fish cake, and bean sprouts, and the chickpea ramen which has roasted chickpeas, chickpea miso, bok choy, and scalions. We shared our meal since we had plans to eat at a buffet in just a few hours.
The flavor for each of the ramen was good, but for the price that it cost, I didn't think it rivaled other ramen joints that I've had in the Bay Area. While my sister didn't like the chickpea ramen, I thought it had plenty of flavor and it was unique in flavor so I enjoyed. However, what I didn't like was that all the ramen came out lukewarm. For me, soups have to be hot so it was a little disappointing.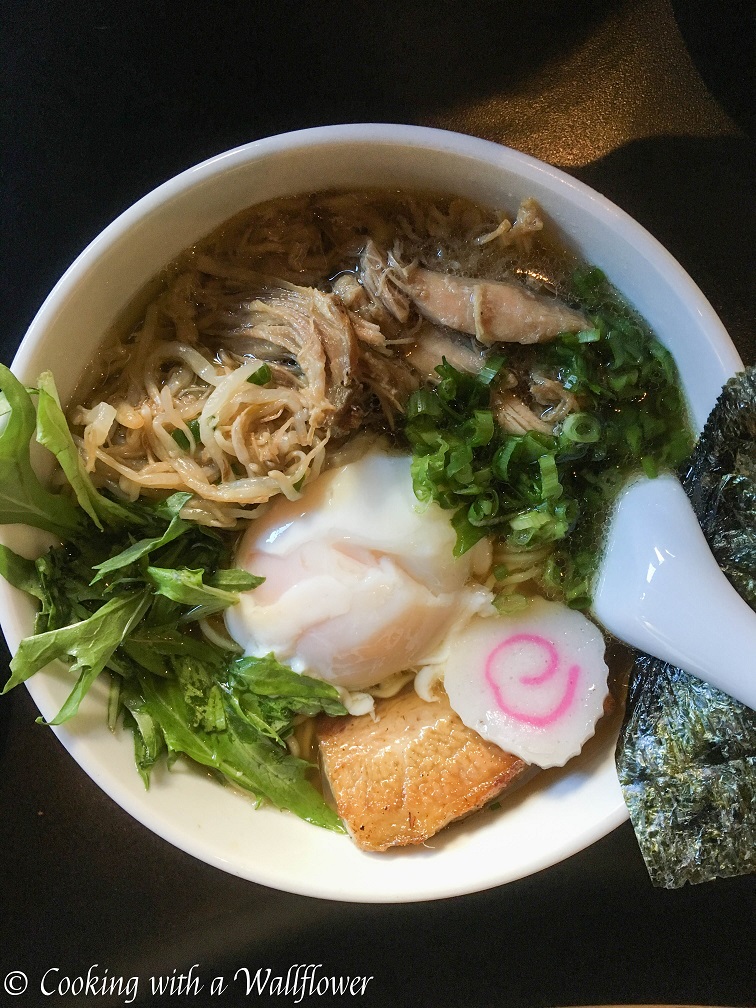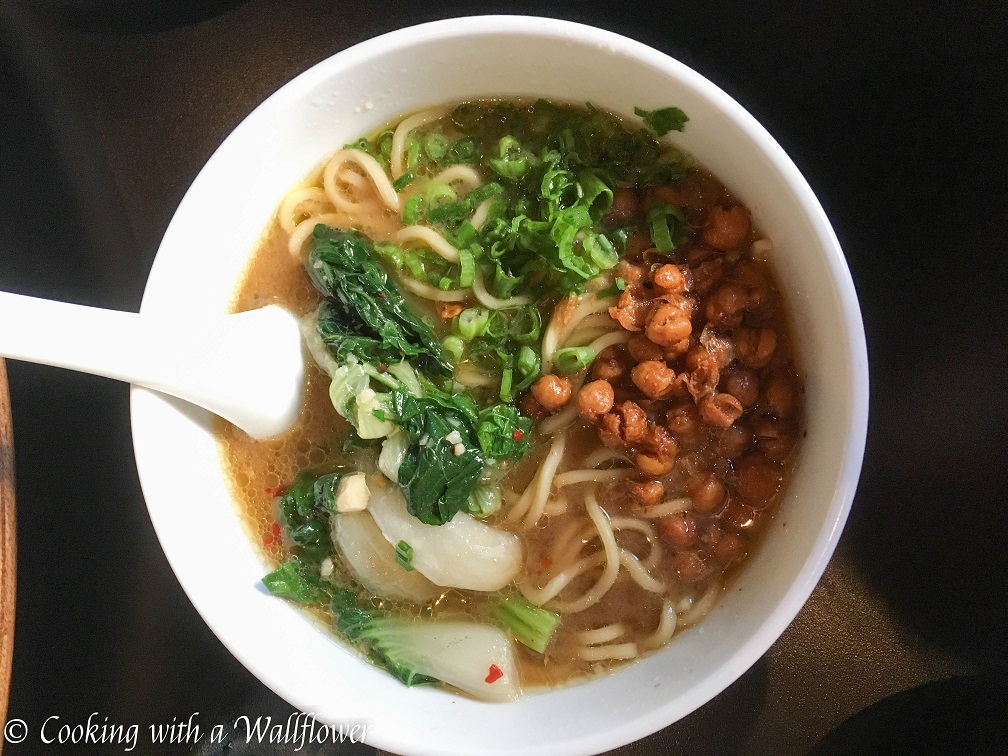 While my sisters and I didn't try the pork belly buns, we heard from other girls in our group that it was really good.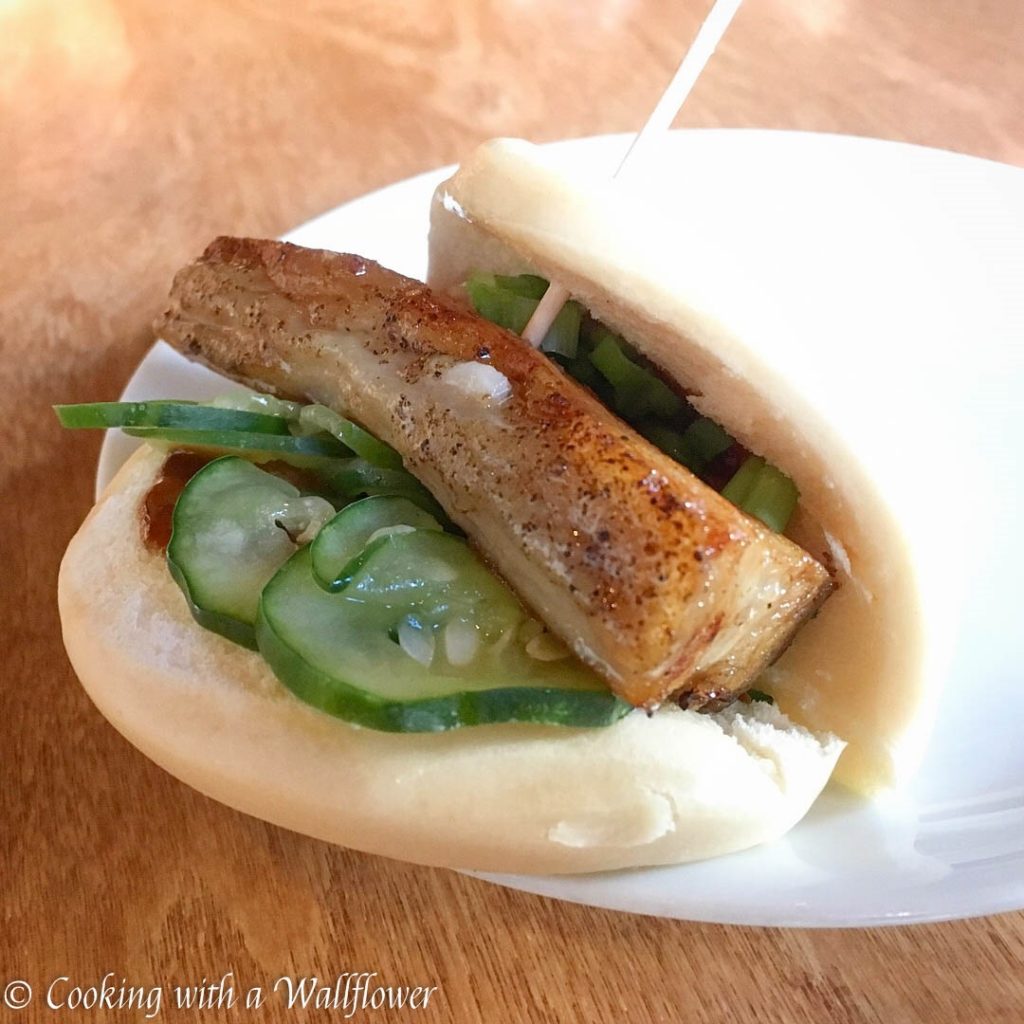 We finished lunch and walked next door to Milkbar for desserts. What they're known for are their cookies which are unique in flavor and many contain cornflake cereals. We ended up buying every flavor of cookies they had available to bring home to try. We had the compost cookies, which contained pretzels, potato chip, coffee, oats, graham crackers, butterscotch, and chocolate chips, blueberry and cream cookies, cornflake chocolate chip marshmallow cookies, and peppermint cornflake chocolate chip marshmallow cookies.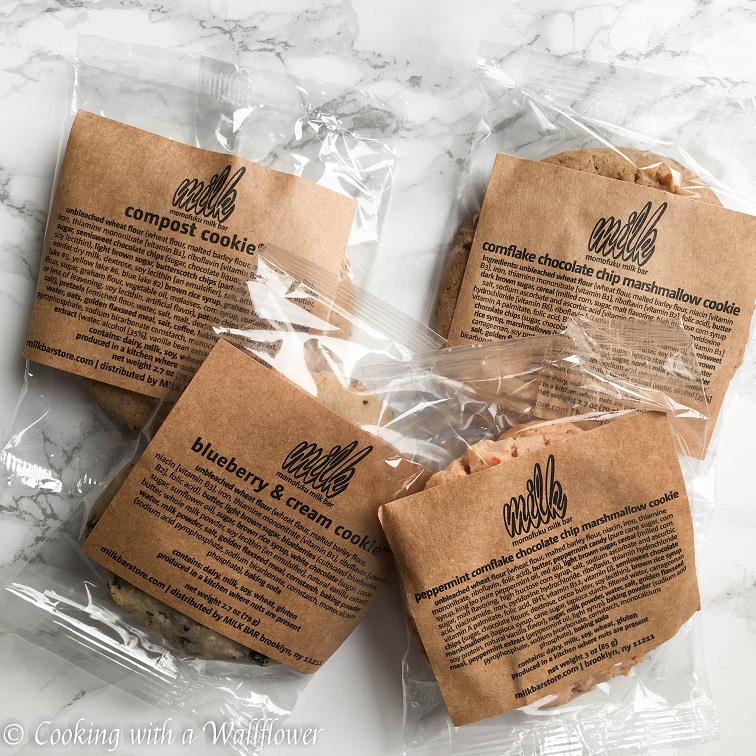 They're also for their cereal milk flavored everything. It's exactly what you think it is. For those who love to drink the milk after their cereal has been soaked for awhile, this is perfect for you.
And we ended our trip at Bacchanal Buffet at Caesar's Palace. The buffet is huge with so many things to choose from. But since we were in a hurry to catch our plane, we couldn't enjoy it as much as we would have liked.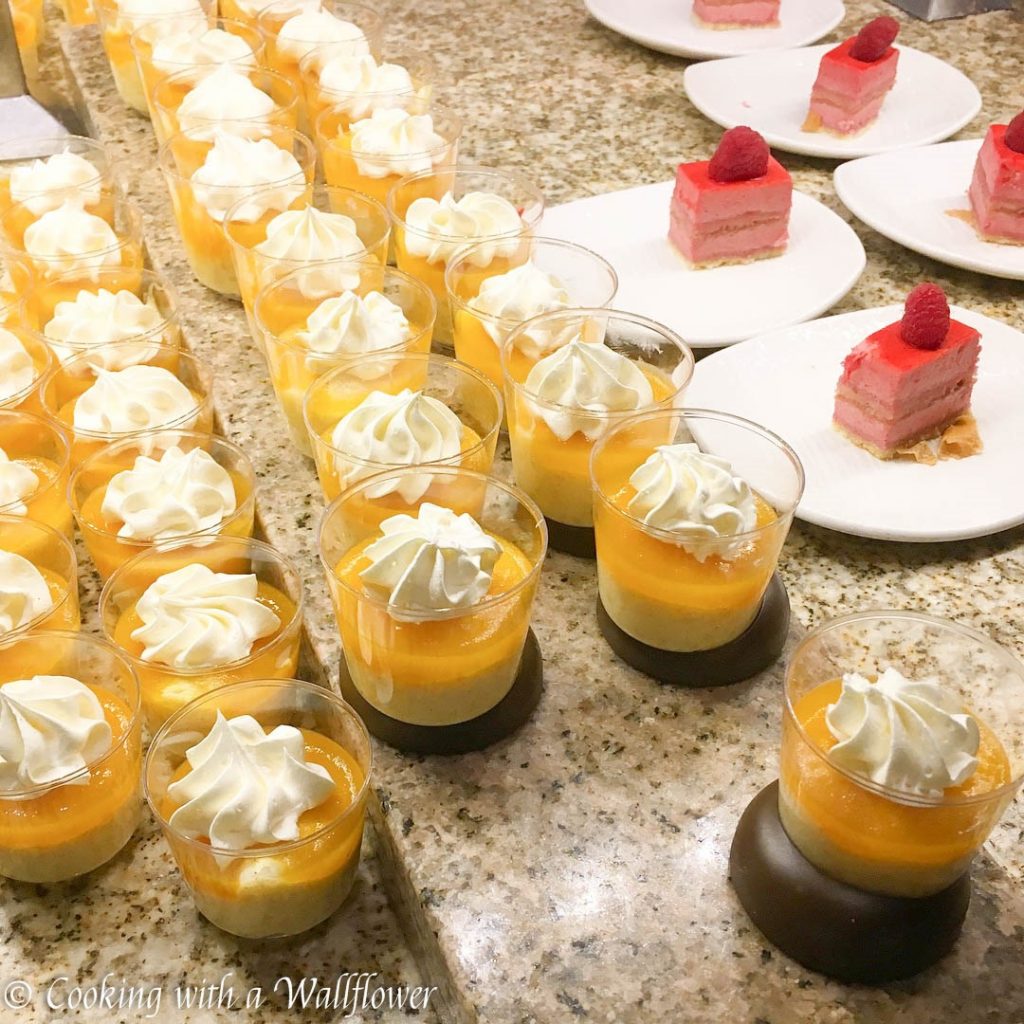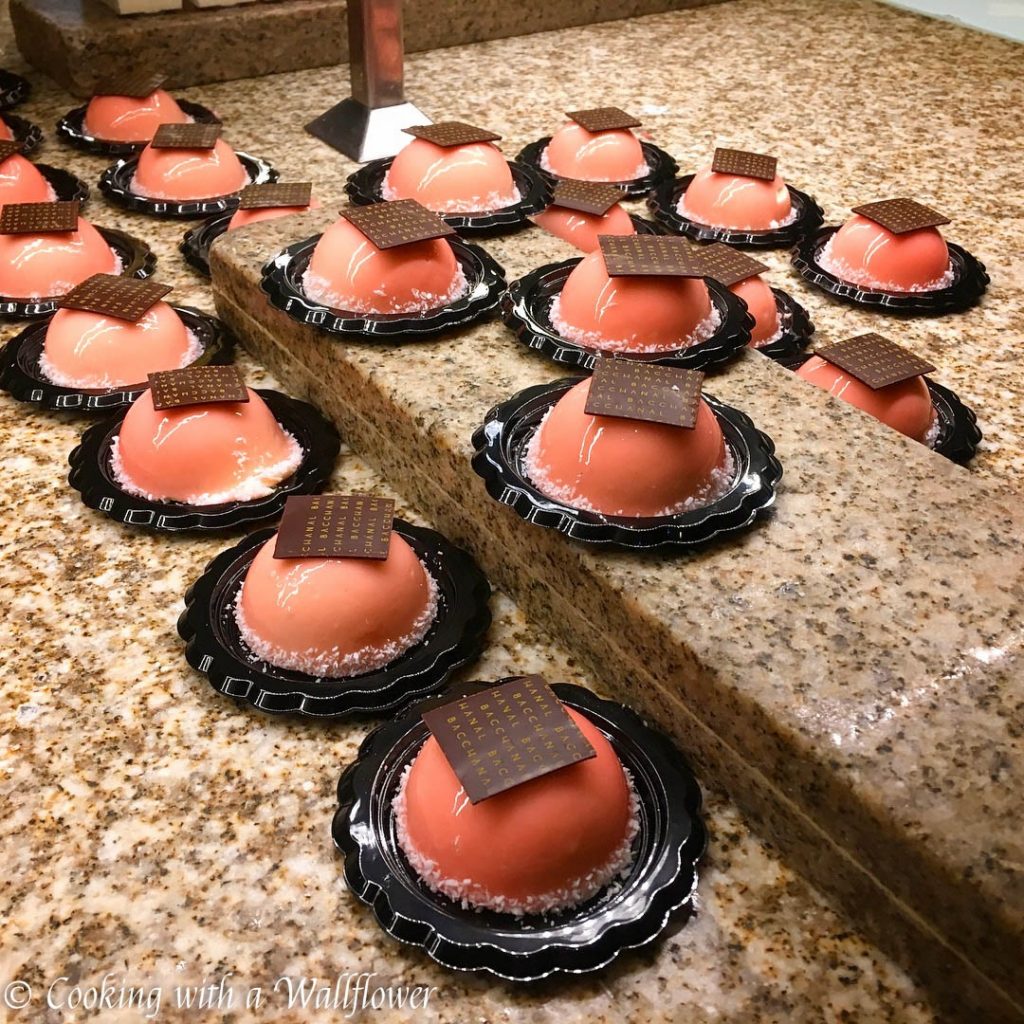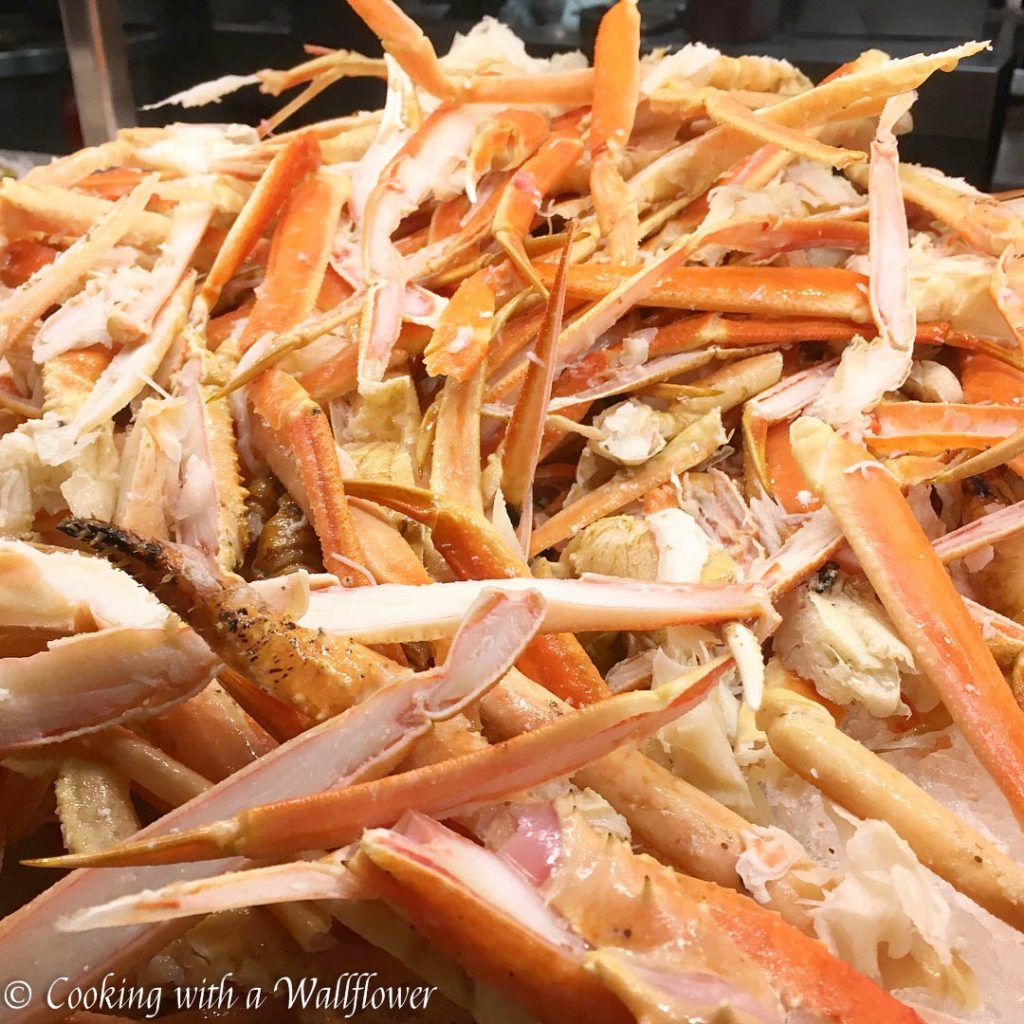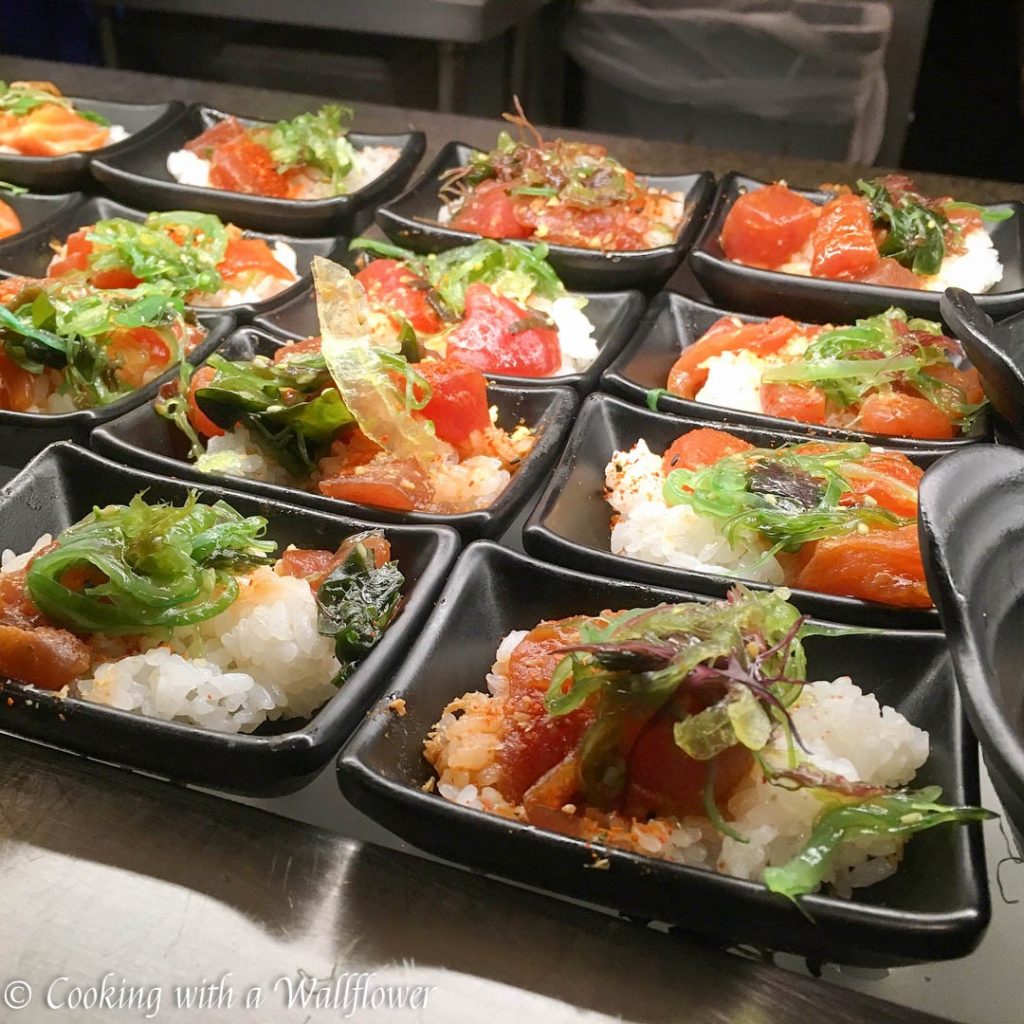 We were in Las Vegas for less than 48 hours so we couldn't do all the things that we wanted to do. But we would definitely want to return to maybe get a view from the top of the Eiffel Tower at Paris. Or take a ride on the giant ferris wheel at the Linq. We're considering going back later in the year to see the Backstreet Boys in residency. Oh, and we want to try Gordon Ramsay's Hell's Kitchen.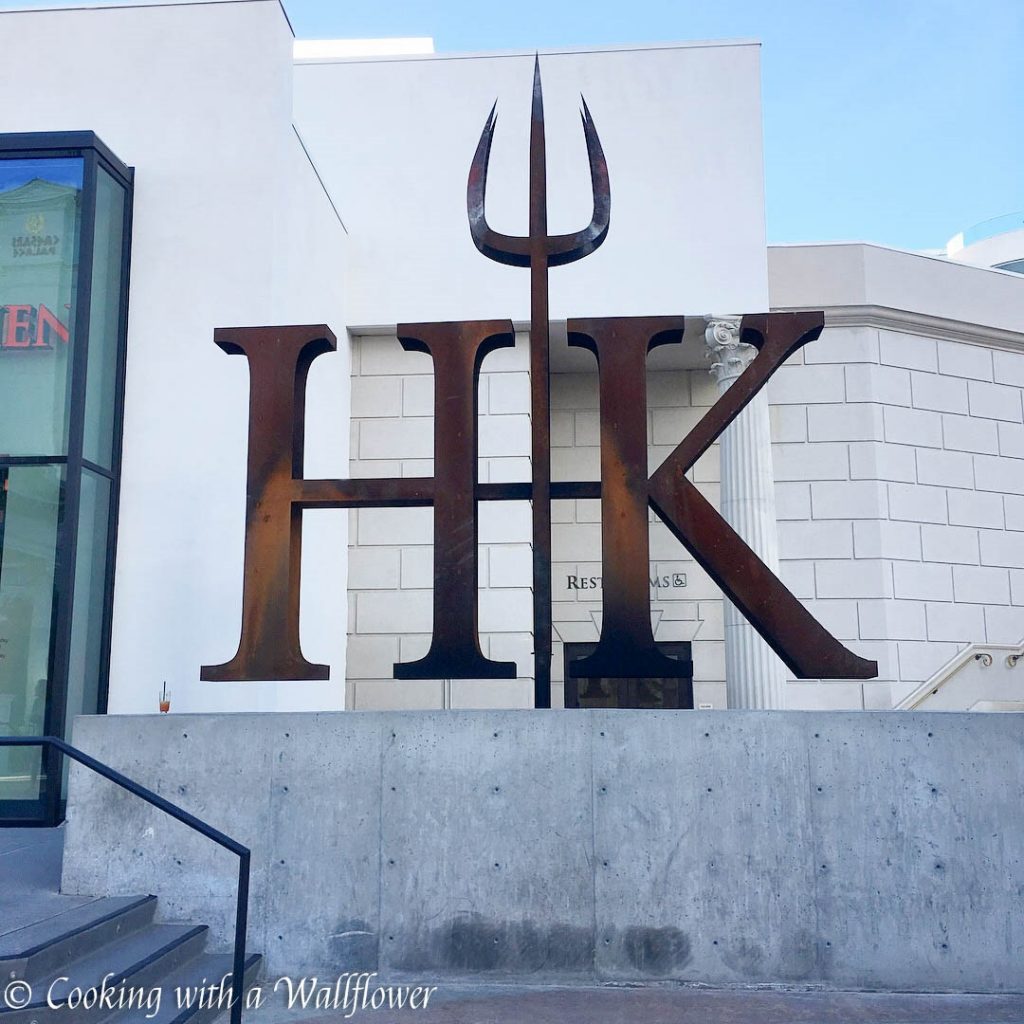 Right now, I can't wait for my next trip in April to Philadelphia. Crossing my fingers that all those winter storms that are hitting the east coast will pass by April.