Before I went on vacation, I had to plan out a few extra posts and schedule them.
Here's a little peek at how I organize some of my posts and recipes. Can you tell that I'm obsessed with colors and post-its? It's the only way I know how to stay organized and on top of things. Otherwise, I get so confused and forgetful.
How do you stay organized?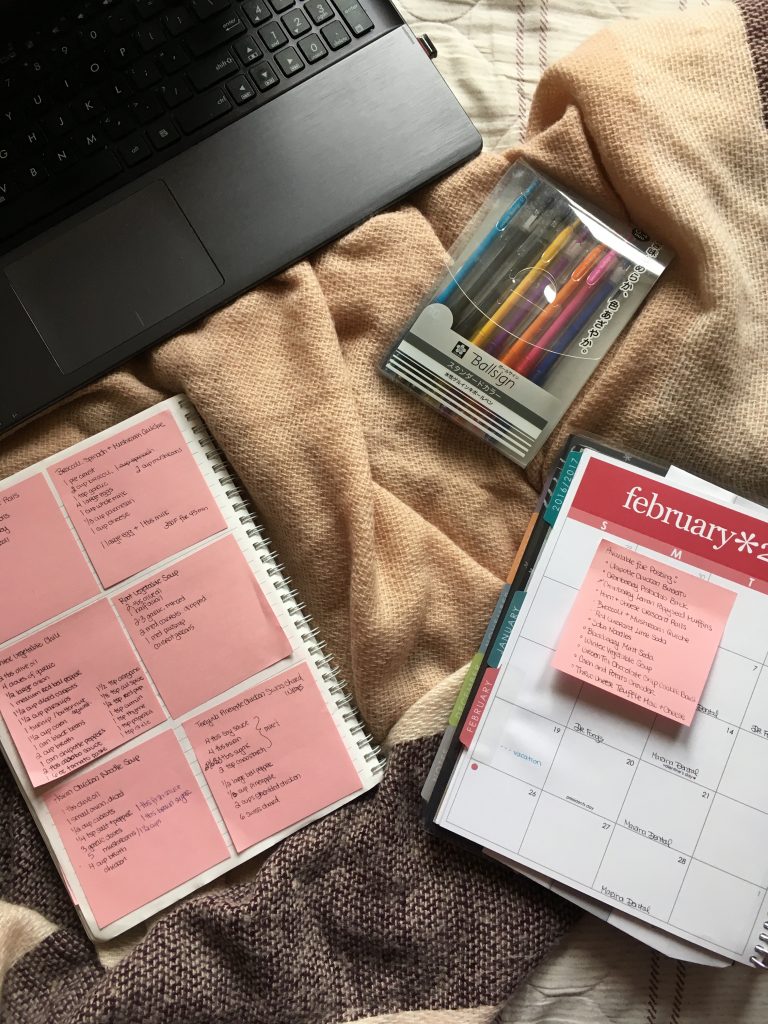 In this week's finds…
These pistachio cupcakes with creamy strawberry frosting sound so dreamy.
How mouthwatering do these baked chocolate fudge doughnuts look?
Omg! This Vietnamese meatball and sweet potato noodle bowl looks so delicious and healthy, perfect for a weeknight dinner.
Raspberry rose tequila kombucha sounds like an amazing drink to serve guests.
How gorgeous is this dark chocolate and raspberry cake with earl grey swiss meringue buttercream?
This black tahini buns with white chocolate and orange sounds soo amazing.
Oh, I need this salted caramel chocolate espresso cake in my life. Not to mention, it's gluten free!
This no bake pink raspberry fool dessert looks soo amazing. Plus, it seems to easy to make. Everything I want in a dessert!
If you're a fan of Starbucks' Caramel Macchiato, you'll want to try this homemade version.
This Japanese noodle and shrimp soup sounds so warm and comforting. Exactly what I need for these cold rainy days.
Um, these loaded food truck mexican nacho fries sound like the ultimate comfort food.
How delicious does this Bailey's ice cream tart look?
I seriously need this grilled cheese with avocado pesto in my life.
Love how easy it is to gift these red velvet cake jars!
The decadence of these dark chocolate peanut butter brownies!
Oh my gosh! Chocolate and raspberry fudge!
The vibrant colors in this vegan poke bowl!