When I'm not working over the weekend, I love visiting my local bakery to find fresh pastries. I'm seriously all about trying new pastries and different flavors.
How can I resist trying mango and apricot scones? Or strawberry almond muffins? The seasonal flavors are so inspiring. Maybe I'll pick up more on Sunday for Mother's Day. =)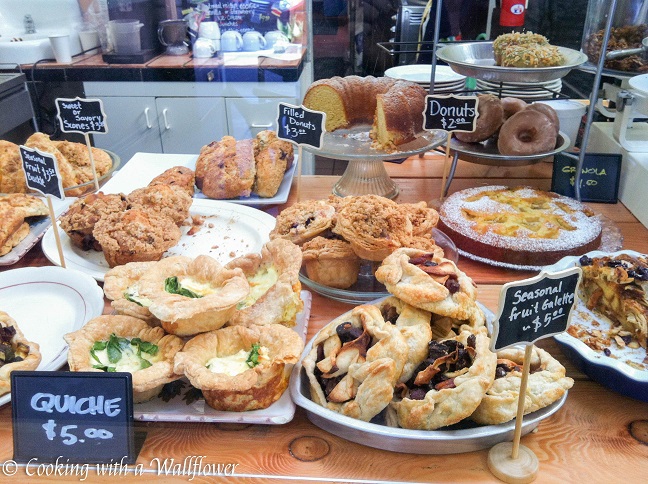 In case you're still looking for ideas for Mother's Day, here are a few recipes I found this week.
Brunch
Poached Eggs in Pizza sauce would make a delicious and unique breakfast.
Balsamic Grilled Chicken with strawberry mint salsa sounds soo amazingly addictive.
This cornbread veggie sandwich looks so delish!
I can't wait to try these strawberry cream cheese stuffed waffles.
This breakfast taco with avocado and chipotle bean sauce sounds soo tasty.
These blueberry almond pancakes look perfect for brunch!
How delish does this Strawberry Lime Margarita Pancakes sound?
Desserts and Pastries
These mini berry tarts are perfect for spring and they're gluten free and vegan.
How cute are these edible bird's nest cake topper? It'll be sure to impress your mom this Mother's Day.
This dulce de leche milkshake! Omg!
This chocolate strawberry bundt cake looks so delicious!
I need this strawberries and cream sweet rolls in my life.
Oh my gosh! Banana Praline French Toast Muffins!
These blueberry oat bars would be perfect for brunch!
This vegan chocolate sandwich cookies with matcha cashew filling. Do I need to say more?
These churro ice cream bowls cups! <3
This Glazed Orange Bundt Cake is so perfect for spring!
How gorgeous is this 5 ingredient strawberry rose tart?
Looking for the perfect gift for Mother's Day? Try this rose pistachio cake. So pretty!
Drinks
This grapefruit paloma sounds delicious.
How refreshing does this guava ice tea sound?
This pomegranate margarita looks soo amazing.
Brunch with this minty watermelon cucumber margaritas? Yes, please!
Happy Mother's Day!