There's a little shop called Jade Chocolates not too far from where I live that sells amazing chocolates and teas. These chocolates are mostly inspired by Asian flavors. You'll find chocolate flavors like Thai Sriracha, Lemongrass Coconut, Thai Basil, Lychee Rose Green Tea, and Jasmine Pearl White Tea. I'm obsessed with their Tea Hot Chocolates and have yet to try their Tea Floats.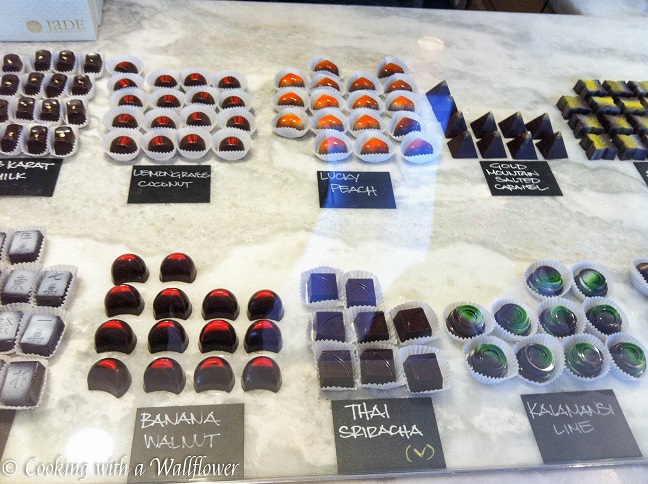 Can you tell? I have a not so secret obsession with chocolate and teas. And I have a special love for places where you can taste the product you're about to buy. Because seriously, it's disappointing when you buy something only to realize later that it's not to your liking. It's also the same reason why I'm always trying to make it out to the SF Ferry Building Farmer's Market. =)
So for this week's finds…
AS you know, I've been obsessed with smoothie bowls. So when I stumbled across this Green Smoothie Bowl, I knew that I had to try it soon. Because who can resist something so healthy and colorful with so much texture?
Or if you prefer chocolate and peanut butter, maybe this double chocolate peanut butter smoothie bowl will be more to your taste?
A healthy whole wheat double chocolate banana muffin would be the perfect little treat for breakfast, don't you think? I mean, double chocolate.
Rainbow veggie pad thai noodles. I love on all things colorful, especially when it comes to my food. Soo… Obviously I can already tell that I'll love this pad thai. I mean, look at how refreshing these pad thai noodles are! And all those spiralized vegetables! My kind of dinner.
Speaking of colorful foods, how about these sunrise nori wraps with spicy tahini drizzle? They look soo amazing.
This Asian Veggie Noodle Salad also sounds like the perfect weeknight dinner!
Omg. These raspberry fools with honey butter croissants. How amazing do these sound for a dessert? I can totally see myself overindulging. I mean, honey butter croissant! And is that blood orange that I spy?
Some days I'm in the mood for lettuce wraps because it's kind of fun to eat with your hands. These Korean Pineapple Pork Lettuce Wraps would be perfect.
How gorgeous is this Springtime Cobb Salad? Plus it comes with crispy garlic chickpeas and honey lemo vinaigrette.
Sometimes simple meals like this open face egg sandwich with bacon, avocado, and Sriracha aioli is perfect.
How mouthwatering is this mini matcha green tea oreo cheesecake? It sounds so perfect for spring events.
Spicy Strawberry Balsamic Jam and Spring Cheese Board is perfect for serving your guests during the spring.
I love scones, and these sunflower, orange, and white chocolate scones with salted honey butter sound soo unique. You'll need to make this to impress your family and friends.
These brownie cookies with rhubarb and vanilla bean look soo amazing.
I love how these speckled egg and lavender brownies are so perfect for spring. Plus, lavender and chocolate are always a perfect combination.
Chicken and waffles are a popular Southern dish, but this bloody mary infused fried chicken and waffles takes the classic to the next level.
Looking for another weeknight dinner dish? Try this orange honey mustard baked chicken breasts.