Can you believe that we're already into December? And if you're me, I'm always stressed out about the holiday season, especially when it comes to getting presents for friends. I never know what the perfect gift is. And I'm always super wishy washy about whether some gift is perfect for one person or another. And then the days go by and I still don't have anything, and then I start to freak out. Well, this year, I'm going to try to come to your rescue. And if you have ideas for presents for friends who can buy themselves whatever they want, I'm all ears.
This ultimate gift guide for foodies, home cooks, and food bloggers will include a wide range of gift ideas that I hope will be helpful to you.
And if you're shopping online and haven't discovered Ebates yet, you really should sign up for it. It's completely free to sign up for, but you get cash for hundreds of stores online.* For instance, Etsy, Sur La Table, Williams-Sonoma, Groupon, and Livingsocial to name a few.
Hand Stamped Spoons from For Such a Time Designs (~$20)
If you have been following my blog for awhile now, you might have noticed all those stamped spoons and forks that I've used in my photos. I know many of you have asked where I got them from. They're all from For Such a Time Designs. Her Etsy store has a huge variety of different stamped phrases on spoons. All of them are super cute! Plus! You can get custom spoons for just $20. Have a favorite phrase? You can get Aly to make a custom spoon just for you.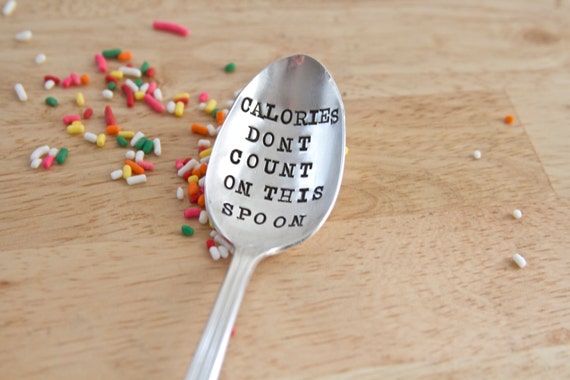 Rectangle Slate Platter (~$30)
If you have a friend who enjoys cheese and entertaining guests, I think this will be the perfect gift. It's so elegant.
White Marble Pastry Board (~$50)
This white marble pastry board is pretty. While it's great as a cold surface to work your pastry on, it's also great as a cheese board. You can place cheese, fruits, and nuts on it, and your food would stay cool too. As an added bonus, if you're a food blogger, it'll make a great background for photos. You don't have to have a marble counter to take great photos.
Emile Henry Pie Dish (~$50)
Any of the pie dishes in the Emile Henry line. They're all so gorgeous. And if you're like me, you'll use these dishes for more than just pies.
Wine Country Passports – Napa Valley and Sonoma Passport (~$59, cheaper with deal on groupon)
For wine lovers in California, this might be the ultimate gift. When you buy the wine country passport, either to Napa Valley or Sonoma, you get deals for 2 people. Sometimes it's a discount, sometimes it's buy one tasting get one tasting free. And if the deal on Groupon is still going, you might be able to get a deal on it too.
How cute are these mugs? And they're customizable too!
If you're looking for a DIY gift, I think this would be perfect. This kit, which I bought for myself, comes with a cheese board, a wood burning pen, tips, and stamps. All the things you need to give this cheese board your creative touch and make this gift special.
Paper Straws and Cupcake Liners from Sweets and Treats (~$1-3)
For all your party needs, you should head over to Sweets and Treats. There are so many different colors and designs for paper straws, cupcake liners, goodie bags, and more.
Immersion Blender (~$34.95 and up)
Sometimes I really dislike using my blender because it's so messy. You have to put the ingredients into the blender and then transfer it over. Which leaves you with a huge mess. And I hate cleaning up messes especially my cooking messes. So this immersion blender comes in handy because you can just place it directly into the pot you're using. So convenient. And less of a mess to clean. There are so many different types, but I would start with a cheap basic one first to see if you like it.

Inspiralizer (~$29.95 and up)
I'm in love with my spiralizer. I usually use it to make zucchini noodles. There are so many different types with various blades, but I own the tri-blade Paderno.

The Flavor Bible (~$22.80)
For home cooks and food bloggers, this is the book to have as a reference at home. Why? Because you can learn how to pair different ingredients. For instance, if you wanted to experiment with new flavors and chicken, you can look up chicken and look at what's compatible with it.
Cookie Stamps (~$7.98)
These cookie stamps are perfect for those who love to bake cookies.
The Ultimate Cookie Handbook (~$15)
If you've ever needed help with making the perfect cookies, this is the handbook for you. If you need to troubleshoot your cookies, you can find all the information you need in this book. Trust me. I've referred to it many times.
Snowflake Pie Crust Cutters (~$14.95)
Oh, these pie crust cutters are so pretty. They might be seasonal, but they're definitely a keeper.