Yesterday, I had lunch with my friend Emily from Emily's Daily. We decided to eat at one of our go to places, Sushirrito.
If you're in San Francisco, and you're looking for a quick meal on the go, this is definitely the place to go. Unique sushi rolls uncut to resemble burritos. I've tried a few, and so far they're all good.
This latest roll is the Buddha Belly. It's filled with spicy Japanese eggplant, Portobello mushrooms fries, ginger guacamole, shaved cabbage, kale, and julienned carrots. It's soo delicious.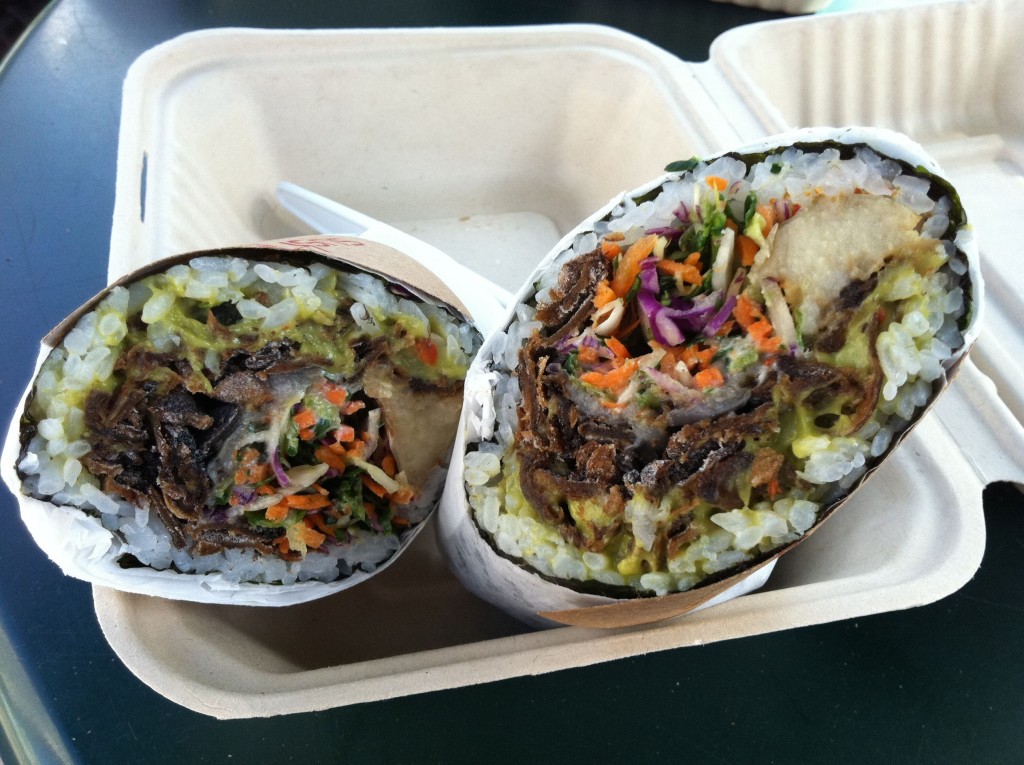 Now for all the recipes I've discovered this week!
Alright, you guys. These Toasted S'more Chocolate Chip Cookies look so dangerously tempting. I mean, S'mores on
their own are already addictive. Can you imagine a batch of these cookies? I seriously cannot wait to give them a try.
Salted Caramel Cookie Bars. Look at the decadence of these bars. All that caramel in every single bite. If you're a fan of salted caramel, I think this dessert is for you.
Nutella Rolls with Cookie Butter Cream Cheese Glaze. Nutella and cookie butter together?! How can you go wrong with this combination?
Oh my god! This Deathly Hallows Cheese Board. Don't you think this would be perfect for a Halloween party? The detail is so gorgeous.
I love the colors in this Thai Pumpkin Laksa with Crunchy Fried Chickpeas. I would never thought to have add pomegranate arils to this dish.
I'm thinking I have to have this Cider Apple and Sage Roasted Pork Chops with Brown Butter Gorgonzola Polenta sometime next week. All the flavors of fall in one dish. How perfect is that?
I've been wanting to try cauliflower soup and this 5 ingredients cauliflower soup with kale pesto looks like the perfect place to start. How much easier can it get?
Healthy banana nut muffins sound so delicious to me. I'm always looking for healthier options so that I can eat more. =)
After seeing this mozzarella stuffed chicken, I'm really really craving stuffed chicken. How amazing do these look?
Oh these pesto caprese chicken in foil sound soo mouthwatering. I really need to make this soon.
I love the sound of this Spicy Chicken Salad. My type of salad.
I'm a huge fan of hot pot and I love that I can now make the restaurant version right in the comfort of my own home.
If you're a fan of sesame chicken, I think you'll love this dish.