The colors of summer. How can you not love it?
Can you guess where they came from?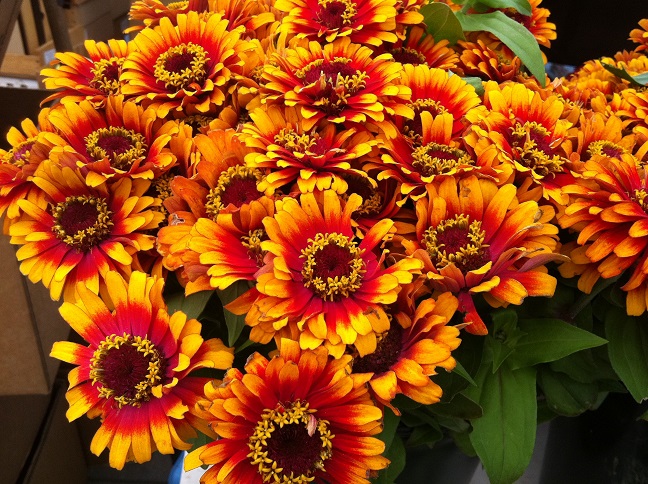 I really need to stop bookmarking. There's so many things I've bookmarked, I can cook and bake for years and still won't be able to try everything. Does anyone else feel the same way?
Here are my latest finds. I better hurry because the lights are flickering and the lamp posts on our street are out. Hopefully there's no blackout tonight.
Did you hear? Starbucks has two new frap flavors until Labor Day. Will you be trying them? Both Strawberry Shortcake and Blackberries and Crème sound so amazing.
Books
Comfort and Joy, the latest cookbook from Dessert for Two. Oddly, even though the book is schedule to be released on September 10, I actually got it last week from Amazon. I love that the recipes are small batches. That way you won't have so much leftover.
SerialBox is a subscription service where you can read an episode a week. I kind of really like this idea.
Food
Brown Sugar Buttermilk Banana Donuts with Dark Chocolate Glaze sounds both decadent and healthy.
Nutella Brownies. How can I say no?
Cinnamon Streusel French Toast Cups. The ultimate breakfast on the go.
Chocolate Bourbon Caramel Macaron Cake. Sounds dangerously addictive. I need a bite of this. Or two. Or maybe I should just stick a fork in it and have a Matilda moment.
Shrimp Boil Foil Packets. Dinner will be ready in no time.
This heirloom tomato goat cheese and Greek yogurt tart with basil almond pesto looks so gorgeous.
How mouthwatering is this snickerdoodle strawberry ice cream sandwich?
This rose and pistachio cupcake! What an amazing combo.
How summery are these sunflower cupcakes!
I love red velvet, cheesecake, and brownies. So when I saw these red velvet cheesecake brownie bites, I was salivating.
Love love love this frozen yogurt with fruits.
Oh my gosh. Look at this almond pear tart. Pretty!
Rosemary Pomegranate Cocktail. Love the combination of flavors.
Is it that time of year already? Pumpkin Pecan Streusel Bread.
Snickerdoodle Zucchini Bread. Perfect.
I so need this Macadamia and Raspberry Pie in my life.
This blackberry cucumber skinny mojito sounds so refreshing.
Tomato Red Chile Jam. How unique!
OMG. Grilled Cheese Donuts. I can't even! lol
Randomness
I love the idea of this Scotland AirBnB. I wouldn't mind working in a bookstore.
I really want this HubSpot Google WiFi Router. I'm so tired of spotty internet.
You can blend your own beauty treatments when you subscribe to Loli Beauty. Love the idea.
How pretty are these chocolates?
Until next week! Have a fantastic weekend!