There are so many fresh fruits to pick from at the Farmer's Market. Sweet yellow peaches are my favorite find this week. I love the bright vibrant colors, don't you?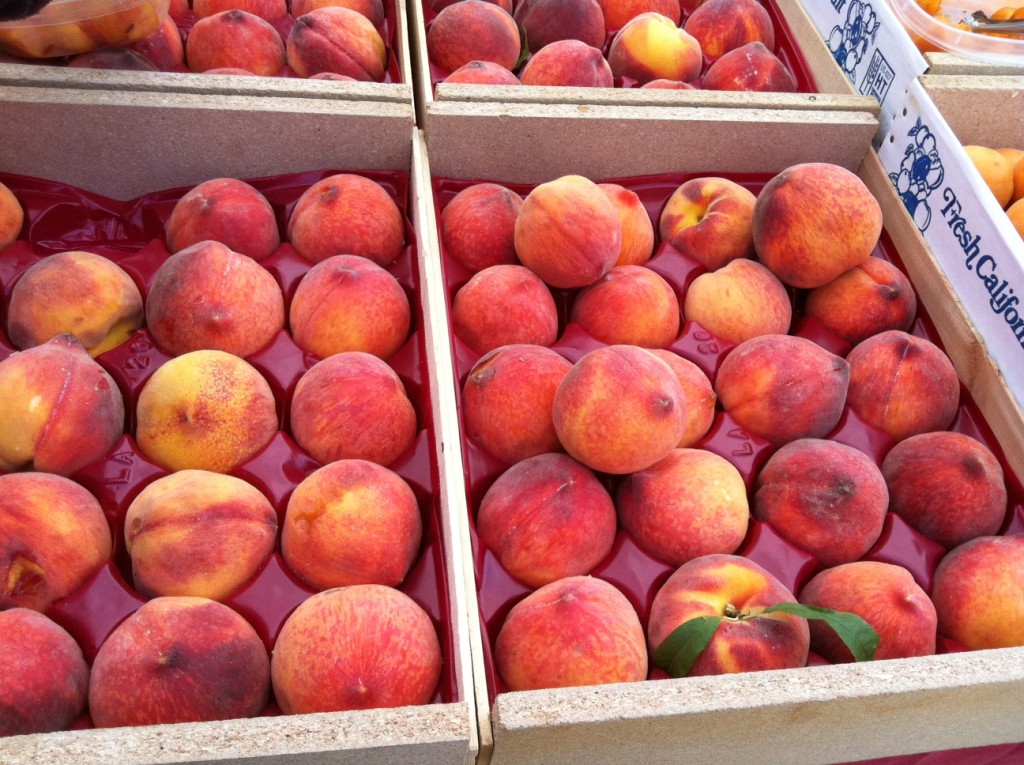 Food
Okay, cherry salsa, I am dying for the weekend to arrive so I can make you!
Goat Cheese, Honey, and Fruit Crostini sounds like the perfect summer appetizer.
This cookies and cream crumb cake looks so dreamy. All that chocolate.
Look at this Chocolate Pound Cake. The decadence!
This bucket of skinny greek feta fries with roasted garlic saffron aioli looks fantastic. I can see myself hogging that bucket for myself.
Who doesn't love pad thai? This rainbow vegetarian pad thai with peanuts and basil is definitely one recipe I want to try.
Hibiscus margarita popsicles! Popsicles for adults!
These lemon raspberry almond crunch muffins are the perfect way to start your summer mornings!
I think I just found my next meal – crispy shrimp tacos with spicy yogurt sauce.
Salad with cherries and grilled asparagus sound delicious and perfect for summer!
These gorgeous strawberry cupcakes with strawberry cream cheese frosting would make my day.
Chocolate raspberry brownies sound like the perfect combo!
Apple Fritter Muffins! Yes, please.
Fresh grilled peach salad with cherry vinaigrette. Oh my god! The perfect summer salad.
If you're looking for a unique recipe, these black sesame shortbread cookies with hibiscus glaze sound amazing.
Randomness
I love this Throwback Machine site! Want to remember what happened the year you graduated from high school?
I graduated in 2005, in case you're curious. And I was totally listening to Mariah Carey's We Belong Together on repeat. As well as Mario's Let Me Love You. And dancing to Kelly Clarkson's Since U Been Gone at prom.
I've always been a fan of super hero movies. I think what I love most is that there's someone to look up to for help and for hope. And all that action. lol. But take a look at this man's creation. He was able to create a working Batman costume using a 3D printer. That means eventually, we can create working costumes at home. Isn't that soo crazy?
Iceland has been named the safest and most peaceful country for travel. It makes me want to go even more now. =)
And oh my god! Look at this fairy tale like cottage. Guess where it's located? On a rooftop in New York City! You get to go home to a peaceful environment but you don't have to lose the convenience of city life. My new dream house.