Chocolate cupcakes with peppermint buttercream frosting. The perfect way to the end the year.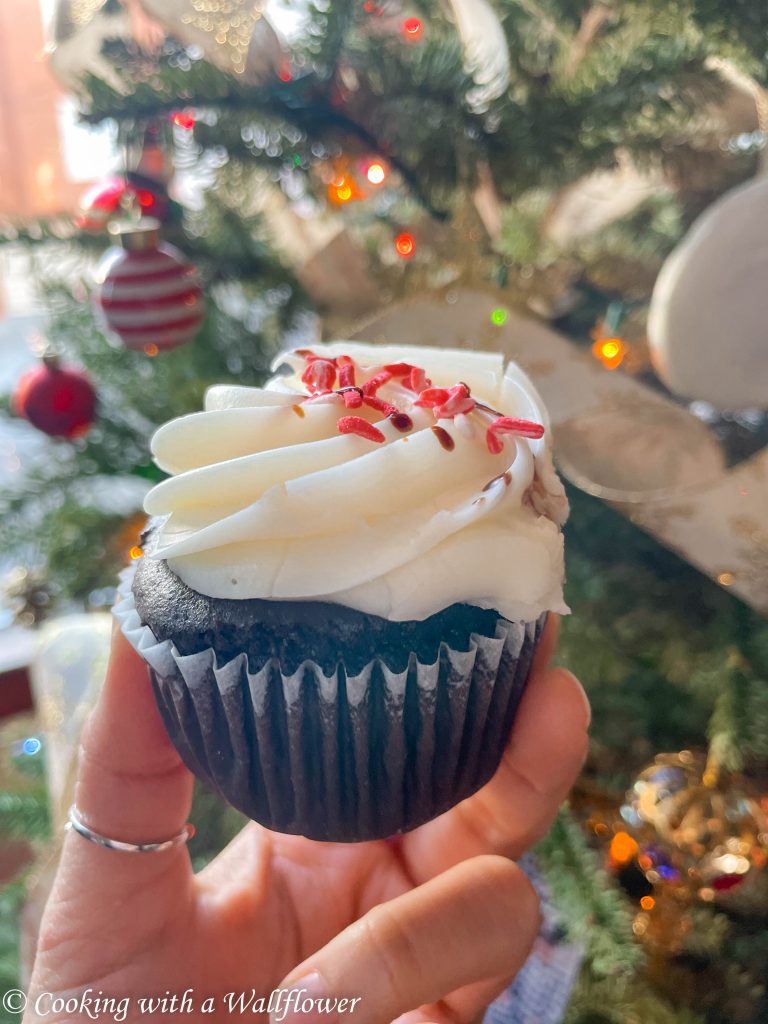 If you've never had Sift Dessert Bar's cupcakes, you really need to give them a try. My all time favorites are the pink champagne and red velvet.
But the holiday twists were definitely fun to try and we wanted something sweet to end the year.
In this week's finds…
How delicious and comforting does this mushroom risotto look?
These cauliflower and chickpea tacos with chipotle lime slaw sound so delicious.
How gorgeous does this no bake chocolate passion fruit cheesecake look?
Seriously need these teriyaki noodles in my life.
I've been obsessed with hot chocolate bombs this past holiday season and these matcha chocolate hot chocolate bombs look soo amazing.
How cozy does this mushroom bourguignon look?
These fried mushrooms would make the perfect appetizer.
The festiveness of these peppermint mocha donuts.
Definitely want to try this cheese pizza roll up.
I love all sorts of breads and flatbreads and these naan is perfect for snacking on and for dipping.
This coconut egg curry with eggplant sounds soo delicious and comforting.
The prettiness of these Valentine's Day Hot Cocoa Chocolate Bombs with marshmallows.
Maple baked donuts would make the perfect breakfast.
I love all sorts of pot pies and this creamy vegetable pot pie with puff pastry sounds soo delicious and the kind of comfort food I love.
If you love New England clam chowder and gumbo, well, you're in luck. This Cajun clam chowder is a mix of both and perfect for indulging.
This miso glazed salmon with coconut rice would make the perfect weeknight dinner.
If it's cold where you are, this chicken ramen would be perfect since it'll keep you warm and cozy. Plus, it'll be ready in 20 minutes.
This miso nikomi udon soup sounds soo delish and I want to try it ASAP.
These vegan buffalo cauliflower tacos would be perfect for Taco Tuesday.
More comforting soups to try this winter: