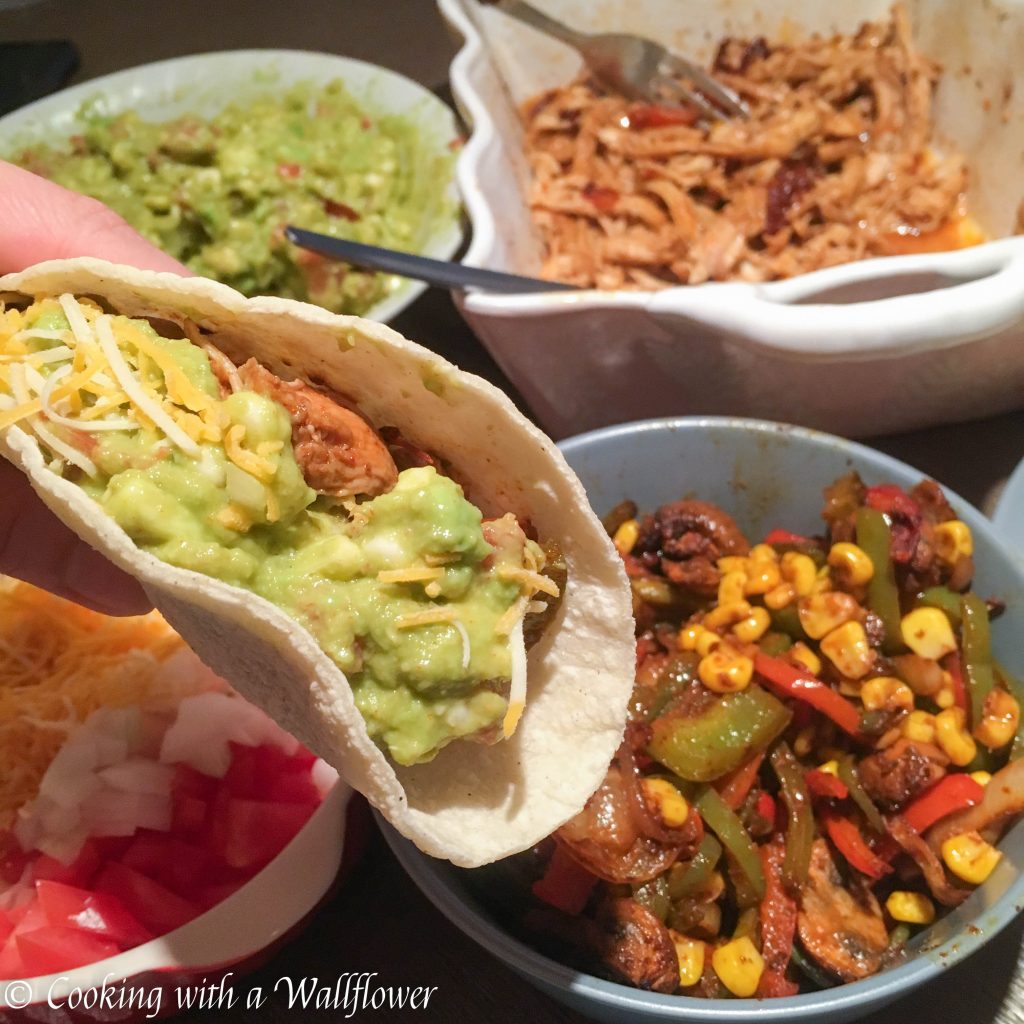 This past week Cinco de Mayo landed on Taco Tuesday so of course we had to celebrate with homemade tacos. These were honey chipotle chicken tacos with fajita vegetables topped with guacamole and other taco fixings.
In this week's finds…
These crispy spiced chickpeas look absolutely amazing and perfect for snacking while at home.
I've been in love with potstickers and dumplings for awhile now and these vegan potstickers look absolutely amazing.
Seriously, how mouthwatering is this nutella drizzled bundt cake?
How amazing do these garlic knots look?
How perfect for spring is this vegan soba noodle soup?
Can't wait to give these peanut butter stuffed salted brownie cookies!
This lemon blueberry cake would make the perfect treat.
The gorgeousness of this tomato and aubergine tarte tatin.
This chocolate cake with strawberry mascarpone frosting would make the perfect last minute gift for Mother's Day.
How delicious does this corn chowder with heirloom cherry tomatoes look?
The flavors in these blackberry thyme margaritas.
These strawberry lemonade muffins would make the perfect breakfast. Plus, it's vegan too.
How amazing do these roasted cauliflower look?
I had my first potato pancake when I was in Pennsylvania a couple years ago and it was amazing. I want to try this version of potato pancakes at home.
This spicy pineapple cucumber margarita sounds amazing.
I am always in the mood for cheesecake and these swirled raspberry lemon cheesecake bars look sooo good.
These 30 minute sticky Thai meatballs with sesame noodles and this cauliflower gnocchi with crispy zucchini and whipped goat cheese look super amazing and perfect for dinner.
Definitely want to try this easy egg drop soup.
Need this honey garlic butter baked salmon in my life ASAP.
Cannot wait to try this konbi inspired Japanese egg salad sandwich.
How delicious does this chicken bacon ranch pasta salad look?