There's a donut place near the Palace of Fine Arts that I've heard of and have been wanting to try for a long while. Unfortunately, I never had the time to wander out there just to buy a donut. But since I was out there already, I had to indulge.
Dynamo Donuts, if you're ever in the area, have some unique flavors. Flavors that you don't often find. This particular donut is passion fruit with milk chocolate.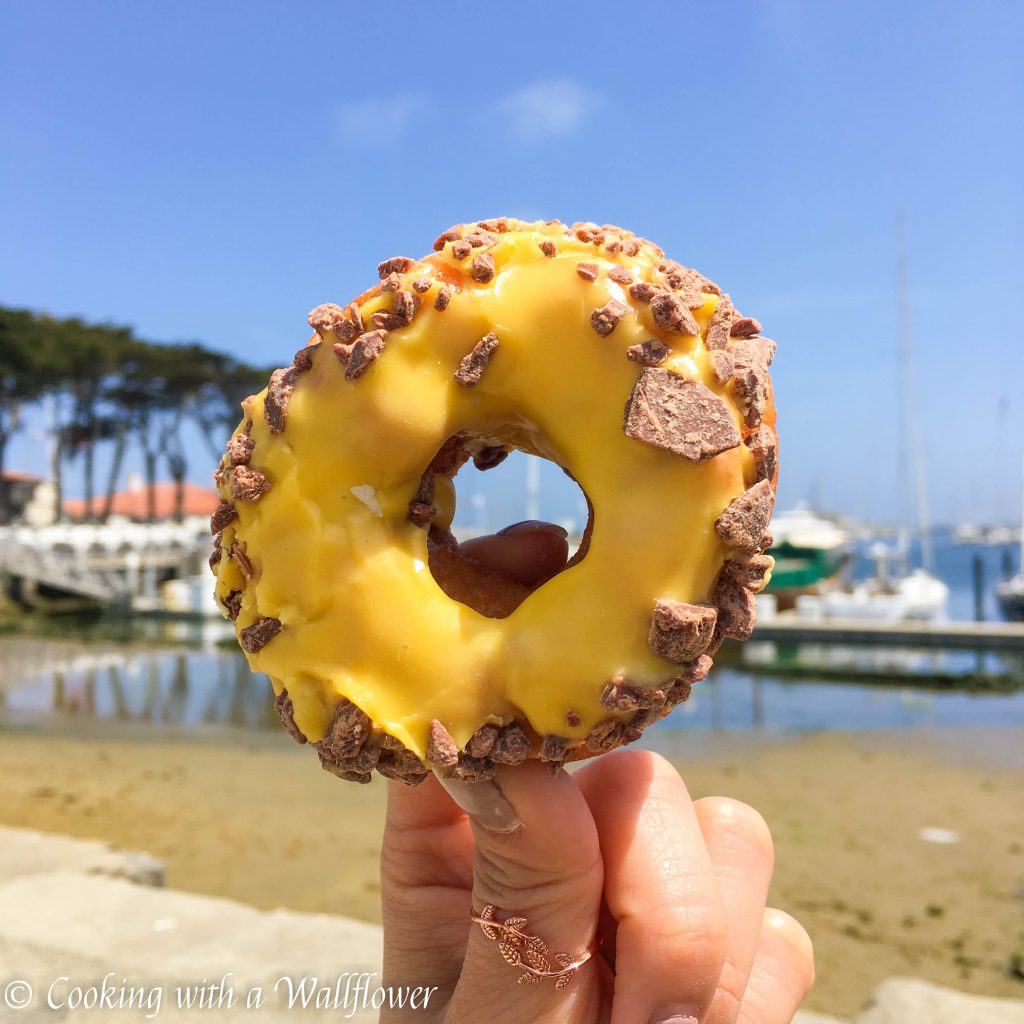 In this week's finds…
This sun-dried tomato basil strata looks and sounds sooo amazing. If you haven't noticed already, I've been really into sun-dried tomatoes lately so this is perfect for me.
This Kentucky sushi roll filled with crispy breaded chicken and cucumber sounds so delish and perfect for a simple meal.
I love the idea of using jackfruit as "meat" and these slow cooker Korean jackfruit tacos sound soo good.
How delicious do these vegan Dorito cheese sticks look?
My mouth is watering over these lemon blackberry toasted coconut ice cream trifles.
I seriously need these brownie cookies in my life.
I'm a huge fan of quiche as you already know and this southwest breakfast quiche sounds soo amazing.
Doesn't this rhubarb and plum dutch baby pancake sound like the perfect brunch dish for Mother's Day?
Oh my gosh. Look at this white chocolate raspberry cheesecake.
Have you tried shishito peppers before? It's like playing roulette with one in ten peppers being spicy. These shishito peppers with garlic aioli sound sooo good.
How unique is this strawberry Sriracha BBQ sauce?
These pistachio rose shortbread is perfect for Mother's Day.
These lemon cheesecake yogurt parfait are perfect for spring.
If you're looking for a weeknight dinner, this 30 minute sheet pan baked greek salmon is the perfect choice.
I love the idea of a mojito bar!
Omg. I need these strawberry mojito cupcakes in my life.
How gorgeous is this blueberry galette?
I can definitely go for these sheet pan nachos with queso for a weeknight dinner.
This lemon poppy seed cake is perfect for spring.
My obsession with ramen knows no end so I really want to try this instant pot ramen soon.