Happy Friday!
My younger cousin is visiting us this week so we've been taking her out to see the sights. Unfortunately, on the day we went to Pier 39, there was heavy rain. I have never seen the Fisherman's Wharf area so empty. But it gave us a chance to take photos that we probably wouldn't be able to take otherwise.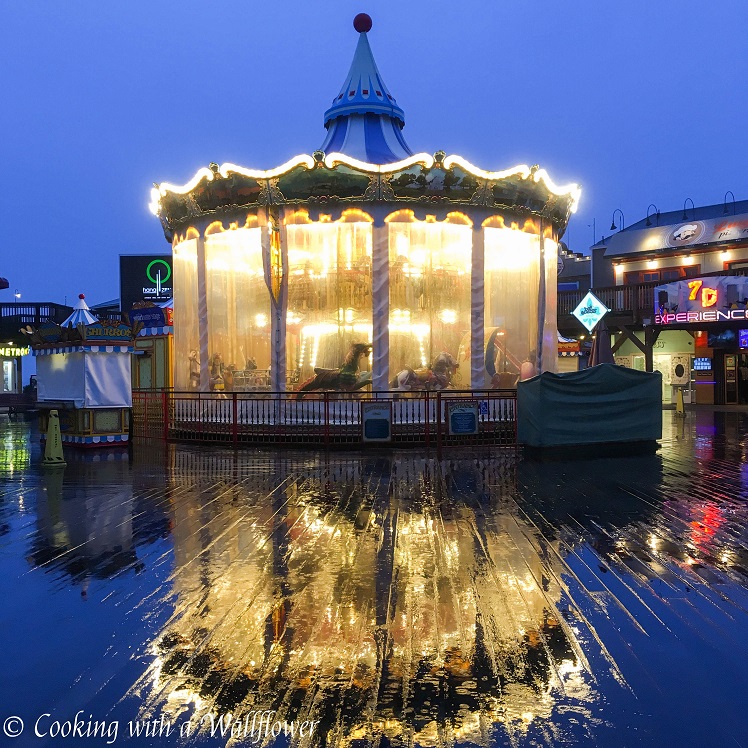 How pretty is this carousel reflected in the rain?
How delicious do these chocolate millionaire bars look?
Oh. My. God. Lavender beignets filled with fig preserve. Perfect with afternoon tea.
This loaded cauliflower casserole sounds sooo amazing.
I'm dying to try these cinnamon buttermilk beignets.
It's been so cold lately and this healthy instant pot minestrone soup and this instant pot chicken tortilla soup sound sooo good right now.
If you need a morning pick me up, this iced lavender cold brew latte is perfect.
How amazing does this lemon ricotta cake look?
These roasted garlic miso butter noodles look sooo amazing and perfect for a weeknight dinner.
I need to try this cream cheese pie soon.
Oh my gosh. These mochi stuffed croissants with sweet soy reduction sounds sooo delish.
This banana nutella cake sounds so delicious and decadent.
How amazing does this raspberry bark look?
I need these fudgy brownies with blood orange butter cream in my life.
These candied orange peels look amazing and perfect for gifting.
I can't wait to try this blueberry coffee cake!
This lemon poppy seed bread is perfect for brightening up cold winter days.
This butternut squash black bean turkey chili sounds so warm and comforting.
How gorgeous is this sun-dried tomato chicken and avocado cobb salad with tahini ranch?
Omg. Drooling over these homemade cinnamon crunch bagels.
These lemon bars with shortbread crust look soooo good.
I need to try these cheesy chicken baked avocados soon.