If you ever get up early enough to see the sun rise over San Francisco on a clear day, the colors are just gorgeous. I took this photo in the middle of the street on an early Saturday morning. I kind of love that the streets are pretty empty since not many people are up and about yet. It's the side of SF that you don't really get to see during the day.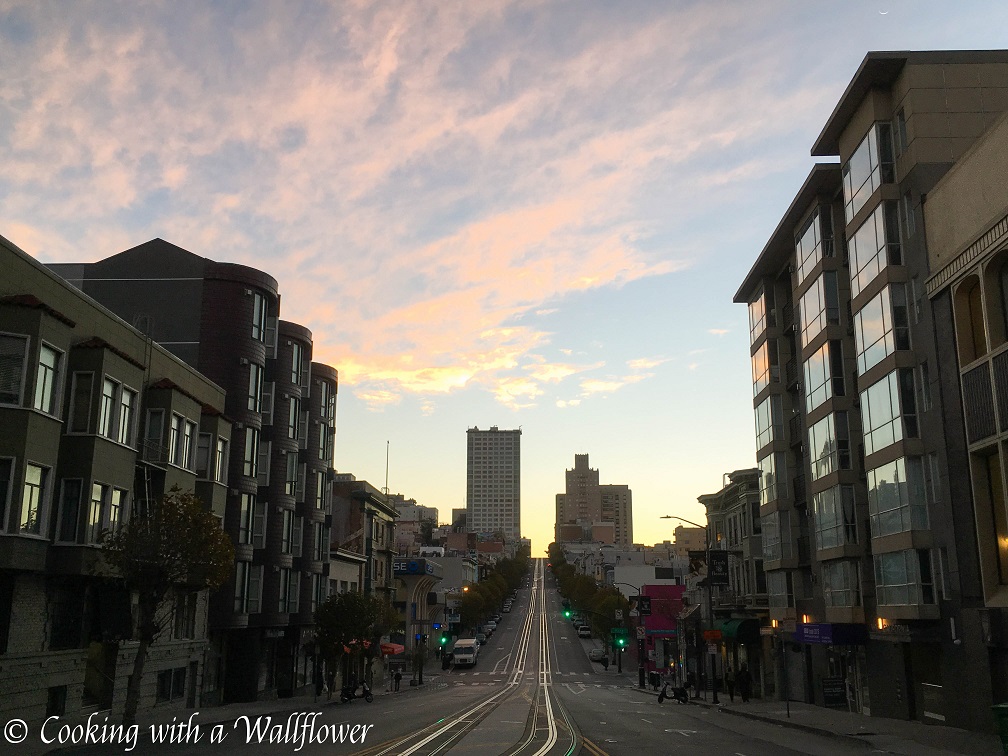 In this week's finds…
You guys, I so totally want to have a chili bar party all fall and winter long.
Seriously, I need this green tea ramen in my life.
I'm all about the latte when fall arrives and the air grows chillier each day. So this spiced pumpkin maple latte sounds absolutely amazing.
Okay, I have got to try these 5 ingredient habernero prawns soon.
Fall dinners should include: this butternut squash cheese ravioli with browned butter sage pesto, this spicy pumpkin and pesto cheese stuffed shells, this creamy vegetable soup with noodles, this 15 minute chicken chow fun, this chicken marsala pasta, this creamy slow cooker white chicken chili, or this coconut Thai soup with rice noodles.
Oh my gosh, this make ahead garlic mashed potatoes look sooo creamy and fluffy. It's going to be bookmarked for Thanksgiving.
Doesn't this pull apart garlic bread look amazing?
How delicious does these white chocolate pistachio truffles look?
So this fire and ice chili has caught my interest, and I definitely want to give it a try ASAP. It has a secret ingredient, and that secret ingredient is dark chocolate ice cream. A little mind blown right now.
This fire roasted harvest squash pasta sauce would be perfect for all the
Pear butter sounds so good.
How gorgeous and festive are these half blood prince cocktails?
These caramel apples look perfect for fall.