Over the weekend, I went to a new tea place with a friend. If you don't know yet, I'm kind of obsessed with boba milk tea. It's so bad for you since most of them are sugary. But they're sooo good. It's my guilty pleasure.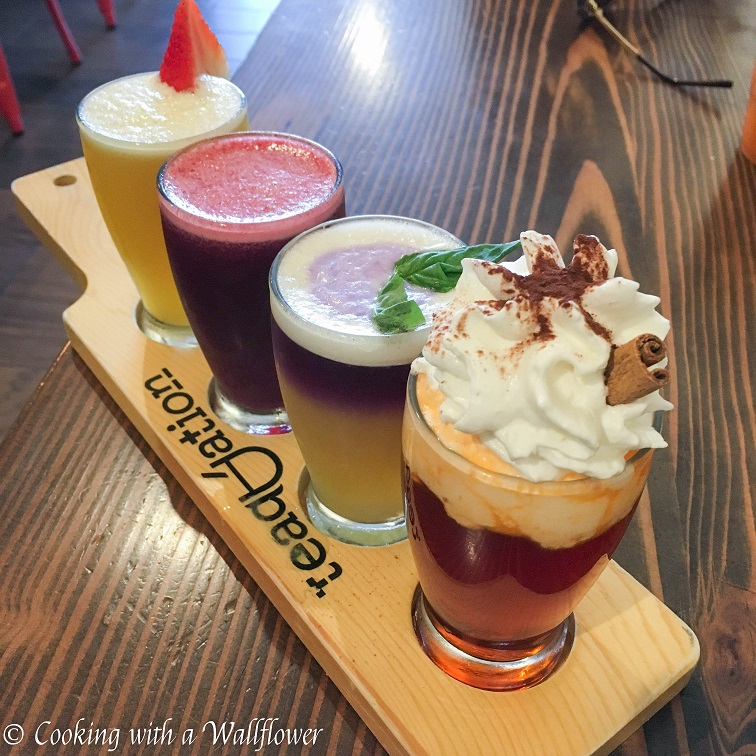 I found this new tea place, Teaquation, that does tea flights! Basically, you can order a tea flight and choose 4 different tea flavors to try. I don't drink much alcohol so wine tasting is a waste on me. I still go wine tasting though since I think it's fun. Lol. I just don't drink much. But tea tasting flights are exactly the kind of thing I love. And they make it so pretty too.
In this week's finds…
I'm so drooling over this everything bagel pull apart bread. I mean, everything bagel seasoning and all that melted cheese. What more can I ask for?
This peach basil balsamic chicken and goat cheese sounds so delicious and a great summer meal.
This caramelized corn and tomato tarte tatin is soo summery.
This breakfast quiche filled with bacon, cheddar, and spinach sounds like the perfect meal to wake up to in the morning.
How gorgeous is this bursting blueberry cardamom buckle? I feel like I could eat most of this myself.
I don't have an instant pot, but if I did, this instant pot chipotle cheddar corn chowder would be one of the first dishes I want to try.
This blueberry lemon pie <3 It sounds like the perfect summer dessert.
How refreshing does this peach frozen yogurt breakfast pops look? I mean, can I have this for breakfast every day?
Hummingbird cake is one of my favorite cakes so this homemade version is exactly what I need.
How delish do these Mexican style summer rolls look?