Have you been strawberry picking before?
If you haven't, now would be the perfect time to do it. Strawberries are in season so you better hurry before they're all picked for the season. Ever since I went strawberry picking over the 4th of July weekend, I've been obsessed with sharing the idea with everyone. Lol. So if you haven't gone, you really need to go.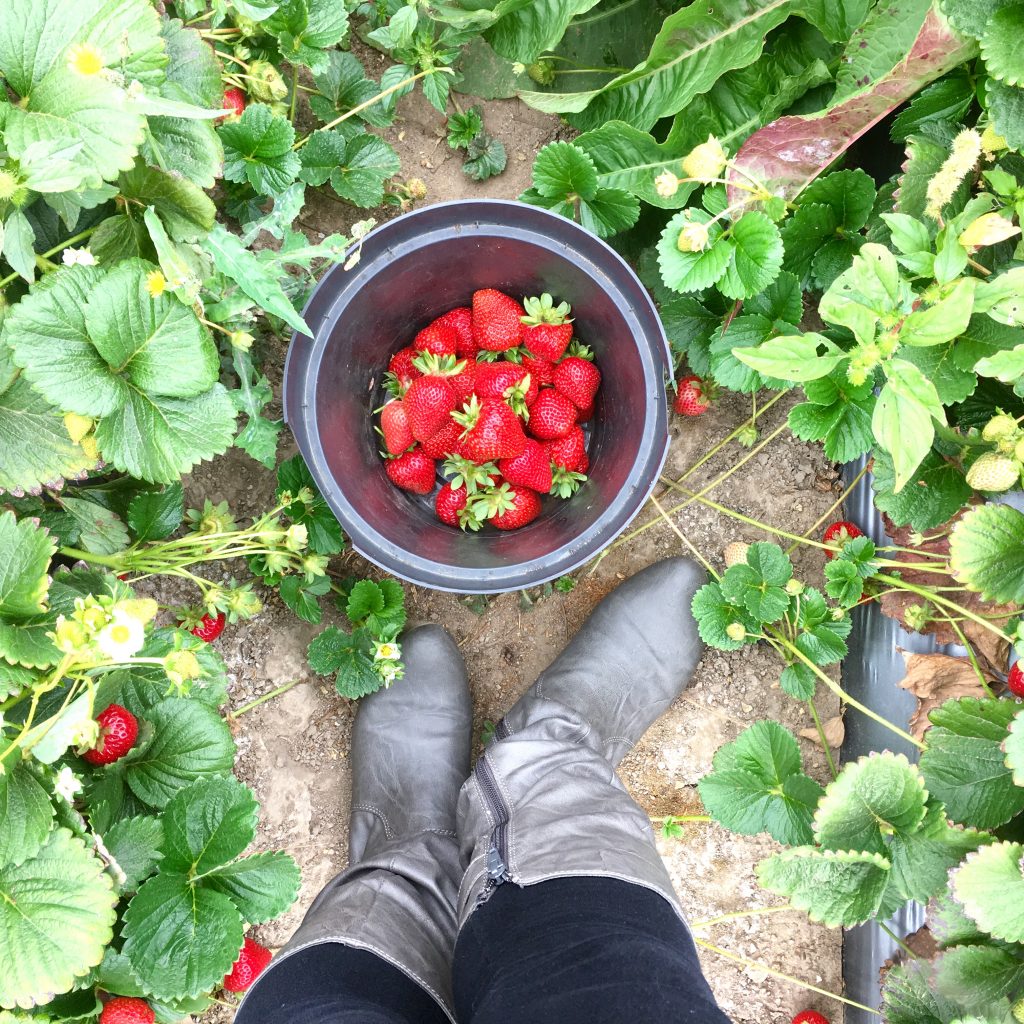 Strawberries picked fresh from the farms are so much sweeter than the ones you buy from the supermarket, and sometimes even the ones you get from the farmer's market. Now I just need to find a farm where I can pick fresh strawberries that's closer to the city. =)
Since I wasn't able to post one last week, I'm posting my weekly finds a little earlier this week. In this week's finds…
Okay, I think it's official. I need this sparkling peach cider in my life ASAP.
It's cherry season! And since cherry season is usually short, I think I'm going to have to make this sour cherry galette soon.
If you're looking for a summery dessert, this creamy lemon pie might just be for you. A citrusy filling that's only 3 ingredients and an almond graham cracker crust.
I think I'm going to need to try these pulled chicken guacamole sliders with grilled corn pico soon. It has all my favorite ingredients.
Oh my gosh. This chocolate zucchini cake! Doesn't look absolutely decadent and soo fudgy? Plus, you're getting your vegetables in every single bite!
It's summer which means I get to obsess over two things: strawberries and stone fruits, especially peaches and nectarines. So maybe it's more than two things. But this peach bundt cake with brown butter icing sounds sooo delish, and a great way to use up all those ripe peaches you might have.
This arugula peach ricotta pizza with crispy bacon sounds sooo good.
Omg! This simple coconut mango chicken and broccoli curry looks so delicious, and I love the incorporation of mango in this dish.
These frozen cantaloupe margaritas are the perfect summer cocktails.
As if almond croissants aren't amazing on their own, these almond croissants come with mixed berries.
I think by now you know that I'm obsessed with brie. This honey thyme sweet cherry grilled brie sounds so amazing and perfect for entertaining.
If you're a fan of both sweet and savory, this strawberry pizza with bacon and caramelized onions might be for you.
This Mexican two bean chicken chili sounds so good.
I think this summer berry sangria would be great for summer entertaining.
How delicious does this no churn cherry vanilla bean ice cream look?