I seriously love latte art.
Even the simple ones like these hearts. Not to say that the lattes aren't good, but it's even better when there's pretty art on top.
These are cookie butter latte and black sesame latte.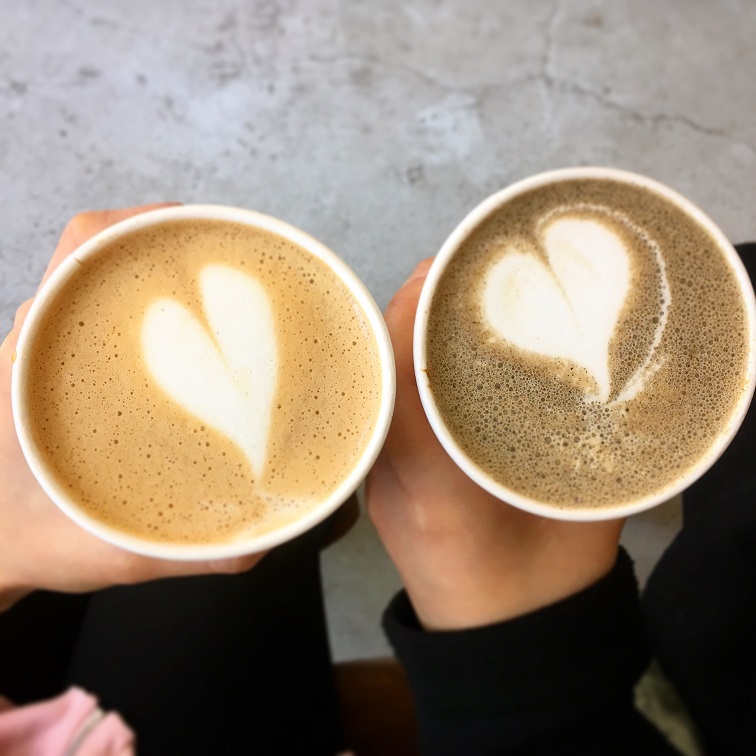 I'm always on the lookout for new latte art cafes to try. So if you know any in San Francisco, I'd love a recommendation. =)
In this week's finds….
Have you seen this walnut crusted chicken? It looks sooo amazing. I can't wait to give a try. All that walnut on the chicken. I can just imagine the flavor and texture.
Easy Lemon ricotta old fashion doughnuts – the perfect breakfast for spring.
Looking for breakfast ideas for this weekend? Here are a few:
This roasted red pepper meze platter and these frozen mimosas as well as these strawberry elderflower champagne spritzers would be perfect for serving guests this spring.
These chocolate whoopie pies with salted caramel frosting sound like the perfect dessert to me. Chocolate + salted caramel? Always a perfect combination for me.
I've always wanted to learn how to make those gorgeous frosting roses, this tutorial would be perfect for cupcakes. Especially with the two tone.
This coconut custard pie with coconut whipped cream sounds soo amazing.
I could make nachos a meal any day. These vegetable fajita sheet pan nachos sound like the perfect meal to me.
Ahhh. How cute are these olive oil cupcakes with rainbow mascarpone buttercream?
This cream cheese marble cake with chocolate ganache sounds soo good.
These Prince Edward mussels provencal would be perfect for the weekend.
This fresh fruit tart with vanilla pastry cream is so perfect for spring!
One pot spanish chicken and rice would be perfect for a weeknight dinner.