It's December! It's December! And my house is already all decked out for the holidays.
We bought a Christmas tree Thanksgiving weekend and started decorating as soon as the tree was up. But now, we're thinking we'll have to redecorate because the lights are off centered. It might be that our tree is missing a few branches here and there so it's not very symmetrical. But that's okay. Because we love our perfectly imperfect tree anyway.
As part of an ornament exchange, you know, like a cookie exchange, but with ornaments? I decided to make my own ornaments to send off. I bought empty glass ornaments and filled one with green reindeer moss, white glitter, diamond dust, and mini pinecones. It turned out so well that I want to make one for my tree. Maybe more than one? In multiple colors? Or maybe filled with sea shells? I see ideas for stocking stuffers.
What do you think?
Sometimes I just love the simple things in life.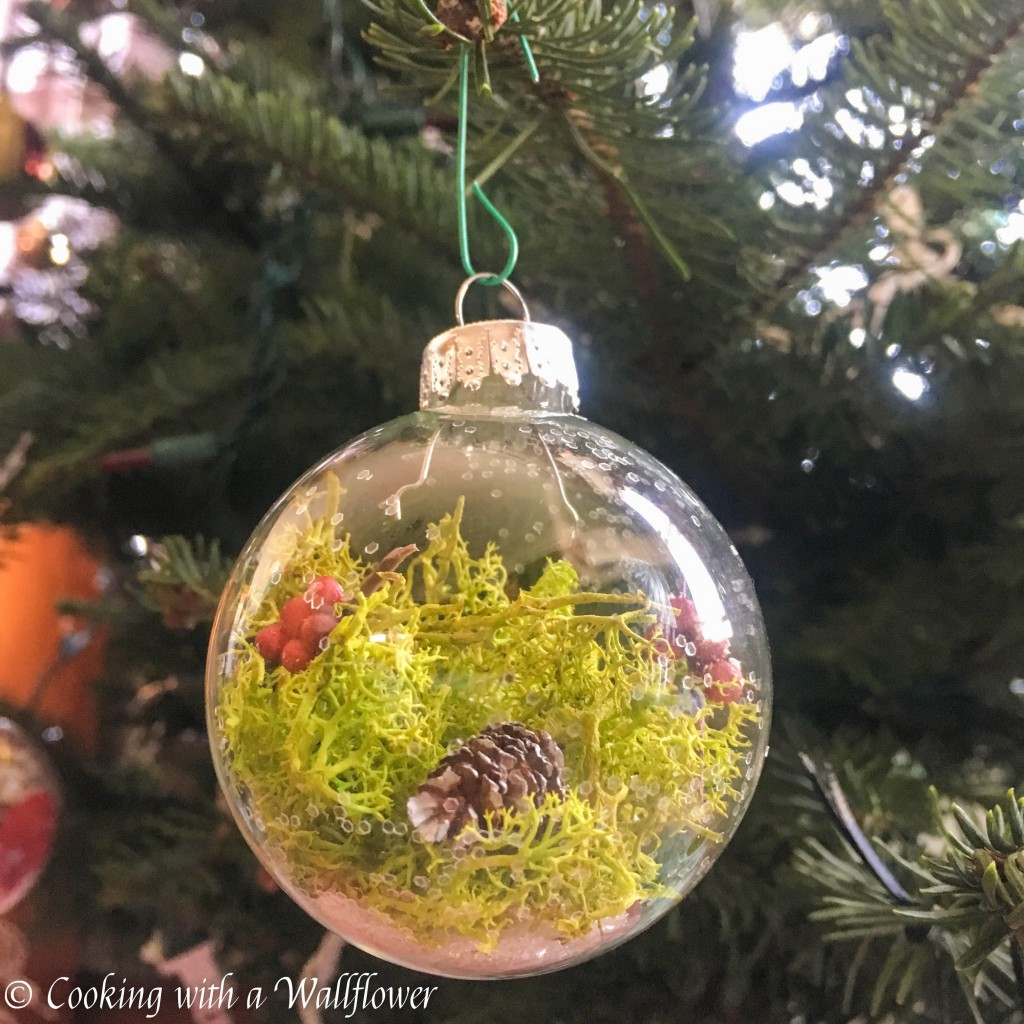 Oh, and the night before Thanksgiving, my sisters and I went to see Fantastic Beasts and Where to Find Them. Our family is Harry Potter obsessed!
It's such a good movie. What better way to start the holidays than with a movie and giant bag of buttery popcorn, right? Have you seen the movie yet? Or will you?
In this week's finds…
This gingerbread cake with caramel cream cheese buttercream looks sooo festive.
Comfort food meets comfort food in this French fry cheese pizza. What!
Oh, hello chocolate dipped coconut caramel macaroons. I definitely need you in my life.
The North Pole Cocktail. Because we all need a holiday cocktail in our lives.
The gorgeousness of this pomegranate vanilla skillet cobbler. Who could resist? Definitely not me.
Omg! Salted Chocolate Pistachio Shortbread! <3
These crisp molasses cookies would be perfect for gift giving.
Peppermint bark rolls sound so perfect for this time of the year.
10 Minute caramel apple baked brie sounds soo good and would be great for entertaining guests!
Healthy copycat cranberry bliss bars would be perfect for the holidays.