Have you heard of Polder's Old World Market? I've been obsessed with their Instagram feed. I can sit there scrolling through their photos forever. Polder's Old World Market sells hand carved kitchen utensils, which they fittingly call Dreamware.
This Little Starter Spoon in Beech is my first Dreamware. And I'm so in love with it.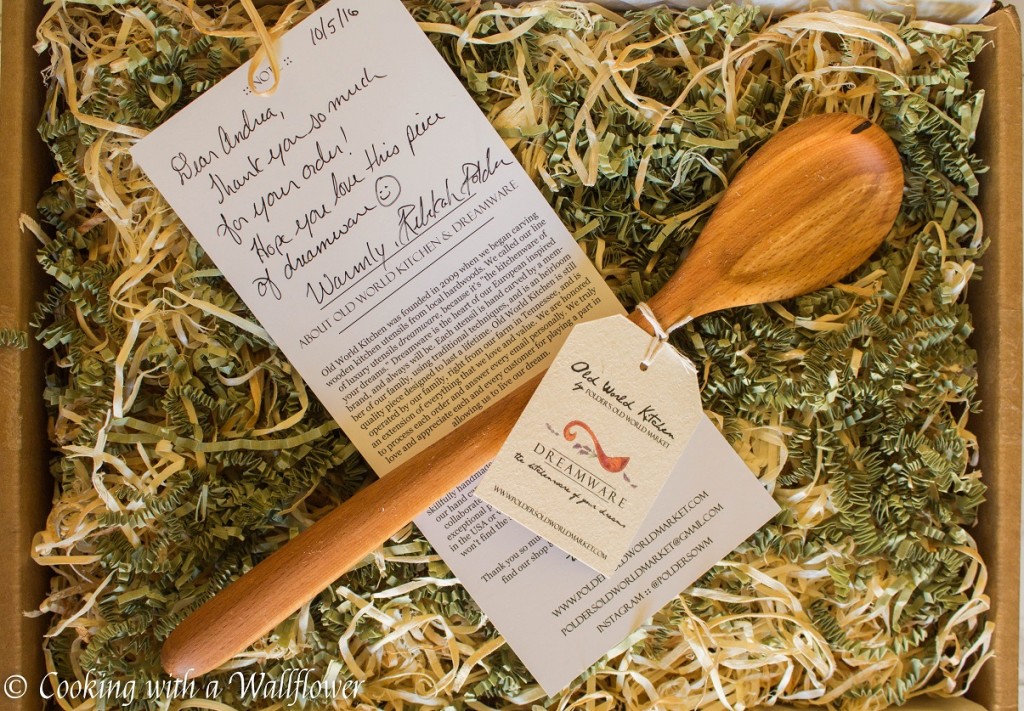 First of all, have you seen Lady Gaga with James Corden in Carpool Karaoke this week?! Oh my god, the best. But then, I'm kinda biased. I've always been a huge fan of Lady Gaga. Her songs are so catchy and fun. And while her style is way beyond anything I would ever wear, I love that she doesn't care what anyone else thinks.
Second, omg! Hallmark's Countdown to Christmas starts this weekend! And they have 19 new movies this year. I swear, I wait for these movies every year. I don't care if they're predictable. I just love that there's little drama and a happy ending.
Now, for this week's finds…
Seriously, this French Onion gnocchi soup! Comfort at its max. And all that melted cheese!
I need to try this Pumpkin Tres leche cake with spiced cream.
How gorgeous are these mini pecan butter apple rose tarts? Plus, they look easy to do.
I'm a huge fan of quiche, and this kale quiche sounds like my kind of meal.
Looking for a fall dinner, you might want to give this creamy parmesan orecchiette with butternut squash and broccolini a try?
This pasta with apples, bacon, and chanterelle mushrooms sounds so delicious and just perfect for a fall dinner.
These mocha nutella cupcakes sound soo dreamy. How can I resist?
This pumpkin cream cheese bundt cake is so perfect for fall.
This butternut squash wonton soup sounds so warm and comforting, especially on a chilly fall day.
How delish does this sticky apple cider BBQ chicken sound? I'm so tempted.
Chocolate bark Halloween brownies. Yes! Like chocolate + brownies. How can you say no to that?
I need this balsamic mushroom and goat cheese pizza in my life. Even better when there's truffle.
These crockpot chocolate bars contain only 5 ingredients! But look at them! Don't they so incredible?
I know not everyone agrees, but I love Brussels sprouts and I'm always looking for new ways to eat them. Like these maple roasted Brussels sprouts with sriracha.
Oh my god! Salted caramel boozy apple cider. Do I need to say more?