One of my closest friends is getting married next summer. I've known her since we were in elementary school, and we became best friends in middle school.
Now she's getting married, and she asked me to be one of her bridesmaids. Of course I said yes! We've known each other forever. Like more than half our lives.
But I'm kind of nervous because I have never been in a wedding party before. I've always been a guest.
This bouquet cookie was wrapped prettily in a pink scalloped box. So cute!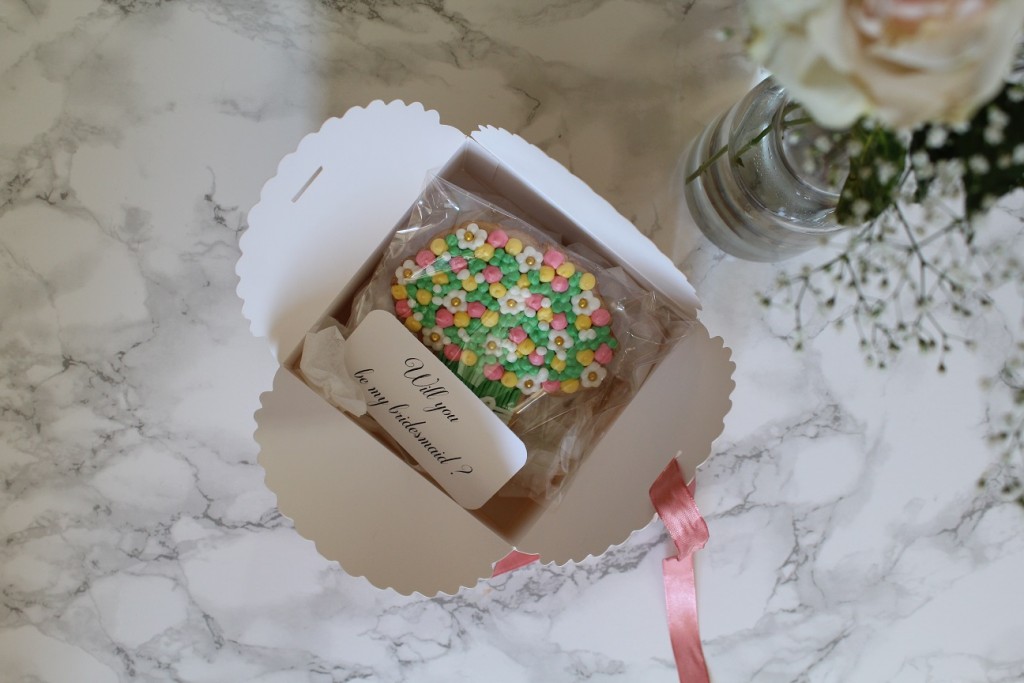 In this week's finds…
You know how I love to eat in color? This eggplant pizza snack looks so amazing. Plus, it's gluten free, paleo, vegan, and low carb.
Looking for a fall breakfast? Try this pumpkin French toast sticks with praline maple syrup or this apple bread with cinnamon crumble or this chocolate and cinnamon swirl loaf or this strawberry smoothie bowl!
How gorgeous is this rhubarb and rose naked cake with coconut buttercream?
Omg. These fried apple cider churros!
This long island apple iced tea sounds so refreshing.
These vegan custard tarts and these triple layer coffee caramel chocolate pots look so pretty and delish.
How delish do these chocolate chip greek yogurt pancakes look?
This honey crisp apple salad with cider vinaigrette looks so refreshing.
I can't wait to try this pumpkin spice latte cupcakes.
These pear mousse cheesecake bars look so amazing.
I need to try this sparkling cranberry lime mocktail.
Have lots of apples to use up? Try this bourbon and honey slow cooker apple butter.
Love crescent rolls. They're even better when it's these cinnamon glazed chocolate crescent rolls.
This potato and cherry tomato tortilla looks perfect for dinner.
In love with this cinnamon apple pear crisp.
This skillet cranberry roasted chicken and potatoes is perfect for fall.
Oh, how I need this cream cheese swirled brown sugar pumpkin coffee cake in my life.
Remember how I love bowl foods? I definitely need to add this slow cooker banh mi rice bowl to my to make list.
In love with this overnight autumn breakfast quinoa.